Scholarly has been making waves and breaking grounds as an edtech startup in Nigeria.
Started as a mere passion to provide a tech-based solution to challenges of overly expensive cost of purchasing educational materials and then transforming into a digital learning startup.
Here's the transformative story of Scholarly as Techibytes had an interesting sit down with the CEO and founder of scholarly.
Techibytes discussed with the CEO of Scholarly on how the Edtech startup started and the impacts the startup is making in Edtech in Nigeria.
What is Scholarly?
Scholarly, known as 'Uber for Tutors' is a multi versatile edtech startup in Nigeria that combines expertise in web and application development to provide student-based educational solutions designed to help students learn, pass exams and gain admission into higher institutions.
On the platform, students are provided with educational learning tools and can learn on demand.
How Scholarly started
According to the CEO who narrated the Genesis of the startup, He said scholarly was quite unusual, the journey started in such an extraordinary way.
"On a faithful day while I was still in university. FUTO (Federal University of Owerri) to be precise. I was just passing by, and I overheard a conversation or a little argument between a student and a bookseller inside the campus, the guy in question was trying to bargain the price of a textbook, it just dawned on me that if this particular students is to get such book for 7 to 10 other courses at this price. The total cost would be outrageous.
This was a serious challenge for most students then, also considering the economic downturn of the country. I pondered on this for a while and I got back to my Lodge".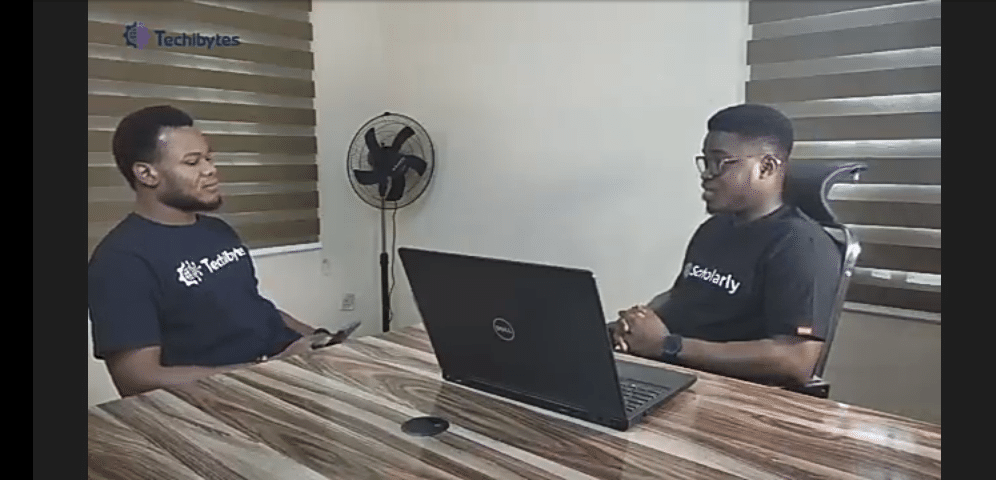 Perturbed, I thought about a possible solution to this, if there was sort of an app that incorporates all these materials and handouts and textbook together in one place, it'd be much cheaper and easily affordable and accessible by more students. I later conceived the idea inside my bathroom, when I was having my bath. That was how the idea for scholarly came about.
Developing the idea….
Moving from the ideation process to development phase, the CEO said
"The idea came as an App but he had no idea about App development, although he had a basic knowledge about web development, but he was motivated to learn Android development. Luckily enough for him, he had a friend (Kingsley) who later became the co-founder, at the time Kingsley had already entered the Android development space. He and Kingsley came together to work on the idea.
At the time I wanted to create content not just a tech company and I was looking at FUTO as my primary market. The content creation phase was a hectic one for me having to work with nine subjects offered in year one. We needed our unique content and didn't want to do copy and paste.
Luckily for me Kingsley bought into my idea and he made the journey a lot easier for me.
How difficult was the transitioning from a web developer to App developer
One key thing is, if you're a programmer, you're a programmer either web or app or machine learning or anything else. At Least you have a basic knowledge of programming. But it'd be much more difficult if I didn't have any basic understanding of these things. Even then it wasn't really easy having to transition to a native android world, back then we didn't have so many alternatives and user friendly applications to work with.
It's not like now that you have the likes of react and co. But then the passion I had to solve that particular problem kept me busy and learning even more. I've never been that passionate about creating a tech product that could solve a problem like that.
There were a lot of motivating factors around me, having to learn a skill so I could apply it into what I'm passionate about. I also learnt coding and some other stuff and in two months, the app was ready.
Will edtech ever be bigger than Fintech?
There's no argument in the fact that Fintech is currently bigger than edtech not just in Nigeria but in Africa. Most investments have been going into Fintech. Currently we have about 3 to 4 Unicorn startups in Nigeria who are Fintech. Regardless, ed-tech is also a promising part of tech in Africa. 
The pandemic exposed a lot of flaws in the educational system in Nigeria. I have family members abroad who during the pandemic, they were still in session virtually unlike Nigeria where the whole educational system was in comatose.
But now people actually value remote work and virtual meetings. We're looking into decongesting the traditional classroom settings. This is the best time for edtech to thrive in Africa. We saw the impact of zoom during and after the Lockdown, raising millions of dollars and becoming one of the most valuable companies in the world.
Many edtech companies in Africa have also raised investment. There's a lot of opportunities for edtech as people now embrace digital learning and scholarly is very prepared to expand into new markets.
Why choose to headquartered in Enugu rather than Lagos?
It's True that most Startups in Nigeria would prefer to headquarter in Lagos because of the opportunities there being the economic nerve centre of Nigeria. But I grew up and lived virtually all my life in Lagos but we decided to headquarter here in Enugu.
We have expansion plans already in motion. We are currently focused on West Africa and subsequently East Africa.
Highlights of the scholarly App
Scholarly has many highlights that made it even more outstanding among other ed-tech startups in Nigeria.
Unlimited access to past questions: Access thousands of real questions, answers and concise explanations to various O'Level exams. You can get instant to online lesson on the App.
App works offline: No internet connection is required to use the Scholarly app.
Practice: You can study past questions and answers, take CBT exams and even play fun-filled learning games. Visualize a detailed result breakdown that provides insights on your performance.
Get information: get the latest information relating to the exam body or your school of choice.
Text to speech: A virtual assistant in the app can read questions and answers to you. You can visit the scholarly website for more details