In dire circumstances, drastic methods are required and as such several startups leaped to the occasion, developing solutions that helped to mitigate the pandemic's disruption. Other innovators came up with solutions to difficulties that the pandemic brought to light and 90% of those startups failed before they ever generate a profit. This high failure rate can be attributed to several factors, the few that succeed, on the other hand, have a lot in common. Africa is a continent full of possibilities and untapped potential. Furthermore, the abundance of problems clamoring for answers provides opportunities for entrepreneurs to innovate and profit.
As a result, several brilliant African entrepreneurs have risen from the ashes and will continue to be significant in the years ahead. We focus on 18 of the most inventive and promising African startups in this post, which will most likely shine in Q3 2021. Looking at startups in the health industry, below are a few to look out for;
Health tech Startups to Watch
1. mPharma:
For a long time, many Africans have had to bear the exorbitant cost of chronic sickness treatment. mPharma was founded to combat this by locating and supplying treatments for specific ailments. This method eliminates understocking and overstocking.
This health firm was co-founded by Gregory Rockson, a Ghanaian national. The goal of this startup is to standardize drug prices. Across the continent, mPharma chemists sell drugs at the same price. Nigeria, Ghana, Kenya, Zambia, and Zimbabwe are currently served by mPharma. The company, which was founded in 2013, has raised more than $55 million in capital to develop pharmaceutical goods in Africa.
2. 54gene:
54gene is a biotech company that was founded in 2019. It's a research project aimed at mapping African genetics to conduct pharmacological research. As a result, when a global health emergency like COVID-19 occurs, there will be enough scientific data to respond quickly. Dr. Abasi Ene-Obong, a Nigerian cancer biologist, is the creator of 54gene. This company's mission is to include African populations in clinical global genomics research.
This African firm was named one of Time Magazine's top 12 breakthroughs for the future of healthcare. It was also named one of the top five healthcare solutions for Africa by Nigeria's Punch newspaper. Among other things, these honorable mentions demonstrate that 54gene is a time machine. These honorable mentions, among others, demonstrate that 54gene is an important invention to keep an eye on in 2021.
3. Helium Health:
This African firm, situated in Lagos, Nigeria, is a one-stop-shop. For hospitals and private offices across Africa, they provide technologies such as Electronic Medical Records (EMR), billing, practice administration, and more. Helium Health was founded in 2016 by Adegoke Olubusi and two other African entrepreneurs from Nigeria. This African business has previously assisted several clinics, hospitals, and doctors in digitizing their records.
Helium Health raised $10 million in Series A funding in May 2020, which has aided its operations. As a result, they have been able to service over 5,000 doctors and counting. This health start is especially important in this digital world of uncertain times and physical contact constraints.
4. mPedigree:
When it comes to mobile app technology, African entrepreneurs are continuing to push the envelope to meet current difficulties. Counterfeit goods and pharmaceuticals are common in most African countries. Sadly, the use of these narcotics results in the death of hundreds of people each year. However, with mPedigree, this may no longer be the case.
mPedigree is a mobile software that can authenticate medications, cosmetics, and seedlings. Given that 2,000 individuals are expected to die each year as a result of counterfeit and sub-standard drugs, mPedigree is a lifesaver. Bright Simons is the brains behind this ground-breaking African venture. The new technology intends to combat the $700 billion counterfeiting industry.
5. MYDAWA:
It's encouraging to see important services and reputable providers embrace technology. MYDAWA is a Kenyan-based internet pharmacy. Customers register accounts and send valid doctor's prescriptions to the pharmacy via WhatsApp or their sites. The products are delivered to them after the prescription is verified.
MYDAWA was discovered by Neil O'Leary of Ireland. With a $5 million investment, the corporation was able to enter and dominate the industry with strategic planning. MYDAWA is currently Kenya's most popular online pharmacy.
6. Vezeeta:
Away from the sub-Saharan region, Vezeeta, the Middle East, and North Africa's biggest doctor booking website pave the way for increasing interest in healthcare finance across the continent.
The firm, which presently operates in 50 cities spanning Egypt, Saudi Arabia, Jordan, and Lebanon, acquired $40 million in a Series D financing and claims to generate 4 million yearly appointments, which it claims is increasing by threefold year over year. They intend to use the funds to finance their expansion plans, which include implementing new digital capabilities such as ePharmacy and telehealth across their existing footprint and into new markets.
Other startups to watch out for in Q3 of 2021 includes;
7. Risevest:
Rise vest was founded in 2019 by Eleanya Urum and is incorporated in the United States and Nigeria. It invests for its users in Nigeria under a cooperative license, and its global dollar investment options include stocks of leading companies such as Facebook, Amazon, Delta Airlines, and others.
You can choose your investment asset on the Rise Up app, and the firm will make the investments on your behalf. A group of financial experts also makes these investments. In addition, Rise Vest has an investment club that helps people learn more about investing.
8. Komaza:
Komaza is a tech-enabled, sustainable forestry firm that is transforming the African wood sector with its revolutionary grassroots platform, which has benefited over 2 million farmers in Sub-Saharan Africa while tripling existing tree cover across all operating terrain.
After securing $28 million of the business's anticipated $33 million Series B equity investment, the Kenya-based company has planted over 6 million trees with 25,000 smallholder farmers and is well on its way to achieving its objective of planting one billion trees by 2030. In addition, Komaza intends to use its Series B funding to:
Expand from its first position on the coast of Kenya to two other areas in East Africa.
Add a new direct-to-farmer app to boost farmer access to best practices and encourage enrolment.
Develop a remote sensing and artificial intelligence (AI) pilot for automated agricultural monitoring.
9. uLesson:
Africa is embracing the digital transformation's third wave. EdTech, for example, is a technology that harnesses the power of technology to improve learning. These firms produce curriculums that make learning more effective using techniques like Artificial Intelligence and data science.
Sim Shagaya, the founder of this revolutionary African EdTech firm, is the brains behind it. Surprisingly, he dominated the industry at a time when there were other EdTech businesses in Nigeria. uLesson is a Nigerian company that focuses on streamlining secondary school instruction. This EdTech company supplements traditional curricula with explainer videos, practice assessments, and a hands-on approach. With such a method of schooling, In 2021, uLesson is expected to take the top.
10. Solar Freeze:
Food shortages are a problem in Africa due to a lack of refrigeration and a lack of production, among other factors. Due to a lack of suitable storage facilities and low electricity, post-harvest losses are severe. Food shortages have a far-reaching impact on a continent that relies heavily on agricultural products. Solar Freeze, on the other hand, is available to provide refrigeration services.
A group of young African entrepreneurs founded Solar Freeze in 2018. Solar Freeze was born out of the difficulty of this group of visionaries. they claim that traditional food preservation methods had to be changed due to their inefficiency. Solar Freeze, being a cleantech African startup, is aligned with the majority of SDGs and embraces a future that is both clean and sustainable.
11. MPost (Mobile Post Office):
This has to be Africa's most ingenious startup. MPost is a service that converts phone numbers into mobile addresses. Customers can convert their phone number into a mobile address by dialing the USSD code (*890*90#). At Kes 300 (about $3.00), this service is extremely reasonable.
MPost's Abdulaziz (Aziz) Omar and other officials have raised $2 million to manage the operations, which have over 40,000 Kenyan users. MPost eliminates the limitation of postal addressing based on physical location.
12. GREEN WATECH:
Another notable African Cleantech startup is GREEN WATECH. It provides non-sewered households and communities with a new low-cost and environmentally friendly sanitation alternative.
The CEO, Dr. Salma Bougarrani, has a Ph.D. in Advanced Water Treatment Processes, which she used to establish the premise of GREEN WATECH, which is a sustainable solution that combines simplicity, cost, and effectiveness.
13. DataProphet:
This South African AI company provides an AI-as-a-service platform for the manufacturing industry. DataProphet Prescribe solutions use deep learning technology to forecast optimal plant control parameters, lowering operation expenses dramatically.
DataProphet, which has raised over $6 million in Series A funding, has the potential to help manufacturers in South Africa and abroad. Frans Cronje is the brains behind this innovative AI company.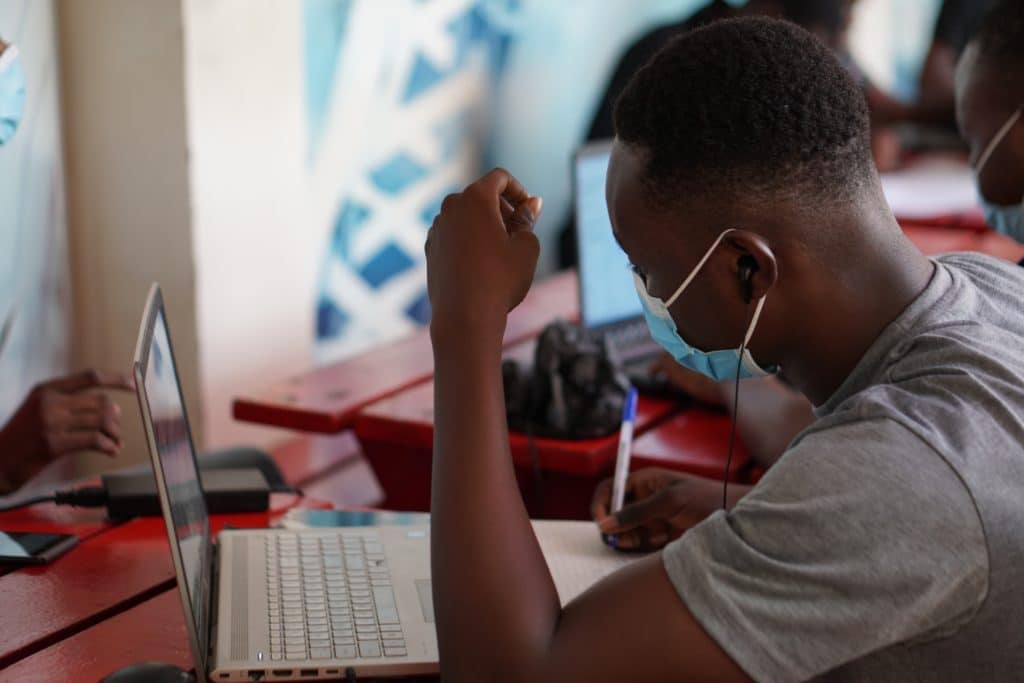 The following are a few notable technological startups to watch:
14. Chipper:
Africans are gradually realizing Fintech's possibilities. Chipper (previously Chipper Cash) is a better version of PayPal. As a money transfer platform, this cross-border African Fintech firm operates in eight African nations. Chipper now offers Bitcoin trading through its app, in response to the growing demand for cryptocurrency.
Ham Serunjogi, the CEO of Chipper, noticed the untapped potential of Fintech in Africa and founded the company. By June, the company had raised $13.8 million in Series A capital and $30 million in Series B fundraising. Chipper is likely to be an industry leader in the coming years with such a portfolio. This will provide a significant boost to Africa's economy.
15: Akoin Cryptocurrency:
Akon, a Senegalese singer, is the founder of Akoin, a revolutionary cryptocurrency concept. When he couldn't pay for services with local currency, he came up with the idea for this coin. The Akoin cryptocurrency is intended to be a pan-African currency.
The Akoin cryptocurrency is a fantastic currency that will aid African economies in getting back on their feet. It is also the primary money in Akon City, a future metropolis. Monthly bitcoin transfers to and from Africa, which were previously under $10,000 (€8,500), increased by 55% in 2020, peaking at $316 million in June. These figures demonstrate that Africa is ready for the digital currency revolution, and Akoin is on the right track.
16. Sokowatch:
In Africa, inventory management is inadequate, particularly in SMEs and informal firms. As a result, such businesses encounter control and reporting issues. Sokowatch is working to alter this. Daniel Yu, who saw the need for some structure in Africa's multibillion-dollar retail market, founded it. Inventory management, fragmentation, and stocking are all issues that Sokowatch assists its customers with.
In a nutshell, it gives retail the power of eCommerce. According to TechCrunch, Sokowatch raised $14 million to fund its business plan. This African firm is now active in Kenya, Uganda, Rwanda, and Tanzania, with plans to expand in the next years. In 2021, it is an innovative startup to keep an eye on.
17. Sendy:
Sendy is a Nairobi, Kenya-based logistics company. It primarily serves African businesses with package delivery services. Logistics companies like Sendy are here to stay, thanks to the growing adoption of eCommerce. Because of its simplicity and flexibility, Sendy stands out among African logistics organizations.
Lockdowns and COVID-19 restrictions helped Sendy have a fantastic year in 2020. By January 2020, this African startup had also raised $20 million in Series B funding. Sendy will gradually but steadily become a market leader in Africa, especially now that it is expanding into West Africa.
18. Jenga API and Payment Gateway:
COVID-19 has made Africa recognize that it needs to be self-sufficient today more than ever. As a result, homegrown solutions created by Africans for Africans are rapidly emerging. One of these is the Jenga API. It's a payment API interface that makes it simple for merchants to transact. In other words, it's Africa's Stripe.
Jenga was founded by Equity Bank and Finserve. It comprises a payment gateway as well as API infrastructure aimed at advancing Fintech in commerce. Jenga is unique in that its API is used to power critical Kenyan enterprises. Additionally, the payment gateway accepts different payment methods and accepts currencies from over 180 countries.
Conclusion
When we examine the most successful firms, we can see that they address a wide range of issues, including inadequate healthcare, illiteracy, food scarcity, digitization, and so on. Startup accelerators like Seedstars and E4E Africa are assisting African firms with scalability, and these startups have gotten funding boosts from public and private entities that aid with implementation.
FAQ
1. What is the number of startups in Africa?
Nigeria has the most start-ups, with more than 750. South Africa emerged in second place, with $241 million raised in 2020, compared to $64.1 million in Nigeria.
2. What is the most valuable startup in Africa?
Chipper Cash has been dubbed Africa's "most valuable company" thanks to a $100 million investment headed by SVB.

By Erica Ofure