Women-led businesses are less likely to get a business loan than men-led businesses, which is one of the reasons single moms are far less likely to succeed in sole entrepreneurship than single dads.
Thankfully, organizations offer grants specific to women and other minority groups in the United States to bridge the inequality between men and women-led businesses. As a single mom, you should take advantage of these grants for a better life.
To help with that, I'll list 25 grants for single moms in America. From business grants to scholarships and energy assistance programs, this list is a comprehensive compilation of beneficial grants for single moms in America for this year.
Table of Contents
Grants for Single Moms in America 2023
While some of the grants in this compilation aren't specifically for single mothers, all of them will allow single mothers to apply if they meet all other requirements. So, here are the best grants for single moms in America for 2023.
1. Single Mom Stimulus Grant
The Single Mom Stimulus Grant by Wealthysinglemommy is one of the easiest grants for single moms, thanks to the simple requirements. The two requirements for the grant include being a single mother and needing money. Sponsored by Emma Johnson, the award goes to one single mother every month.
To apply for the grant, you must fill out the appropriate form on the Wealthysinglemommy website, stating why you need the money right now.
2. Federal Work-Study Grant
The Federal Work-Study Grant is for undergraduate single moms with little or no resources to see themselves through college. By working a job related to their field of study part-time on or off campus, single moms can earn enough to sponsor themselves through college, or even more, in some cases. More detail about the grant is available on the US Student Aid website.
3. Live Your Dream Awards
The Live Your Dream Award, by Soroptimist, isn't only for single moms; all women that are their families' breadwinners are eligible. Over half of their beneficiaries are victims of various forms of domestic violence abuse, which is a strong point for potential applicants. Recipients can use the grant for higher education and childcare.
4. P.E.O Projects and Philanthropies Grant
The P.E.O Sisterhood offers several educational projects, all exclusive to women. Since most of those grants are for low-income women targeting post-secondary academic achievement, you can always apply if you're a graduate or postgraduate single mom finding it challenging to make ends meet while you study.
5. She's Next Program
She's Next is a Visa-sponsored grant for black women running businesses in the United States. The grant includes a $10,000 fund for financial support and an annual coaching membership to the IFundWomen Program, bridging the gap between female and male business owners. 
6. Amber Grant
Amber Grant manages several grants for women, all of which you can qualify for by filling out an application on its official website. You can get up to $25,000 from the program if you own a business and identify as female. It's undoubtedly one of the best grants for single moms around.
7. IFundWomen Universal Grant Program
The IFundWomen Universal Grant Program is one of IFundWomen's several grants for women in the United States, with an acclaimed grant pool of over $4 million. You can't apply for the grant specifically; you only submit your business information and hope you qualify for one of the organization's grants. No doubt, it's one of the best grants for single moms, despite not being specifically for them.
8. SoGal Black Founder Startup Grant
The SoGal Black Founder is available to any black female startup founder in the United States, not just single moms. It's a one-time $5,000 or $10,000 grant with a few requirements.
You must identify as black or non-binary and have a legally registered business to qualify for the grant. Also, you must have plans to scale outside of the SoGal Black Founder Startup Grant. Again, it's not exclusive to single moms.
9. 37 Angels
37 Angels is an angel investment group of women looking to fund businesses owned or run by ladies in the United States. Businesses that qualify for funding get up to $100,000 plus networks with the industry's top guns. Since the grant targets women-led businesses exclusively, it's one of the best grants for single moms.
10. The Halstead Grant
The Halstead Grant is pretty unique, as it's not just exclusive to women, but it's also only for silver jewelry artists. If you own a business in that niche, you may qualify for a $7,500 cash grant plus other bonuses to uplift your business.
To apply, you need to take portfolio photos and write analyses about the uniqueness of your craft, making it one of the most demanding grants for single moms.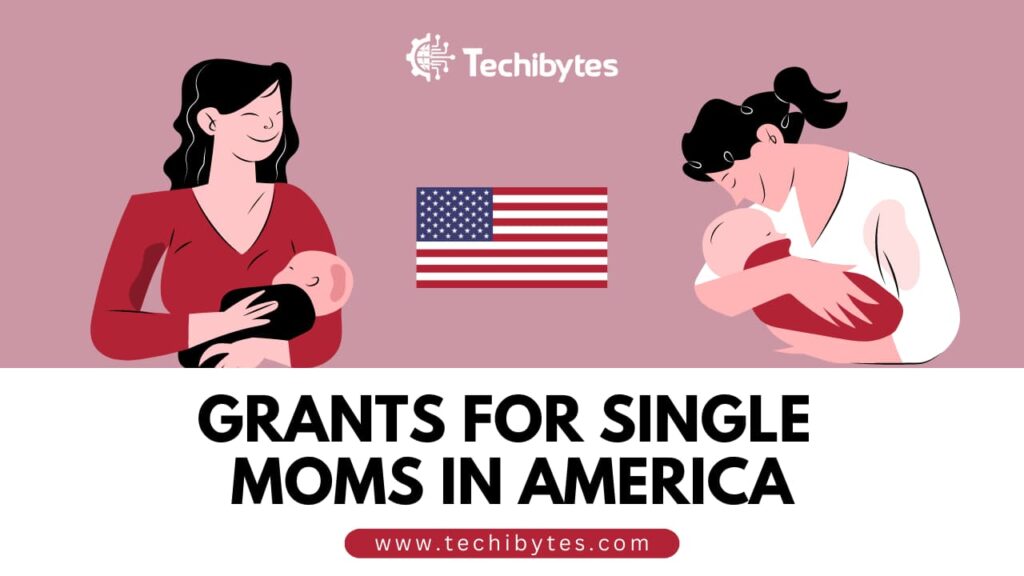 11. Ms. Foundation for Women Grants
Ms. Foundation for Women is another organization that specializes in women-led businesses that address social, cultural, or economic change. Since the group manages several grants for single moms, applying puts you on the waitlist for all, and Ms. Foundation will contact you if you're a good fit for any award.
12. Small Business Innovation Research Grants
The Small Business Innovation Research funding program features numerous grants for male and female entrepreneurs. Being a federal government initiative, you don't need too much to qualify for any of its awards. Also, some female-exclusive programs from the agency will make the best grants for single moms in America.
13. The Girlboss Foundation Grant
The Girlboss Foundation Grant helps to accelerate the growth of women-owned businesses across the country by offering them the capital and equipment they need to grow. Each grant is worth $15,000 plus business growth tools and networking opportunities. It's not a single moms-only grant but is open to them.
14. 1Belle Capital
Belle Capital USA Mission is an early funding program that invests in promising women-led businesses across the United States. The grant is only available for startups in tech, life, medical sciences, and health, and the only requirement is the company has at least one female founder, making it one of the best grants for single moms in America.
15. Women In Transition Scholarship
The Women In Transition scholarship is an educational grant for women householders enrolling for a college degree in accounting. To qualify, you must be a woman who is also the breadwinner of her family, with an admission offer for accounting. Worth up to $16,000 over four years, it's one of the best educational grants for single moms in America.
16. Helping Hands for Single Moms Scholarships
Helping Hands is a charity organization that manages numerous grants to disadvantaged individuals, including single moms seeking an education.
Thanks to the single mom scholarship program, ladies can care for a child and attend higher school without worrying about financial constraints. Thanks to its exclusivity, it's one of the best grants for single moms in America.
17. AAUW Grants and Fellowships
AAUW prides itself as one of the largest funders of women's education, as the organization has committed itself to the mission since 1888. Each award year, it offers millions of dollars in educational funding to women across the United States, and the grant doesn't exclude single moms. The AAUW award is a compelling option if you're after educational grants for single moms.
18. Idea Cafe Small Business Grants for Women
Idea Cafe is an organization that serves as a resource for female business owners by offering them all the knowledge needed to start and grow a business. It also hosts an awards program that offers $1,000 to women starting a business for financial help.
In addition to the financing, awarded entrepreneurs also get publicity and networking opportunities.
19. Cartier Women's Initiative
The Cartier Women's Initiative is a grant for businesses owned and run by women in the United States with a mission to have a social or environmental impact.
With 6.4 million distributed over 15 years, Carter's Women's Initiative is one of the higher ticket grants for single moms in this list, and you can apply by visiting the official website.
20. Eileen Fisher Women-Owned Business Grant
Eileen Fisher gives away $100,000 annually to 10 female business owners to help them compete favorably with their male counterparts in their industries. Launched in 2004, scores of women have benefitted from this award, making it one of the best grants for single moms in America.
21. Open Meadows Foundation
Open Meadows Foundation is not the name of a specific grant; it's a grant-making organization that focuses on projects promoting racial and economic justice. Their grants are only available for women running sole proprietorships, simple partnerships, or charities, as you can't apply as a business.
22. FedEx Small Business Grant
The FedEx Small Business Grant is a contest between small American businesses for a $30,000 prize money. The ten grand prize winners go home with $30,000 plus a 20% off monthly plan for an SEO service, $1,000 FedEx print credit, and access to the FedEx Premier Customer Service.
While the award isn't exclusive to single moms, it's open to them, making for an excellent business funding strategy.
23. Low Income Home Energy Assistance Program (LIHEAP)
LIHEAP is an intervention by the United States government to help low-income families offset home energy bills, energy crisis costs, and minor energy-related home repairs. The program pays different fees for different states, making it one of the best energy grants for single moms in America.
24. Public Housing Program
The HUD Public Housing Program is a Federal Government initiative to provide inhabitable housing for low-income families, a category that accommodates most single moms.
To qualify, you must be a US citizen or legal immigrant, a low-income earner, and a good tenant. While it's also not exclusive to women, it remains one of the best housing grants for single moms.
25. Federal Student Loan
The Federal Student Loan is available for almost any US citizen studying within the country, including single moms who may lack the resources to pay for tuition. There are several categories of student loans, and you should ensure you're choosing the best option for your case. 
FAQs
How Can I Be a Stay-at-Home Mom and Still Make Money?
Your best bet is starting a business you can run from home. Freelance graphic designing, blogging, selling jewelry, or starting a YouTube channel are simple businesses you can start without changing your stay-at-home mom schedule.
How Can I Get Free Money as a Single Mom?
Many organizations help single mothers make ends meet by offering food, money, and affordable housing. While we covered some of them in this list, you can get even more in our dedicated article about charities that help single mothers.
Conclusion
Single moms make up one of the most vulnerable demographic in the United States at any given period. One of the ways to change that bias is by offering them grants, both for education and businesses, and this article outlines the 25 best grants for single moms in America.
If you liked this article, then please subscribe to our YouTube Channel for videos. You can also find us on Twitter and Facebook.