Email marketing isn't easy. You have to worry about getting the perfect email marketing software for your needs. Then, you'll have to worry about growing your audience, and while doing all that, you still have to keep sending out emails that don't look terrible.
There's only one way to ensure that your emails don't look terrible without spending too much time designing them: getting a decent email template builder software. If you're using software that's designed to look great, it'd be difficult to mess up the design of your emails in the first place.
In this article, I'll help you stop messing up your emails by showing you 10 of the best email template builder software available right now. Then, you'll learn a bit about each of the recommendations to help you choose the best objectively.
Table of Contents
What Is an Email Builder?
One of the most important aspects of branding is consistency; someone should be able to tell an email from your brand by simply looking at it, even without seeing your brand name yet. If that happens to not be the case, there's a big problem with your branding in general.
However, maintaining consistency across every email you send isn't as easy as it seems. You'll have to repeat a very specific design over and over again, as often as you email your audience. Since that poses a problem (obviously), there should be a way out.
Email template builders come to the rescue.
An email template builder software typically offers a beautiful drag-and-drop interface for designing an email newsletter. After completing the design, you should be able to copy its HTML code and paste it into your email marketing software.
One advantage of using these builders is that you can always pick up from where you left. That way, you don't have to redesign all of your emails from scratch, making it easy to create consistent emails without spending hours on design every week.
In many cases, the email template builder software is separate from the email marketing software itself. You only get an HTML code building the template, and you can paste the code right into your marketing service to get the design you created on the email template builder software.
However, there are some cases (like with MailChimp) where the email marketing platform itself ships with decent template builder software. In those cases, you don't need an external template builder, as the built-in tool will usually do everything just as well.
The following section will show you how to create an email template using either an external email template builder or the one embedded with your marketing software. Then, I'll show you 10 of my favorite email template builders that you should consider bookmarking if you handle the emails at your workplace.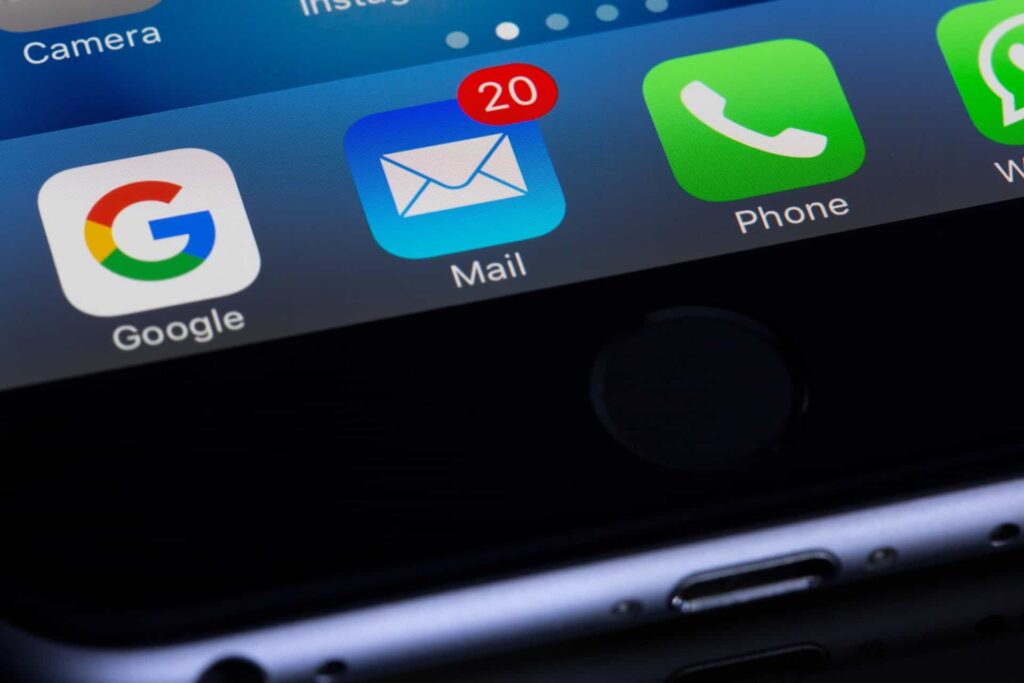 How Do I Create My Own Email Template?
You can create your own email template using the drag-and-drop tools that the average email template builder software provides. They typically let you drag blocks, which are basically prewritten HTML codes designed to perform a very specific task.
After using the blocks to build a nice-looking email template, you can export it to your email service provider if the email template builder software supports that. If it doesn't, you should be able to download the email as HTML which you can send directly to your subscribers.
It's worth noting that you don't need an external email template builder software to create your email template. If you use an email marketing software like MailChimp or MailerLite, you should be able to create attractive emails using the built-in email builder tools on the platform.
Best Email Template Builder Software
From the preceding section, you're already aware that a competent email template builder software is necessary for creating emails. However, a quick search for "email template builder" will bring up thousands of results; how do you choose the best ones?
This section will list my favorite email template builders in no particular order to help you choose the best ones for you.
MailChimp is an email marketing software with a built-in email builder tool that's pretty good. There are hundreds of free templates on MailChimp, with a couple of paid templates too. Depending on how much time you're willing to spend designing an email, MailChimp's email editor can produce some interesting designs.
The big downside is that the email template builder on MailChimp is that it's locked to the MailChimp email marketing service only. It doesn't matter how well you design your email, it's technically impossible to export it to another email marketing software.
However, if you use MailChimp, you shouldn't worry about paying for another email template builder software.
2. BEE
If simplicity is one of your hobbies, you'll love the idea of the BEE email builder, as it takes simplicity to another level. Also, when your name is an abbreviation for "Best Email Template Builder and Editor," you just have to offer something interesting.
The email template builder software has a plethora of free email templates that you can use to start designing your email. While there's a dedicated premium plan, there are also paid templates that you can pay for without necessarily upgrading, and as you may have guessed, they make the bulk of the slick-looking templates.
BEE lets you export your designs to both HTML and PDF; HTML for export to your email marketing software and PDF if you intend to print the design.
Stripo is one of the few options on this list that are dedicated email template builder software without an email marketing service. Unlike a service like MailChimp or HubSpot for example, there's no way to send emails to your subscribers from inside Stripo; you have to create the templates, copy the code, and paste it into whatever software you're using.
Stripo offers a drag-and-drop editing interface that makes the process of creating your email template easy. You also see the HTML code for your creation in real-time, which reinforces the idea of what the platform does.
Stripo is free for one user and up to four exports per month, but once you start pushing the limits, you may have to pay to access better features.
4. Unlayer Studio
If you're after simplicity, Unlayer Studio might be the best option for you. While it's already easy to use, it also comes with a lot of free templates that you can modify to create the perfect email for your subscribers.
Unlayer Studio offers an HTML block that lets you add native code to your email while building, but that wouldn't be necessary in most cases. The available blocks make it possible to create the best email without ever having to write a letter of HTML.
The email template builder software is free to use and lets you export the emails you create to HTML. If you want more templates, more collaboration features, and the ability to return to what you were designing, you may want to purchase the pro version.
5. Moosend Email Editor
While Moosend is like Stripo in the sense that it allows you to create and export email templates, it's unlike Stripo in the sense that it has dedicated email marketing software. You can create and export email templates from inside Moosend, but if you want, you can also send the emails using the platform.
Unlike Stripo, you can create unlimited templates with Moosend for free, and the email marketing service is also free for up to a thousand subscribers. The templates you create are available in either JSON or HTML format; all email marketing services support either or both.
6. Mosaico
Mosaico is another free email template builder that was built to be simple. It was named cleverly, as you technically build emails by combining several unrelated pieces just like you build a mosaic. However, if you're not willing to spend some time designing your email, you should probably skip this.
There are only two templates on Mosaic, and neither of them is particularly attractive. To build an email that looks good, you'll have to spend some time dragging and dropping items on the editing interface.
After building an email on Mosaico, you can check how it will look in an actual email by sending a test. If it looks good, Mosaico offers an HTML download option, which you can export to your email marketing software as a template.
Chamaileon is another dedicated email template builder that's worth using even if your email marketing software already offers one. By dedicated email template builder, it means you can only do one thing using the Chamaileon service: build emails for your email newsletter.
Chamaileon markets its email builder as a platform that feels like Sketch and Google Docs combined. Once you start using it, you'll notice that it's exactly the feel the creators were going for.
The basic features of Chamaileon are free, but you'll have to pay at least $20 when you start pushing the limits of the email builder software.
The name "Postcards" doesn't sound much like an email template builder, but I promise that it's a good one. It's a dedicated email template builder from DesignModo designed to make the process of creating an email easier for people that aren't particularly tech-savvy.
Since it's designed to be easy to use for non-techies, you can already guess its interface is simple to understand. If you can create documents using Google Docs, you should have no issues building slick emails with Postcards.
A downside to using this platform is that it's not particularly great if you're not willing to pay. When using the free version, you can't use your exports for commercial purposes, a limitation that sounds dumb for an email template builder.
Topol is not only cheaper than most of the other options on this list, but it's also easier to use since the creators didn't care about embedding lots of unnecessary options that you probably would never use. You can choose any of the free templates that appeal to you and start creating an email instantly.
While there's a free version of Topol, it's a bit too limited; perhaps too limited to be on this list. If you're not willing to pay for an email template builder software, you should consider finding an alternative. However, if paying the few bucks that Topol demands don't seem to be a problem, it's one of the better options you can find out there.
10. Mail Designer 365
If you have a computer running the macOS operating system, you may want to take advantage of that to download an email template builder designed to run on Macs. While it's somewhat expensive for what it offers, it's still a competitive email template builder.
When designing an email using the software, you can use free photos from Unsplash to spice it up. There are also GIFs if you don't mind your emails becoming several megabytes large. If an intuitive interface is worth $16 per month to you, you may want to try Mail Designer 365.
Conclusion
With so many options out there, you shouldn't have any problems choosing the best email template software for you. However, too many options may lead to you making bad decisions, and that's why I've limited your options to 10 to reduce your chances of selecting a subpar email template builder.
If you liked this article, then please subscribe to our YouTube Channel for WordPress video tutorials. You can also find us on Twitter and Facebook