The first step in building your brand and giving your company a distinctive character in the marketplace is giving it a name. The ideal name can make you stand out, draw clients, and successfully convey your ideas and services.
But coming up with a name for your company isn't always simple. It's very common to find most people stuck in deciding a name for their company. Now, thanks to business name generators, you no longer have to burden yourself with that.
In this post, we'll be taking a look at some of the best business name generators. Endeavor to read this post to the end as it'll be very insightful.
Table of Contents
HOW TO NAME YOUR BUSINESS
Here are the crucial steps in coming up with and selecting a great business name:
1. Make It Catchy
A good business name should be memorable, brief, and pronounceable. You can try it out by imagining your company name in a tagline or commercial. Next, ask yourself: "Would I remember this name after only seeing or hearing it once?"
2. Research Your Audience
The style and overall tone of your business name might be better chosen if you know your target market. Create customer personas that describe the needs, wants, and demographic details of your target audience using the research you've done on them. Afterward, utilize that data to focus your search.
3. Keep It Simple
Business names that are complicated, lengthy, or difficult to say are difficult to remember and impede branding efforts. Business names should only contain a maximum of 2-3 words.
4. Research Your Industry and Competition
Make a document after doing a significant study on your business sector and regional rivals. Utilize this study to find specific keywords, common patterns, and the connections between a competitor's name and their values.
5. Make It Brandable
Create mockups showing how your company name will appear on marketing materials. This aids in validating which concepts work best for your company.
6. Create A Digital Presence Right Away!
You'll need a domain name, username, and social media handles such as those for YouTube, Twitter, and Instagram that are accessible for registration to create your online identity.
BEST BUSINESS NAME GENERATORS
In the list below, we have listed some of the best business name generators you need to try. They include:
1. Anadea
At the top of our best business name generator list is Anadea. Finding a business name is made easier with the Anadea business name generator. Simply enter a keyword associated with the main idea of your business and click "Generate names." You'll see a display of many pages' worth of original company names to select from.
You can browse the choices, choose the company name you like, and even reserve a .com domain for it. This generator comes equipped with features that enable it to provide company names for which domain registration is possible. When starting your business, that's one less concern.
If you don't like the results shown for a term like "clothes," you may try again by narrowing down your search to include additional information about your business or how you want to portray it. It might be "plus-size clothes" or "vintage clothes." The Anadea business name generator is free, incredibly user-friendly, and excellent for coming up with small business name concepts.
2. Oberlo
Oberlo is an all-in-one business name generator that enables startup entrepreneurs to find their ideal name. All you have to do is enter the keywords you want associated with your company, and it will begin searching a database with tens of thousands of options.
Even better, you can decide on the name right away and begin the necessary copyright procedures to secure it. Their database is enormous, and it's a great way to make sure you can move forward with your company name.
3. Wix
Next on our list of best business name generators is Wix. Many users who use Wix as their website platform usually want to establish a company or a brand, thus Wix created a name generator with that purpose in mind.
You'll discover some excellent advice that can assist you in sorting through those names to get the ideal pick. With Wix, if you're a first-time business owner, you can receive a discount on their other services.
4. Brandroot
Brandroot is a business name generator with a distinctive registered .com domain name. Each name on the list has been carefully chosen before being offered for sale with a reputable logo and a reasonable price. To locate a brand name for your niche, you can search by keyword or category.
You'll discover that some reputable company names are offered at a premium and that some have more expensive asking prices than others. To prevent seeing business names that are outside your pricing range, you can specify your preferred price point. You get the logo design that goes along with the brand name when you buy it.
You Might Like: 13 Free Online Business Card Maker
5. WebHostingGeeks
WebHostingGeeks is another fantastic and user-friendly business name generator. To use, simply enter the keywords that best characterize your company, specify the type of domain you want (.com,.net), and specify whether you want the keywords to appear at the beginning, middle, or end of the domain. By providing the generator with accurate information, you can use it to produce a tailored list of potential business names.
The fact that this business name generator displays the domain and Twitter account availability for each name suggestion is one of its best features.
Once you've selected a name you like, it will look for these things and show you the results in a window. A list of registrars that you can use to register the domain is also provided by the generator. Overall, if you're seeking brand names with domain and social media availability, it's a useful tool.
6. NameMesh
NameMesh is a free and easy-to-use business name generator that allows for the most customization, offering a variety of commands that can assist you in further customizing your ideas.
The personalization of the various names you'll discover might be simple to figure out, and it will enable you to decide on a name that appeals to both you and your target audience.
It also has 20 various generators, a feature that searches social media, and even opportunities to purchase your company name there and then.
7. Shopify
Shopify is an amazing business name generator and it can help if you're seeking original brand name suggestions. You can choose from hundreds of catchy company names using its business name generator. Shopify makes it simple for you to create an online presence by only displaying company name suggestions with available domains.
When you choose the ideal name using Shopify's business name generator, you can easily open your first Shopify store and register for a Shopify account. This means that you may use Shopify's robust e-commerce tools to launch your very first online store right away.
8. DomainWheel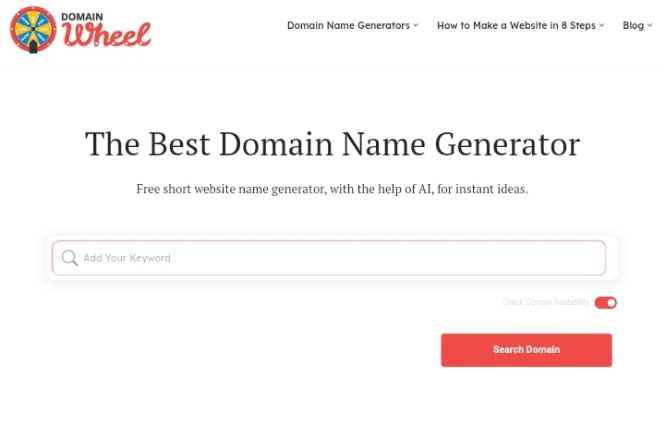 DomainWheel is another free business name generator that you can use to quickly increase the number of possible company names on your list. You can quickly get a list of suggestions based on your input by entering your seed keywords in the search window.
The amazing thing about DomainWheel is that it also confirms that each suggested domain name is still accessible. If you wish to register your new name right away, there is a link to several domain registrars at the bottom of the page. You can also get a list of unrelated ideas, rhymes, and "sounds like" alternatives for additional inspiration if you scroll down the page.
You Might Also Like: Managing Your Startup Business Budget to Reduce Risk
9. Namestation.com
This is another tool that may be used to generate creative and memorable business names and domain names. To use this business name generator, simply input a list of terms, and an algorithm will generate original combinations. You can change the results to show domain names instead of businesses.
The findings are categorized according to the number of words and suffixes. This business name generator allows customers to order a company name from professionals, unlike its analogs. In this scenario, actual people will come up with ideas for you.
10. Kparser
Kparser is a one-stop website that offers assistance to company owners with a wide range of jobs. This website is a dream for business owners who are attempting to manage online marketing and website construction for the first time, offering everything from customized advice for search engine optimization to domain generation tools, and everything in between.
One of their more recent services is a creative business name generator, and it's a fairly simple way to start the process of figuring out what suits your needs.
You Might Also Like: 20 Best Free Business Listing Sites In Canada
11. NameSnack
NameSnack is a simple-to-use business name generator perfect for finding a distinctive company name for no cost. It thoroughly researches the market you've chosen using artificial intelligence to assist you in finding unique names you haven't previously considered. 
Entering a term that describes your sector is the first step, after which you can browse a list of pertinent company names. The generator will also let you know if your desired names are available for the .com domain. NameSnack can also assist you in developing a simple logo design so that your new name can be seen on your website or online store.
12. Business Name Generator
Business Name Generator keeps things straightforward; it is a search tool that enables you to browse a variety of potential business names. The fact that BNG has a step-by-step approach outlined on its page is one of its strongest features.
It provides excellent advice and walks you through the full process of searching through and selecting the names that are likely to work best for your company. This generator differs from many others you'll find online thanks to its step-by-step procedure and user-friendly engine.
13. Hipster Business Name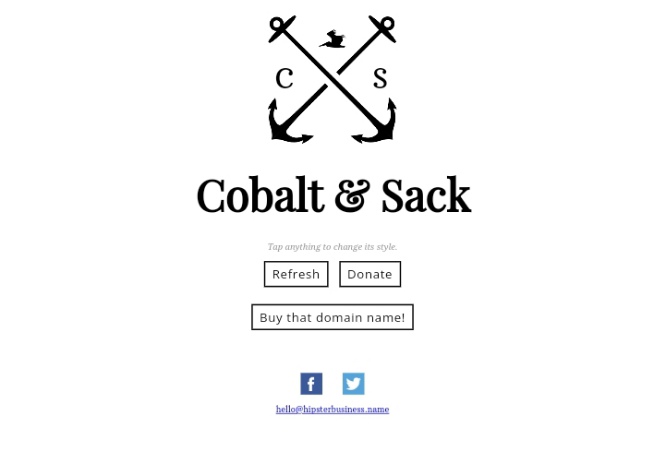 This business name generator, which allows you to click through to view a list of hipster company names, is arguably the most imaginative one on the list. You can broaden your brand into various industries because your niche won't be mentioned in the domain.
This business name generator is the greatest if you're seeking a distinctive name because some of the brand names on it are witty, entertaining, and catchy. It even makes a t-shirt sporting the emblem of your company.
14. Wordlab
This business name generator from Wordlab is less focused than some of the others on this list. Although it offers over seven million possible names for you to pick from, you must find each one on your own because they are not pre-listed. You can keep clicking "Get Name!" until you find a name you like.
Other name generators are also available on Wordlab, including a name builder you can use to expand on the concepts you already have. More than 340,000 combinations are available in this generator, including one-of-a-kind, potent names that can increase brand recognition for your business.
15. Squadhelp
Based on the data you enter, this free business name generator from Squadhelp helps you come up with catchy business names. You simply have to insert a few keywords associated with your business concept after selecting the industry for your enterprise (such as fashion or electronics). You have the option of adding your keywords or selecting the ones suggested. Finally, select an emotion you wish to associate with your company name, such as trust or enjoyment.
Squadhelp provides several name suggestions along with a logo mockup for each title. You can learn more about the name's origins and choose to hear a voice speak your new name by clicking the logo. Before deciding on the name of your company, you can also check it for trademark issues and run it by a live audience.
You Might Also Like: 20 Best Business Podcasts
16. Namelix
Namelix is another great business name generator. To acquire the best, most succinct results, it suggests that you use precise keywords. You may then filter your findings and even save them. They will utilize the information they save about you if you create a free account with them to filter any future searches you conduct.
If you're one of those people who is always looking for a creative spark in naming items, businesses, or whatever other activities you're pursuing, Namelix will be perfect for you because it allows you to have a personalized experience.
17. Freshbooks
Freshbooks is an interactive business name generator. When you click "Let's Get Started!", you'll be asked to choose your niche from the following options: information technology, trade and home services, legal services and business consultancy, and creatives and marketing. After which you input your keywords.
You can get more suggestions by clicking "Show me more names" after the tool's initial three suggestions. When you choose a brand name, a new page with a colorful rectangle displaying it will load.
18. Nameboy
Nameboy asserts that they are the oldest and the best business name generator. It enables you to search for the ideal name for your company using a variety of keywords. You can also select a solid match for your preferred business name utilizing their domain name generator without any overlap or confusion. Business owners may easily locate what they need without having to visit several websites thanks to this "two in one" strategy.
19. Novanym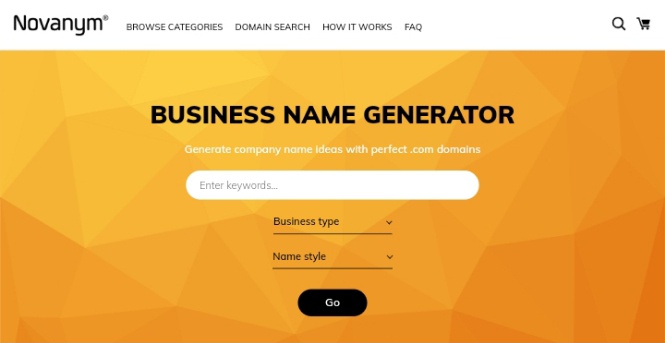 Novanym is a user-friendly, no-cost business name generator, but before it can start coming up with names for you, it needs a lot of information. In addition to the keyword, you can select the sort of business (what services or products you offer) from a range of "name styles".
You have a variety of name style options to choose from, not simply the "same old, same old" concepts. These include conventional, contemporary, casual, and other options. Future business owners will be able to get the most accurate search results for their company name thanks to this customization.
20. Getsocio
You can enter a keyword you want to use in your domain in Getsocio's business name generator and thousands of potential domain names will appear for you to choose from. Based on your keywords, it can continuously generate clever names. It can produce names that excite you and give your company a distinctive brand identity using even obscure phrases.
The only drawback to the domain name is that it ends in .getsocio.com rather than the more common .com. Once you've decided on a domain, enter your name, email address, and password to proceed with using this awesome business name generator.
You Might Like: 10 Best Scheduling Software For Business
FAQs
How do I choose a logo name?
Your company's name and logo should be unique and memorable rather than universal or easily forgotten. They shouldn't be a replica of or a misrepresentation of your brand's positioning and identity. They should not be difficult or confusing to speak, spell, or remember.
How can I come up with an original company name?
Start by doing some research on your target market and your rivals. Examine the reasons behind the names that your competitors choose for themselves and why they are successful. After that, contrast these concepts with your own company. Do they matter? When naming your company, put the needs of your customers first.
Should I name my business after myself?
Even while it would seem like a smart idea to name your company after yourself, you should avoid doing so unless you work in the service sector. Branding initiatives may be challenging if you name your company after yourself. Additionally, if your name is too simple or challenging to pronounce, it may be less memorable.
CONCLUSION
Selecting a business name can be quite easy for some people while others might require help. If you're one of those who require help in choosing a business name, these business name generators can be very beneficial to you. However, having the correct business name generator may help you filter through a lot of details and find the ideal answer for your company's requirements.
We hope you found this post as insightful as promised. Feel free to drop a comment below.
If you liked this article, then please subscribe to our YouTube Channel for videos relating to this article. You can also find us on Twitter and Facebook.
REFERENCE
https://www.realmobiweb.com
https://www.plerdy.com
https://www.oberlo.com
RECOMMENDATIONS