Before now, there used to be an unpleasant experience with the traditional banking services, malfunctioning ATMs, excessive transaction and maintenance charges, long queues and other frustrations that come with the regular banks but now Neobanks are taking over to offer better services without taking a dime from you.
In this article, I'll be talking about the top Neobank list in 2022 for you. We'll look into the meaning of Neobanks, how many Neobanks are in the world right now? Why you should consider Neobanks instead of your regular banks.
What are Neobanks?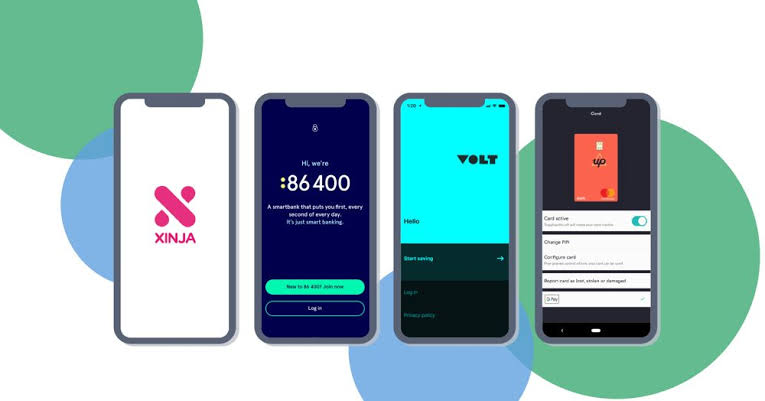 Neobank also known as internet-only bank, digital bank or challenger bank is a type of bank that offers its service exclusively via the internet. It operates entirely online without traditional bank buildings.
Referred to as "challenger banks," I'm the UK, Neobanks are fintech firms that offer apps, software and other technologies to operate mobile and online banking. These fintechs generally specialize in particular financial products, like checking and savings accounts.
They also tend to be more responsive and transparent than the traditional banks, even though many digital banks do partner with regular financial institutions to insure their financial products.
Based on an extended research by Exton Consulting, it discovered that there were 57 Neobanks in the United States and 256 neobanks worldwide.
Types of Neobanks
Generally, there are two types of Neobanks, The Full-stack Neobanks and the front end Neobanks.
A full-stack neobank is an independent bank with its own banking license and can operate completely without being controlled by a bigger bank.
A front-end neobank on the other hand does not have its own banking license and must operate in partnership with either a traditional or a big financial institution to provide its services to customers.
The Top Neobanks in USA
These are the top Neobanks in the US based on the number of users.
Chime:
Current
Aspiration
Varo
Acorns.
Chime is a United State financial technology startup and one of the most widely used platforms in the world of fintech. It currently boasts of more than 13 million users.
The fintech platform provides credit-building opportunities, early access to direct deposit payments and automatic savings features with a competitive annual percentage yield (APY) to its users.
Chime secured $485 million in Series F funding, making its valuation to skyrock to $14.5 billion.
Current
Current is a fintech company that offers mobile payments, online banking, and financial services on its platform. The company's mission is to enable members to change their lives by creating better financial outcomes. It was founded in 2015 by Stuart Sopp and headquartered in New York, United States.
The U.S based fintech company boasts of hundreds of thousands of users in the U.S. It has about 4 million users on its platform.
Current is the future of payment as it offers benefits such as early access to direct deposit, fee-free overdrafts and cash back on debit card purchases.
Aspiration is an online financial firm that was founded in 2013 by Andrei Cherny and Joseph N. Sanberg to offer retail banking and investing services built for everyone.
Aspiration delivers the financial products that people need in a consumer-focused model that empowers people to choose their fee and aligns the interests of Aspiration and its customers.
However, you should note that Aspiration is a financial firm, not a chartered bank. It offers a variety of accounts, with a focus on rewarding customers with cash back for purchases made from ethical companies. The money customers deposit through Aspiration is held at one of its partner banks, which offer FDIC insurance.
Aspiration has raised a total funding of $250 million
Varo
Varo Bank offers similar service to Chime, which includes zero monthly or overdraft fees and zero minimum balance requirement. It was originally founded as a neobank but has now converted into a full fledged bank.
The fintech platform has been tagged as the future of neobank as it now has around 2.7 million customers on its platform.
Varo raised $63 million, bringing its total funding to more than $482 million in less than four years since it was launched.
Acorns is a financial services startup based in Irvine, California. The platform was founded in 2012 by Noah Kerner who's also the CEO, Acorns specializes in micro-investing and robo-investing
Since it launched, the platform has expanded its service to include checking account, checking deposit and retirement IRA products.
The company has raised approximately $100 million in venture capital funding.
Top Neobanks in the UK
These are some of the top digital-only banks globally, based on its number of users.
Wise. (10 million)
Monzo (5.8 million)
Revolut (3.1 million)
Starling (1.9 million)
Monese (1.8 million)
Top Neobanks in Africa
The African continent is home to 16% of the world's population and according to a World Bank report, 66% of the adult population in Africa is unbanked and the majority is still unbanked.
This data shows a vast potential on the continent, an untapped goldmine Hence, there are many examples of successful Neobanks across several African countries. Infact, the 10 most funded neobanks in Africa have so far raised a combined $688m across 35 rounds. Nigeria itself has more digital-banks which is moreorless taking away the stress of using the traditional banks.
You might want to read on how open banking Fintech will Shape African Continent
Here are the top Neobanks in Africa in no particular order:
TymeBank. (South Africa)
Chipper Cash. (Uganda)
Palmpay. (Nigeria)
Bettr (South Africa)
Dopay (Egypt)
Cellulant. (Kenya)
Paga. (Nigeria)
Kuda (Nigeria)
7aweshly (Egypt)
Opay (Nigeria)
VBank (Nigeria)
Sol. (South Africa)
Onefi. (Nigeria)
Eversend. (Uganda)
Top Neobanks in Canada
Stack
Tangerine Bank
Mogo
Koho
Neo financial
Stack: is a Canadian Neobank that offers Personal accounts and a debit card. The STACK app provides instant rewards and tools to manage your money. You can also easily send funds to family and friends, STACK-to-STACK transfers are always free, fast, and secure.
Stack currently accepts to open mobile bank accounts for residents of Canada,
Tangerine Bank: is a neobank based in Canada offering Personal accounts including a debit card, Saving, Spending, No-fee daily chequing, Money‑Back Credit Card, Investment and Borrowing
You also get free access to 3,500 Scotiabank ABMs nationwide and 44,000 ABMs worldwide through Scotiabank's Global ATM Alliance.
Mogo: is a neobank based in Canada that offers Personal accounts including a debit card, You can carry out all transactions from the app
Mogo is designed to help you spend less so you have more money to put towards saving and investing. You'll also earn green satoshis (bits of bitcoin) when you spend or use the MogoCard.
Koho: is a free spending and savings account designed for all Canadians. Equipped with a prepaid Visa card and mobile app, you'll be able to budget, spend, and save on the app.
you get at least 0.5% cash back on all your purchases, and 2% on 3 major categories with a KOHO Premium account.
Koho currently accepts to open mobile bank accounts for residents of Canada,
Neo Financial: Neo is a 100% digital-only bank that is based in Canada. You can pay bills, make deposits, send Interac e-Transfers®, and earn rewards wherever you are and at any time, all from the comfort of your home.
You can open an account within minutes, earn instant cash back at your favorite stores, and get real-time notifications when you spend and save, all without monthly or annual fees
You can also Pay bills directly from your savings account while earning 1.3%* interest. No monthly fees, no minimum balance, and unlimited free transactions.
Top Neobanks in Nigeria
This list consists of top neobanks, mobile-only banks and digital banks in Nigeria. Even though there are now lots of Neobanks currently existing in the country, this list is a streamlined version of all the top Neobanks in Nigeria.
Needless to say that the growth in Neobanks in Nigeria is fuelled by the rising investor enthusiasm for the sector, considering that VC funds devoted over $2 billion to Neobanks in Africa.
Top Neobanks in Nigeria
Kuda Bank
VBank
Rubies
Sparkle
Mintyn Digital Bank
Eyowo
Fundall
goMoney
OneBank by Sterling
ALAT by Wema
Requirements to open a Neobank account
You should note that to open an account with most of these neobanks, you'll need to either download the app or visit their website. Then you can provide an official photo ID and a Nigerian Bank Verification Number (BVN) as part of the application process.
Should in case you don't have any of these requirements, there are some Neobanks that would still allow you to open an account but with limits on transactions.
if you enjoy this article, kindly share on your social media platforms.