Books, they say, help you live a thousand lives. But having a shelf full of books that you've read over and again does no good to you and your shelf. You might also have thought about disposing of them to clear your shelf for new books, but wait! What if I told you you could make some money from those books?
Selling books online is a way you can clear your shelf and make money. Fortunately, there are several sites to sell books online. The major challenge you'll face when you want to sell books online is choosing the most appropriate site as there are several sites to sell books online.
In this post, we'll take a look at some of the best sites to sell books online. Do well to read this post to the end as it'll be very informative.
Table of Contents
HOW TO SELL BOOKS ONLINE
Here are some great recommendations to get you started and sell quickly once you've decided which website or app to use.
1. Take Stock Of What You've Got
Although this could be one of the more difficult chores in the reselling process, it will undoubtedly assist you in the future in terms of publishing your listings and generating additional profit.
Collect all of the used books you want to sell, then look up their details online. Titles, editions, authors, and maybe specific details will all be necessary.
You also need to check the pricing that other sellers have offered for the same or comparable titles. This way, you'll be able to gauge market demand and choose the appropriate price for your books.
2. Check The Condition Of Your Books
You should always inspect your books for damage or significant flaws because you will need to note them when you list them. When it comes to listing, page tears, writing in the margins, and missing pages can have a significant impact on the value of your books. If your copies are severely damaged, some websites won't even accept them.
3. Take Clear Pictures Of Your Books
Images are essential to sales if you're selling on Depop, Vinted, Facebook Marketplace, Amazon, or eBay. The ideal background is a crisp white one, which will help your book shine out more when displayed on the apps and website. Buyers need to be able to see the front and back covers well enough to ensure that there are no concealed flaws or tears.
4. Consider Postage And Packaging Costs
While it's easy to forget about postage and packaging, it's a factor in the expense of shipping your books to customers. Check your shipping options and determine which ones will work best for your book's weight and size.
When it comes to packaging, a padded envelope is a strong yet lightweight option. These can be expensive, but they will safeguard your books without adding any extra weight that would increase the cost of shipping.
5. Compare Sites For The Highest Prices
When using a valuation service, it's a good idea to compare the prices that other websites are offering because there may be significant differences between them depending on their pricing and demographics. It's advisable to verify if the title you're selling is listed for more on other websites, even when selling on platforms like Amazon.
6. Always Send Off Your Packages On Time
This is crucial when using platforms like Vinted and Depop since it gives your customers the ability to rate you based on their interactions with you. Thus, the faster you mail the book, the faster they'll get it and give you five stars. It's astonishing how many people read your evaluations before purchasing your goods. Thus, it is beneficial to maintain your sellers' satisfaction and to remember your mailing dates.
You might like: 20 Great Best Audiobooks For Kids
BEST SITES TO SELL BOOKS ONLINE
There are several sites to sell books online and below is a list of some of the best. They include:
1. Powell's Books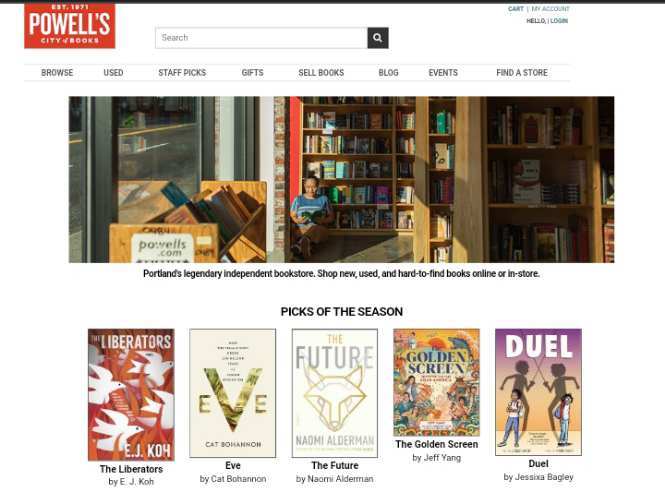 Powell's Books is first on our list of best sites to sell books online. You get an order on your book after you've inputted the book's ISBN. You have the option to use their pre-paid postage label or ship them yourself if you accept the bid. Upon arrival, you will receive a confirmation and be compensated with either a PayPal deposit or a Powell's account credit.
2. Amazon
Next on our list of best sites to sell books online is Amazon. Amazon is still a great place to sell books online, whether they are flipbooks, rare books, or college textbooks, even though its trade-in program has ended. Selling various kinds of books on Amazon is possible, ranging from rare or collectible volumes to both new and old textbooks. You also have the option to sell your work in hardcover, paperback, and ebook editions.
If you are packing and shipping the orders yourself, you can use Amazon's Buy Shipping services. This service provides confirmation automatically. Also, you can track, confirm, and label your orders as well as ship your books all from one location.
3. Depop
Depop is not only a great app for selling used clothing, but it is also one of the best sites to sell books online. There are no listing costs and you don't need a following to start selling, whether you use the app or the website. Nonetheless, the company deducts 10% from each transaction you make, and as a seller, you are in charge of paying for all shipping and packing.
There are a few considerations to make when making your listings. The first is the book's dimensions and weight when it is listed. Your profit margin may be slimmer for books that are heavy and larger because posting them will cost you more money.
If you list a book for $2.50 and provide a precise mailing price, you should anticipate receiving about $2 in your bank account.
4. eBay
eBay has been around for so long because of the wide range of listings and high sales success rate. It is preferred by both buyers and sellers of used goods as listing books is much simpler than you might think.
eBay will allow you to search for an existing listing that matches your book on the site when you build your own. The website will automatically complete the author, title, and description areas for you after you've made the correct choice. It's also important to remember that eBay is an auction website, meaning that there's a chance that you might receive no bids at all or very low ones for each item.
5. AbeBooks.com
AbeBooks.com is next on our list of best sites to sell books online. On AbeBooks.com, you may sell practically any book, including your Harry Potter books. Simply register as a seller, complete the necessary fields, post your books for sale, and watch for the order!
You can check the price of your books using the AbeBooks search system if you're not sure how much they're worth.
You might want to read: 14 Amazing Audiobooks For Programmers
6. BookScouter
Next on our list of best sites to sell books online is BookScouter. The website functions as a search engine for a lengthy list of book purchasers and their user reviews. To begin with, you will need the ISBN. After clicking "Sell," you will be redirected to the affiliate's website to finish the transaction.
7. Vinted
With no listing charge or commission taken from sales, Vinted is an excellent platform for sellers. The purchasers pay Vinted a buyer fee ranging from 3% to 8% for each purchase they make instead of seller fees. Thus, as a seller, you keep 100% of the profit! It's also a little simpler to mail a package because you don't need to look for a post office, you can drop it off at any one of several postage sites.
The pricing assumptions that Vinted comes with are a minor drawback, though. Regretfully, the majority of purchasers are searching for a good deal. That means you probably won't be offering your used books for more than $6 when it comes to listing them. Thus, Vinted is your one-stop shop for sales that are quick, simple, and hassle-free.
8. BooksRun
BooksRun is one of the best sites to sell books online because you can rent or buy new and old textbooks from BooksRun. They provide excellent prices on used books. You simply need to press enter and type in the ISBN of the book you wish to sell to start selling. After that, you can view the books in the "seller cart" then you will be able to print the pre-paid postage label and ship your books within five days of completing your order.
9. Facebook Marketplace
Facebook Marketplace is also one of the best sites to sell books online. You keep all of the money because there are no listing fees and no deductions from your sales. If you want, Facebook Marketplace also lets you handle the buyer transaction in person and avoid paying postage. But this has some dangers, one of which is the potential for safety concerns when meeting someone you meet on Facebook.
10. Textbooks.com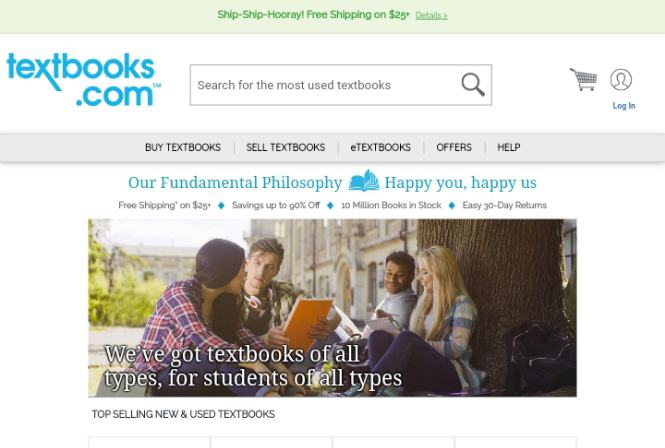 If you still have college books to sell, Textbooks.com provides an easy option to sell secondhand books that you probably won't need again. It is one of the best sites to sell books online.
When you accept a buyback quote, you'll receive a UPS label for free shipping and the quoted price will stand for 30 days. After your book is received, payouts take the form of a cheque or PayPal deposit and happen one to four weeks later.
You might like: 15 Best Apps to Read Books for Free
11. BookDeal.com
BookDeal is one of the best sites to sell books online. The site has lots of textbook buyback vendors. To select the deal with the best price, you can compare offers on a single page and you quickly get quotes by just entering the ISBN of your book. You get paid with PayPal, Zelle, or Venmo after they receive the books. BookDeal guarantees that you will always be paid the price you specified. Thus, you shouldn't be concerned.
12. WeBuyBooks
WeBuyBooks is one of the best sites to sell books online because of its convenience. They have an easy-to-use app that lets you handle everything about selling books online, from listing to payment. It also has a barcode scanner that lets you easily upload books.
The minimum offer price of $6 which requires you to scan many books until you reach that sum, is a drawback. To meet the minimum offer total, you will need to scan and sell a lot of books if the average valuation for your titles is 20p.
13. SellBackYourBook.com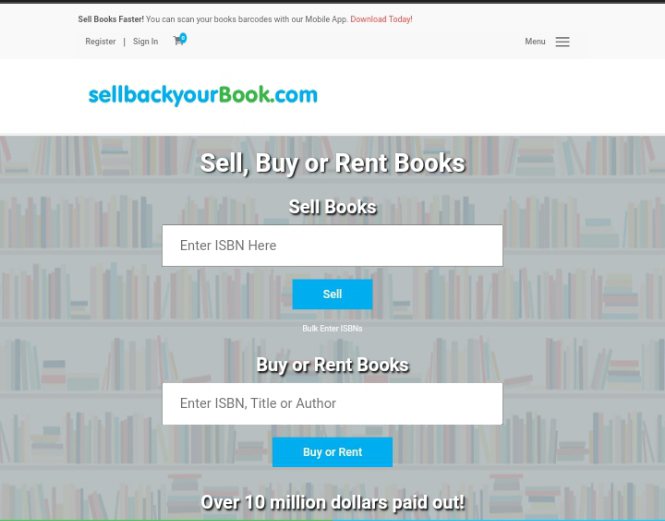 SellBackYourBooks is one of the best sites to sell books online. This website has the greatest offers available online, and its customer service representatives respond to inquiries through their website live chat feature almost immediately.
But keep in mind that SellBackYourBook does not purchase multiple copies of the same book. This implies that you won't be able to sell several identical textbooks on this site.
14. Music Magpie
Music Magpie works on a valuation basis and will offer you money back for any titles deemed profitable. They don't have listing fees and valuations are provided without charge, albeit frequently at a very cheap cost. Therefore, there isn't much room for profit.
Here, convenience is the benefit. You don't have to interact with purchasers while selling from your house, and you can package up all of your unwanted titles into one package to send to the company. They provide a downloadable label to cover the cost of shipping, but you will still need to package your books in a box or envelope.
ARE OLD BOOKS WORTH ANYTHING?
The condition of any secondhand book is the most crucial factor to take into account when determining its value. There's no denying the value of a first edition over subsequent printings. However, an old, poorly-written book won't fetch much money. You might be sitting on a goldmine if you're fortunate enough to own a first edition that is in good shape and has the author's signature!
The good news is that you can get a ballpark estimate for the value of your books by using online resources. However, you should be aware that unless you're selling in large quantities, you probably won't make much money from online secondhand book sales. Therefore, you would be better off donating the books or taking them to a bookstore if you only have two or three to sell and they are not collectible.
FAQS
Is selling books online a good way to make extra money?
You might be able to make some additional cash by selling your old books online, but you shouldn't count on being able to live off of the money. Hardcover and uncommon editions will bring in a little more money, but most paperbacks in decent condition will only bring in a few bucks. It is also necessary to account for any applicable shipping charges.
What is an ISBN?
An International Standard Book Number (ISBN) is given to each published book. Every online bookselling option requires having this identification number since platforms utilize it to find out what books are popular and at what costs.
What kind of condition is appropriate for books?
Where you sell your books will determine what kind of condition is acceptable in most cases. Generally speaking, though, the books must be free of water damage and contain every page. The books shouldn't smell like mold or cigarettes either.
Does Amazon purchase used books?
Yes. You can use any of Amazon's fulfilling orders (MFN or FBA) to sell your used books. The number of used books you hope to sell each month may determine whether you need to go with a professional or individual marketing strategy.
How much do Amazon booksellers make?
An Amazon seller typically makes over $1,000 per month, with some super-sellers making over $100,000. Between $1,000 and $25,000 a month, or between $12,000 and $300,000 annually, is what fifty percent of Amazon sellers earn.
SUMMARY
You will not only make room for the next big bestsellers by selling your books, but you will also receive payment for your efforts. It is killing two birds with one stone. Selling books online is an amazing idea and we urge you to select from the list of best sites to sell books online that we have provided. These sites will make the process seamless for you.
We hope you found this post very informative. Let us know what you think in the comment section below.
If you liked this article, then please subscribe to our YouTube Channel for videos relating to this article. You can also find us on Twitter and Facebook.
REFERENCE
https://moneypantry.com
https://www.bookdeal.com
RECOMMENDATIONS