Email marketing is a lot of extra work for any small business. Collecting emails, segmenting them, and crafting emails that appeal to your audience takes a lot of time, and oftentimes, money. However, most business startups still use email marketing regardless of these constraints.
This may lead the average business owner to ask: what are the benefits of email marketing? Email marketing is advantageous, but determining the advantages can be difficult if you haven't even tried it yet.
In this article, I'll show you some of the most important benefits of email marketing for businesses and startups. Also, you'll learn some tips to supercharge your company's emailing strategy, as well as the advantages and disadvantages of keeping an email list.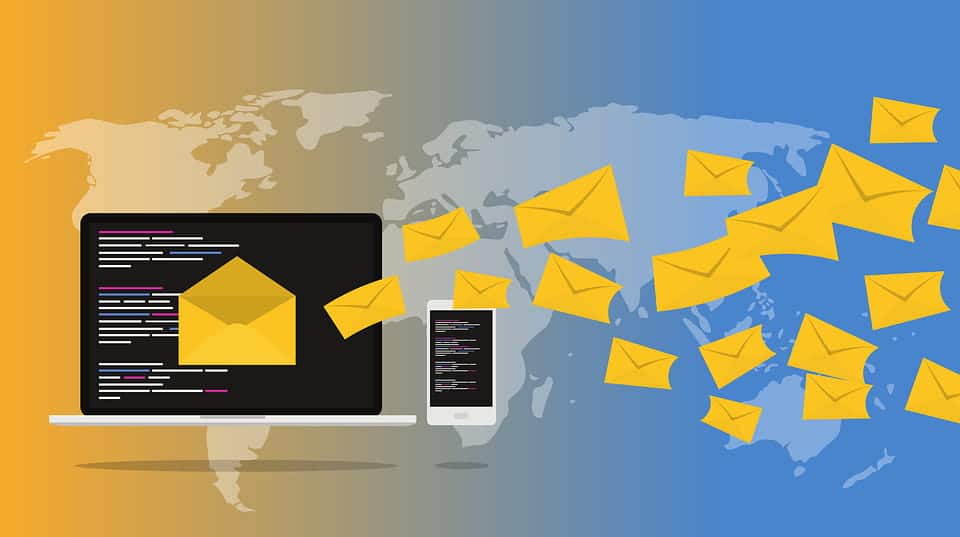 Benefits of Email Marketing for Startups
Almost all marketers agree unequivocally that most startups should keep an email list. Since marketers specialize in growing a company's audience, you may want to take their words very seriously. Before then, however, it's important to learn about some of the top benefits of email marketing for startups.
Here are some of the reasons why you should consider collecting the emails of prospects and keeping an email list for your small business.
Building Strong Relationships with Customers
Email isn't the most personal way to reach out to your customers and build strong relationships with them. You can make phone calls to each of your customers, but imagine making a phone call to each of your 2,000 customers and potential clients.
Without mincing words, it will be a very challenging, if not impossible experience. You can't call two people at the same time, and calling lots of people will also take a lot of time. In addition to that, you may want to consider getting a personalized phone bill because you're in for a costly experience.
With email marketing, however, you don't have to worry about all that. You can always message subscribers to your email list at once while personalizing it using their names and phone numbers. There are many advantages to that strategy; not only is it time-saving, but you're also saving up on phone bills.
This will help you build strong relationships with customers without having to call each one of them. Moreover, you don't even have to write different emails to each customer; most email marketing software has handy tools to help you personalize each email.
Personalized Targeting
Unlike social media marketing, it's important to target specific segments of your audience with email marketing. This simply means that your tech-loving audience will never have to read ads about the NFL if you're connecting via email marketing.
If that seems like something you've been struggling with, it means you've always needed email marketing. This is especially applicable to e-commerce companies that sell a wide range of products across different categories on the same website.
How email marketing solves this problem is by segmenting the emails you collect from users into multiple categories to reflect their likes and dislikes. For instance, you can set people to opt in to receive emails about what they care about and opt out of emails that they never want to see again.
That way, you can push out emails without worrying about them ever landing in the inbox of someone who will instantly unsubscribe from your list. Indirectly, this helps to retain customers, since you only keep a list of people who enjoy reading the emails that you send because it's relevant to them.
Availability of Relevant Metrics
When using any of the other promotional marketing tactics, it's usually hard to track how many people you're reaching. There are many reasons why this is the case, and the major one is because read receipts are a very recent thing that only got popular in recent times.
So, you can't expect to see a realistic outlook of the number of views of your Facebook post or how many prospects opened that SMS. It's crucial to point out that all Facebook metrics are estimated since they don't care if your ad or post is scrolled into view before recording it as a view.
With email marketing, however, your email company embeds a little pixel in every email you send, collecting information about the performance of the email. You can see information like how many people opened the email, who those people are, what links they clicked, and how many links they clicked.
There are several reasons why you may want access to this kind of data. Firstly, it helps to confirm that your email list is responsive and not just a list of eggheads who don't read your emails. Also, it's a good indication of the value of your email list, since you can track how many sales you're making from the email channel.
Finally, you can use the metrics to determine what kind of content will resonate with your audience in the long run. If you notice an email doing well, you should probably send more about the topic, and if possible write blogs and post to YouTube about the same thing to attract more prospective customers.
Email Marketing Tips for Startups
When trying to start your first email list, there are lots of incorrect information out there on the internet that will make for a terrible start to your email marketing journey. Here, I'll outline some email marketing tips that should help you start on the right note.
Send Emails Consistently
The main point of having an email list is connecting with customers and not selling to customers. You can always sell to your customers after you've built an excellent relationship with them and gained their trust. Likewise, the only way to gain the trust of your audience is by sending emails consistently.
By consistently, I don't mean spamming their inboxes every day for random information that they don't even care about. Instead, you should consider handpicking information that may matter to them and discussing it on the email list at a frequency that goes down well with you.
Most companies stick with a weekly email newsletter, but that's not a rule. You can send an email to your audience every week, every month, or even every other day; just don't show up suddenly on Black Friday asking your subscribers to buy your ebook for 82% less!
Personalize Your Emails
Your email marketing software should offer a personalization feature that should make every email look like you're writing it for the reader alone. It's up to you to use this feature when sending emails to avoid coming across to your audience as a telemarketer or someone desperate to make a sale.
Personalizing your emails at the most basic stage is mentioning the name of the reader in the body. For the best results, you should consider segregating your email lists to ensure that each one of your readers is getting emails that are relevant to them.
Also, sending automated happy birthday messages is a way to make them appreciate being on your list. You can even hide surprise coupons in birthday messages to a next-level degree of personalization that will help build an excellent relationship with everyone reading your emails.
Optimize Your Email for Mobile
You almost always write emails from your desktop, but recent studies show that people are increasingly reading emails on their phones. If your target audience is a developing country where owning a computer is a luxury, the majority of your emails will be read by mobile users.
If you've tried to read some emails on your phone, you'll find the letters so tiny that it becomes almost impossible to read. You don't want that to be your email. Rather, you should consider checking your email across multiple devices; smartphones, tablets, and desktops, before pressing send.
Advantages and Disadvantages of Email Marketing
Earlier, we've covered the benefits of email marketing for small businesses. Since the advantages of email marketing are the same as their benefits, this section will naturally focus on the disadvantages of the promotional strategy.
It's crucial to note that the disadvantages are usually the result of not following one of the email marketing tips for startups. These usually lead to losing out on all or most of the benefits of email marketing, as will be discussed below.
The primary disadvantage of using email marketing is that the vast majority of people are so done with emails. If your brand is not well-known in the industry, it will only take one irrelevant email for a user to unsubscribe from your list.
Again, that only happens when you try to send promotional emails without building a relationship with your customers. Speaking of sending promotional emails without building relationships, those emails will almost always end up in your user's spam box.
Google's Gmail has become pretty effective at fishing out spam emails, and the victim may just be the new email you sent. Before pressing send, confirm that you've selected the correct audience segment, as sent emails can't be unsent.
Conclusion
Email marketing remains one of the best marketing channels for small businesses, but disadvantages are not completely absent. If you follow all the tips and best practices, you should be able to gain all the benefits of email marketing while avoiding the pitfalls successfully.
In this article, I've outlined some of the best practices for a successful email marketing campaign. Also, I've listed some of the benefits of email marketing to help you understand why your company needs an email list.
If the post helped you, consider following Techibytes on Facebook and Twitter.