You may be wondering why it is important to create a Twitter business account as a business owner or brand. Well, it's a no-brainer that a major goal of a business or brand owner is to create awareness and reach a wider range of people.
These days, with social media platforms like Facebook, Instagram, and Twitter, reaching a broader audience is more achievable than ever before!
As one of the biggest platforms in the world, with currently 229 million daily active users, Twitter is a tool every business owner should have in their arsenal. 
Though Twitter is a platform originally created for users to share their thoughts and opinions, it is also now a valuable tool for business. According to stats by Hootsuite, Twitter users are 54% more inclined to purchase new products.
In this article, you will learn how to create a Twitter business account. When you create a Twitter business account, it comes with many perks, which you will discover as you read on. 
BENEFITS OF USING A TWITTER BUSINESS ACCOUNT
Before we go into how to create a Twitter business account, we are first going to look at the benefits of using a Twitter business account.
An avenue to provide quality customer service 

When you create a Twitter business account, you can provide quality customer service to your customers. Social media platforms like Twitter make it easier and more convenient for customers to contact you or a team member if they have a query or a complaint. 

By responding to complaints from your customers, you will be able to learn more about your audience and further develop your brand. 

For instance, if you are an ecommerce vendor that focuses primarily on selling male shoes and many of your customers contact you about damaged packages, there are many ways you could benefit from their complaints. For one, you will be able to discover that there is a problem with the materials you use to package the goods and fix them, leading to happier customers. By the way, you can check some ecommerce platforms to sell your products

When folks are satisfied with the quality of service they receive from a brand, it significantly increases the chances of them becoming second-time and even regular buyers! 

Also, fantastic customer service leads to overall sales and a great reputation for your brand. People would be more likely to promote your business to people they know if they had a great experience with your brand. As a matter of fact, statistics show that 36% of people feel more inclined to recommend a brand if its customer service is outstanding. 
Develop a brand image 

When you create a Twitter account for a business, you get to develop a brand image. When you hear the word "Pepsi", what exactly comes to mind? And more importantly, what is the first thing you want to be on people's minds when they hear your brand name? What do you want your brand to be known for? 

You can develop your brand image when you create a Twitter business account. You will have the chance to communicate with your customers and show them your values. 

Brand recognition is crucial in today's information-rich marketplace, as buyers frequently do a lot of research before deciding on a purchase. About 81% of retail shoppers perform online research before they make a purchase. 

Furthermore, when consumers have an emotional connection to your brand, they are more inclined to buy from you again, which means they will be more loyal to your brand. A good way to create a brand image on Twitter is by tweeting. Your tweets should always be authentic and effectively display your goals and values as a brand. 

For instance, if your goal as a brand is always to deliver high-quality goods to your customers, your tweets should highlight what makes your products the best.  Your tweets should also be able to erase all doubts from the mind of your customers. 
Benefit from rich data about your customers 

A great way for a brand to stay at the top of its game and stay relevant is to be aware of the latest trends. But…how exactly do you, as a brand, discover the latest trends? And more importantly, how do you discover what trends your customers like most and their opinions regarding the latest trends? By using a Twitter business account, of course!

Twitter has an exciting feature called the "Twitter Explore page" that lets you see the latest hottest topics unique to your region and the things you are most interested in. Also, you can use the "Twitter Explore page to learn about the hashtags and topics that your customers find important. 
Attracts people to visit your site or physical store

When you create a Twitter business account, you get an amazing opportunity to improve traffic to your site. The more people follow your brand and learn about it, the more likely it is for them to visit your website or physical store for purchase. 

So, having a popular Twitter account is essential if you want more people to visit your website and buy your products. 

For those with the means and know-how, Twitter's massive user base can be a treasure trove of traffic for those with the means and know-how. A good way to drive traffic to your website is by having regular discounts or promos, which will draw people to your website or physical store. 

Increasing your following is about striking a balance between strategic content creation, user-to-user engagement, and fine-tuning your profile. Maximise your chances of success by providing detailed information in your biography and a clear description of your product or service. 

Furthermore, don't forget that getting as many followers as possible is important, but so is getting them to do an action that helps your profile.
Promotes a deeper bond with your community 

You can help your community by spreading the word about upcoming events, addressing pressing social concerns, and rallying behind worthwhile causes. Your local business's visibility will increase, and your ties to the neighbourhood will improve, as a result of all your hard work.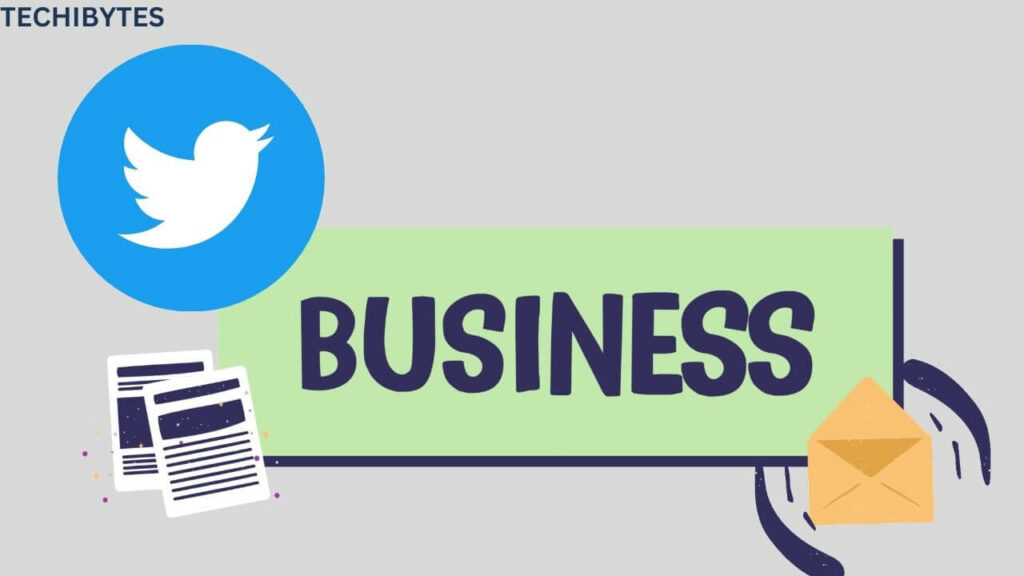 HOW DO I GET A TWITTER BUSINESS ACCOUNT?
Now that you know the benefits of creating a business account, you will finally learn how to create a Twitter business account.
STEPS ON HOW TO SET UP OR CREATE A TWITTER BUSINESS ACCOUNT
Below are a few steps to help you create a Twitter business account on Google or via the app.
Sign up on Twitter

The first step is to create a Twitter business account. You may sign up for Twitter by visiting their website or using the Twitter app. You'll be asked for personal information like your phone number and email address before you can create a username.
Upload a profile picture, a cover picture, and a bio  

The second step to create a Twitter business account is to upload a profile picture, a cover picture, and a bio. Your profile wouldn't be complete without a profile photo. One option is to use the company logo, while another is to use a headshot of yourself if you are the company's face in the public eye. 

The next step is to upload a cover photo, which could be an image of yourself or your business's products. Describe your business and what it stands for in your bio.  It's important that all of your marketing materials reflect your brand's identity.
Follow thought leaders, prominent figures, and companies in your field. 

Another important step to create a Twitter business account is to follow other brands and influential people. If you follow other individuals and businesses, people will be more likely to take your account seriously, which will help you gain more followers.
Upload your very first post

After you create a Twitter business account, you have to make your first post. You have free reign over what you want your first post to be. However, it would be best to think about when you can reach the largest number of people with your post.  This may depend on the niche your company operates in and the demographics of your Twitter following.
Think about investing in Twitter ads. 

Paid ads in users' feeds or suggested accounts are two ways to get the word out about your company on Twitter.
Convert your account to a professional account

Twitter created the professional account feature for people who want to use their Twitter accounts for commercial purposes. This includes businesses and content creators. With a professional account, content creators and businesses can access more tools to help them grow and develop their brands. 
Here's how to convert your Twitter account to a professional account.
Head on over to Twitter.com and sign in.
On the left sidebar menu, select More.
Click on Twitter for professionals.
Click on Agree and Continue.
Select a category that best defines your Twitter profile from the options provided.
Use the Next button to go on to the following page.
Choose the account type (Business or Creator).
To complete the process, click Next.
TWITTER BUSINESS ACCOUNT VS PERSONAL ACCOUNT(WHAT YOU SHOULD KNOW)
Many people are conflicted about what type of account they should create. Below are a few points that will show you the differences between these accounts, which will help you create an account that suites your needs
Purpose of the account

The use of Twitter for business purposes differs significantly from personal use. A personal Twitter account is only for your use and has no ties to any company or organisation. It's a window into your life, thoughts, preferences, and character. 

On the other hand, a business account is intended for use by a company, organisation, or blog. You're restricted in what you can post. All tweets you send would be consistent with the mission and ethics of your company.
Profile Pictures 

For individual profiles, you are free to choose whatever photo you like. 

A Twitter business account, however, necessitates additional discretion regarding profile pictures.  Since a company's logo is a strong visual representation of its brand, it is often used as a profile picture for a company's social media accounts. 
Terminology used

It's important to keep in mind that the tone of your tweets can make or break your credibility with followers, whether you're using Twitter for personal or professional purposes. However, there is a significant linguistic gap between tweets used for personal and professional purposes. You would care more about grammar and syntax, spelling, punctuation, etcetera on your professional profile than your personal profile.
Access to tools 

Businesses, organisations, content creators, and other professions can use business accounts to expand their Twitter followings. The platform equips them with tailored resources for progressing toward their objectives. However, people with personal accounts cannot access these professional features. 
WHICH ACCOUNT SHOULD YOU USE?
If you are conflicted about what type of account you should create, you can get the best of both worlds by creating both a personal and a business account.
If you run a business page, you can create a personal account that reflects who you are as a person. Also, if you run a business, you should consider creating a business account so you can have access to tools that will help you grow your brand.
FINAL THOUGHTS
Many benefits come with creating a business account, from growing your brand to reaching a broader audience. This article shows you how to create a Twitter business account. Happy reading! 
If you liked this article, then please subscribe to our YouTube Channel for videos. You can also find us on Twitter and Facebook.