When it comes to studying computer science in India, there is no better location for that than Mumbai. The sheer number of institutions in the city makes it a no-brainer for anyone trying to gain any meaningful computer science knowledge in the country.
While the abundance of colleges gives you the freedom of choice, it also put you in a dilemma of choice. Having to choose the best college for you, while accounting for things like the quality of education, placement, and the cost of getting a degree is usually a stressful undertaking.
To help you with that, I will list 11 of the best colleges for computer science in Mumbai. The colleges in this compilation will appeal to everyone, whether you're looking for the best education possible or you're looking to cut some costs.
Which College Has Google Placement in Mumbai?
If your goal is a placement at Google or similar MNCs, there are only a couple of colleges in Mumbai that can offer you a chance at that. While a Google placement is not certain at these universities, unlikely is always a better chance than impossible.
When it comes to Google placements, IIT Mumbai is your best shot at that. You shouldn't be surprised to learn that the institution is one of the top five colleges with placements in huge MNCs, with the other four being IIT Chennai, IIT Delhi, IIT Roorkee, and IIT Kharagpur.
Next to IIT Bombay, Veermata Jijabai Technological Institute (VJTI) is another university with an excellent placement record over the years. Last year, Google offered the best placement opportunity to one of its students, offering them a package worth INR 58 LPA. That alone is enough proof that Google goes to this institution for placements.
In addition to Google, companies like Apple and Amazon also splash big on undergraduates from VJTI, making it one of the overall best universities in Mumbai in terms of placements. With nearly 800 companies visiting the institution for placements, you have absolutely nothing to fear.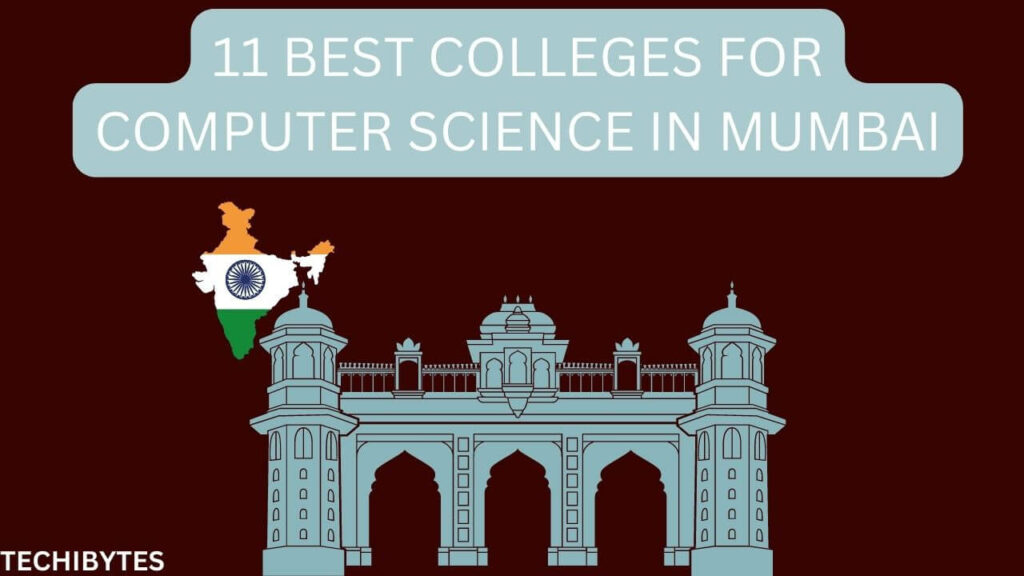 Which College Has the Best Placement for Computer Science?
When choosing a college for computer science, most Indian students see placement potential as a deal breaker, and it's understandable. You seriously can't be in a random community college and expect placements at top MNCs like Google or Microsoft.
In terms of placements, the answer remains IIT Bombay. There are some other colleges with decent placement rates and offers, with KJSCE, TCET, and VJTI being decent examples. However, there can be only one "best," and that only rightfully goes to IIT Bombay.
Which Institute is Best for CS in Mumbai?
There are tons of colleges and universities in the city of Mumbai that offer computer science and other related courses. However, attending a prestigious one is necessary to graduate as one of the best computer scientists in the country. So, what is the best institute for computer science in Mumbai?
At the moment, the Indian Institute of Technology, Bombay, popularly referred to as IIT Bombay, is the best institute for computer science in Bombay, and one of the best in India overall. There are so many benefits of studying here that you should always go for it, if it is an option.
The computer science and engineering faculty at IIT Bombay are second to none and the curriculum is designed to keep graduates competitive in the computer science field. Since only the best set of students get admitted into the university, you can learn so much from your peers at the university.
IIT Bombay's placement record is super, with the average package for a graduate being over INR 17 Lakhs per annum. Most IITs are excellent institutions for studying computer science, but IIT Bombay is even better than average.
11 Best Colleges for Computer Science in Mumbai
There are so many excellent colleges for computer science in Mumbai that it's genuinely difficult to choose. To help you make a choice, here is a list of computer science colleges in Mumbai and why they make this list.
1. Indian Institute of Technology (IIT), Bombay
IIT Bombay isn't just one of the best colleges for computer science in Mumbai, it's the best. It's well-known around India that the IITs offer the best CSE degrees, and IIT Bombay happens to be one of the five best in the country.
The institution has one of the best faculties in computer science, not just in Mumbai, but in the entire country as a whole. It also has a curriculum that's second to none, with many practical learning initiatives with numerous projects and assignments that show you how it feels to work in the IT industry.
Since only the best-performing students stand a chance of studying at IIT Bombay, getting admitted will set you up for a learning experience with some of the best brains in the country. I must mention that the professors are equally qualified and equipped, making it the best college in Mumbai for computer science by far.
2. Veermata Jijabai Technological Institute (VJTI)
Not everyone in Mumbai can make it into IIT Bombay, and that's fine. There are tons of equally good alternatives, one of which is the Veermata Jijabai Tech Institute, popularly known as VJTI. VJTI Mumbai has been around since 1887, and over its long history, it has grown to become one of the best colleges for computer science in Mumbai.
While you shouldn't expect the quality of teaching you'd get from IIT Bombay, VJTI can boast of several senior computer science lecturers. The placement is also great, with top MNCs like Google, Microsoft, and Amazon visiting the university and paying decently.
3. Vivekanand Education Society Institute of Technology (VESIT)
If you're from the Sindhi community, your easiest shot at getting a degree in CSE is VESIT, as the institution is a Sindhi minority college. It's not all roses at the university, but without a competitive score in the requisite exams, you don't have too many options.
While you shouldn't expect Google or Apple to visit for placements, some top MNCs from within India and beyond do make competitive offers. The fees aren't expensive and the quality of teaching is pretty decent, making it one of the best colleges for computer science in Mumbai.
4. St. Francis Institute of Technology (SFIT), Mumbai
While the computer engineering department at SFIT only started in 1999, it has now grown into one of the most popular faculties in the college. Also, the college itself is certainly one of the best colleges for computer science in Mumbai, I mean, it's hard to convince anyone otherwise when they have over 90% placement rate.
Since the university is run by the Society of Franciscan Brothers, students of the Roman Catholic faith get special consideration. If you're looking for a slight edge as a catholic, SFIT should definitely be your institution of choice.
5. Thakur College of Engineering and Technology (TCET)
TCET Mumbai is one of the better new-generation colleges for computer science and related fields. It offers several courses in the field, including some you can hardly find in other colleges like Internet of Things, AI and Machine Learning, as well as data science.
The placement is decent but not the best, the instructors are great, and the learners are highly competitive. Most students only have the best to say about the school, and that sounds like the perfect description of where you want to be for the next four years.
6. Don Bosco Institute of Technology (DBIT)
DBIT offers a Bachelor of Engineering degree in Computer Science and Engineering after its four-year course. The best thing about studying at DBIT is the social life since it seems to have plenty of students, especially in the computer science faculty. The fees are also inexpensive and the placement is okay, putting it among one of the best colleges for computer science in Mumbai.
7. Amity University
If you intend to pursue a degree in computer science without engineering, Amity University is one of the few institutions on this list offering that. You can minor in several fields that are relevant to today's world during your stay at the university.
If information from the website is anything to go by, top companies like Microsoft, Dell, and Unilever visit the school for placements. You'll probably get better offers from IIT, but if you're even considering Amity, that should mean your choices are limited.
8. KJ Somaiya College of Engineering (KJSCE)
Ranked as the 9th best private engineering college by The Week, there are only a few colleges to get a degree in computer science and engineering than KJ Somaiya. The college was established in 1983, making it relatively young compared to most of the bigger institutions.
Even with that, it has one of the best placement rates in the country, with almost 100% of students getting high-paying placements. In all, KJSCE has definitely done enough to deserve a place in the colleges for computer science in Mumbai.
9. Thadomal Shahani Engineering College (TSEC)
TSEC is affiliated with the University of Mumbai, and it offers a Bachelor of Engineering in Computer Engineering. The college has 100% placement for students, which makes it an excellent choice for most computer science aspirants in the city. You should also expect decent facilities and qualified teachers, making it one of the best colleges for computer science in Mumbai.
10. Rajiv Gandhi Institute of Technology (RGIT)
RGIT has always been a decent school, especially in the IT field, but it has improved even more over the past couple of years. The tutors are at the top of their game and the university is one of the most competitive out there. You can also expect one of the best placements towards the end of your degree, which is what qualifies it to be one of the best colleges for computer science in Mumbai.
11. Sardar Patel Institute of Technology
If you're after a university with excellent placement, SPIT is one of your best bets. Companies like Microsoft and JP Morgan visit the college for placements, and the infrastructural facilities are second to none. The fees are as inexpensive as it gets, earning SPIT a place among the best colleges for computer science in Mumbai.
Conclusion
There are several technological and engineering colleges in Bombay, but you don't get the same quality of education from every single one of them. This article has listed 11 of the best colleges for computer science in Bombay to help you narrow down your options.
If you liked this article, then please subscribe to our YouTube Channel for videos. You can also find us on Twitter and Facebook.