So let's talk about how one of the most unknown companies in the world beats some of the most known companies in the world in valuation including your favorite companies like SpaceX, Uber, Stripe, and Canva.
So, what's the SECRET behind ByteDance, the $400 billion-plus valuation company that owns TikTok, an app with 1.9 billion monthly active users and has been downloaded over 3 billion times globally? Let's find out!
In this article, I'm going to be shedding more light on what exactly is ByteDance, I'll also tell you about ByteDance's army of crazy apps, and I'll tell you about their hidden SECRETS weapon for business success, and why the SSP model is so effective. Would you like to grab a seat with me?
Meanwhile, check out our FREE guide on how to start a profitable business in Canada in this age of technology where your business location can be somewhere else while you stay somewhere else.
What is ByteDance?
ByteDance or ByteDance Ltd is a Chinese multinational internet technology company headquartered in Beijing and legally domiciled in the Cayman Islands it operates a range of content platforms or startups that entertain, educate, inform and inspire basically the next-gen youth.
ByteDance was founded in March 2012 by Zhang Yiming and Liang Rubo, and it is best known for its mobile apps with entertainment value across spheres of language, culture, and location.
Zhang Yiming used to be a microelectronics student at Nankai University in Tianjin before he turned into a software engineer who startups!
Before ByteDance, he worked at quite a few startups!
Zhang Yiming's Career
In 2006 Zhang became 5th employee and first engineer on the travel website Kuxun, he was promoted to the technical director a year later.
In 2008 he left Microsoft to join a startup called Fanfou (which later failed)
In 2009 When Expedia acquired Kuxun, Yiming took over its real estate search business to start 99fang with Rudo, his first-ever business.
Yiming & Rudo's journey with 99fang quickly ended when they moved on to build something more ambitious.
In 2011, they both realized that the world was moving from computers to smartphones. The quick success of apps like Snapchat & Instagram was enough evidence.
Another reason was that Zhang thought that Chinese smartphone users were struggling to find information in mobile apps available in 2012 and the search giant Baidu was mixing search results with undisclosed advertising. His vision was to push relevant content to users using recommendations generated by artificial intelligence. So they set out to create ByteDance, a tech company that builds a suite of apps in domains like entertainment, content, news…etc
Now the story didn't just begin as a happy one, Zhang failed to secure funding from most venture capitalists until Susquehanna International Group agreed to invest in the startup.
In August 2012, ByteDance launched the Toutiao news app and within two years it attracted more than 13 million daily users. The twist here is that Sequoia Capital, which rejected Zhang the first time, came around and led a US$100 million investment in the company in 2014.
In September 2015, ByteDance launched its video-sharing app TikTok (known as Douyin in China). The product was an instant hit with millennials and Gen Z, it became popular worldwide. ByteDance bought Musical.ly a year later for US$800 million and integrated it into TikTok.
Now, since its launch in 2012, ByteDance has grown to a revenue of $58 billion and a monthly user base of 1.9 billion.
ByteDance's Suites of apps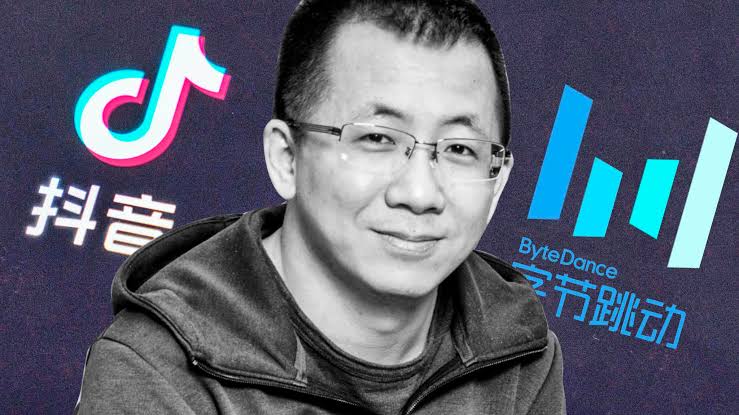 The strength of ByteDance lies in its ability to release successful apps like they were rains dropping from heaven. In just 2 years, they have created over 140 products in 11 different verticals.
Most popular apps by ByteDance: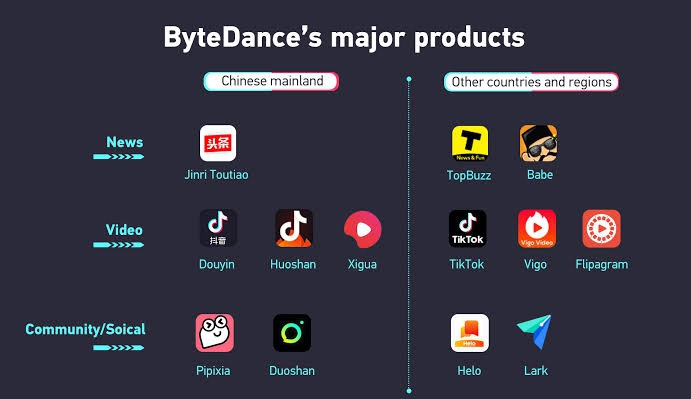 TikTok — short-video sharing app (1B+ users)
Douyin — TikTok's sister app in China (610M+ users)
Toutia — news app (300M+ users)
Xigua Video — YouTube-like app (85M+ users)
BytePlus — a B2B startup that sells AI-powered tech
Now, ByteDance is also dabbling in the world of Metaverse. With a new social networking app — Party Dance. Considering the popularity of these apps in the Chinese market & dominance of TikTok, only Facebook's family of apps can rival this list
The crazy fact you should know is that all the apps built by ByteDance were created in less than 10 years. In fact, the app Douyin was developed in just 200 days!
ByteDance's secret weapon
So, what is the SECRET behind ByteDance's rapid creation and launch of valuable companies? When you look at the personality of the co-founders, you'd notice different factors responsible for the rapid growth of ByteDance but we could also simplify the hidden strategy of ByteDance as the brilliant organizational structure, its SSP strategy
Basically, ByteDance has a unique approach to how its Shared Service Platform (SSP) is set up. But, what exactly is a Shared Service Platform?
What is a Shared Service Platform? (SSP)
Shared Services Platform also known as Internal Developer Portal or Infrastructure Platform is an internal company service that allows application developers to self-service infrastructure environments.
It is the provision of a service by one part of an organization or group, where that service had previously been found, in more than one part of the organization or group. Thus the funding and resourcing of the service are shared and the providing department effectively becomes an internal service provider.
An SSP basically groups different business functions that are used by multiple teams in an organization. In an SSP, you'll have centralized business units for functions like:
– finance
– HR
– tech
An SSP model basically encourages efficiency and reduces the cost of operation in an organization.
Well, ByteDance actually takes this model to another level with its:
Centralized teams
– It has created these centralized & very specialized teams called SSP teams. For example, there's SSP teams that specialize in user research, user growth, content, analytics, development, etc
– The product teams rely on SSP teams at various stages of product development. For instance, product teams don't have to carry out user research on their own. Instead, they get specialized assistance from the user research team.
Iteration Power
– Similarly to centralizing its team, product teams connect with SSP-level engineers to leverage previously developed algorithms. This eventually results in specialized + centralized SSP teams. (small + focused product teams)
But, why is this model effective?
Well, the effects of this model are very evident in the products ByteDance creates. Example:
1) BytePlus (a new company by ByteDance) is basically ByteDance selling its AI algorithm that drives the search feature on TikTok.
2) ByteDance built an education app in less than 4 months, which would usually take 18 months. Next, ByteDance is aiming to release (another) video app, now for children.
3) Also, with Douyin built in 200 days & ByteDance education app built in 120 days, the rapid development bet is clearly working.
But, why is such a centralized system so effective?
Well, the reason is quite simple:
1) The current structure has two major parts:
SSP teams + product teams
With the expertise of SSP teams, the product teams can focus on broadly exploring different market areas for the next billion-dollar app.
2) With specialized SSP teams, it accumulates knowledge very quickly. It leverages this by working on very similar products.
3) The model has a huge effect on the speed of development. Because no product team has to start from scratch.
4) This model also helps the company in its acquisition journey. In 2017, ByteDance acquired Shanghai-based social media start-up Musical.ly for up to US$1 billion. They combined it and prior acquisition app Flipagram and made it into TikTok on 2 August 2018, keeping the TikTok name.
Overall, the model seems to be cleverly working for ByteDance and it has helped the company grow from a startup into a unicorn company.
If you enjoyed this article, kindly share it on your social media platforms and drop your comment below.