For your website to function properly, selecting from the best web hosting companies is essential. It is comparable to choosing a spouse and, in some ways, even more difficult. With so many options available on the market today, managing it might be confusing. There are so many factors to take into account that it's easy to get overwhelmed, especially if web development isn't your primary focus.
In this post, we'll take a look at some of the best web hosting companies in New Zealand. Make sure you read this post to the end because it is very insightful.
Table of Contents
THINGS TO CONSIDER BEFORE CHOOSING WEB HOSTING COMPANIES
1. Registration And Maintenance Costs
When you sign up and even for your initial payment, web hosting companies typically offer you enticing hosting discounts. The renewal fees, however, frequently exceed a quadruple.
Can they be avoided? Only if you intend to switch hosting companies every two years to take advantage of their discounted sign-up prices. Check the renewal costs for your desired plan to prevent the surprise bill effect after the discount term.
Your shared hosting package probably won't last forever, and you might find that as soon as your site starts to get popular, it needs a VPS or dedicated hosting service. When selecting your supplier, take into account such expenses for upgrades and host changes.
Read: 14 Best Webinar Software Platforms (Reviewed)
2. Customer Service
How quickly and effectively does the company offer assistance for technical issues? Choose web hosting companies that provide live help to customers around-the-clock.
Additionally, search for businesses that provide social media visibility in addition to chat support, as opposed to just email and support requests. Give organizations with an internal customer support department preference.
Compared to customer support services that are outsourced, they have a greater understanding of how the business operates.
3. E-Commerce And Email Options
If your email is connected to the domain name of your website, you may get more feedback and even more subscribers. In this situation, pick web hosting companies that offer email hosting for the main email on your website.
In the past, the majority of people used the bandwidth and disk space that a hosting provider offered to determine which one was the best. These days, affordability is seen as being more significant.
However, if you want to maintain and expand your website for the foreseeable future, you should think about using a thorough method to find a web host provider by taking into account all the variables affecting your website's best performance.
4. Availability Of Site Backups
The current wave of cyber threats like ransomware is no longer solely directed to finance websites. There has been a rise in the number of general websites that these online extortionists have attacked.
Such actions frequently cause irreparable harm, such as the deletion or replacement of the index.php file on your website. Similar to this, you could have serious server or local hard drive failures.
Therefore, it is crucial that you only work with web hosting companies that regularly supply web data backups.
5. Ability To Add Domains
Growth leads to diversity. Although you may start with just one website and domain name, you will quickly find that to spread the word about your site, you need several websites, domains, and subdomains.
Consider the many packages offered by each service provider before joining up with one, paying close attention to whether they permit running several websites on a single web hosting account.
Find out how much the unlimited website and subdomain packages cost and contrast it with the prices of other companies in the market. Spend some time choosing web hosting companies that offer a variety of service plans that let you expand over time by adding new domains.
6. Account Limitations
All web hosting companies have a set of terms of service that, if broken, result in additional fees or the temporary or permanent termination of your hosting service.
For instance, did you know that some hosting companies forbid their customers from using an excessive amount of CPU to run scripts that take more than two seconds on their servers?
Either of these acts may result in additional fees or the permanent and non-refundable removal of your website. Read these conditions carefully, and only sign up for the service if you intend to follow them.
Most importantly, stay away from web hosting companies that claim that decisions about account suspension and limitation are up to the management of the business because they lack clear terms of participation.
7. Server Reliability, Uptime Scores, And Security
Your site may frequently go offline due to shoddy servers and erratic network connections. This not only prevents you from receiving potential customers or sales for an online store, but it also causes you to rank poorly on search engines like Google and Yahoo.
The success of your site depends on choosing web hosting companies with reliable uptime ratings, preferably above 99.5 percent. Avoid dealing with businesses that have an annual uptime score below 99%.
It's crucial to have a reliable and secure hosting solution in addition to ensuring that your website and data are always accessible.
Also Read: 10 Best Web Hosting Companies In Nigeria 
HOW MUCH DO WEB HOSTING COMPANIES COST IN NEW ZEALAND?
Choosing web hosting companies is easier than it might appear. Picking a mobile or Internet service for your house is pretty comparable to this. Customers of web hosting companies typically have access to a variety of plan choices, which typically fall into one of three categories: basic, intermediate, advanced, or professional.
The number of websites you can host, the quantity of storage you get, and the amount of traffic you can send via your site each month vary across the three basic levels of hosting services.
For instance, a basic plan might only provide 1GB of storage. A premium plan might offer up to 100GB storage or even infinite space.
Similar to a cellular plan, you may typically save money by signing a long-term contract that lasts more than a year. Your monthly payments will often be 10–20% less expensive as a result.
However, upfront payment is typically required by web hosting companies, which utilize the monthly fee to highlight how inexpensive they are in comparison to their rivals. Comparing the costs of the various plans side by side is the best approach to finding the best offer.
TOP WEB HOSTING COMPANIES IN NEW ZEALAND 
Below is a list of some of the best web hosting companies in New Zealand:
1. HostGator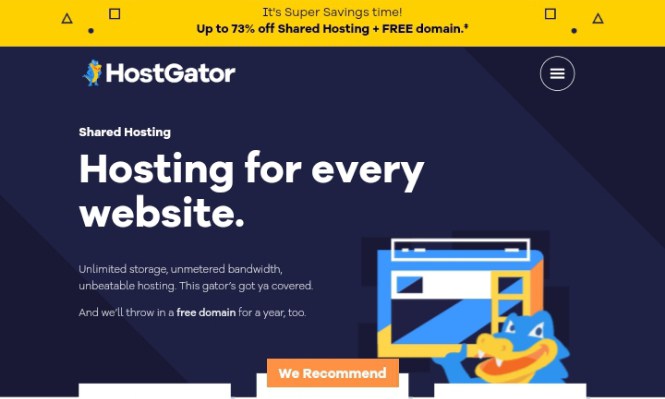 HostGator is a leading provider of secure and affordable web hosting. It is one of the top web hosting companies in New Zealand. All of HostGator's plans come with unlimited storage.
Beginners in website development will value HostGator's free visual site builder, which is more customizable than most other free site builders. They have a wealth of helpful courses in their knowledge base that will assist you in starting to create a website that looks professional.
HostGator's average page load time of 1007ms, which is nearly twice as long as most other providers, is its worst flaw.
This generally isn't a major concern if your website is primarily informational, that is, if you don't heavily depend on it to drive sales or conversions.
With their generous 45-day money-back guarantee, HostGator is a terrific all-around service, and you have nothing to lose by giving them a try.
2. A2 Hosting
The main selling feature of A2 is its astonishingly quick average page load time of 336ms, which is currently the fastest of any other shared hosting company. Additionally, competent and cheerful customer care representatives are available around-the-clock, however, you might have to wait five to ten minutes to speak with one.
Even though A2's most affordable hosting plan just costs $3.92 per month, it is incredibly basic. The only things you'll receive from A2 are a single website, a free SSL certificate, and access to their exclusive "Anytime" money-back guarantee (which permits prorated refunds based on the remaining time in your first subscription cycle).
After your first billing cycle, A2 also has an oddly severe cancellation policy that takes effect. You must inform them at least 15 days in advance if you want to cancel before your package renews. If you don't, your plan will renew itself without your consent, and there will be no returns or exceptions.
If you carefully read the fine print, A2 is ultimately one of the greatest shared hosting companies we've come across.
3. Hostinger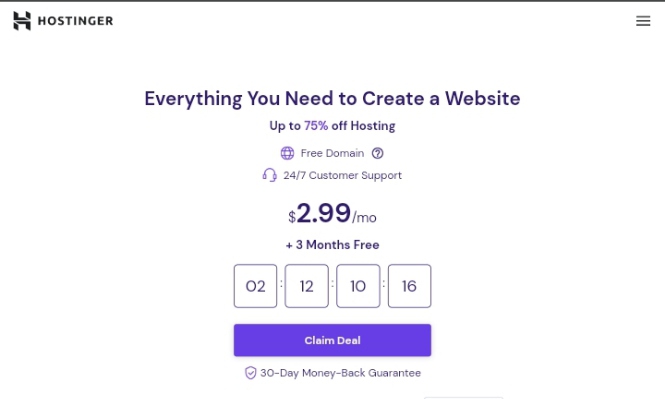 Hostinger is a top-notch, user-friendly, and secure web hosting company. It provides one-click Virtual Private Server (VPS) access and rapid setup. After signing up and paying for an account, you immediately receive a server that is operational thanks to the user-friendly hPanel and dependable technical assistance.
If you're prepared to sign a four-year contract with just one hosting company, go with Hostinger.
With a basic, single-site bundle costing just $0.80 per month, they provide one of the most affordable hosting options available. Hostinger's average uptime is on pace with most other shared hosting companies, and their average page load times outperform the industry average by a whopping 50%.
You might assume that for that price, you would be getting a performance that is below average. Their entry-level plan only offers 10GB of storage, while all subsequent plans offer unlimited space.
The payment terms for Hostinger, like those of some of the other service providers we've examined here, can be a little unclear. Particularly, their refund process is convoluted.
Be sure to thoroughly read the tiny print before you join up because only some of its products are refundable and only in particular situations.
You Might Like: 20 Best Podcasting Hosting Sites
4. BlueHost
BlueHost is one of the largest global web hosting companies. However, because there are no corporate servers located in or close to New Zealand, loading times for New Zealanders will be significantly slower than for North American consumers unless you utilize an alternative content delivery network (CDN) to hasten site delivery.
The reasons for its popularity include the fact that Bluehost is rather stable, has many useful features, and is reasonably priced. Whether you're a novice or an expert in website creation, it's a platform that everyone can use.
Because of their simple integration and open options when dealing with WordPress, they have established a reputation as one of the best NZ web host providers. Bluehost offers shared, dedicated, and virtual private server hosting for different content management systems.
5. HostPapa
The New Zealand-based web host HostPapa provides shared hosting, reseller hosting, VPS hosting, and WordPress hosting. They also provide support for connection with G Suite and Office 365.
This New Zealand company offers the most affordable web hosting and provides prompt and beneficial support for resolving all technological concerns.
If you decide to cancel your subscription within the first 30 days, they provide a complete money-back guarantee. They have dependable servers and technology, a cPanel control panel, and free website transfer in addition to being optimized for speed and performance.
6. InterServer

Some hosts present you with six different ideas and expect you to be able to choose from the specifics of each one. Unlike InterServer.
With just one shared hosting plan that comes with everything you need, this company makes things straightforward. You are given limitless storage space, bandwidth, and email addresses, and there is no limit to the number of websites you can host.
You don't have to sign up for hosting for several years upfront because you can pay a small annual charge and still receive a good deal. In addition, InterServer is the least expensive monthly paying cycle on this list, making it the most economical option if you want to maintain the greatest amount of flexibility.
All of InterServer's data centers are in the US, but studies show that if you choose the LA data center with the free Cloudflare CDN (content delivery network) activated, you may anticipate respectable performance in New Zealand.
7. SiteGround
The most basic package from SiteGround is $5.99 per month, but you must purchase hosting for at least a full year in advance.
You will receive a free SSL certificate, unlimited email accounts, and free CloudFlare CDN assistance with that bundle, but you will only receive 10GB of storage, and even the most costly plan only offers 30GB, which is much less than the basic plans offered by many other providers.
The customer support representatives at SiteGround are known for being helpful, knowledgeable, and polite. That's fantastic, however, let's go back to the free CloudFlare account since it offers a significant benefit for some websites.
CloudFlare will ensure that your site always loads quickly, even during periods of high traffic, if it has a little amount of data storage but receives a lot of clicks.
In certain ways, other web hosting companies provide superior shared hosting options, but few of them give away a CloudFlare CDN.
One of the first hosts to accept and follow the EU's new GDPR privacy law was SiteGround. Now that GDPR does not apply to enterprises in New Zealand, the Privacy Act, which serves a similar purpose to GDPR to protect consumer data for any company doing business in New Zealand, is the Kiwis' "version" of GDPR.
8. WebhostingNZ
WebhostingNZ is based in Auckland and has been providing its services since 2013. This business prefers to let its services speak for themselves and offers little information about its background or members.
The 30-day money-back guarantee and 24-hour customer assistance are WebhostingNZ's primary selling factors. It's a typical, straightforward marketing tactic that piques your curiosity enough to make you at least go over their offerings.
WebhostingNZ mostly offers the sought-after fundamental services you'd anticipate or desire from web hosting companies.
They have five distinct plans: Deluxe, Advanced, Basic, WordPress, and Economy. The variations are rather typical, with storage space and the quantity of hosted websites growing as the price rises.
You Might Also Like: 15 Best Private Video Hosting Platforms
9. Crazy Domains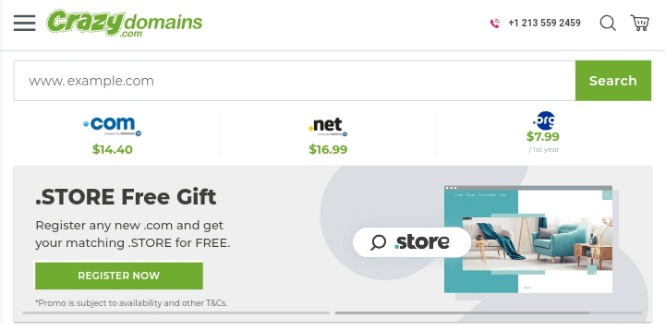 The great majority of Crazy Domains' servers and data centers are situated in the southern hemisphere. The websites of more than 1.5 million users are being hosted by them after they recently bought Openhosts, one of the greatest web hosting services in New Zealand.
Your website will be hosted on Australian servers if you register with Crazy Domains, making loading times substantially quicker. They become a feasible choice due to their closeness while competing against global giants for web hosting clients.
Crazy Domains provides hosting for WordPress, Windows, and Linux with options for 1, 2, 3, and 10 years. However, you may purchase WordPress plans with three tiers—Economy, Premium, and Ultimate—in shorter 3-month contracts.
10. Rocket.net
The WordPress hosting platform Rocket.net offers quick and secure hosting services. To safeguard your website from brute force assaults, the use of weak passwords, etc., it checks all server requests.
They offer a built-in CDN, two Web Application Firewalls (WAF), and built-in HTTP/2 and HTTP/3 compatibility for WordPress installations on their platform. Before harmful requests can access your WordPress installation, Rocket.net prevents them.
It provides managed backups with a 14-day retention period, real-time virus scanning, and patching. Website developers can use the PageSpeed Insights function to find issues on desktops and mobile devices.
All plans come with free automatic daily backups as well as on-demand backups. Additionally, they provide a 30-day money-back guarantee.
11. Kinsta
Kinsta is one of the fastest WordPress web hosting companies so far tested. Additionally, it provides a wide range of functions that can greatly simplify your life.
You may leave everything to professionals who handle it all for you rather than having to optimize or secure your website yourself. It also works.
Everywhere in the world, Kinsta is lightning quick. It makes use of Google's remarkable global network of 24 strategically placed data centers, including one in Sydney, Australia.
Furthermore, despite providing cloud hosting (rather than shared hosting), it is nonetheless incredibly user-friendly because of its custom dashboard.
CONCLUSION
Choosing from the best web hosting companies in New Zealand irrespective of cost automatically means one less thing to worry about while running your business.
To avoid hitches that may arise in the future due to Website issues, we strongly advise that you select from our list of web hosting companies in New Zealand.
We hope you found this post as helpful as promised. Kindly let us know what you think.
If you liked this article, then please subscribe to our YouTube Channel for videos. You can also find us on Twitter and Facebook.
REFERENCES
Our Writers most times refer to other reputable publishers source to bring in more facts especially when it has to do with stats
https://thrivemyway.com
https://www.websiteplanet.com
https://privacyaustralia.net
RECOMMENDATIONS