The major advantage of gadgets is that they make everything easier. Do you know that you can use your smartphone to control any device? A TV remote can now be found in your smartphone thanks to advancements in technology.
Universal Remotes are great, but universal remote control apps are even greater. Thanks to these universal remote control apps, all your gadgets and more can be controlled from the comfort of your bed. That is ease!
In this post, we'll be taking a look at the 20 best universal remote control apps and everything you need to know about them.
Make sure you read this post to the end because it'll be very helpful and informative.
Table of Contents
Important Things You Need To Know Before Choosing The Best Universal Remote App.
The two most important things you need to know when choosing a universal remote control app are:
1. Compatibility
Before downloading the universal remote control apps, make sure it will work with any specific devices you want to control. Even while the majority of universal TV remote apps work with the majority of television and set-top box brands, if you want to use an older computer to control things, it could be more difficult to find a device that works.
You might require the Unified remote program for your PC. The Unified remote app can operate any app on your computer using Bluetooth or WiFi to connect to your PC.
2. Usability 
Your app should be able to deliver several functions while maintaining an intuitive user experience, even if you probably want it to offer a large range of functionality. Make sure you are aware of what is available because some of these interfaces may incorporate capabilities like voice control.
20 Best Universal Remote Control Apps
There are tons of universal remote control apps out there, but below is a list of the 20 best universal remote control apps.
1. Android TV Remote
This is one of the best universal remote control apps. You can control your Android TV using your Android phone or tablet.
On your Android TV device, you may quickly switch between the d-pad and touchpad modes to access content and play games. On Android TV, tap the microphone to begin a voice search or press the keyboard to enter text.
Start by establishing a network connection between your Android phone or tablet and your Android TV device, or by using Bluetooth to locate your Android TV.
The Android TV Remote app Works with all Android TV devices running Android 4.0 and Up and Also works on iOS. It can be downloaded for free from Play Store and Apple Store.
2. Logitech Harmony
If you're looking for one of the best universal remote control apps for your iOS or Android smartphone or tablet, the Harmony Hub comes to mind.
The Harmony app, which is based on years of development and continual advancements from Logitech, raises the bar for capabilities and usability in a smartphone remote control.
You can use it to operate Apple TV, Fire TV, Roku, and the majority of other streaming set-top boxes in addition to working with just about any model of Smart TV you may own.
Logitech Harmony can program up to 50 favorite channels with vibrant on-screen icons and is compatible with over 270,000 devices from more than 5,000 brands. It may also be used to control smart devices like lights. This app can be downloaded for free from the apple app store and the Google play store.
3. Apple TV Remote
The Apple TV Remote is an app that works well with Apple TV. If you are familiar with the Siri Remote, it functions similarly, so you know what you are getting. You can swipe and tap to operate Apple TV with this, and it naturally works with your iPhone or iPad. When looking for content, you can also easily enter text using the keyboard.
The Apple TV Remote app works with 2nd-generation to 4th-generation Apple TVs and requires Apple TV iOS 9.3.2 or later. It is one of the best universal remote control apps.
Using the Apple TV Remote app, you can quickly type text, email addresses, and passwords while navigating Apple TV with touch and tap motions. Siri can help you find entertaining content to watch, listen to, or play. You can switch to "Gaming Mode" to access streamlined game controls and use the volume buttons to adjust the volume.
The Apple TV Remote app is available for download on the apple store for free.
4. Fire TV Remote App
Next on our list of the best universal remote control apps is the Amazon Fire TV remote. If you have a Prime account, Amazon's Fire TV set-top box is a cool video streaming gadget.
It is one of the best universal remote control apps out there. The Amazon Fire TV Remote app, which duplicates the functionality of the handheld remote and transforms your touchscreen into a navigation pane with playback controls, a virtual keyboard, and voice command support, will take things even further even though the Fire TV box already comes with a WiFi-capable remote.
The app can be downloaded for free from the apple store and play store but Requires Android 4.4 and up iOS 10.0 or later. It is also Compatible with iPhone, iPad, and iPod touch.
5. Unified Remote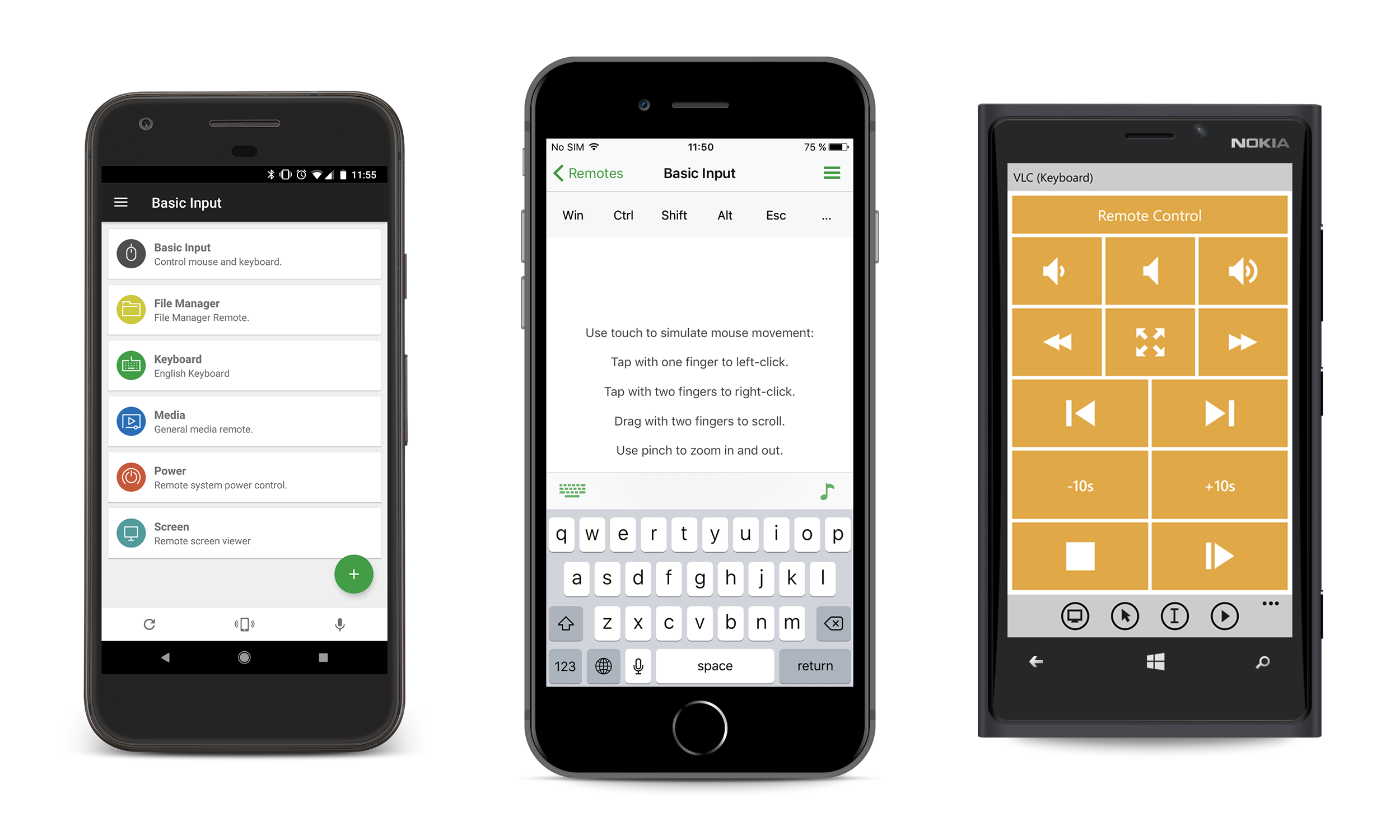 If you want a remote for your computer, this one is fantastic. Additionally, there are app versions that function on Windows Phone, Android, iPhone, and iPad. You only get about 80+ different gadgets and appliances supported by the app. But it has a ton of clever features already built into it.
Unified Remote is one of the best universal remote control apps because it eliminates the need to manually search for your appliance by automatically detecting nearby devices with IR sensors (or devices on the same network/ WiFi). Then, there are widgets and home screen shortcuts, which greatly simplify using the remote.
Unified Remote is available for free for Windows, Mac OS, Linux, and other OSes and it Supports Wi-fi and Bluetooth devices. It also Installs free remote control "server" on your PC.
6. Twinone Universal TV Remote
With the use of their Android device's IR sensor, owners of Twinone Universal TV Remote may easily and for free manage their TVs, cable boxes, and much more.
It supports several different TV brands, including Visio, Panasonic, LG, Samsung, Sanyo, and many more. That is why it is one of the best universal remote control apps.
You can utilize the debugging mode in this remote app to fix any connectivity issues you have when using it on your TV. Last but not least, the program is free to use and has barely perceptible adverts.
7. irplus – Infrared Remote
irplus – Infrared Remote offers remote configurations for an endless list of appliances including TVs. With this software, you can virtually control every TV, including Samsung, LG, and smart TVs as well as standard TVs.
The app can be set up to work with air conditioners, STB boxes, projectors, smart Android TV boxes, and any other device you can think of with an IR blaster making it one of the best universal remote control apps.
The only invasive advertisement in the app is a banner ad at the bottom. The application requires little troubleshooting and is well-designed. However, it solely addresses IR blaster-equipped TVs and Android devices.
8. Smart IR Remote – AnyMote
There is no need to explore further if you want an app that gives you complete control over all of your home appliances. The Smart IR Remote – AnyMote software is much more than just a TV remote because it supports over 900,000 devices.
Any gadget with an IR sensor, including Smart TVs, conventional TVs, air conditioners, and streaming devices, can be controlled making it one of the best universal remote control apps.
To connect to your contemporary smart devices, this remote also works with your home WiFi network. Additionally, it enables you to automate several processes, such that turning on your TV also turns on your set-top box and home entertainment system.
This app can be downloaded for free but in-app purchases are $6.99.
9. RoByte
RoByte is a vibrant and attractive software. It is the best universal remote control apps for Roku. You can use it to navigate your Roku, change channels, select favorites like Netflix and Disney+, and more.
It runs on both Android and iOS. With your Roku Player or Roku TV, you may utilize RoByte, a straightforward and user-friendly Roku remote control.
Your iPhone or iPad's Wi-Fi must be turned on and connected to the same network as the Roku for RoByte to connect. You must also be on the same Wi-Fi network as your Roku device.
The fact that there is no setup needed for this software is fantastic. To locate your Roku, RoByte automatically scans your network. If your Roku supports volume, you can navigate the remote and change channels with a single press and adjust the volume using the hardware keys.
For rapid text entry for searches on Netflix and Hulu, it has a keyboard. Both the iPhone and iPad can use RoByte. The app can be downloaded for free from the Play store and apple store.
10. Xbox
The Xbox app works flawlessly as a remote making it one of the best universal remote control apps. You may use it to access numerous Xbox Live features. That includes communications, successes, the news feed, and other things.
Additionally, a remote is integrated. It can be used to open apps, navigate the user interface, and more. Play/pause, rewind, fast forward, back, and other buttons that typically require a controller to reach will be easily accessible.
A lot of folks utilize their Xbox as a complete entertainment system. These people can utilize this software to ease their situation a little. The Xbox app can be downloaded for free 
11. Google Home
Unquestionably among the greatest remote apps is Google Home. Controlling Google Home and Chromecast devices is its main purpose. That implies that for this to function, you'll need one of those.
Otherwise, it's not too difficult. Simply choose a show, movie, song, picture, or whatever. Then you project it onto your screen. It is incapable of changing the channel, for example.
It is also unable to adjust the volume. However, you may achieve the same result by adjusting the volume on your phone. With time, it'll only grow better. The app is available without charge. But Google Home and Chromecast gadgets are not free.
12. Mi Remote Controller
One of the best universal remote control apps available is the Mi Remote Controller. In addition to TVs, the app also functions with set-top boxes, air conditioners, fans, smart boxes, projectors, and other devices.
Being completely free, the app has an ad-free interface, which sets it apart from the other apps on this list. Various Android smartphone brands, including Samsung, Xiaomi, LG, HTC, Honor, Nokia, Huawei, and more, are supported by the app.
Therefore, there is a good possibility that your gadget will work. The Mi Remote Controller is available only for Android devices.
13. Sure Universal Remote
This is one of the best universal remote control apps that integrates the Wi-Fi and IR features of smart devices and older gadgets. With Amazon Alexa integrated, you can use voice control to operate your smart home, Chromecast, Kodi, Roku, and SmartTV.
Sure Universal Remote enables changing button positions, colors, and icons. When using other programs, the remote can also float. It supports file transmission over shared networks and integrates Amazon Alexa voice. Using the Sure universal remote, you can Stream media directly to a Smart TV as well.
This app can be downloaded for free from Play Store and Apple Store but it has ads.
14. Lean Remote
Lean Remote is next on our list of the best universal remote control apps that you can use on your smartphone to operate a smart TV. This software allows you to operate a wide range of gadgets, including smart TVs, IR devices, AC, DVD, Blu-ray players, projectors, home theater systems, soundbars, and more.
Controls including power on/off, volume control, navigation, the home button, fast forward, and reverse are among the remote's functions. The app is accessible for free and does not contain any advertisements.
The Lean Remote app allows you to control gadgets through an IR blaster (assuming one is present on the device in question). This software supports a very long number of businesses.15.
16. Yatse
Yatse is the next app on our list of the best universal remote control apps for iOS and Android smartphones. Without a doubt, Yatse is the most well-liked and respected universal remote for Kodi fans.
It is quite well-rated and works with your local device as well as Kodi, Plex, Emby, and Jellyfin. It supports streaming to devices such as UPnP, AirPlay, Chromecast, FireTV, Roku, and Smart TVs. The absence of an iOS version of this program is its lone drawback.
One of the most reliable and advanced remote apps is Yatse. It syncs your media library across numerous devices, supports voice control in seven languages, and provides responsive customer service from the creator.
Additionally, you can access your library when you're offline, and you can customize the app's appearance by selecting from a variety of skins. It can be downloaded for free from the Play Store.
17. CodeMatics Remote App
CodeMatics Remote is another well-known remote with the title of the best universal remote control apps for Android. Any Android TV that is linked to the same Wi-Fi network can be controlled. It offers capabilities such as voice search, all standard remote controls, access to TV apps, touchpad navigation, and more.
There are no sign-up or registration requirements for the CodeMatics remote app. To get started, all you need to do is install the app, open it, and choose your smart TV. But be aware that the app contains advertisements. However, they are not particularly bothersome and do not interfere with controls.
18. TVmOTE
TVmote is a sophisticated media center remote. Many people who use this remote software unanimously agree that it is one of the best universal remote control apps although it does not support every TV and device brand.
Compared to many other remote controls, TVmOTE is a more technologically sophisticated option. It works with Google Chromecast, Roku, Kodi, Plex, and a few more smart TV manufacturers.
TVmOTE offers automatic device discovery (on a local network), manual device configuration, the keyboard support for LG Smart TVs and Kodi, as well as Siri Shortcuts for the remote controls.
This software allows AppleWatch users to Control Devices. With a paid option, you can download and use this software for free.
19. Rokie
Rokie is a reliable free iPhone/iPod remote control for Roku TV and Roku Streaming Player. It has a Beautiful design, a simple UI, and no button overload or complicated settings.
You will enjoy your Roku even more because of this iOS app, which makes it simpler and easier to access movies, music, and games.
All you have to do is join the same Wi-Fi network with both your iOS smartphone and Roku. All Roku devices, including Roku 1, Roku 2, Roku 3, Streaming Stick, Express, Express+, Premiere, Premiere+, Ultra, and Roku TV, are compatible with Rokie.
The Rokie remote app automatically detects Roku in the Wi-Fi network. It has a large touchpad for a convenient menu and content navigation and it can Search for YouTube videos and stream to Roku from iPhone/iPod. The Rokie app is Free with a paid option. It is one of the best universal remote control apps.
20. Galaxy Universal Remote
The Galaxy Universal Remote supports a lot of devices. The ability to customize your own remote and manage all of your devices from a single screen with a free-form style is what makes it special, though.
Along with the option to set your unique IR code to a button, you can also save a series of actions (a macro) to be carried out one at a time. It is one of the best universal remote control apps.
Its main flaw is that it only functions as an IR Blaster app because Wi-Fi-enabled smart gadgets are not supported. If you're searching for an effective TV remote app, though, give this a shot. This application is $3.99.
Conclusion
Incredibly, one app has the capability of doing so much. Universal remote control apps are just great and everyone should have them. We hope our list of the 20 best universal remote control apps was as helpful as promised. Kindly let us know what you think.
If you liked this article, then please subscribe to our YouTube Channel for videos. You can also find us on Twitter and Facebook
Reference
universalremotereviews.com
beebom.com