Over the years, Open Banking in the financial sector has become a major source of innovation poised to reshape the banking industry. It is created to pave the pathway to unite financial technology (Fintech) and the banking industry with an improved application programming interface (API). In this article, I'll be dissecting the meaning of open banking Fintech and how it's reshaping Africa's economy, especially Nigeria.

According to a new report, the global open banking market size is valued at $7.3 million in 2018 and is expected to reach $43.1 million by 2026, registering a CAGR of 24.4% from 2019 to 2026.

Before you ask what open banking is all about, you should know that this groundbreaking technological advancement is the backbone of most Fintech companies in Africa today and is also behind the ease you experience with banking.

What is open banking fintech?

Open banking Fintech (financial technology), also referred to as open bank data, is a banking practice that permits third-party financial service providers open access to consumer banking, transactions, and financial data from banks and non-bank financial institutions through the shared use of APIs. The API acts as a software intermediary allowing different applications to speak with one another.
Open banking has in recent times become a major driving force of innovation in the banking industry. It allows different parties to partner as networks instead of centralization.

How Open Banking works

How open banking works is really ingenious. With open banking Fintech, financial institutions agreed to grant access to financial data of customers to another third party financial service provider, most times these third party providers are Fintech companies, tech startups, and other financial service providers.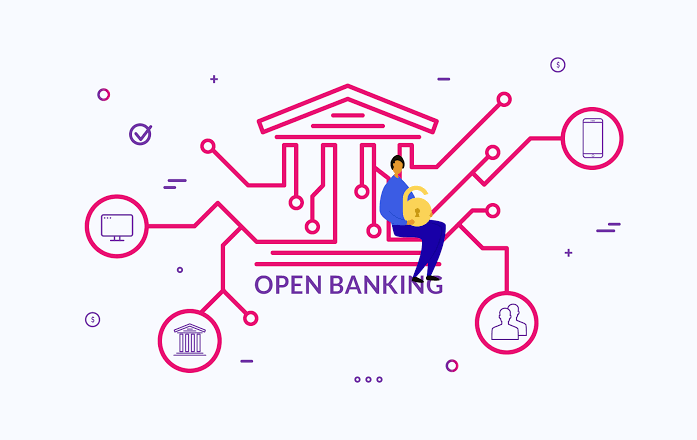 You may want to ask why should your bank have such power to share your private data?
Many times bank customers knowingly or unknowingly grant commercial banks consent to share this information, during signups, bank customers are required to accept certain terms and conditions from the bank, Many would not read these terms and conditions before ticking the box.
After you accept these terms, it means your bank can now allow certain third-party providers to use the customer's shared data. Well, it's not really like your bank is freely giving out your details, your bank also needs this Fintech company to help provide a better banking experience for you.
This data can be used to create marketing profiles, aggregate data across financial institutions, compare customers' account transaction history, etc.

What banks use open banking?

In Nigeria, most banks and Fintech firms use open banking financial technology to create better banking services for their customers and ease their means of operation. Most commercial banks have already adopted the open banking system and almost every Fintech startup in the country also uses the open banking platform to provide their services.
There are many banks outside Nigeria that also offer open banking in the UK. Citibank UK, Barclays Bank UK. In the US, Wells Fargo Bank and a few other Fintech companies are all taking advantage of open banking API.

Open Banking Regulation

According to a circular released by the Central Bank of Nigeria on the regulatory framework for open banking in Nigeria, the full document as contained here shows that in furtherance of the apex bank mandate for the stability of the financial system and pursuant to its role in deepening the financial system,
developed the regulatory framework on open banking in Nigeria.
The regulation is specifically for banking and other related financial services as:
Payments and remittance services
Collection and Disbursement services
Deposit-taking
Credit
Personal finance advisory and management
Treasury Management
Credit ratings/scoring
Mortgage
Leasing/Hire purchase
Objectives
The objectives of the open banking framework in Nigeria are as follows:
To make an enabling regulatory environment for the provision of innovative and customer-centric financial services through the safe utilization and exchange of data and services;
To define risk-based data access levels and products categorizations towards effective management of risk within the operation of open API;
To stipulate baseline requirements and standards for the exchange of information and services among participants within the financial services sector;
To supply risk management guidance for operators within the financial services space for leveraging data and APIs within the availability of monetary services;
To push competition in banking and other financial services and enhance access to financial services.
What are the advantages of open banking?
Open banking has so many advantages that it provides to the entire financial service ecosystem. The opportunities it offers to all parties involved (the bank, the third-party providers, and the customers) are enormous.
Here are a few advantages of open banking Fintech in Nigeria:
This is arguably the most important benefit of open banking Fintech to all parties involved, especially the customers.
A report by EFInA in 2020 (Enhancing Financial Innovation and Access) shows that only 45% of the Nigerian population is banked. This means there are over 40 million adults who are currently unbanked or underbanked in Nigeria. The report clearly shows the problem of financial inclusivity, which is something that open banking API through its shared banking access is meant to solve. Here banking institutions will share the same data with Fintech companies.
To be frank, Commercial banks cannot reach every nook and cranny of the country, which is where it needs willful third-party providers to reach places like the local areas it cannot reach, because there's a 40 million unbanked market yet to be tapped into.
Source of income generation
As the saying goes, No one wants to hear the conversation if money is not involved. Open banking does not mean free banking. It's a massive source of income generation for the parties involved.
The banks would charge Fintech companies for the access fee to the APIs that banks provide and a certain percentage subsequently on transaction fees for transfers, access to data, and so on.
The Fintech companies in turn charge their users based on the services that they provide. The customer would need these services and products and would not mind paying certain fees for using such services. At the top of the day, it is a win-win situation for all parties involved.
Open banking also allows a shared database for networked data which will make it easier for banks to import existing consumer data for brand new consumers looking to change from another bank to theirs. By relying on this networked data, banks can reduce the staffing and financial burden required to register a new consumer. It also allows banks to tailor banking products and experiences to consumer preferences.
Easier and Simplified Payments
Open banking enables third parties to develop APIs for already existing banking infrastructure, FinTechs would then go on to build innovative banking services, products, and applications to provide a better banking experience to customers.
With these developments, Open banking enables a simplified payments system and has the power to change the way we handle our money and change our ideas of what a bank is and who can provide financial services.
Now customers can track their spending, and transactions on the go.
The applications and services built from open banking can also help employers pay salaries to their workers from the comfort of their workplace without having to visit the bank. Automation and aggregate apps help payment easy, smooth, and paid as and when due.
Conclusion
Many years ago, it was a huge struggle for households to make simple banking transactions. To pay for electricity, you have to pay cash in hand as there was nothing like online payment. It was almost impossible to make bills and accept payments online.

NIBSS statistics report in 2020 reveals that a transaction with smartphones remains the preferred channel for financial transactions, accounting for 43% of total transactions made. USSD comes in a close second, being responsible for 35% of all transactions made. All this improvement can be tied to the financial inclusiveness of open banking Fintech.