One of the largest trends in the world today is online shopping as more and more people adopt it. Online shopping has grown to become so effective that anything at all can be bought from these online shopping apps. Even major retail stores across the world now have online shopping apps.
As these online shopping apps keep increasing, selecting the one that'll meet all your needs becomes a challenge. In this post, we'll be taking a look at some of the best online shopping apps that'll meet your needs. Try to read this post to the end because it'll be very informative.
Table of Contents
WHAT IS AN ONLINE SHOPPING APP
An online shopping app is a sort of electronic commerce known as "web-based shopping" that enables clients to directly buy goods and services from a vendor over the Internet by using an Internet browser or an app on their phones.
E-web-store, e-shop, e-store, Internet shop, web-shop, online store, online customer-facing façade, and virtual store are examples of optional names it can be called.
BENEFITS OF ONLINE SHOPPING APPS
1. Convenience
Convenience is the main benefit of online shopping apps. Where else can you shop in your pajamas at midnight without feeling uncomfortable? You may complete your shopping in a matter of minutes without having to wait in lines or find cashiers to assist you with your purchases.
Online stores allow us to shop whenever we want and also provide a "no pollution" shopping experience. There is no better site to get informational goods like e-books, which are instantaneously available to you as the money is processed.
Additionally, downloading products via the internet eliminates the need for any form of physical materials at all, benefiting the environment!
2. Better Prices
Because there are no intermediaries involved, you can find better deals and cheaper pricing online. Products are sent straight from the seller or manufacturer to you.
Additionally, it's simpler to evaluate prices and locate a better offer, and several websites online provide rebates and coupons for discounts.
Since online stores are only required to collect sales tax if they have a physical site in your state, you can save money in addition to cheaper prices. You've made significant financial savings once you account for the cost of petrol and parking that you avoided!
3. More Variety
Online shopping apps have a ton of options. Almost any brand or product you're looking for is available. You don't need to pay for travel to keep up with the most recent global trends.
Instead of being constrained by your local area, you can purchase goods from merchants in other regions of the state, the nation, or even the entire planet. You have access to a much wider variety of colors and sizes than you would find locally.
Additionally, there is a lot more stock available, so you can always get the size and color you want. Even out-of-stock items can be ordered from some online stores, which will dispatch them as more supply arrives.
4. Gifts Can Be Sent More Quickly
With online shopping apps, it is simple to send gifts to loved ones and friends, no matter where they are. All of the shipping and packaging are handled for you.
They frequently even wrap it as a gift for you! You no longer have to use distance as an excuse to skip sending a present on special occasions like birthdays, marriages, anniversaries, Valentine's Day, Mother's Day, Father's Day, etc.
5. Comparing Prices Is Simple
Online, it's much simpler to compare products and prices and conduct pricing research. You may see customer reviews and product comparisons for all the available options for appliances, for instance, along with links to the best rates. For the majority of products and sellers, we can look up first-hand accounts, ratings, and reviews.
DISADVANTAGES OF ONLINE SHOPPING APPS
The following are the main drawbacks of online shopping:
1. Delay In Delivery
Shipment delays are the result of prolonged periods and improper inventory management. A product can be chosen, purchased, and paid for online in as little as 15 minutes, yet it can take up to three weeks to arrive at the customer's door.
2. Absence Of Substantial Discounts
The older generation is severely harmed by physical establishments' claims to offer considerable discounts as compared to online retailers.
3. Online Shopping Fraud
The shopping site itself can occasionally vanish. Online payments are also not very secure. There have been cases where Customers' credit card and bank information have been exploited, which raises privacy concerns. Cybercrime rates have been rising.
14 BEST ONLINE SHOPPING APPS
The following are some of the best online shopping apps you need to try:
1. Amazon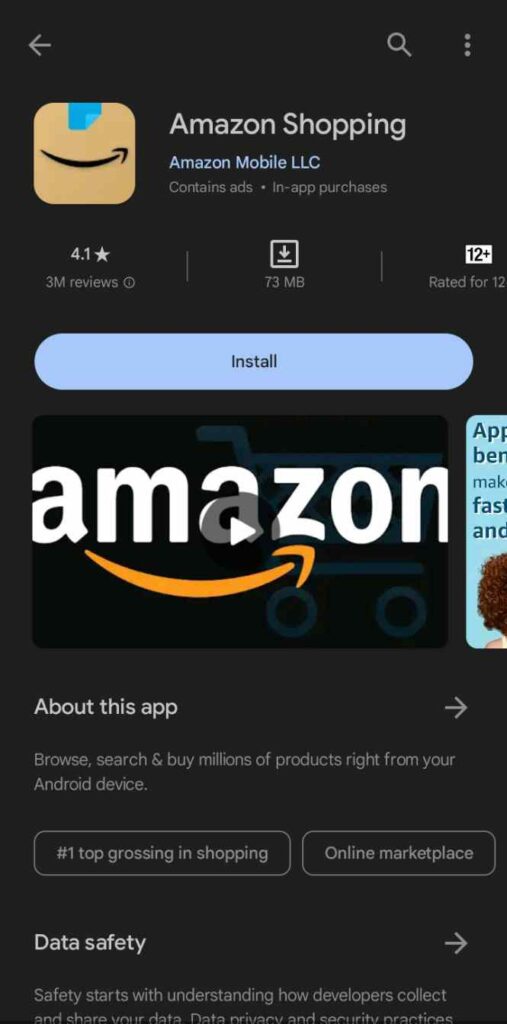 Amazon is one of the largest online marketplaces in the world. In return for a cut of their sales, the e-commerce behemoth lets third parties sell new or used goods.
It is a shopping app with over 350 million things listed, including everything from clothing and jewelry to books, consumer electronics, kitchenware, furniture, toys, and baby supplies.
Currently, Amazon offers same-day and overnight delivery in some places, and it ships to over a hundred different nations. A world-class online shopping experience is made possible by their mobile app's features, which include price comparisons, targeted ads, discounts, and sales.
You Might Like: How To Get Amazon Prime for Free Forever
2. eBay
For nearly three decades, eBay has been associated with online shopping because of its user-friendly platform that enables users to either make outright purchases or compete with other users in auctions. This online shopping app continues to advance with the times and functions similarly on mobile devices.
The eBay online shopping app has Android-specific features like Google Pay and integration with Dark Mode. Displaying and selling products feels a little more streamlined.
Users can use their phones to take a picture of the thing they want to sell, post it, and keep track of the listing. If you're a modest shopper, you might just find anything on eBay, including a barely used trademark handbag.
3. ASOS
Over 850 brands and 85,000 products from various categories, including apparel, cosmetics, shoes, and accessories, may be found on the ASOS online shopping app. Customers may easily shop for contemporary styles in one location with the help of the app. ASOS also provides free delivery and return options.
Users can even upload or take pictures of products to search for alternatives. The retail app presently accepts payments using prominent services like PayPal, Apple Pay, Google Pay, Klarna, and major credit and debit cards in 240+ different countries across the world.
4. Swappa
Swappa is a user-to-user online shopping app that focuses mostly on goods for the house and gadgets like mobile phones. Customers wishing to purchase items like a secondhand PlayStation 5 or a cheap tablet at a fair price should frequently utilize this app.
Swappa's "No Junk, No Jerks" guarantee gives customers confidence in their purchases. Due to free listings, a nominal charge from Swappa, and transactions that are sent to PayPal, sellers also benefit from the same ease. Due to Swappa's IMEI Checker, it is even more difficult for customers to acquire or sell stolen smartphones and tablets.
5. Etsy
Etsy is an online shopping app where you can search for handcrafted items like apparel, jewelry, and art. You will find that many artists have established homes on Etsy because it is a marketplace run by and for people.
The disadvantage of Etsy is that it's easy to set up a shop, therefore it's not guaranteed that you'll get genuine, original goods from new merchants. However, that is the risk you accept when you shop at online markets run by third parties.
In this instance, using Etsy has more advantages than disadvantages because your payment method is made completely secure for complete customer security and because a review system has been put in place to eventually weed out sellers who are unreliable and less respectable.
6. Decluttr
Decluttr is an online shopping app that advertises electronic used-garage auctions. Decluttr emphasizes becoming a buyback service where anybody can buy and sell used phones, gaming consoles, MacBooks, tablets, CDs, and more.
Finding a decent deal is not impossible because vendors want to quickly and effectively get rid of these outdated pieces of technology. There will undoubtedly be variations in product quality, but since Decluttr handles all of the transactions, there is no need to be concerned about doing business with these merchants directly.
A barcode scanner integrated into the app can be used to obtain a price estimate. Decluttr will also provide a shipping label along with the payment for these items via PayPal or direct deposit.
The only significant drawback is that the offer price could vary from the initial quote. However, it is worth it to have Decluttr sell your old devices for you and lessen your ecological footprint.
7. Ali Express
AliExpress is a popular online shopping app that enables you to purchase things at prices that are far cheaper than those of other online merchants. Simply create an AliExpress profile and use one of the numerous available options to browse products. It is regarded as the most reliable marketplace for cheap product purchases.
Men's and women's clothing, electronics, toys, cosmetics, jewelry, furniture, and much more are all accessible on the shopping app. The bulk of AliExpress's sellers are Chinese. The app accepts users from all over the world and offers straightforward purchasing alternatives for everyone.
8. Target
There is no denying the fact that Target is an effective online shopping app since it provides absolutely everything you could want. The app is growing step by step and has received at least 10 million downloads so far.
You can accomplish exchanges thanks to the brand-new aspect that app engineers presented. Additionally, it ranks in the top five online shopping applications in the US.
You can choose whatever you like because the app offers a list of the things it has in stock as an exhibit. You can also use the app inside the Target establishment itself. You can pay particular attention to neighborhood shops, and their directories, and sweep items to look at prices, accessible setups, and surveys.
9. ThredUp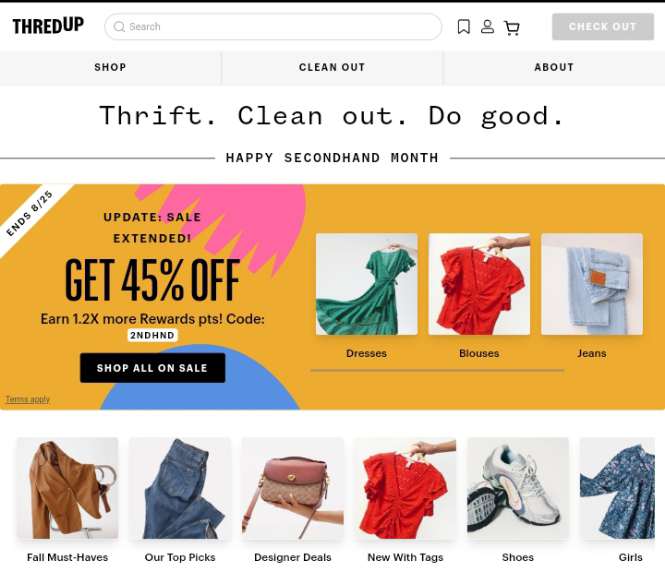 ThredUp is an online shopping app where customers may find pre-screened used fashion products for sale; certain items are also marked as "new with tags" with fantastic discounts on designer shoes, accessories, purses, jewelry, and clothes.
Every budget can be satisfied with a wide variety of goods. Additionally, ThredUp helps sellers consign their wardrobes and transport their used goods to the company. The seller is compensated in cash or credit when an item is sold.
You Might Also Like: 21 Best Websites to Sell Stuff Online
10. Walmart
Walmart is a reputable company with a large assortment of products in several categories. Walmart is currently the second-largest internet retailer in the US, in addition to its well-known physical shops. Their online shopping app primarily focuses on products that would be valuable to small enterprises.
A large variety of items, including snacks, meals, drinks, furniture, office equipment, and other things, are offered. One significant difference between Walmart's online shopping app and other shopping apps is the availability of seller qualifications. The software is easy to use and provides practically all of your needs.
11. Sears
Sears is one of the best online shopping apps. You can get any products you want from your favorite manufacturers. As soon as you download the Sears app, you have the opportunity to take advantage of intriguing deals, discounts, updates, and much more.
Sears is renowned for its free and quick shipping, making it one of the top online shopping apps in the USA. Give them the precise location where you want your products to be placed, and they'll deliver them.
Anything can be found on the Sears online shopping app, from home furnishings, garden, and lawn equipment, patio furniture, outdoor living products, tools for different occupations, apparel, athletic equipment, electrical and electronic products, jewelry, shoes, toddler products, toys, books, periodicals, and home décor are all included.
12. Shein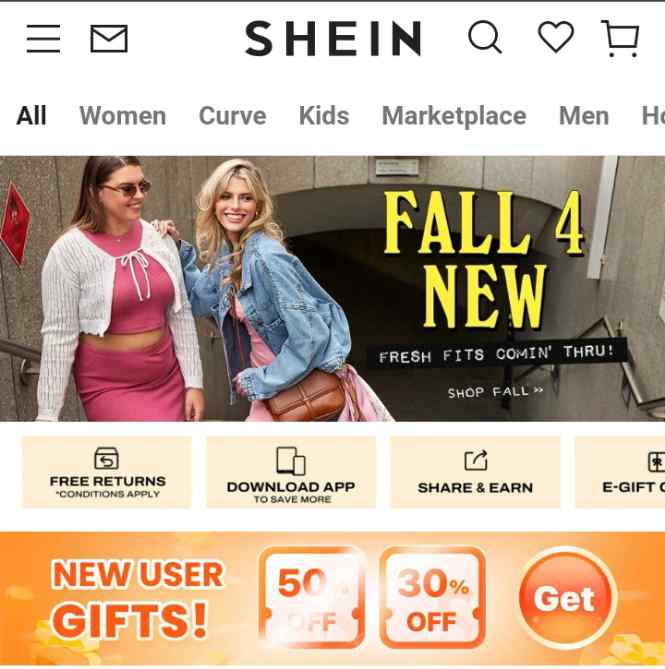 Shein has more than 50 million consumers globally and is particularly well-known among American customers. The company provides cash for transportation and special benefits for the initial download.
Customers can request an immediate refund and get a different product in exchange if they don't like a product. As a result, it is also one of the best online shopping apps.
This app, which is devoted specifically to style, is quite distinctive because it offers exquisite clothing and accessories at prices that are both reasonable and inexpensive.
13. Banggood
The online shopping app Banggood is known for its low prices and top-notch products. The vast majority of the products are from Chinese suppliers.
In addition to handling all of your payments, purchasing the goods from vendors, and delivering the goods to clients, the company represents goods sold by other retailers.
In recent years, Banggood has established itself as one of the largest Internet shops. The company has developed a following of loyal clients as a result of its usage of secure shipping and payment procedures.
The app's user interface is appealing and uncomplicated. Whatever you want to buy can be readily found through searching.
14. DHgate
Manufacturers can sell their goods to retailers more easily thanks to this online shopping app. It is a Chinese shopping app that is comparable to other online shopping apps. It is a global B2B platform that promotes the export of wholesale goods to buyers around the world.
Membership on DHgate is cost-free. The app also offers significant unit cost savings to users who buy things in bulk. When compared to its competitors, they give clients a huge selection of stylish items at relatively low prices. The majority of Americans use this app to buy things from China because of this.
FAQs
Are online shopping apps safe?
Online shopping apps are relatively safe. Shopping apps carry out online purchases through secure payment gateways. These payment gateways protect consumers' financial information using encryption and other security techniques.
What are mobile loyalty apps?
Mobile loyalty apps are applications on your customers' mobile devices that enable them to earn rewards or discounts by making purchases or performing particular tasks inside the mobile shopping app. They can accomplish this while they are outside your store, and occasionally even within one! Customers now have additional chances to spread the word about your company and its goods.
How do you know if an online shop is legit?
Look for a phone number and an address. A phone number and physical address are typically displayed in the website's header or footer for legitimate merchants. If you have any doubts about a website's validity, copy the address and put it into a search engine to check the location provided.
CONCLUSION
Online shopping apps are very important as their benefits surpass their disadvantages. Because of their usefulness, there are now a lot of online shopping apps, which in turn makes choosing one to shop with very difficult.
We have taken out time to list some of the best online shopping apps for you. We hope you found this post as helpful as promised. Do not hesitate to drop your comments below.
REFERENCE
https://www.androidpolice.com
https://penji.co
https://www.scoopearth.com
RECOMMENDATIONS