These 19 apps are going to change your life!
No, this is not some TikTok clickbait; the advancement in tech has brought about so many innovative apps that being disabled is no longer limiting. If you're a caregiver or a disabled person yourself, not taking advantage of the several apps designed to make your life easier would be torture.
While most of these apps are designed for people with disabilities first, they can also make life easier for people without them. The Cash Reader app, for instance, can help people recognize denominations of foreign currencies when they're abroad.
In short, you probably shouldn't click away yet, even if you have no disabilities. Without more ado, here are the 19 apps for disabled people that will change how you go about your everyday activities.
Table of Contents
19 Best Life-Changing Apps for Disabled People

1. Be My Eyes
Be My Eyes launched recently to mostly positive reviews, as it's a free (albeit less professional) alternative to AIRA, a visual interpreting service. You'll learn more about AIRA in a bit, as it's one of the best apps for disabled people, but what you need to know about it right now is that it's quite expensive.
The app is a human-assisted visual interpreting and assistance service; which works by letting visually impaired people get help from real people when interacting with their environment. You simply place a call when you need help, and one of the volunteers can answer your call and help you identify things you show with your phone's camera.
While Be My Eyes relies on a network of volunteers that can freely register, AIRA uses specially trained professional assistants. The latter is better and offers quicker help if you can pay, but the former is also not bad. If you're interested in offering help to the visually impaired, you should consider signing up as a volunteer on Be My Eyes to help keep it one of the best apps for disabled people.
2. AIRA
As you've learned earlier, AIRA is similar to Be My Eyes in the sense that it connects people with visual impairments to sighted people for help with everyday tasks. However, it differs from Be My Eyes because it's not free; compared to the general cost of assist apps, it's safe to say it's pretty expensive.
Instead of connecting you to random volunteers, it connects you to paid agents and charges you per minute of help. While AIRA remains one of the best apps for disabled people, you should consider checking out Be My Eyes to see if it works out for you. The volunteers may not be professionals, but they're genuinely nice people that will get the job done most of the time. You'll also be saving hundreds of dollars per month in the process!
3. FuelService
FuelService helps physically challenged drivers to find fueling stations with attendants to help them out. Drivers can contact attendants using the app so they can receive help once they arrive at the station, and the app also displays the approximate number of minutes the drivers have to wait for the attendant to arrive.
The only negative side to this app is that it only works in the UK. With the positive reception the app has enjoyed, we can only hope it expands to the rest of the world, as it's one of the best apps for disabled people.
4. Subtitles Viewer
You don't have to be hard of hearing to imagine how frustrating it would be for someone with hearing difficulties to watch movies or any kind of video content without subtitles. Unfortunately, there are tons of such content on the internet, most of which the average person will never notice.
Thanks to the Subtitles Viewer app, people hard of hearing may never have to notice and complain about videos and movies without subtitles anymore. Using the OpenSubtitles database, it automatically finds subtitles to whatever you're watching on your device, syncing it to help you understand the content. With OpenSubtitles having over 60 languages and 2.6 billion sentences, it's no doubt one of the most helpful apps for disabled people.
5. Lookout by Google
Lookout by Google uses your phone's camera to help you identify objects and navigate the world, making it one of the best apps for disabled people, especially the blind. It can help read text from a physical book, read out your notifications, identify objects and signs, or even identify banknotes.
While there are numerous apps similar to Lookout on both iOS and Android, Google's solution easily outclasses anything that tries to come close, thanks to Google's investments in AI. In short, Lookout is one of the few apps for disabled people that will actually change your life.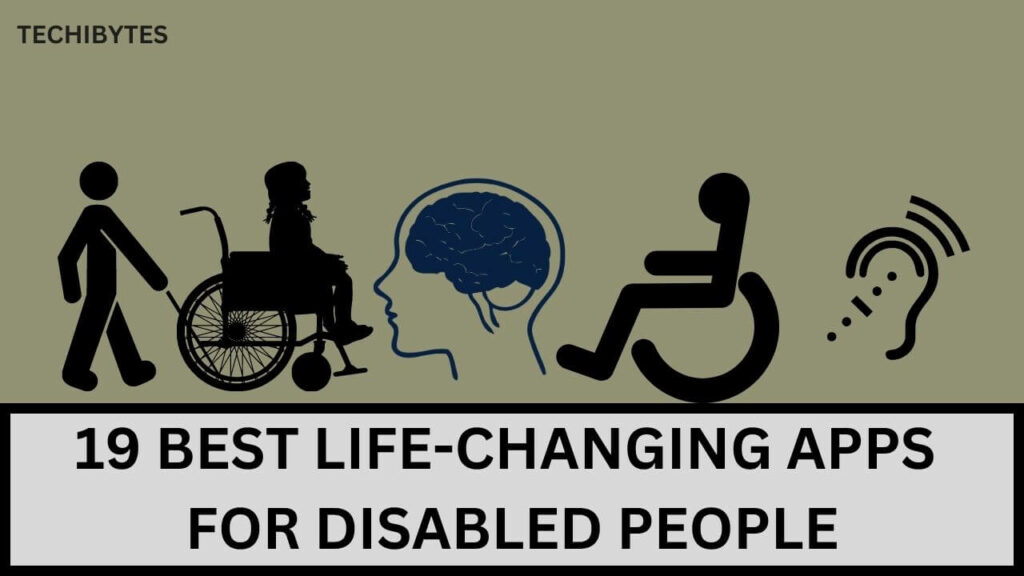 6. Cash Reader
If you noticed, I mentioned the Cash Reader app earlier on in this introduction, and that's because of my utter fascination by the app. The name describes it aptly; it identifies banknotes of pretty much any denomination using your phone's camera, helping the visually impaired identify their money without needing external help.
The app has all sorts of accessibility features that make it one of the best life-changing apps for disabled people. While the app has a free version, it's limited to low-denomination currency notes only, which is not very helpful. Thankfully, the premium version is very affordable, costing only $0.99 per month or $5.99 annually. There's also a lifetime subscription that costs only $17.99, which is crazily cheap.
7. ModMath
Developers seem to forget about the existence of kids with dyslexia or autism when developing apps for disabled people. Since they encounter issues trying to use the standard versions of the apps everyone else uses, they may need custom solutions, and ModMath is currently doing an okay job.
Children with learning difficulties can learn math on an iPad using ModMath, and it even offers a virtual paper that requires no pencil, making it easier to use for users that struggle to write. With the lack of similar helpful apps for people with learning disabilities, this is undoubtedly one of the best learning apps for disabled people
8. Wheelmate
It's 2022 already, but it's still a challenge to find wheelchair-accessible amenities, especially when it comes to restrooms and parking areas. Wheelmate is a free app that addresses this issue for the most part, as it helps people in wheelchairs find clean and accessible parking areas and restrooms easily.
The main disadvantage of Wheelmate is that it only finds parking areas and restrooms; nothing else. Thankfully, there's an app to address this flaw since people in wheelchairs don't only visit restrooms and parking lots.
9. Wheelmap
While Wheelmate focuses only on parking areas and restrooms, Wheelmap helps to find wheelchair-accessible everything! Using the app, you can find shopping malls, cafés, restaurants, etc. that are friendly to people on wheelchairs, complete with images and comments of what to expect when using these places.
The app is available in 32 languages and relies on its user base to find wheelchair-accessible places and routes. While that sounds like a neat plan, it falls apart when you discover it has only 50,000 downloads on the Google Play Store. It's potentially one of the best apps for disabled people, but it needs to scale and collect data to reach its potential.
10. Google Assistant or Siri
Everyone knows either of these apps: they're just as useful for disabled people as they are for those without disabilities. While Google Assistant works on both Android phones and iPhones, Siri only works on Apple devices, including iPads and Macs.
You can use them to navigate your phone, get answers to questions, or get basic tasks done, and they're both free. Objectively, they both qualify to make the best apps for disabled people. If you're after apps that focus on helping disabled people interact with their phones better, you may want to try VoiceOver or TalkBack.
11. VoiceOver or TalkBack
VoiceOver is Apple's screen reader that comes preinstalled on every iPhone, iPad, or Mac. Like the name suggests, it reads everything on your screen to you and offers a set of gestures to navigate around your phone's interface, making it the perfect iOS and macOS companion for users with poor eyesight.
TalkBack, on the other hand, is Google's implementation of the same feature on Android smartphones and is just as good as VoiceOver in most cases. However, it still has some catching up to do, and if you're in the market for a new device for a visually impaired individual, nothing beats Apple's VoiceOver for iPhones.
12. Braci Sound Alert
Braci Sound Alert constantly listens for sounds around you, notifying you whenever it hears something that sounds familiar. Sounds like a ringing doorbell or alarm will activate Braci Sound Alert, notifying the user using vibrations and flashing lights. While its functionality is unique, it's one of the best apps for disabled people anyway.
13. Google Live Transcribe
Conversing with people has never been easier for people hard of hearing, thanks to transcription apps like Google Live Transcribe. It works by listening to your interlocutor and transcribing what they say in real-time, so you can read and respond appropriately.
If you have a Google Pixel, you can download languages to use the feature offline; Google Transcribe also works on select non-Pixel Android phones. Since this app is completely free, it's hard to argue against its inclusion among the best apps for disabled people.
14. Ava
Ava converts speech to text but adds a unique feature: it does so even in a group discussion, having the ability to identify speech from a specific person and display their name. It's especially useful in a group conversation where the individual with hearing loss finds it difficult to communicate.
The app has a free version that only lets you caption up to five hours per month, but with terrible accuracy. You can remove the time limit by upgrading to premium, which is only $15 monthly, and there's a Pro version that costs $99. If you can afford a Google Pixel, the live captioning feature is better than Ava's, translates to more languages in real-time, and is completely free. However, I'm unsure how well it holds up in group conversations.
Either way, Ava remains one of the best apps for disabled people, especially those hard of hearing.
15. TapSOS
TapSOS is an award-winning app that helps deaf people communicate with emergency services without having to utter a word. Instead of having to converse with speech, users tap options on the screen to select what they intend to say, and the system interprets it for the receiver, helping them send appropriate them.
After the app's launch, users found new ways to use the service, such as for people having difficulties breathing or people held hostage. While they're not necessarily unable to talk, it's better if they don't, and TapSOS provides an excellent opportunity for them not to.
Conclusion
The Google Play Store and the App Store for iPhones and iPads only feature a tiny percentage of apps for disabled people. Some of these apps are so good that they'll change your life. If you want to see how they'll do that, you can start by trying the list of the best apps for disabled people above.
If you liked this article, then please subscribe to our YouTube Channel for videos. You can also find us on Twitter and Facebook.