Funding is one of the most critical things you must have in place before starting a business. Although when it comes to getting financing and investments for a startup business, women typically get the shorter end of the stick.
It's more difficult for women to get capital or qualify for business loans than for males. If you are a female that needs funding for a small business, you should consider applying for small business grants for women.
Read on to discover the best small business grants for women.
Table of Contents
WHAT ARE SMALL BUSINESS GRANTS?
Grants are free money from the government, businesses, or individual contributors intended to support initiatives and initiatives that improve the general public. One example of how a grant may be utilized is for innovative scientific research to develop quick-acting vaccinations and antiviral medications.
Grants are designed to expand small businesses and create jobs to boost the economy. What differentiates a loan from a loan is that you don't have to pay it back, unlike a small company loan or line of credit. But it doesn't mean you won't put out any effort. Grant applications can be laborious and time-consuming to complete.
TOP SMALL BUSINESS GRANTS FOR WOMEN
Below are a few of the top small business grants for women.
Amber Grant

The Amber Grant is one of the best small business grants for women. The Amber Grant Foundation, in association with WomensNet, provides one $2,000 award every month to a women-owned business in memory of a young lady who passed away before realizing her aspirations. Winners can compete for one of two $25,000 prizes awarded annually.

The grant application is a straightforward online form. During the application process, you must explain your business and highlight how you would use the grant to grow your business. The organization charges a $15 application fee for future awards and administrative expenses.

The best thing about this grant is that application for it is at the end of every month, which means you can apply for the grant any month of the year.

GIRLBOSS Foundation Grant

This grant stands out among the list of the best small business grants for women for a variety of reasons. For one, the recipients of this grant are female business owners who operate in creative industries such as design and music.

Also, each victor receives a grant of $15,000 for their initiative and an online presence on Girlboss' website and other social media platforms.

Women in the fashion, music, art, and design industries are the only ones eligible for the funding. A committee evaluates candidates based on their originality and commercial sense, as well as their professional objectives and financial necessity.

Cartier Women's Initiative

The Cartier Women's Initiative provides seven awards totalling $100,000 and one-on-one business mentorship to women-owned firms operating for one to three years and turning a profit. Also, there are awards for second and third place totalling $60,000 and $30,000, respectively.

The degree of creativity displayed by each applicant's business concept, the company's financial stability, social and environmental effects, and the calibre and clarity of the application's supporting documentation are all considered when judging applicants. For more application directions, go to the Cartier Women's Initiative website.

Halstead Grant

Women starting their businesses in the United States jewelry sector are the intended recipients of the Halstead Grant. There is a focus on startups, as the program is designed for companies with fewer than three years in operation.

The prize for the winners is $7,500, which includes a $1,000 cash award and $1,000 to use in Halstead jewelry supplies, as well as widespread recognition in the jewelry trade.

Prospective employees are asked to elaborate on their plans for the company to be considered. The judges of the award will provide constructive criticism to all applicants.

Tory Burch Foundation

Each year, a woman-run business is awarded a $5,000 grant from the Tory Burch Foundation, a journey to the Tory Burch headquarters in New York City and a year-long fellowship.

Four seminars and meetings with industry leaders will be planned for this business trip. The fellowship allows recipients to connect through a P2P network of female business owners.

To be eligible for this grant, you must be a female who identifies as an entrepreneur, have a significant ownership stake in her business, be at least 21 years old on the application deadline, and have a good command of the English language. You must also be a legal resident of the US to be eligible for this grant.

The business needs to be profit-driven, relatively new (between one and five years old) and bring in money (ideally $75,000 per year). Learn more about this grant by visiting the Tory Burch Foundation's webpage.

KKR Small Business Builder's Grant

To qualify for this grant, you must be a female and be a business owner or own at least 51% of a business. Also, the firm must have between 5 and 50 workers and earn less than $7M in annual revenue. On top of that, you, as a business owner, must demonstrate a need for assistance with a strategy for the future to be eligible to apply for a $10,000 grant.

The ideal candidate will have experienced difficulties and adjustments to their business due to the epidemic and will continue to require assistance. Interest in giving back to the community and providing assistance is another must-have quality for a successful candidate. The application deadline has been extended to Monday, April 22.

SoGal Black Founder Startup Grant

Due to the persistent gender gap in access to financing, the SoGal Foundation has established the Black Founder Startup Grant to support Black women in the startup industry.

With the help of its partners, it awards $5,000 and $10,000 to Black women and nonbinary business owners. Winners get "ask me anything" access to the SoGal Foundation and SoGal Ventures teams for the rest of their lives and guidance on tackling future fundraising issues.

Entrepreneurs who identify as Black women or nonbinary people are encouraged to apply. You'll also need to have a legitimate company and be actively seeking investment capital.

An online application is available through the SoGal Foundation's website, and once submitted, future applications are unnecessary. For further details, please see the SoGal website.

Women Wo Tech

Two grants, one for $15,000 and the other for $5,000, are available from Women Who Tech for businesses managed by women in the technology sector.

Women-owned tech firms in North America that have raised at least $50,000 in initial funding or are now profitable are eligible to apply. Be sure to check the application deadline for the specific award period you want to use for

HerRise Micro Grants

African-American women business owners can apply to HerRise for a $500 micro-grant. HerRise's mission is to help black and brown women entrepreneurs who have been turned down for loans or other forms of funding.

Microgrants of $500 are given out monthly to aid with things like marketing, small-scale initiatives, and other basic needs. Learn more about the HerRise micro-grants program and apply to their website.

Women Founders Network 

To encourage and reward female entrepreneurship, the Women Founders Network hosts an annual competition where participants pitch their business ideas to a panel of investor judges. Those who make it to the final round will have the opportunity to receive feedback on their pitch, guidance with finances, introductions to potential investors, and more.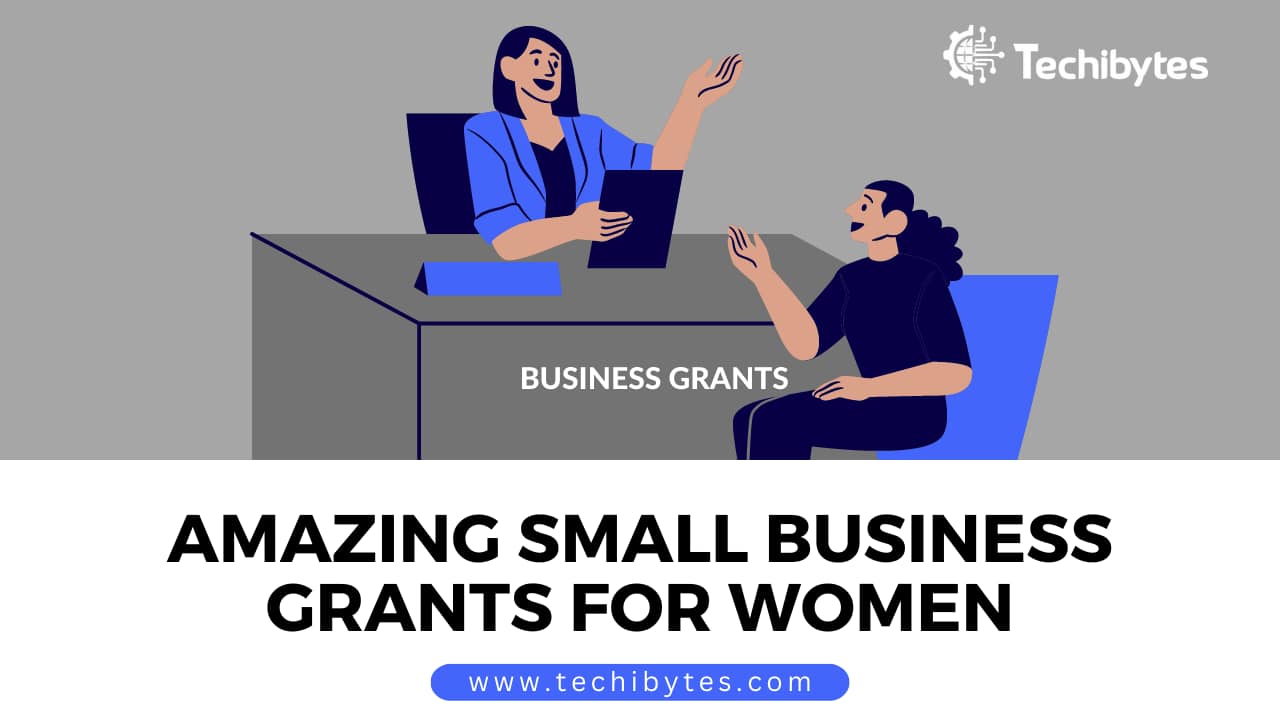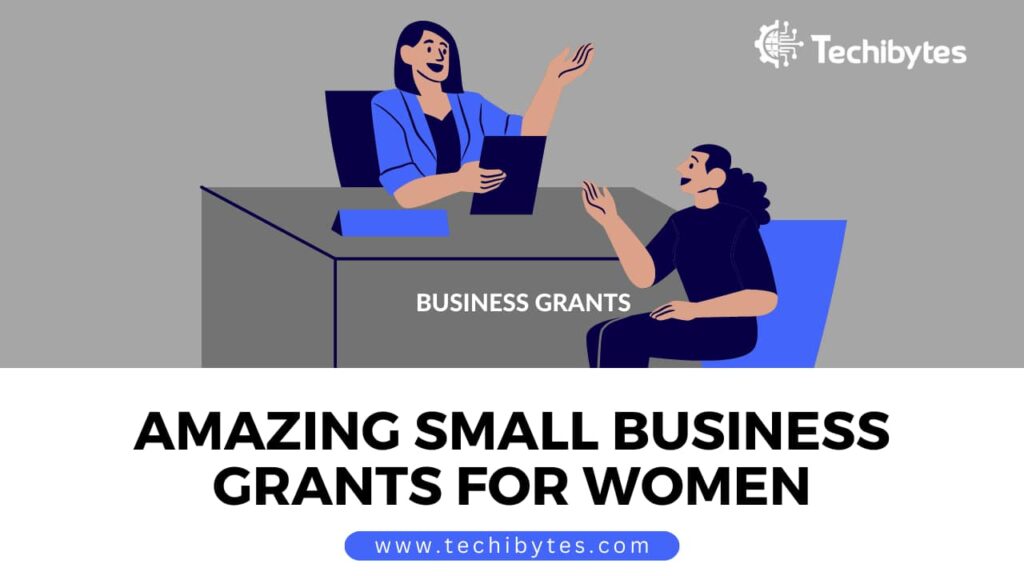 TIPS FOR APPLYING FOR GRANTS
If you want to increase your chances of winning one of the small business grants for women, below are a few grant application tips that come in handy.
One of the best things you have to do when applying for small business grants for women is to explore niche markets. If fewer people compete for a grant, you have a greater chance of getting it. Generally speaking, the more open-ended the grant's requirements are, the more applicants there will be and the more difficult it will be to win.
Applying for grants is essential, especially if your business qualifies for one because of a unique circumstance. It's also advisable to apply for grants within your industry niche.
2. Read and Comply with the Application Procedures
To qualify for small business grants for women, you must comply with all application procedures. This may sound like common sense advice, but many would-be grant recipients miss out on awards because they don't follow the foundation's guidelines.
Make sure you apply within the application period, have all the required documentation ready, and submit your application in the format indicated. You can increase your odds of success by doing these things.
3. You should Double-check your Application for Any Missing Information.
Submitting an incomplete application for small business grants for women won't rule you out of consideration for the award. Still, it could cause a delay in the review process and make it impossible to submit your materials by the due date.
4. A grant writer may be a good investment.
It is possible to apply for small business grants for women even if you are too busy to give the application procedure the attention it deserves. Hiring grant writers is one strategy for getting around this. They can handle grant applications for a fee.
Conclusion
Small business grants for women are an excellent way for you to get funding for your small business. You can apply for any of the grants listed in this article as they are among the best.
If you liked this article, then please subscribe to our YouTube Channel for videos. You can also find us on Twitter and Facebook