When it comes to the implementation of strategies for digital marketing, phrases such as "persona generator for marketers" are frequently used, and for good reason. One of the reasons for this is that these phrases are useful. Identifying the target audience for your company's products or services is the first and most critical step to take, even before developing the specifics of your business plan.
The requirement to develop some sort of "prototype" for of some the most valuable customers, combined with the development of technology that is now available to us, resulted in the creation of persona generator tools. These tools can assist business owners and marketers, in determining not only who the customers are, but also where they can be found and how we can effectively communicate with them.
The Meaning of Persona

User personas are fictitious representations of the types of customers you want to attract. It represents not just psychographic and demographic features, but also actions and beliefs that could urge him or her to act in a specific manner inside the ecosystem of your organization. Those behaviors and beliefs can be influenced by your firm.
What exactly is meant by the term "persona" in marketing?

A marketing persona, which is also known as a buyer persona, is a depiction that is only partially fictitious of a group of consumers that have the same objectives, buyer journeys, and personal profiles. You are better able to internalize the ideal consumer you are attempting to attract by using personas. They make it easier for you to relate to your prospects as actual people.
The buyer personas that are the most accurately reflect both the findings of market research and the feedback obtained from an organization's existing clientele (through surveys, interviews, etc.). You can have as few as one or two identities or as many as ten personas, depending on the type of business you run.
What is the process for creating personas?

Before beginning the process of developing personas, it is essential to amass as much background information and do as much research as possible. When you have that knowledge in hand, the next step is to ask yourself the questions that are listed below.
What is the demographic profile of this person or group?

The collection of demographic data is an excellent place to start. It is simple to acquire and paints a distinct image of the people that make up your consumer base.
What does this person do for a living and what is their rank?

If you're a business that sells directly to consumers, using this information is just one more approach to having a deeper understanding of the details of your persona's life. This piece of information is much more important to your business if you sell to other businesses. For instance, if your persona is an experienced senior executive who is familiar with the nuances of your sector, then they would have a lower requirement for schooling.
Can you describe what a typical day is like for them?

Try to piece together some kind of typical day in the life of your persona now that you have a general understanding of some of the personal attributes that your persona possesses. Where do they spend the majority of their time: at home or work? Where is it that they would rather be? Who are the most important persons in their lives and why are they important?
What are the problematic areas for them?

You choose to go into the company to find a solution to a problem. How does this issue impact the way that they go about their daily lives? Because this is such an important part of your persona building, you should focus on the details that explain how the situation makes them feel and include as much detail as possible.
What is it that they prioritize the most?

What are their objectives, exactly? It should be a little bit simpler for you to comprehend what they value, and just as essential, what they don't care about, now that you have a better understanding of their pain areas. Consider what aspects of your company's product or service might pique the interest of the persona you've created for yourself.
From what sources do they obtain their information?

It is necessary to have an understanding of how these personas take in information to successfully promote and sell to them. If they are interested in acquiring knowledge online, which social networks do they frequent? Which kind of people, such as friends, family, coworkers, or industry experts, do they put the most faith in?
What kind of a shopping experience are they hoping to have?

The shopping experience you get should correspond to the expectations of your persona. What kinds of functions do they anticipate being included in your product? How should they feel about the sales encounter they have? Is it possible to consult on it?
What are the most frequent concerns that they have?

If you can anticipate the objections that your persona could have, it will help you prepare for them during the sales process. You might even educate them in your marketing content to immediately assist calm their anxieties.
How can I determine who this Persona is?

Now that you have a better understanding of what makes your persona tick, you need to be able to identify them so that you can better customize your messages to them. Is it the name of their job? Where are their sore spots? Where did they hear about your company? You will be able to create and keep a consistent voice once you have determined what to look for when you come across certain things.
What does it mean to have a bad Persona?

A portrayal of a potential client that you do not want as a customer is known as a "negative persona." Students who are just engaged with your content for the sake of research or knowledge might fall into this category. Potential clients who are simply too expensive to acquire could also fall into this category (because of the low average sale price, propensity to churn, or their unlikeliness to purchase again from your company).
It is as crucial to know who you do want as a client as it is to know who you do not want as a customer. If you take the effort to build negative personas, you will have the extra benefit of being able to separate "bad applies" from your contacts, which will assist you in achieving a cheaper cost-per-lead and cost-per-customer. This may be accomplished by taking the time to construct negative personas.
Here are some pay per download sites you should try
Great Impressive Persona Generator for Marketers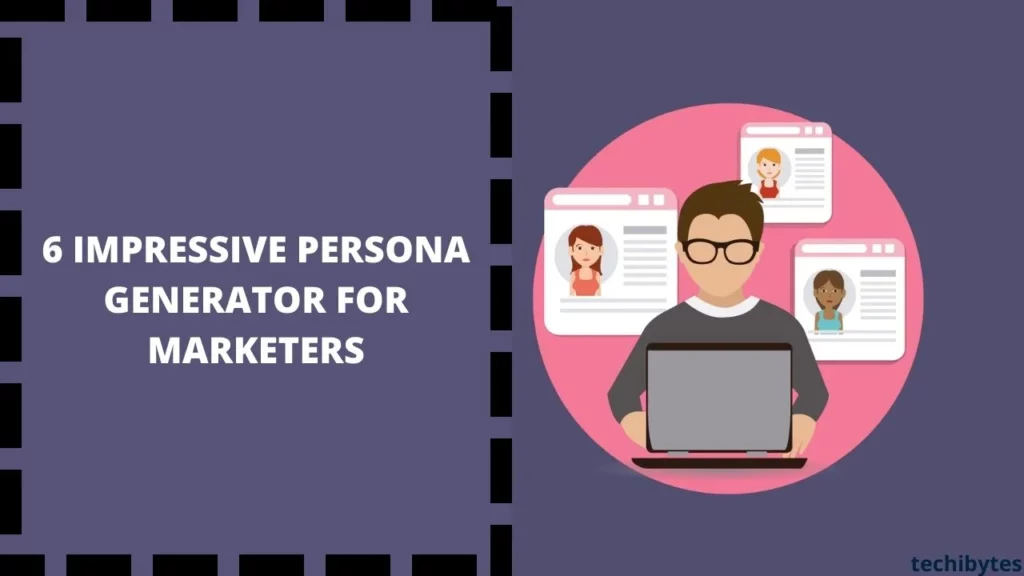 On the market today, there is an abundance of persona builder tools to choose from. However, as of right now, the following are the ones that are considered the most valuable and are well recognized:
1. Live Persona
Your Google Analytics data is used by Live Persona to automatically generate buyer personas based on certain segments. Details such as influential resources, preferences and interests, objectives and problems, demographics, a quotation, industry-specific insights, and example user (B2C) and organization (B2B) journeys are created when the details are generated.
These data-driven and AI-generated personas are extremely helpful for understanding your ideal groups, enhancing client experiences, and generating ideas for targeting.
Pros
Utilized by thousands of companies in more than 60 countries.
Automatic creation and updates, so reducing costs and freeing up time
E-commerce segment personas (such as a customer who abandons their basket, recurrent purchaser, or first-time purchaser)
Cons
At this time, only Google Analytics is used as the source of input data.
Paid plans start at 16 USD per month and are payable annually. Pricing is determined by the amount of monthly traffic (visitors) to the website. You can test it out for free—the Lite or free plan gives you access to one identity free of charge.
2. Mnemonic
The data-driven customer personas that Mnemonic AI generates with the use of artificial intelligence are completely automated. It is not necessary to perform any manual labor to generate personas because both publicly available data and internal data are utilized.
Deep neural networks are responsible for performing tasks such as data processing, authoring personalities, and image production. Both business-to-business and business-to-consumer buyer and marketing personas may be served by Mnemonic AI.
The output personas are created as either PDF files or JSON objects, depending on the user's preference.
Pros
The intricacy of the identities and their precision
There was no labor of any kind involved.
Cons
Currently available solely as a service.
There is just support for the English and German languages.
Pricing is available upon request.
3. Uxpressia
Uxpressia is a program that creates B2C personas and also maps customer journeys; it provides a one-of-a-kind combination of excellent value and functionality. It is simple to communicate updates to other members of the team, and in addition to that, it is quite responsive.
Pros
Highly receptive to stimuli
Cons
Lack of user personas that can be customized.
Fewer editing choices than usual
Pricing: The premium edition of Uxpressia has a starting price of $16 per user.
4. Xtensio
In addition to being an excellent B2B and B2C persona generator tool, Xtensio's interface is very user-friendly, and the company offers its customer base the chance to make presentations using a wide variety of free persona templates that have been sorted into the appropriate categories.
Those individuals who place a higher value on convenience and expertise over anything else will find that this is a course of action that is well worth pursuing.
Pros
Friendly interaction with users
Cons
You will be unable to export your files outside of the platform or store your papers within the free plan without suffering a reduction in the overall quality of the product.
Pricing: Xtensio is available at no cost to users who are just getting started with the program. However, if the number of team members and requirements increase, the price per team member may go to 14 dollars a month (or 10 dollars if the annual plan is purchased).
5. HubSpot
The "Make my Persona" free persona template offered by HubSpot provides you with all of the features you want to build and manage your users through a procedure that is straightforward to understand.
You can add a wide variety of factors, including not only the client's name and profession but also the tools he or she might use the most and the hierarchical position he or she might be occupying within a particular organization. This feature was developed specifically for businesses that sell to other businesses, and it gives you the ability to do so.
Pros
Simplicity and ease of usage
Cons
There are few visual alternatives available about the identities.
Absence of several editable formats (the persona cannot be edited inside either the PDF or the Word version).
Pricing: There is no cost associated with using the Make My Persona service, and the findings and profiling it provides are guaranteed to be of the highest quality.
6. Personapp
Personapp is a B2C persona builder app that provides you with the ability to take advantage of a speedy and streamlined interface along with simple sharing options that allow the communication between businesses to flow more smoothly.
Personapp is an excellent framework for getting started with generating client personas, and even though it is not highlighted as frequently as some of the others on our list, it is included here.
Pros
Access to a variety of simple sharing options
Cons
The absence of further sections (such as those titled "pain sites" or "habits")
Absence of in-app guidelines and useful suggestions for making appropriate use of the platform
Personapp also offers a completely free tier of service, which may be seen in the pricing section.
FAQ

In the world of business, what exactly is a persona?
A persona is a fictional representation of a product's ideal consumer that is used in product management. Personas are a tool that may assist a product manager (as well as other members of the company engaged in the creation of the product) in better comprehending the essential characteristics, habits, objectives, and requirements of a certain category of user.
What steps should I take to develop a marketing persona?
Consolidate your replies.
Create the first draft of your work.
Finalize your personalities.
What are some persona examples?
When it comes to the realm of business, a persona is all about perception. For instance, a businessperson who wants others to believe that he is highly strong and successful could talk down to individuals who he perceives to be lower on the social ladder, drive a flashy automobile, purchase a large house, and wear costly clothing. He might also buy expensive apparel and wear it.
In the context of marketing, what is an example of a persona?
The majority of companies create many buyer personas, each of which explains in depth what motivates a certain type of customer to acquire their product or service. Take, for instance, the individual's age, location, work title, aspirations, and the difficulties they must overcome. Buyer personas are essential to the continued success of marketing.
Conclusion
These days, technologies that create personas are an absolute necessity. Knowing your most valuable customers is one of the most important factors in deciding how successfully and for how long you will be able to serve the demand of your customers, regardless of whether your company is digital, physical, or a combination of the two.
You will be equipped with the information you need to make judgments and create your content strategies with self-assurance if you have personalities that have been meticulously crafted.
If you liked this article, then please subscribe to our YouTube Channel for WordPress video tutorials. You can also find us on Twitter  and Facebook