You may distinguish yourself from other professionals in your area by passing meta certification examinations. Individuals who can demonstrate an advanced degree of skill in several facets of digital marketing using Meta products are eligible to receive credentials from the company.
The Facebook Blueprint is an online learning platform that provides users with access to free, self-guided courses on advertising on Facebook and Instagram. Depending on where you are in your advertising journey, the Facebook Blueprint certification might be a smart alternative for you if you want to improve your abilities in Facebook advertising and are considering your options.
What exactly does the Facebook blueprint certification entail?

A free online training program called Facebook Blueprint is available for businesses interested in advertising on Facebook and Instagram. It consists of more than 90 different classes. The vast majority of them may be completed in 15 to 50 minutes. To get started, all you need is a Facebook account to log in with.
Digital marketers will find that using Facebook Blueprint is an efficient method to keep up with the ever-expanding toolkit and ad options offered by Facebook. Courses may be particularly beneficial if you are aiming to accomplish a goal, such as increasing the number of leads generated by your business or marketing an application.
It is designed to assess a variety of abilities, including the ability to use Facebook data to generate campaign suggestions and to develop an end-to-end plan for Facebook advertising.
Six fundamental Blueprint examinations cover a variety of facets of Facebook marketing, and they are as follows:
Facebook Certified Digital Marketing Associate
Facebook Certified Marketing Science Professional
Facebook Certified Creative Strategy Professional
Facebook Certified Media Planning Professional
Facebook Certified Media Buying Professional
Facebook Certified Marketing Developer
Who needs to take the Facebook Blueprint certification course?

Courses offered through Facebook Blueprint are intended to be of assistance to anyone interested in marketing on the network. Participants who work in advertising and communication companies that specialize in social media and digital marketing are excellent candidates for classes.
The fact that Facebook Blueprint is completely free and can be accessed remotely makes it a potentially useful tool for not-for-profit organizations and smaller enterprises. Those who aspire to be specialists in the job market may also discover that certification in Facebook advertising is useful in their job search.
Is it worthwhile to get Facebook Blueprint Certification?

Blueprint certification is something you should consider pursuing if advertising on Facebook is your major emphasis. This is particularly relevant for those who have aspirations of establishing their professional brand based on their skill with Facebook.
How much does it cost to become certified in Facebook Blueprint?

You are certified for one year after passing each exam, which costs you US$150. To sign up for any of the exams, all you need to do is visit the Pearson VUE Professional testing center in your area or schedule a proctored test through their website.
Even though you only need to pass a single test to earn your Facebook Blueprint certification, you will be required to take and pass a test once per year to keep your status.
How may one obtain their certification?

The scaled scoring system has a range from 300 to 1000, and to pass and become certified, you need a score of at least 700.
Guide on how to get Facebook blueprint certification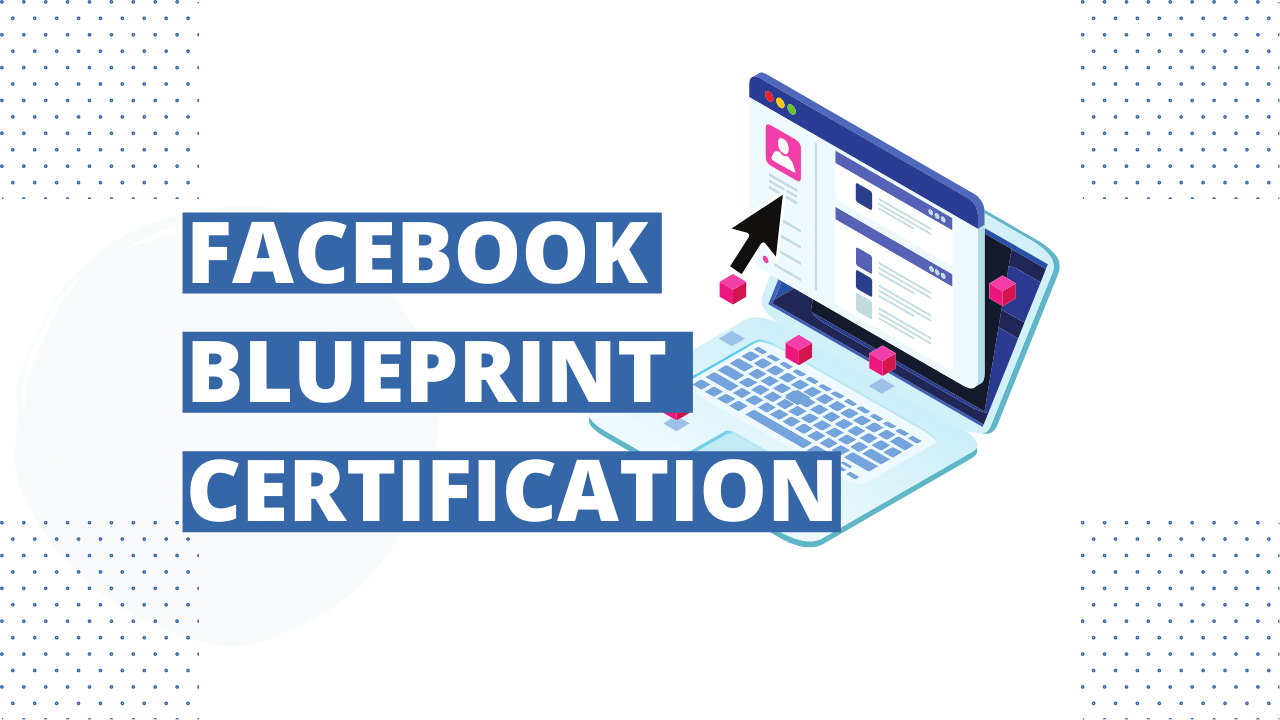 If you are adequately prepared, you can earn the certification even though the classes are not only available online but also free of charge. There are a few requirements that must be met before you can earn this certification, and they are as follows:
Step 1: Choose the Correct Exam
Each exam in the Facebook Blueprint Certification program evaluates a different aspect of Facebook advertising.
Concerning Facebook advertising, the associate test (100-101) is ideal for people who are just beginning, while those who are more advanced may consider the professional level examinations.
The Certified Digital Marketing Associate Exam, (100-101)
Examine your fundamental understanding of advertising on Facebook, Messenger, and Instagram by taking this entry-level assessment quiz. On these platforms, it measures the capacity of advertisers to build and manage campaigns. It is the single test for associates.
The Facebook Certified Marketing Science Specialist,(Exam 200-101),
This exam examines your capacity to track and interpret information at a professional level. There are several abilities tested in the test, including reviewing existing data and KPIs, formulating and testing a hypothesis, and interpreting the test outcomes.
The Facebook Certified Creative Strategy Professional, ( Exam 300-101)
You will be judged on your ability to develop mobile advertisements and use Facebook insights to guide your ad creative in this exam.
The Facebook Certified Media Planning Professional, ( Exam 400-101)
The purpose of this test is to see how you can come up with Facebook marketing plans. Each participant must plan and execute a Facebook advertising campaign, which includes developing an advertising strategy, determining an advertising budget, determining the most effective ad formats, and then tracking the campaign's progress.
The Facebook Certified Media Buying Professional, ( Exam 410-101)
Facebook ad purchasing regulations, technologies, and practice guidelines are tested in this course.
The Facebook Certified Marketing Developer, ( Exam 500-101)
To determine whether or not a developer is capable of setting up a Business Manager account, connecting the Facebook Pixel, and resolving any difficulties that may arise throughout the process of doing so.
Following the completion of the Certified Marketing Developer certification, there are two more examinations that you can pursue:
The Facebook Certified Advanced Marketing Developer, ( Exam 510-101)
This test focuses on the installation and troubleshooting of the Facebook SDK for Android and iOS.
The Facebook Certified Advertising API Developer, ( Exam 520-101)
Test your ability to configure and handle Facebook API integrations with this course.
Step 2: Examine the Facebook Blueprint Training Programs
Facebook's Blueprint certification examinations are difficult, but the company provides all the study materials you require. The Learn with Facebook Blueprint platform offers some free online courses. The classes are divided into three levels: introductory, intermediate, and expert.
With courses ranging in length from 5 to 50 minutes, it's simple to find time to learn. To help you prepare for each examination, Facebook publishes a general test description on the main test official page. Make use of these tools to help you organize your study time and pick the best courses for your test.
Step 3: Examine Yourself with a Preparation Exam
Use Facebook's sample exams before you pay for an actual exam A free 30-question sample test is available for each exam to give you a sense of the breadth and format of the examination. Each exam's sample test may be found on the exam's main page.
The Blueprint practice exam.
Preparation for the Blueprint certification exam
Practice exam for the Facebook Blueprint accreditation
The questions you missed will be displayed to you on Facebook after completing the practice test. Assess your weak areas of study based on your scores, and then focus your study efforts on those areas.
Taking a mock exam and reviewing the study guides will get you ready for the real thing.
Step 4: Make Your Findings Public
Make sure your network can notice your hard-earned qualification by displaying your electronic badge on professional networks like LinkedIn.
Facebook's certification badge for Blueprint.
Verification of the Facebook Certified Buying Professional badge
Your credentials, and also the dates of issue and expiration, are all listed on the badge. A verification page will be shown to everyone who taps on your badge. By joining the Facebook Blueprint Certified Professionals club, you'll be able to learn from and exchange campaign techniques with other certified specialists.
Re-taking the certification test every year (or 2 for the associate exam) is required to maintain your position. You have up to 6 months before the expiration date to update your certification.
FAQ

When it comes to learning the Facebook blueprint, how long does it take?
The majority may be completed in 15 to 50 minutes. Only a Facebook login is required to begin studying. Facebook Blueprint is a useful resource for digital marketers who wish to remain abreast of Facebook's ever-changing arsenal of tools and ad types.
How challenging is Facebook's blueprint?
Even though you only need to pass one exam to earn your Facebook Blueprint certification, you must take an exam annually to maintain your status. The examinations are difficult and involve study, preparation, and experience on all three platforms.
Is the Facebook Blueprint examination free?
The cost of each Facebook Blueprint Certification test ranges from $99 to $150 based on the certification level.
How can I pass the Facebook Digital Marketing Associate certification exam?
To pass the certification exam, you must have a fundamental understanding of the following Facebook and Instagram topics:
The Benefits of Facebook.
Develop a platform presence.
Advertising Fundamentals.
How many questions does the FB blueprint test consist of?
The test will last for 75 minutes and consist of 50 to 60 questions. To pass, you must have a score of 700 or above. After 30 days, you may repeat the exam if necessary.
Conclusion
If Facebook advertising is your major emphasis, obtaining a Facebook Blueprint certification is advisable, especially if your brand relies on your status as a Facebook specialist.
facebook certifications
facebook blueprint certifications
social media marketing skills
social media advertising course
facebook blueprint certification exams
advertising api developer certifications
social media advertising
facebook blueprint certification exam
If you liked this article, then please subscribe to our YouTube Channel for WordPress video tutorials. You can also find us on Twitter and Facebook