WhatsApp has proven to be one of the best social media chatting platforms because of all the amazing features it offers, like; texting, sending voice messages, making voice and video calls, and sending stickers. 
While a lot of people know how to do all of the above, getting those stickers to send to their friends might be an issue for them, and that is what brings us to our topic today: How to Create WhatsApp Stickers Online.
There are different apps that are used to create WhatsApp stickers online, and in this article, I will be taking you by the hand and showing you how to create WhatsApp stickers online in a few easy steps. Also, I will be giving out the best apps to create WhatsApp stickers online, so stay tuned.
What are WhatsApp Stickers?
Just like emojis, stickers are used to convey emotions better than simple text. Some stickers can be a short, plain image that expresses a reaction, and some others have text on them, so you get two benefits in one.
A sticker can be in the form of a picture of a celebrity or a trend, and can also be a short GIF converted.
WhatsApp allows you to send and receive stickers from your friends and the good thing is, you can save the stickers your friends send to you and use them at your convenience. That benign said, let's get to the meat of the matter.
How to Create WhatsApp Sticker Online with Apps
To create a WhatsApp sticker online with an app, follow these steps:
Step 1: Download the App

There are tons of apps that can be used to create stickers online. All you need to do is go to your Google play store or the apple store on your iPhone and search for "WhatsApp Sticker Maker" and you will see the various sticker maker you can make use of. Download and install the application to start the process.
Step 2: Select your Prefered Image

After downloading the app, open it and choose the image you wish to use for the sticker. First, decide what kind of WhatsApp sticker you want to make. Upload an image that corresponds to that concept. It may be a meme, a drawing, or a picture of you or your friends.

You can choose a photo that you took with your camera or one that you downloaded from the internet.
Step 3: Remove the Image Background

The next step is to change or remove the background of your chosen image. The majority of tools used to create stickers for WhatsApp allow you to change the background of the image and remove the subject from your picture for a better result.
Step 4: Edit to Suit Your Taste

After removing the image's background, you can now edit it to your satisfaction. You can add hilarious text and dialogues in various fonts, style it with clip art and emojis, apply filters, change colors, and do other things.
Step 5: Download and Share Your Sticker with Friends

After you've finished editing your sticker, save it in a high-quality PNG file (WhatsApp only supports PNG format for stickers) with a transparent background. Then, you can send your personalized WhatsApp sticker between chats and use it as a conversation starter.
Apps to Create WhatsApp Stickers Online
There are various apps used in creating stickers for WhatsApp. And in this section, we would be looking at the best of them all.
1. Sticko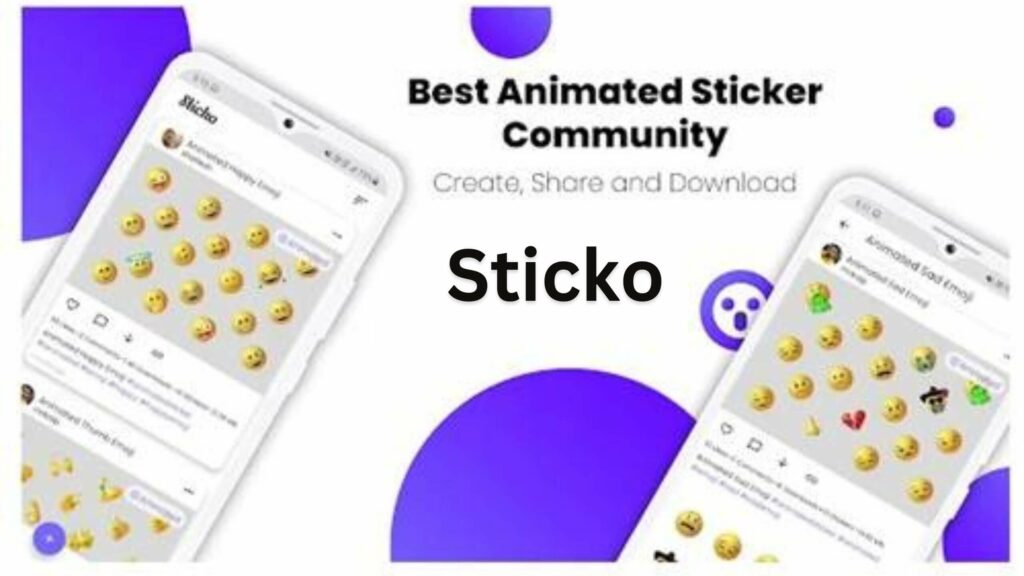 The Sticko sticker maker is the first app on our list. Despite its lack of popularity, Sticko is one of the best WhatsApp sticker-maker tools available. The software allows you to create and share sticker packs with others. You can also browse and download sticker packs created by other users.
Users can choose from Emotions, Animals & Birds, Cartoons, Celebrities, Festivals, Foods, Funny, Good & Devotees, Politicians, Sports, Wishes, Celebrations, and other categories. Users can also choose between English, Chinese, French, German, Japanese, Korean, Russian, Spanish, Tamil, and other languages for their posts.
Sticko has a large selection of sticker elements from which to choose. The software is simple to use and available for both Android and iPhone users to download for free.
Pros
You can download other people's sticker packs
It is free
Supports over 20 languages
Cons
Download
2. Sticker Maker by Stickify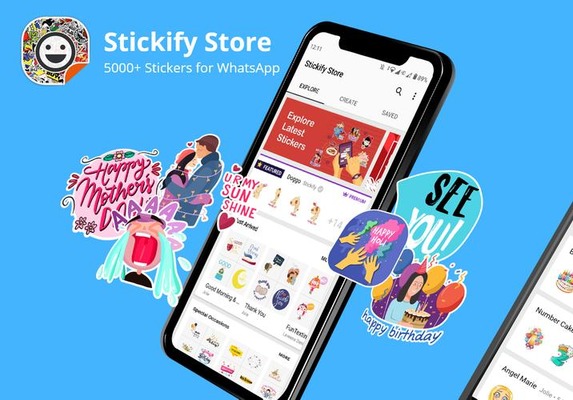 Sticker Maker by Stickify is the next app on our list. The software includes a simple sticker editing toolbox for creating emoticons. Many languages, including Brazilian, Portuguese, Hindi, and Malayalam, are supported by the interface.
To customize your WhatsApp stickers, you can use the app's freehand crop and backdrop removal tools. You can also add text to the emoticons by choosing a font and color, as well as adding charming decorations to make your emoji appear even more unique.
Many people see this software as the best sticker maker app; it allows you to create love & dialogue stickers, birthday & anniversary stickers, and other unique designs to share with friends. The program also allows you to send the entire WhatsApp sticker set to your contact with the help of the Share icon.
Pros
The app is Free
It supports different languages
Impressive Interface
Cons
Download
3. Stickery
Stickery allows you to instantly convert your photos into stickers. To begin, select an image, outline the desired section, and then tap on a magic wand. Another alternative is to manually mark the desired area of an image and blur the edges. You can draw an emoji on a blank canvas if you want.
If you are short on time, you can choose the automatic mode. However, this choice is only appropriate for images with a monochromatic background or close-ups. Furthermore, Stickery provides a feed of emojis developed by people all around the world. So, if you wish, you may publish your sticker pack and make it available to others.
Pros
Comes with ARKit features offered by Apple
Users can customize texts by changing fonts and colors
Users can create a design from a blank canvas
It allows users to export stickers to WhatsApp, Telegram, and Messages
Cons
No way to resize stickers
Download
4. Wemoji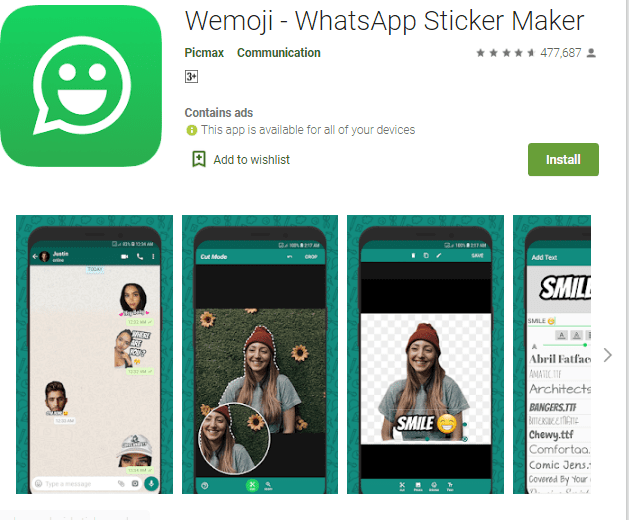 This WhatsApp sticker maker is well known for its easy-to-use interface, which makes sticker creation simple and pleasant. Simply upload a photo and use the square-crop, circle-crop, and freehand-crop features.
Zoom in on the image with a magnifying glass to preserve all crucial information. If you don't need this feature when cropping a photo, you can go to the settings and turn it off.
This sticker app has keyboard options for adding emojis as well as the ability to share finished designs on WhatsApp and other social networking networks.
Pros
Reusable trimmed images
Allows creating stickers with text
Spice up stickers with interesting elements
Backdrop removal feature
Cons
Limited editing functionality
Download
5. Sticker Maker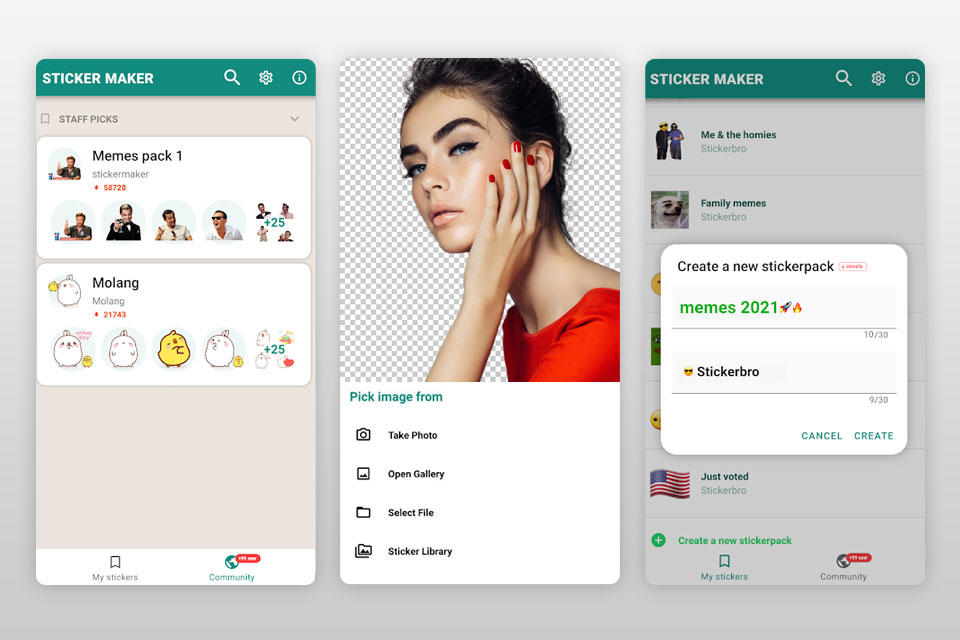 Another fascinating WhatsApp sticker-creating tool on our list is Sticker Maker. You can create entertaining stickers on your smartphone by drawing them with your fingertips or importing images from the gallery and transforming them into unique stickers.
The app allows you to put a label on your work so it will be easier to come back to it. You can also select an image from your gallery or the app's library, or include the text only.
Using a freehand tool, you can cut out a portion of the image that will serve as the foundation for a sticker. If you're stuck for ideas, you can join the community, look at other people's work, and come up with your own ideas.
Pros
Allows creating custom sticker collections
Extensive compatibility
You can stickers on social media platforms right from the app
It is possible to add up to 30 stickers from your photo library
Cons
Occasional issues when editing the background of stickers
Contains ads
Download
6. Sticker.ly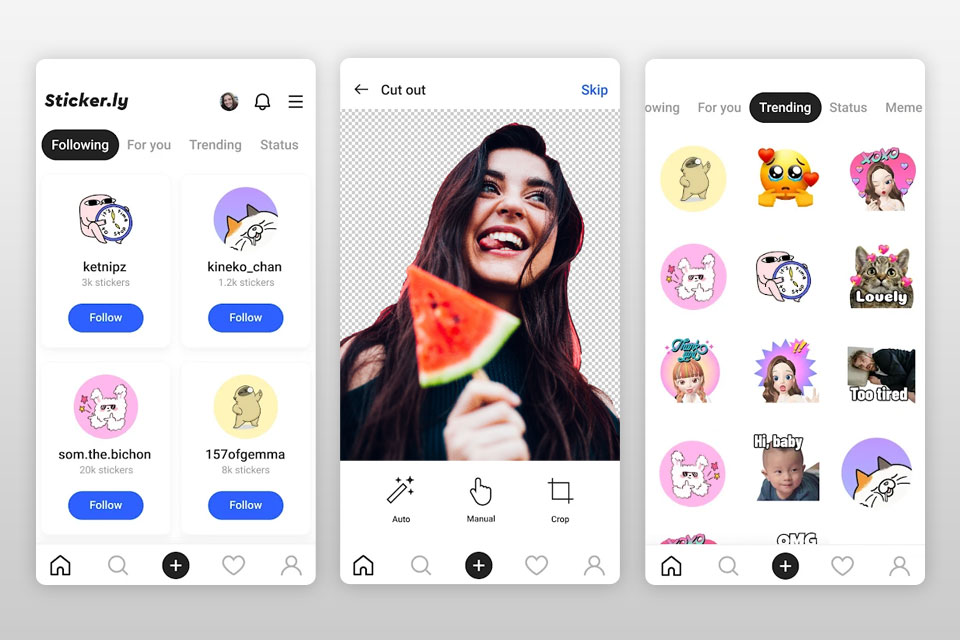 Sticker.ly is another app used to create WhatsApp stickers that provide access to a variety of emojis created by people all around the world.
Sticker.ly lets you earn points by having others download your stickers and as a result, you can gain access to additional features. Users have access to 500K sticker packs as well as a variety of video updates, TV episodes, adorable memes, mistakes, and emojis.
Furthermore, this sticker creation tool is ideal for creative folks who wish to customize stickers with interactive filters. After the design step is completed, you can begin synchronization with messengers.
Furthermore, you can design stickers using your own images or sketch a sticker straight in the program. The app also allows you to add text to your stickers and change the font if necessary.
Pros
Auto Cut technology to create animated stickers
Instant export to messengers
Allows monitoring your favorite creators
Sharing through custom inks is possible
Cons
Download
7. Sticker Studio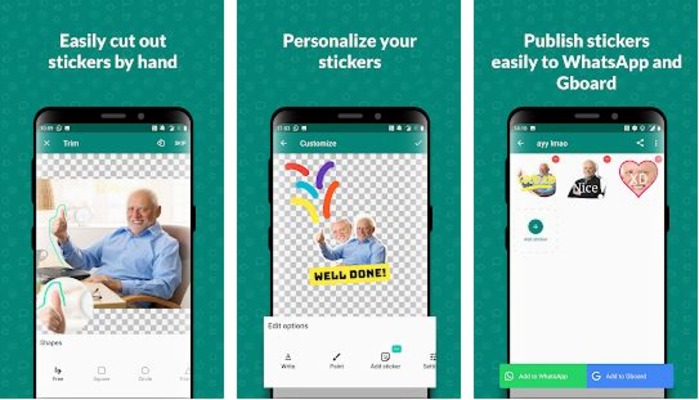 Sticker Studio provides two choices for customizing your stickers: freehand cropping and text incorporation. You can create as many WhatsApp sticker collections as you like and resize them to match the standards. Sticker Studio allows you to take photos or choose images from your library. the app can also be used as a whatsapp video sticker maker online
Design emoticons with GIFs and videos. Then, in Google Drive, save the generated files. Subscribe and take benefit of the app's additional features, such as different fonts, frame colors, and an ad-free environment. If you do not use WhatsApp, you may easily upload these emoticons to Telegram.
Pros
Outline a sticker on the display with a finger
Add text and drawings to your design
Resize option
Extracts fixed forms
Create emoji combinations for hilarious results
Cons
Download
8. LINE Sticker Maker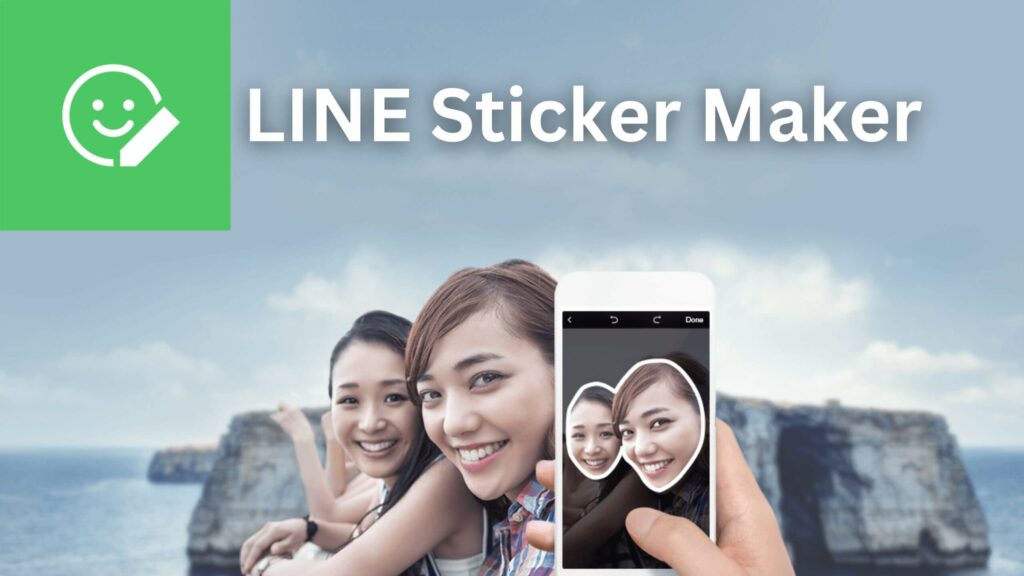 If you want to quickly turn a photo into WhatsApp stickers, this is undoubtedly one of the best sticker maker app for you. You can choose the necessary areas of an image without conducting manual edits with the Auto-Trim, Trace, Frame, Shape, and Eraser tools.
You can use the software to convert images of your dogs, friends, and children into cute emoticons and send them to your contacts. Furthermore, you can design personalized stickers for your friends and family.
By drawing a shape with a loose line, the Auto-Trim tool allows you to cut around it. This tool can be used to preserve any portion of a photograph intact or to entirely delete leftovers.
On the sticker design screen, add a title and a description for your project, and then choose the core image for the entire pack. You have the option of releasing your emojis with or without revenue sharing. The latter option allows you to freely export your own designs.
Pros
Rich sticker customization possibilities
Auto-Trim option
You can adjust the size of the eraser and shrink
Numerous filters to change your images
Cons
Download
9. WhatStickers.in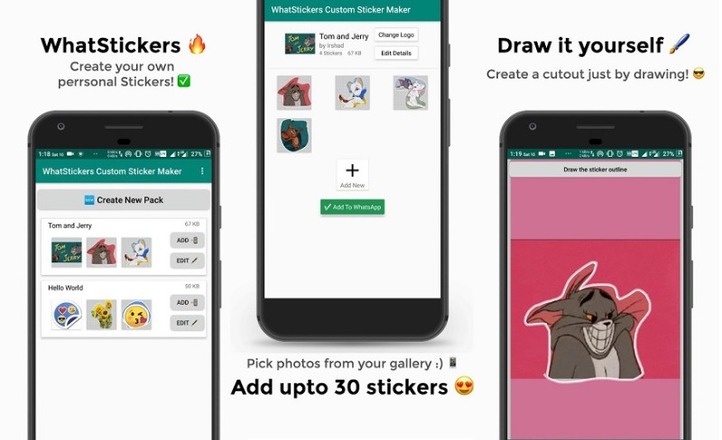 WhatStickers.in not only allows you to design your own stickers from scratch, but it also allows you to download a variety of sticker packs. It's essentially the complete app for users who want to utilize and abuse WhatsApp stickers.
It also has some pretty fascinating image-altering tools. You may also use your fingers to select the areas of the images you want to use, giving you greater precision. This app is very suitable to convert image to sticker online free.
Pros
70 great fonts and various colors
Outline a sticker on the display with a finger
Add text and drawings to your design
Resize option
Extracts fixed forms
Cons
Download
10. Personal Sticker Maker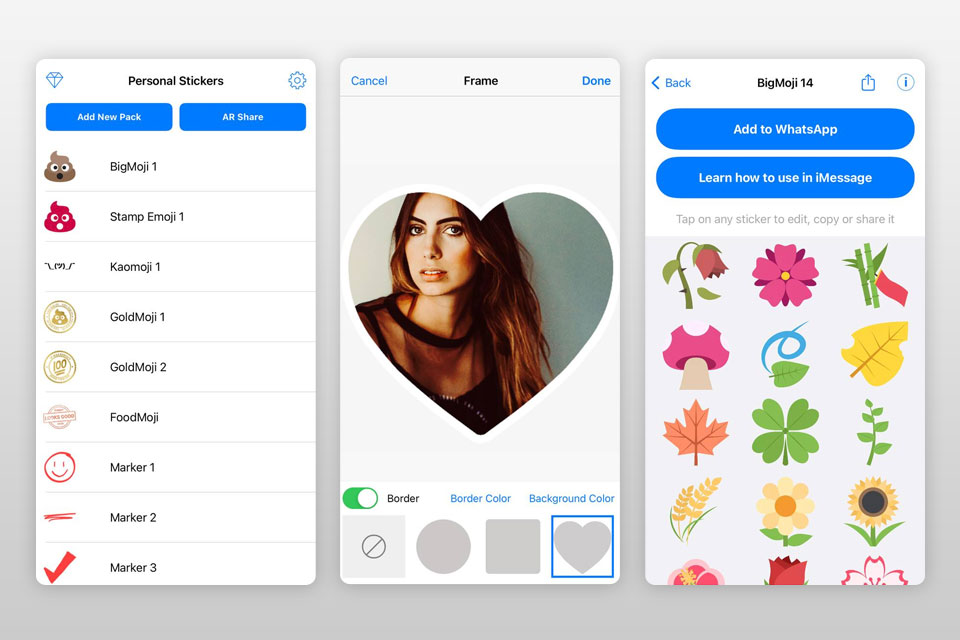 In iMessage, users can also create grammar correction stickers. This type of pack is ideal for adding notes and corrections, as well as commenting on grammar faults in the target language. You may complete all grammar fixes on real paper by using these stickers in the AR environment. After that, you may export the stickers to other messengers.
This WhatsApp animated sticker maker online also makes it easy to make as many stickers as you want for iMessage and WhatsApp. Over 1000 free ready-to-use stickers made with the Augmented Reality environment in mind can be found here. Simply place your one-of-a-kind stickers in the real world and snap a photo to distribute to friends.
Pros
Allows generating handwriting text stickers
Over 200 markers, highlighters, arrows, and doodles stickers
You can output a whole collection as one file
Cons
Occasional problems with synchronization with WhatsApp
Annoying ads
Download
Conclusion
There you have it, guys! I hope that with the help of this article, you now know how to create WhatsApp stickers online. The apps mentioned above are very easy to use, so jump on them and unleash your creativity with hilarious and warm stickers. If you have any queries regarding sticker creation, WhatsApp sticker maker online free, or WhatsApp sticker maker online PC, kindly state them in the comment section below
If you liked this article, then please subscribe to our YouTube Channel for video tutorials. You can also find us on Twitter  and Facebook