Despite being a promising technology, CELO isn't performing the way we all wanted it to. Also, the latest news and updates on this coin aren't inspiring optimism. That's why many investors resort to the option of CELO to BUSD exchange as they either see no future for this project or they just want to accumulate stablecoins to buy more CELO when the price drops even lower.
Is it a smart move or not? The time will show. In the meanwhile, we offer you some expert thoughts about the CELO price.
Table of Contents
What Is CELO?
Celo is an open-source ecosystem focused on providing access to DeFi systems and tools for smartphone users.
The developers have created a unique system in which phone numbers are used as public keys and hope that billions of smartphone users, even those who are not connected to banking, will become interested in cryptocurrency.
The Celo mainnet was launched in 2020. The following year saw the development of key features that many companies are looking for:
The platform itself is equipped with two native tokens. Primarily CELO, a Proof of Stake (PoS) token used in the following areas:
transaction fee payments;
participation in governance;
other related activities.
cUSD and cEUR are stable digital assets that track the US dollar and euro. People can use them to transfer value and participate in global financial activities from their smartphones. Both cryptos are backed by a variety of digital assets in Celo Reserve, including BTC and ETH.
CELO Price Prediction
Not so long ago, Opera integrated Celo Native Asset, Celo Dollar (cUSD), and Celo Euro (cEUR) stablecoins into its crypto wallet. Thus, Opera users can make purchases, send P2P money transfers, trade or deposit, and withdraw money using their own assets or the cUSD stablecoin from the browser's built-in crypto wallet.
This news gave the analysts from Priceprediction.net the full right to predict that at the end of 2023, the price of Celo will be in the range of $0.85 (minimum forecast value) and $1.73 in 2025.
According to an alternative Celo price forecast from Wallet Investor, by the end of 2028, the CELO/USD rate will reach $5.52 and will peak at $11.05 in 2030.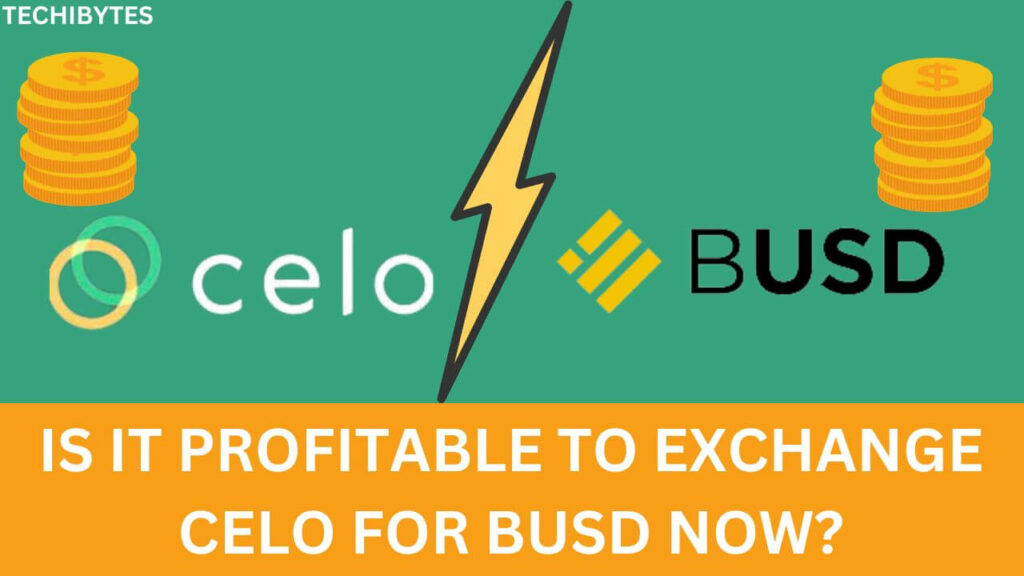 What You Should Know About BUSD?
Binance USD (BUSD) is a fiat-backed stablecoin that has the same name as the world's largest crypto exchange. At the same time, these coins are not issued by Binance itself but by the American company Paxos Trust Company, which in addition to this, deals with several more tokens (HUSD, Pax Dollar (USDP), and Pax Gold Token (PAXG)).
The Paxos website claims that 100% of BUSD reserves are held either in real dollars in US bank accounts or in ultra-reliable US government bonds (US Treasury Bills). So, the price practically does not change.
Binance USD and USDT are the only stablecoins that are traded on the world's largest crypto exchange. However, you can also buy it on Godex (https://godex.io).
CELO to BUSD: Is It Time to Swap?
Many investors think this news is not too big since the number of Opera users does not even fall into the same range as Google Chrome and Apple's Safari browser. On the other hand, Celo itself is not such a big project to cooperate with industry giants. So, it's either a project that is yet to show its full potential or the primary option to be converted to BUSD.
If you liked this article, then please subscribe to our YouTube Channel for videos. You can also find us on Twitter and Facebook