While technology is a multi-trillion-dollar industry, a section that doesn't get as much attention as it deserves is tech publishing, a very significant sector of the circle. The first step to foraying into the tech industry is following the latest happenings through the most popular publishers.
Popularity remains the most objective metric for measuring the best technology blogs, as people usually read excellent blogs. There are a few outliers, but this compilation will filter them out, leaving you with a balance of the best and most popular technology blogs.
Table of Contents
Best Technology Blogs Ranked By Popularity
When listing technology blogs by content quality, Techibytes takes the crown, but that's not the point. Instead, here's a list of the best technology blogs ranked by popularity, offering you a holistic view of what techies love (are forced) to read.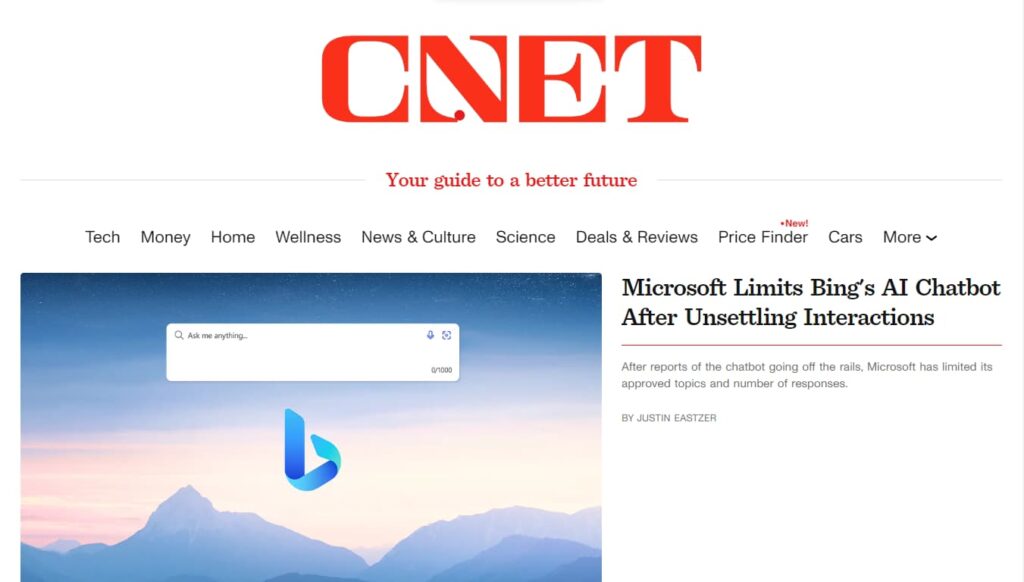 Despite not being the trendiest name in tech publishing, the website and all its subdomains drive the most traffic of all the technology blogs in this compilation. Most of its traffic numbers are attributable to the website's downloads section.
The downloads section aside, CNET offers industry-leading product reviews, tech advice, news articles, and detailed how-to guides. CNET's content quality has taken a hit since the blog's acquisition by Red Ventures, but this is a popularity contest, not a quality debate, and for that, CNET wins.
However, that doesn't mean CNET lacks compelling content; only quality blogs make it into this list. If you can avoid the disastrous AI-written articles from CNET's experiment, you should love everything else about the technology blog, especially its product reviews.
TechCrunch is one of the hottest technology blogs known for its timely and analytical updates about businesses, startups, and tech companies. It publishes timely news updates about the latest tech happenings, beating most competitors, including blogs on this list.
TechCrunch has six podcasts and 13 newsletters to supplement the blog, making it one of the biggest tech publishing empires today. Consolidating the newsletters and podcasts with the blog will likely push it to the top of this list to make it the most popular technology publisher today. However, those numbers are confidential, and we can only make projections.
If you're bored, you can check out the TechCrunch "Best Of" pages to read what they consider their best content over a specific period. The TechCrunch Classics page also featured some "old but gold" blog posts you can read for quicks blasts into the past.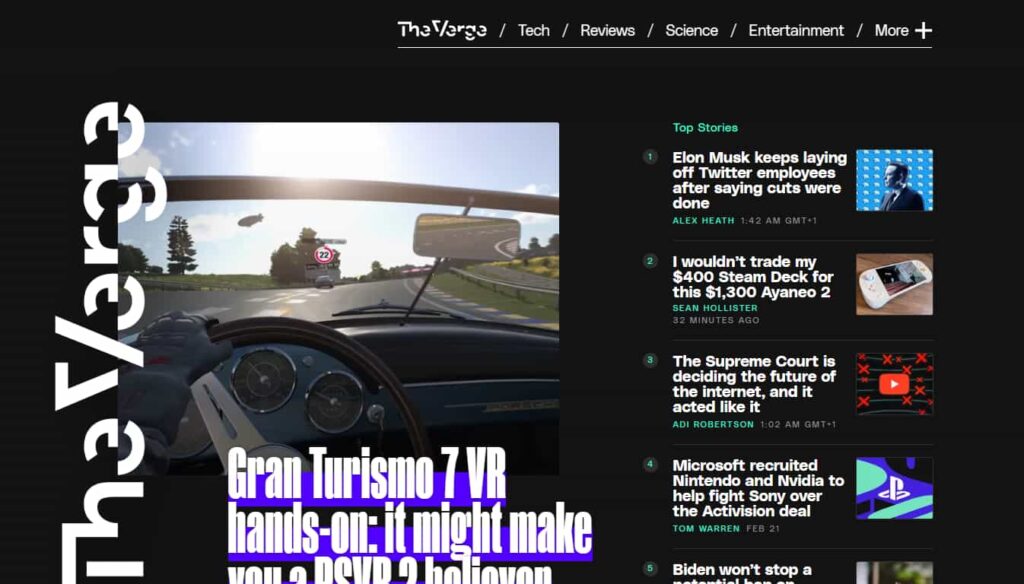 Found in 2011, The Verge quickly registered itself among the most reputable brands in the business. Owned the Vox Media, the blog reports the latest tech events with personal and analytical touches, and its gadget review format is the industry's gold standard.
The Verge has an insanely active and surprisingly well-reasoned community that doesn't hesitate to chip in whenever the blog makes new publications. If you enjoy reading the opinion of others about gadgets and happenings in the tech industry, The Verge will be your new favorite tech blog.
Like TechCrunch, The Verge has four newsletters: Command Line, Hot Pod, Verge Deals, and This Week in Elon, which only runs whenever Elon Musk does something disruptive. The tech publishing company also runs eight podcasts, the prominent ones being The Vergecast and Decoder with Nilay Patel.
Digital Trends is one of the younger blogs on this list, dating back to 2006 when Ian Bell and Dan Gaul founded the publication. Fast forward to 2023, and it sits behind only a few blogs as one of the most popular tech publications you'll enjoy reading.
The website's quick ascent to popularity is not unrelated to the fact that it publishes SEO-friendly content, capturing web traffic before older publications like ZDNet and WIRED caught up. From product reviews to hints for Wordle, Digital Trends has all you seek in the average tech blog.
Gizmodo is that random tech blog you visit to get the weirdest takes or fun compilations, explaining its massive popularity. Another possible explanation for its high traffic is that most of the website's content is not single-page articles like most technology blogs; you may have to visit ten pages to read a single post.
Gizmodo doesn't offer timely news, and product reviews are few and far between, but if you'd love to see what Fox News hosts thought about rigged elections through leaked emails or the 3.4 million times Tesla recalled a car since 2018, simply visit Gizmodo.com.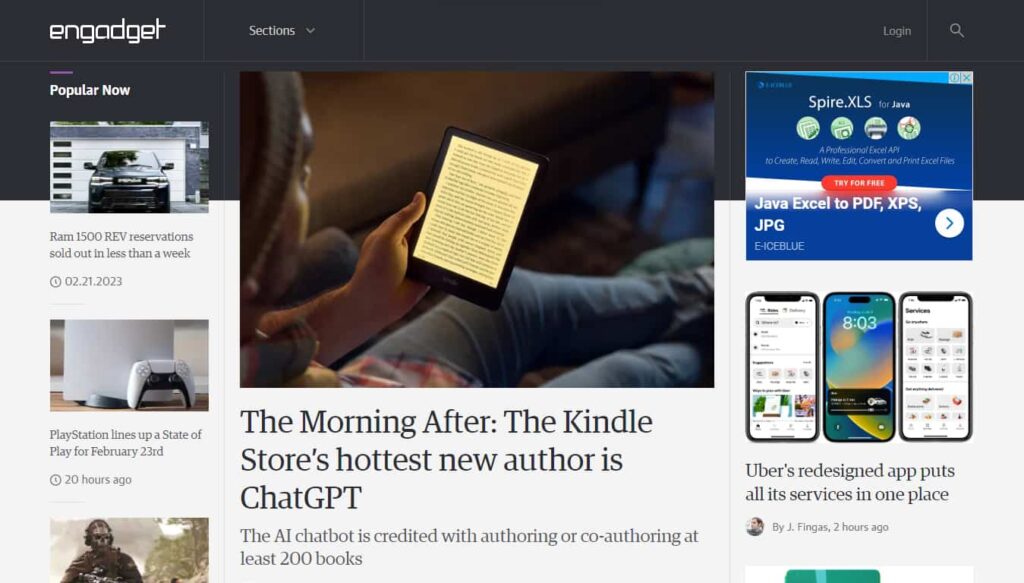 Engadget is what you think it is: a technology blog that provides news and reviews about technological gadgets. From information about the latest updates to your devices to periodic listings of the cheapest deals on tech gadgets, Engadget's content archive lives up to its name.
The website publishes a healthy dose of general tech updates and how-to explainers, keeping it relevant amidst stiff competition from websites like The Verge and CNET. Engadget's UI could use an overhaul, but even without that, it still makes our list of the best technology blogs by popularity.
Unlike some competitors, Engadget doesn't have a truckload of newsletters; it has only two: Engadget Deals and The Morning After. The former is a weekly newsletter of the best tech deals of the preceding seven days, while the latter is a daily news roundup.
7. WIRED
WIRED is the oldest entry on this list, dating back to 1993 before online technology blogs seriously became a thing. It started as a print publication and later launched a website, with the print magazine and only weblog running simultaneously.
The technology blog is also the only paywalled entry on this list, allowing up to four free monthly articles before requiring users to pay $5 to access its content. Given the website's massive readership numbers, we can safely assume it has a truckload of subscribers, which wouldn't be hard for a print magazine with thousands of readers already.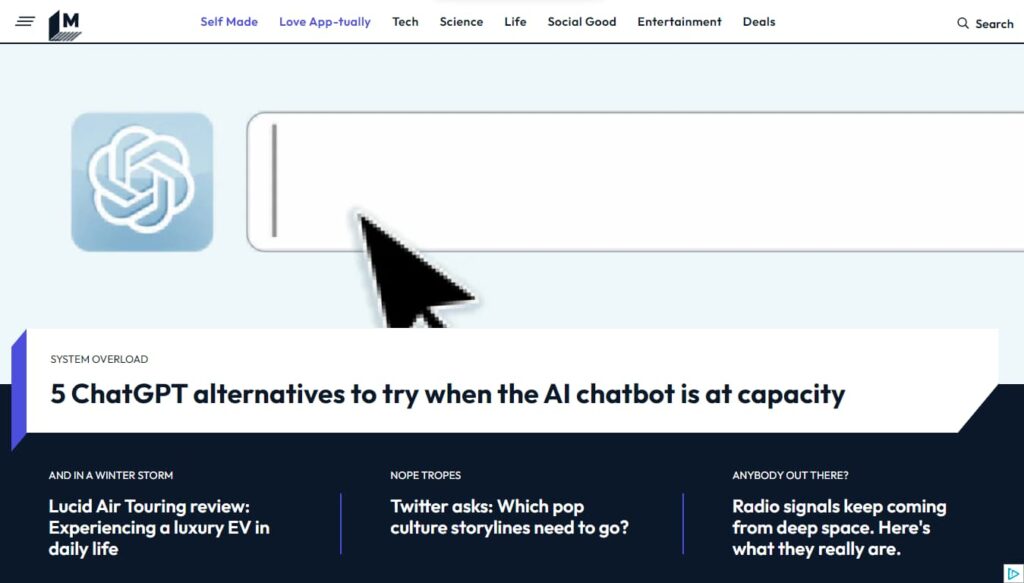 Mashable is a tech blog that forays into the entertainment and culture categories often, creating an excellent online magazine for individuals who want to see the world from a tech perspective.
Thanks to the peculiarity and personal touch, the blog features some of the best gadget reviews I've seen online and provides fast and reliable tech news. While the blog is quickly declining with the growing popularity of competitors like Digital Trends and The Verge, Mashable retains its unique spot in the heart of the most hardcore techies.
While Mashable has four newsletters, none is worth your email as a techie. There's Mashable Top Stories, which is a collection of random and non-tech-related stories. The rest include deals on "awesome" products, cat products, and relationship advice. Unless you're out for a date, I'm not sure you'd be in for any of those newsletters.
The biggest problem with most technology blogs is their excessive foray into unrelated categories to appeal to a bigger audience. However, TechSpot doesn't seem to have any interest in that. It's one of the few popular technology blogs that limit most of its publications strictly to tech affairs.
TechSpot is one of the most technical technology blogs on the internet, covering complex topics like programming and chip binning. An average beginner seeking basic information about startups and events may find TechSpot uninteresting, but hardcore techies won't remove the blog from their bookmarks.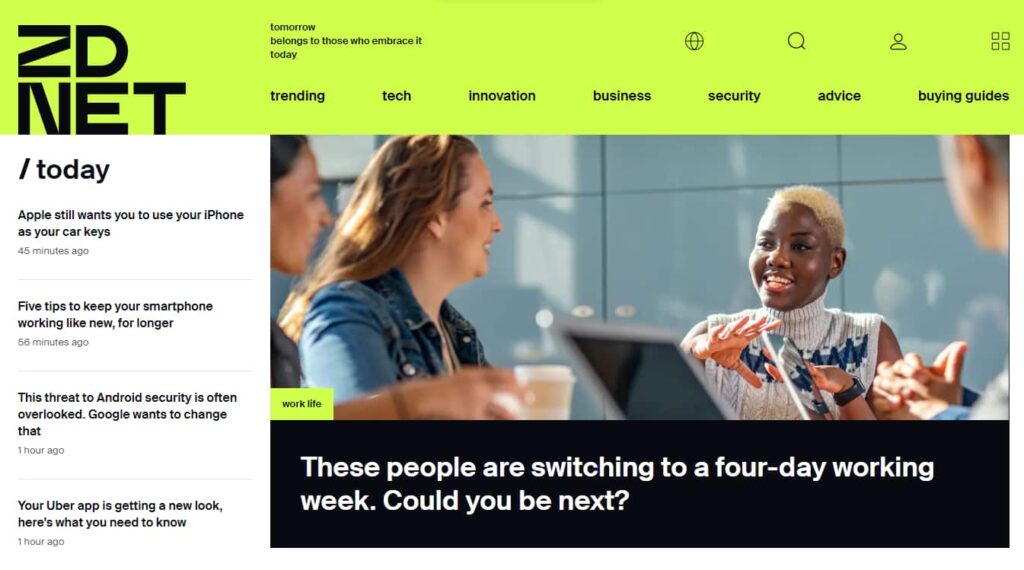 ZDNet is similar to TechSpot, as it doesn't foray out of the tech category, offering best-in-class advice and tech reviews for the latest products. The technology blog takes a unique approach to product reviews, making them enjoyable to read, even if you aren't considering the product for purchase.
You should expect similarities between CNET and ZDNet, as both outlets are subsidiaries of Red Ventures. However, while CNET seemed to take a negative content quality hit after CNET's acquisition, the case wasn't the same for ZDNet; instead, it seemed to improve. Summarily, omitting ZDNet when listing the best technology blogs by popularity would be remiss.
FAQs
What is the Most Reliable Tech Review Site?
There's no objective answer to this; the correct answer depends on what content style you enjoy consuming. Going by popularity, CNET, The Verge, and TechCrunch seem to write the best reviews, and they all seem to be reliable publications on tech reviews specifically.
What are the Best Blogs Covering Tech Startups?
TechCrunch is probably the most popular technology blog focusing on tech startup updates, but WIRED's business category is a strong competitor. Any of the featured technology blogs in the compilation with a "Startups" category should also be a reliable resource for startup news and updates.
What Tech Blog Has the Best Newsletters?
Most of the blogs in this compilation have enjoyable newsletters, but none matches TechCrunch's variety. The blog has newsletters for everything tech-related, from space to robotics and even apps of the week. TechCrunch is a no-brainer for anyone after a daily or weekly tech newsletter.
Conclusion
The tech industry has some of the best blogs because most bloggers are techies. If you're after the most resourceful sources for tech articles, news, and product reviews, none of the best technology blogs by popularity should disappoint.
If you liked this article, then please subscribe to our YouTube Channel for video tutorials. You can also find us on Twitter and Facebook.