Companies, people, academic institutions, NGOs, and other groups can all benefit from using proxies to gather information and gain access to resources needed for their daily operations. Increased network uptime, infinite concurrent requests, dependable IP addresses, infinite rotation, and many others are the benefits of using proxies.
On the other hand, it becomes challenging to maintain and keep track of all the proxies used by larger enterprises since they use several proxies to do their jobs. Fortunately, some great proxy managers can handle that for you.
In this post, we'll be taking a look at some of the best proxy managers you could use. Endeavor to read this post to the end because it'll help you.
Table of Contents
WHAT IS A PROXY SERVER?
A proxy server is a device or router that acts as a conduit between users and the internet which aids in keeping hackers out of private networks. It is an intermediary between end users and the websites they visit online.
A computer uses an IP address to connect to the internet. This tells incoming data where to go and marks outgoing data with a return address so that other devices can authenticate it, much like your home's street address. In essence, a proxy server is an internet-connected machine with a unique IP address.
Proxies offer a crucial extra degree of protection for your computer. They can be configured as firewalls or web filters to defend your computer against online dangers like viruses.
When used in conjunction with other email security products or a secure online gateway, this additional security is quite beneficial. This way, you can filter communication based on the amount of safety it carries or the capacity of specific computers or your network.
WHAT IS A PROXY MANAGER?
A Proxy Manager is software designed to manage or control a computer network's proxy servers in a single place. It is also useful for filtering resource requests and creating and enforcing restrictions. This improves both your security and efficiency. A competent proxy manager will provide you with comprehensive statistics, control over IP rotations, and thorough request logs.
A proxy manager can also be useful because retrieving data from the internet is crucial and can result in the blocking or banning of your web address. It will assist you in choosing the most reliable proxies at scale so that you can carry on web scraping without risk.
Proxy manager optimizes your company's performance by managing retries, using rotation and fingerprinting logic, among other features. You will thereby receive timely, necessary, and dependable online data.
WHY YOU NEED TO USE A PROXY MANAGER
There are several reasons you'll need to use a proxy manager. It's relatively easier for a small or growing business to handle all its proxies. But if the requirements increase, it will get increasingly difficult to keep track of and manage all the proxies you use. So with proxy managers, handling large numbers of proxies is simplified.
You can use proxy managers to add proxies to your list and manage them all in one location and it provides you with the ability to increase the success rate through automation features.
Multiple requests can also be sent using the same IP address, and you can control your sessions from the dashboard. Furthermore, it is simple to view the performance of one proxy or several proxies on a single screen. This makes recommendations better and makes it easier for you to swiftly and easily find what you're looking for.
Proxy managers enhance security, privacy, accessibility, and scalability. It can limit internet consumption, unlock resources that are prohibited, and conserve bandwidth. It also balances internet traffic to prevent crashes and secures employee activities. You can also govern employee access to proxies with an appropriate proxy manager, ensuring security throughout your company.
BEST PROXY MANAGER TO USE
Below is a list of some of the best proxy managers:
1. Proxifier
Proxifier more than a proxy manager. It is one of the most sophisticated proxy clients that assists in forcing all web requests via proxies, regardless of whether an application is proxy-compatible or not.
Proxifier enables network programs that don't support using proxy servers to function via a chain of proxy servers or an HTTPS or SOCKS proxy.
Proxifier can be used with other proxy clients because it was designed to make integration with other apps simple. Proxifier makes it simple to tunnel all of the system's TCP connections. The software does not require any extra settings, and the entire procedure is transparent.
The entire system can be made to "tunnel" by making all network connections—including system connections—use a proxy server. It also masks your IP address to protect your privacy. Proxifier costs $39.95.
2. Bright Data
Next on our list of best proxy managers is Bright Data. With Bright Data's Proxy Manager, you can improve the success rate of the scraper and manage your proxy sessions in the best possible way. You receive total control over IP rotations and comprehensive request logs, and you may measure statistics by port.
Bright Data will automatically retry until you succeed if any of your requests are denied. As a result, a 99.99% success rate is guaranteed. It offers quick customization of SSL headers and fingerprints giving you time to concentrate on your data and let the proxy manager take care of everything else.
Bright Data will provide you with complete control. It is possible to ascertain which proxy, together with blacklists and whitelists, is accessible to whom. With the help of this proxy manager, you can also determine which nations to target. It will enable you to maximize performance by managing all of your IPs and associated metrics in one location.
Bright Data offers different pricing options for its four distinct IP address types and has a simple pay-as-you-go plan available. The price per GB for the Residential IP package is $15, whilst the Mobile IPs are $40. While data center proxies cost $0.80 per IP and $.110 per GB of data, other IP proxies can be purchased for $0.15 per IP or $15 per GB of data.
3. SwitchyOmega
SwitchyOmega is next on our list of best proxy managers. SwitchyOmega has expanded its features and functionalities since its launch, which explains why it's one of the best. SwitchyOmega was first created to save you from having to search through your computer's settings to configure a proxy. More features were added to enhance its functionality and make things easier.
SwitchyOmega now offers much more customizable proxy setups and improved PAC script performance. More complex rules can also be configured based on your requirements and the websites you intend to visit. You may now select the authentication type you want to use with this proxy manager because it supports both usernames and passwords.
4. Zyte
Zyte is another proxy manager that relieves the burden of managing all of your proxies. It will choose the optimal proxies for you automatically to keep you accessing the data. It also handles retries and it uses rotation logic and fingerprinting to increase your success rate. It will handle hundreds of thousands of proxies so you can access web content fast and consistently.
It has an intuitive dashboard that lets you see the crawler's overall performance. Zyte has a 14-day free trial period; you only pay for requests that are fulfilled. For just $29 per month, you can get the proxy of your choice.
5. Oxylabs
Oxylabs is a free proxy manager that functions with nearly all proxy providers. It works with the most recent versions of Android and is quite easy to use. You may add and manage all of the proxies right from your mobile device with its assistance.
With only one click, you can switch between many IPs and have access to all the necessary functions. Any proxy you choose will function flawlessly with Oxylabs' Proxy Manager program.
With Oxylabs, you can put an end to hopping between menu options and settings add whatever proxies you have across platforms, and relax. After downloading the software from the Google Play Store, you can access the internet without rooting your smartphone and using your preferred proxy.
Oxylabs allows you to set a desired theme, with bright and dark settings supported. If you don't currently have a proxy provider, you can discover one right on Oxylabs' homepage. You can use Oxylabs' proxy manager to grow your company now with accurate network statistics.
6. OpusXenta
OpusXenta's proxy manager allows you to efficiently and successfully handle proxy votes for all of your rights and stakeholders. It makes voting easier by keeping track of answers, compiling findings, and sending out supporting materials.
This proxy manager appropriately logs the proxies' answers. The methodical approach reduces the possibility of mistakes and streamlines data collecting, saving personnel time and effort. It also offers reports that are simple to read so you can understand the results.
The proxy manager from OpusXenta assists you in organizing the meeting and validating votes within the system. To gain a better understanding of the concept, you can request a free demo.
7. FoxyProxy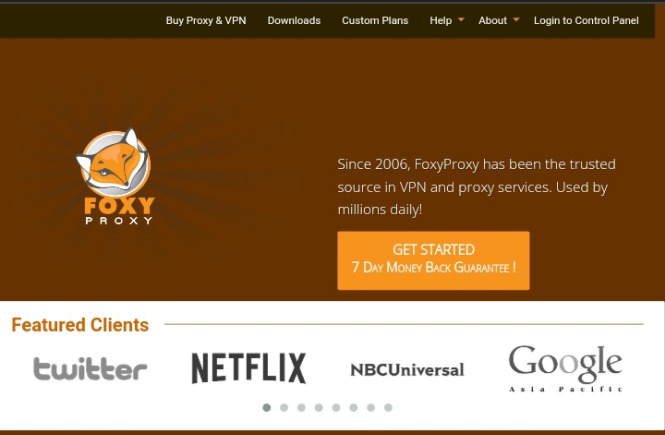 FoxyProxy is another great proxy manager. It has two tools, the Basic and Standard. Those who need a more on-and-off proxy switch and don't want to tinker too much are the target audience for the Basic tool. Simply configure your proxy and flip the switch. This plugin's primary function is to save you time by not having to go through the settings; it is the most important feature.
The Standard tool, which comes with a few extras in addition to the same primary function as the Basic, is the second tool that FoxyProxy offers. You can use this extension to apply distinct proxies and make specific rules for each website.
As an alternative, you can quickly switch between different proxy profiles by using the quick switch option. The ability to import or export your rules and maintain the same configurations on other devices with various accounts is the best feature.
8. Nginx
Nginx is a very popular proxy manager. Its security-conscious architecture makes it ideal for residential networks. Nginx provides an easy-to-use, intuitive user interface. This also simplifies the process of configuring a server.
You can also set up additional users to view or control their hosts and obtain complete access rights to all the content within your services. It has a simple HTTP authentication and access lists.
9. IPRoyal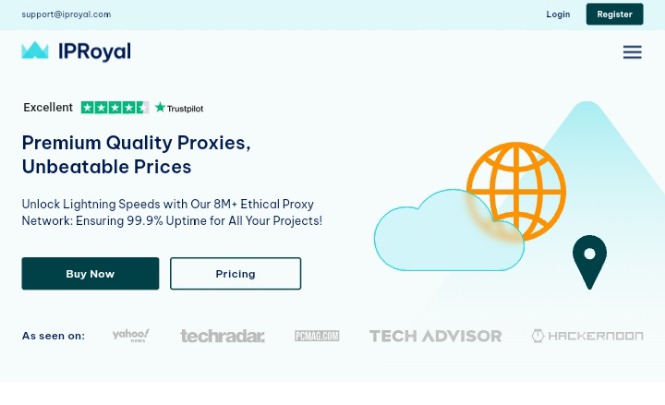 Last on our list of best proxy managers is IPRoyal. IPRoyal lets you easily add, remove, or switch between proxies. It can easily be set up without modifying the settings on your computer. It also lets you set up a fallback proxy in case any of the protocol-specific proxies malfunction.
IPRoyal also has a Firefox browser extension that allows you to use specific proxies for each protocol. It is possible to configure more than one proxy for any protocol, including HTTP, HTTPS, and FTP.
Aside from its sophisticated features, IPRoyal offers fast links which include residential proxies, data center proxies, sneaker proxies, and static residential proxies.
HOW TO USE A PROXY MANAGER
By following a few easy steps, you can install a Proxy Manager on Windows, Linux, or macOS. To get the proxy manager working on your computer, you can follow the install instructions that the proxy providers give. It is recommended that a system with two CPUs, four gigabytes of RAM, and three gigabytes of SSD be equipped with a proxy manager.
Sometimes, the proxy manager application can be run by using a docker-compose.yml file. For a flawless experience, some providers now let you use proxy management plugins on your browser.
To use proxy management extensions, you have to first download the extension file from the online shop. After this is finished, you can begin generating new files. The proxy management app is now available for Android users as a mobile app. Making it possible to control staff access and proxies from anywhere.
WHAT IS A PROXY EXTENSION?
A proxy extension is a browser add-on or extension that sets up a proxy, usually an HTTP proxy, for the browser. It is frequently mistakenly referred to as a VPN extension. A proxy extension is a more lightweight version of the VPN. It modifies your IP address, encrypts HTTP traffic through your browser, and allows you to modify your virtual location.
A proxy server can be configured in several ways, including operating system settings. It is laborious because it necessitates carefully going through menus and submenus. Therefore, proxy extension is a useful method if all you want to do is switch between several proxies.
You don't need to delve into the settings and enter details to add an infinite number of proxies and quickly switch between them with a single click in your browser. As a result, a proxy extension helps you make the most of the proxies while saving time.
FAQS
Why is using a proxy server advisable?
Proxy servers can assist both individuals and companies in managing their children's and employees' internet usage, improving network performance and internet speed, enabling more private online browsing, safeguarding your data and infrastructure from malicious attacks, and gaining access to resources and websites that are blocked.
How Is Computer Privacy and Data Protected by the Proxy?
A proxy server serves as both a filter and a firewall. A proxy that is intended to safeguard data and privacy might be selected by the end-user or a network administrator. This checks the information entering and leaving your network or machine. After that, it enforces regulations to keep your digital address hidden from prying eyes. For hackers and other undesirable actors, only the IP address of the proxy is visible. People on the internet cannot directly access your personal information, schedules, apps, or files without knowing your unique IP address.
How Is a server configured?
You must configure a proxy server on your computer, device, or network before you can use it. Every operating system has different setup instructions, so be sure you follow the ones that apply to your computer or network. However, most of the time, setup entails running an automated configuration script. There will be opportunities to enter the IP address and the relevant port if you wish to do it manually.
CONCLUSION
Proxy managers make it possible for companies, developers, and individuals to securely traverse the digital world while facilitating smooth communication, improving efficiency, and bolstering security.
You can choose from our list of proxy managers to open up a plethora of opportunities in the ever-changing digital environment.
We hope you found this post very helpful. Do not hesitate to drop a comment in the comment section below.
If you liked this article, then please subscribe to our YouTube Channel for videos relating to this article. You can also find us on Twitter and Facebook.
REFERENCE
https://geonode.com
https://research.aimultiple.com
https://geekflare.com
RECOMMENDATIONS