Are you interested in knowing some of the venture capitalist firms in India? Then, this is the perfect article for you. Here, most of the active venture firms in India will be listed and described for your awareness.
In India, there are many venture firms that operate and support startups and small businesses. Some of these firms are local while others are foreign. Nevertheless, they all play an important role in the development of the country's economy.
Venture capitalists are firms that invest in early-stage, high-growth companies. In India, venture capital firms are typically focused on technology and healthcare companies.
What is Venture Capital?
Venture capital is a type of private equity financing that is provided by venture capitalists to startup companies and small businesses that are considered to have high growth potential. It is typically used to finance the early-stage development of a company, including research and development, product development, and commercialization.
What is a Venture Capitalist Firm?
A venture capitalist firm is a type of investment firm that provides funding to startup companies and small businesses with high-growth potential. Venture capitalists typically invest in companies that are in the early stages of development, such as seed capital or Series A financing.
If you have a startup you should be considering some crowdfunding platforms to raise funds for your startup
Venture capitalists typically provide funding in exchange for equity in the company, meaning they will own a portion of the business. In some cases, venture capitalists may also provide additional funding in exchange for a seat on the company's board of directors. This is how investors make money from startups after investing.
10 Top Venture Capitalist Firms in India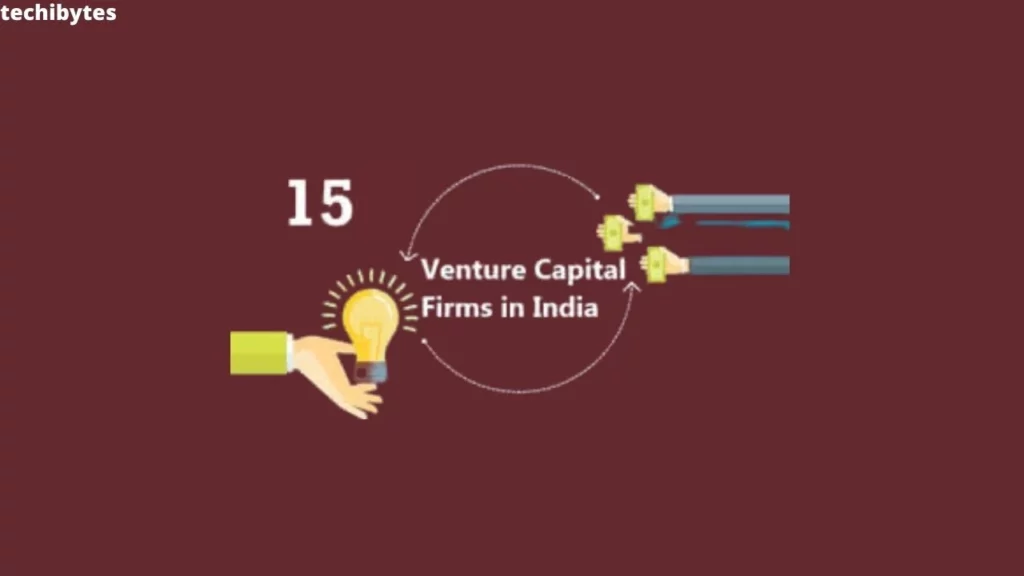 India is a country with a large population, high GDP, and growing market size. The government has announced plans to invest in sectors like agriculture, healthcare, and space technology. The Indian economy has shown strong growth in recent years; this makes it a great place for venture capitalists to invest their money.
Venture capitalist firms in India are expected to invest more than $100 billion in Indian startups in the next five years.
Here is a list of top venture capitalist firms in India:
1. IDG Ventures: This venture capital firm was founded by Intel Capital in 1999 with an initial investment of $20 million. The company invests in early-stage technology companies through its IDG Ventures India Fund II and IDG Ventures India Fund III funds. It also manages an angel network that offers seed funding to early-stage entrepreneurs across India and Southeast Asia. IDG is one of the top venture capitalist firms in India.
2. InnoVen Capital: This is one of the oldest venture capital firms in India and it has raised over $1 billion since its inception in 1994. It has over 100 global investors on its board who provide guidance to its portfolio companies on strategy, product development, market positioning, and execution. The firm focuses on Internet-enabled businesses including enterprise software, mobile applications, and social media networks such as Facebook, Twitter, LinkedIn, etc.
3. AdvantEdge Partners: AdvantEdge is a venture capital firm that invests in early-stage startups. They have a strong track record of investment in Indian startups and have been part of many successful exits. The firm has about half its portfolio invested in India, and the rest is spread across different countries.
They primarily invest in seed-stage companies with a valuation between $2 million and $20 million. They also have offices in New York, London, Hong Kong, Beijing, Shanghai, and Singapore.
4. Indian Angel Network (IAN): Indian Angel Network is one of the most prominent venture capital firms in India. IAN has been investing in startups and early-stage companies since its inception in 1999. The firm has invested in over 300 companies across various sectors including B2C, B2B, and IT services.
The firm's portfolio includes Flipkart, Paytm, InMobi, Snapdeal, and Zomato among others. It is backed by a consortium of global investors including Sequoia Capital and Tiger Global Management.
5. Matrix Partners India: Matrix Partners India is a private equity and venture capital firm that invests in consumer, business, and fintech as well as healthcare, education, and other technology-related sectors. Chumbak, Country Delight, and Dukaan are a few of the companies that the company has invested in and are a part of Matrix Partners. The most recent fund raised by Matrix Partners India, Matrix Partners India III, brought in a total of $721M.
6. Accel Partners: This is a venture capital firm that was founded in 1983. The firm has raised more than $2.7 billion in its history, making it one of the largest investors in India's startup ecosystem. Accel is one of the oldest active venture capitalist firms in India.
Accel focuses on startups that are disruptive and have global potential. It invests in technology companies across various sectors such as health care, education, and financial services.
The firm has backed some of India's most successful startups including Paytm and Flipkart, which were founded by Binny Bansal and Sachin Bansal respectively.
7. Ankur Capital:  Ankur Capital is one of the leading venture capital firms in India. The firm offers a range of investment options to its investors, including equity and debt capital, mezzanine finance, and real estate investment opportunities.
The firm has raised funding from large companies like Accenture, Axis Bank, HUL Global Ventures, ICICI Venture, and Kotak Mahindra Bank. It also provides business advisory services to small to medium enterprises (SMEs).
8. Blume Ventures: Founded in 2010, Blume Ventures is a seed and early-stage venture fund based in Mumbai. The firm invests in technology businesses across India. Blume Ventures has a portfolio of over 60 companies, including Hike, Faasos, and Stayzilla. Blume has one of the most diverse portfolios amongst top venture capitalist firms in India.
9. Sequoia Capital India: Sequoia Capital India is a venture capital firm investing in technology, media, and healthcare businesses in India. The firm was founded in America and has about US$1.4 billion in assets under management. Sequoia Capital India has invested in companies such as Ola, Flipkart, and MuSigma. One of the most popular venture capitalist firms in India this decade.
10. Kalaari Capital: Kalaari Capital is a venture capital firm investing in technology and consumer businesses in India. The firm was founded in 2006 and has about US$650 million in assets under management. Kalaari Capital has invested in companies such as Snapdeal, Myntra, and Flipkart.
11. Qualcomm Ventures: The investing division of Qualcomm Inc. is called Qualcomm Ventures. Over 150 of the fund's portfolio companies are currently in operation. Ola, Ninjakart, Zoom, and other notable investors are just a few. The IoT, autos, AI, and consumer tech are where they invest the most. To date, Qualcomm Ventures has raised $550 million across 4 funds, the most recent of which is the Snapdragon Metaverse Fund.
12. Nirvana Ventures: Nirvana Venture invests in early-stage and industry-leading businesses in the quickly expanding Indian internet and mobile segments. These businesses must have proven business concepts and market presence. Unbxd, Jombay, and UrbanPro are included in their portfolio. To date, Nirvana Venture Advisors has raised $40M for 2 funds.
13. Elevation Capital: Elevation Capital is a venture capital firm that invests in early-stage companies with a focus on consumer goods and services, technology, media, education, telecom, financial services, healthcare, travel and tourism, and manufacturing. Their portfolio includes high-growth firms including Meesho, BookMyShow, FamPay, etc. They were founded in 2011.
How Prospa is building Neobank for small businesses and freelancers in Africa
14. IvyCap Ventures: Founded in 2011, IvyCap Ventures is an investing company. They make investments in consumer technology, software, fintech, healthcare, education, deep tech, agricultural, artificial intelligence, machine learning, SaaS, technology, telecommunications, and media industries.
The most recent fund raised by IvyCap Ventures, IvyCap Ventures III, brought in a total of $348.2 million. On February 23, 2022, this fund was announced and $16.1 billion was raised.
15. Eight Roads Ventures: Eight Roads is a multinational venture capital business that was established in 1969. It makes investments in seed-stage businesses in the consumer, business, fintech, and healthcare industries. Alibaba, Chai Point, Oziva, and PharmEasy are a few of the titans supported by Eight Roads Ventures. To date, Eight Roads Ventures has raised $2.8B across 9 funds. Eight Roads is one of the most consistent venture capitalist firms in India.
Who is The Best Venture Capitalist in India?
There is no definitive answer to this question as there are many venture capitalists in India with a successful track record. The best venture capitalist firms in India have a great deal of experience, and they are willing to invest in the most promising businesses.
The best venture capitalists in India can help you with your business plan because they know what needs to be done to make sure that your business is successful. They also have the expertise needed to help you with all aspects of running your business.
If you're just starting out, it would be wise to start with a small amount of money and build up as you get better at running your company. Your venture capitalist will also be able to advise on where exactly you should be investing this money so that it has the most impact on your overall growth trajectory.
The best venture capitalist firms in India will also be able to advise you on how much money should be spent on advertising campaigns or other marketing strategies. This is especially important if your product or service has a limited market appeal or is difficult for customers to understand easily.
Since you are still here, understanding everything about Web3 would be great
Conclusion
Overall, the Indian startup ecosystem is fairly conducive to the growth of active venture capitalist firms in India. However, a number of firms have recently been wound up or have stopped making new investments, indicating that the market may be reaching a saturation point. Nevertheless, there are still a number of firms that are actively looking for new investment opportunities, and so the future of the active venture capital firm in India looks promising.
If you liked this article, then please subscribe to our YouTube Channel for WordPress video tutorials. You can also find us on Twitter and Facebook