Patricia is an Africa-centric integrated alternative payment and e-commerce company that facilitates the easy use of digital currencies like Bitcoin, and other digital assets for everyday transactions.
Simply put Patricia want to harness the power of Cryptocurrency to create alternative solutions to digital payments and global E-commerce. But let's see how Patricia was built.
Here's a typical from nothing to something story of a young man who sold popcorn, sold airtime, started from having two employees, has successfully built one of the biggest Crypto platform in Africa, big enough to be one of the major sponsor of the popular Big Brother Naija (BBNaija) reality TV show with a billion naira.
Who is the CEO and owner of Patricia?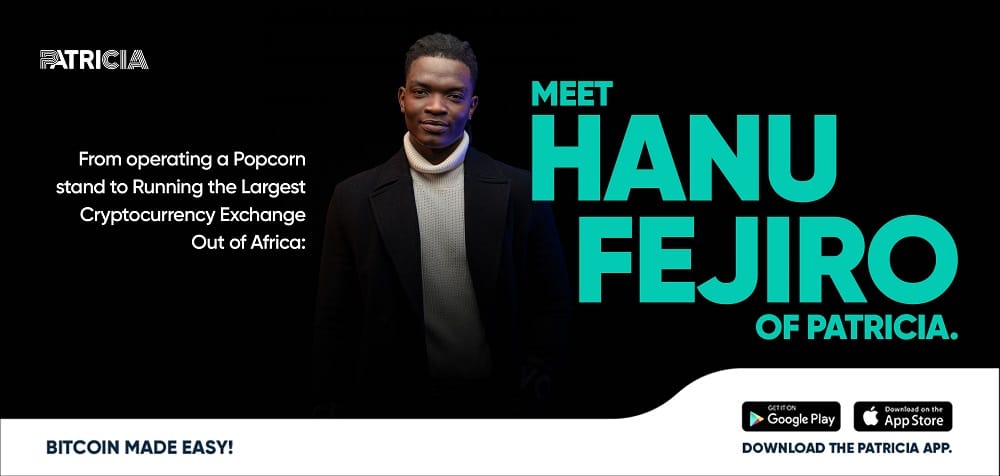 Hanu Fejiro is the founder and CEO of Patricia. He was born in November 1995 and hail from Warri, Nigeria. Although, he's lived in Lagos, Port-harcourt and Warri at different intervals in his life. His dream was to study Engineering but he was offered admission to study Mathematics at the University of Port-harcourt.
Hanu has always had this entrepreneurial fire inside him right from when he was eight down to his days in the university. He had a special notebook where he'd write all of his business ideas, not caring how odd or seeming weird they might seem to the average mind.
The first business he tried was selling exotic sweets while he was in primary school, which made him about ₦70,000 in the first month, at such a young age. Keeping this energy, he went on to try his hands at about thirteen different business ideas throughout his university days. All of which didn't amount to much.
Hanu sold airtime, popcorns and had a mini restaurant back then when he was in the university and still managed to juggle all that hustle with academic responsibility.
The turning point…
In 2015, an Uncle of his sent him a gift card, and in his attempt to find a place to exchange it for cash, he realised there was no place in the whole of Africa. He said he didn't have an iPhone at the time, He instead got ripped off and this was the turning point for him.
He said he believed If he cannot find a place to trade his Giftcard safely and securely, then there must be others like him. Safe to say this was the birthplace of Patricia.
So, he kept pondering on this idea and made sure to note it into his idea book, and this was the 37th business idea entered into his beloveth journal.
How Patricia was Built
Few years ago in Nigeria, even in Africa If you have BITCOIN in your wallet, the best thing to do, is to dump it in that wallet or just travel out of the continent before you can do anything of value with it. Fast forward to 2021, that story has changed all thanks to crypto startups like Patricia, now you can do almost anything with not just Bitcoin but other digital currencies.
In 2017, Hanu rented out a small apartment and hired two people as staff. Days ran into months, and they had done no transactions. The beautiful idea he had given a try seems to not be working out so he changed his strategy and decided to do something unusual, Hanu paid a popular comedian at that time to run an ad for the business. The advert went on to bring the business out into limelight. At that time the business survived the untimely death that was upon it.
Hanu thought of expanding the business into a bigger space and hired more hands to come onboard. Unsure of what the future holds, Hanu kept pushing beyond limits and boundaries, he stayed true to the hustle. And at this time, he could afford to breathe as he had more hands to work with.
Hanu thought of what to do next and he reached out to his friend who at the time was working for Microsoft. Today that friend is now the CTO of Patricia, he helped Hanu assembled a team of highly skilled twelve developers.
In no time, Patricia had scaled to about two thousand active users. Today, Patricia is now a full blown startup in Africa with more than a hundred thousand downloads on playstore and a team of over sixty engineers working to secure and improve its products.
The Crypto exchange platform also has a total staff strength of over three hundred people spread across Africa, Europe, Asia and the United States.
Five unique things you can do with Patricia
let's talk about five out of numerous things you can do with Patricia. Ready?
1. Patricia debit card
Yes! that's right, there's a Patricia debit Card probably the first of its kind in Africa. With Patricia debit card you can safely withdraw your BITCOIN (BTC) in cash with your customized Patricia Bitcoin debit card.
2. Get an Instant Bank Account!
Patricia is actually more than just a Crypto platform, it's more than a bank too, you can instantly get a bank account in minutes. It also has the lowest transfer fees compared to traditional banks.
3. Buy & Sell Giftcards
Thanks to Patricia, you don't have to get ripped of your giftcards again, you can trade GiftCards from anywhere in the world and get your sweet cash within minutes.
4. Bitcoin Trading
Thinking of a safe platform to buy and sell BITCOIN? You should consider Patricia. The startup has the easiest way to Buy, Sell and Use Bitcoin in Africa. That's not all, you can use Bitcoin For Your Daily Transactions, airtime recharge etc.
5. Store Bitcoin/Fix Bitcoin
Alright don't get this twisted, every Patrician (users of the app) has a unique BTC wallet they can use to store their coins. You can convert to Naira and back to BTC as you wish. Fix Bitcoin is a new feature by Patricia to protect users against the rise and fall in the value of Cryptocurrency. With Fix, you can safely peg the value of your Cryptocurrency at a specific price.
Patricia recently announced moving it's headquarter and operations to the Republic of Estonia, The CEO explained that this global movement is set to strengthen relationships with marketers and agencies in the global crypto markets, whilst also positioning the company as the leading cryptocurrency trading company in Nigeria, Africa, and Europe.
"What originally came as disastrous news turned out to the cornerstone we needed for this worldwide expansion"
He also remarked that "the decision to expand and move our headquarters to Europe is part of our plans to improve our business strategy".
"We want to play in the big league, there's no passion to be found playing small, we want to be in the most sophisticated markets in the world, this is an opportunity for us to lead the fifth Revolution"..
If you enjoy reading this inspiring story, kindly subscribe to get notifications and don't forget to share ????