As much as everyone knows about New Zealand, the weather, floods, and the way cars are made, car insurance companies in New Zealand are about as important as owning a car in New Zealand.
With almost 90% of New Zealanders having car insurance, you need to know the best car insurance companies in New Zealand to help you make the right decisions.
Just like those in Auckland who do not have home insurance, knowing quite well how destructive the elements can be when they start raging, not having car insurance is almost equally on the same level of carelessness.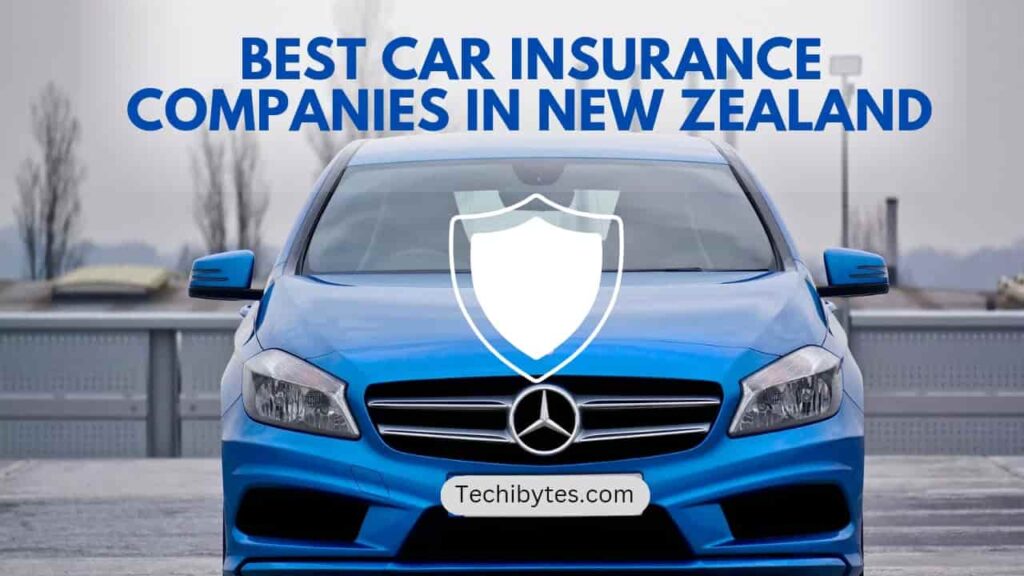 If things go awry, the preparations that you have made with any of the car insurance companies in New Zealand are what saves you from paying for a world of damages out of pocket.
Table of Contents
Recommended: Top Web Hosting Companies In New Zealand
Is car insurance compulsory in New Zealand?
Contrary to several other nations, New Zealand does not require drivers to have third-party insurance. Despite this, most New Zealanders who own cars insure them.
Additionally, 97% of respondents to a recent Driver Survey felt that all drivers on New Zealand roads must have some sort of auto insurance. And it's simple to understand why when you realize that repairing or replacing a vehicle might cost thousands of dollars.
Not to mention the expense of repairing someone else's car or property if you cause a collision. You may avoid potentially expensive repair costs or be left without a car by purchasing auto insurance from any of the car insurance companies in New Zealand on this list.
Read this: 5 Best Credit Cards in New Zealand (Compared)
Car insurance companies in New Zealand
There are more than enough car insurance companies in New Zealand, and among them are the ones we have listed here. We give a bit of history, where they are located, how they operate and what makes them great.
BNZ has been assisting New Zealanders in realizing their financial dreams for more than 150 years. BNZ has expanded its services into insurance after achieving such long-term success in the banking sector. The "Bank of New Zealand," as it is often referred to by the Kiwis, is now assisting consumers with affordable, reliable auto insurance.
BNZ, as one of the largest car insurance companies in New Zealand, strives to pay close attention to customer feedback, keep things straightforward, and treat consumers fairly.
A specialized insurance support team is on hand Monday through Sunday to assist you in finding the best vehicle insurance for your requirements and price range.
There is a motor vehicle insurance option from BNZ for every type of driver, with three levels of coverage. Their third party or third party plus fire and theft policy is the best option for anyone on a tighter budget.
Their PremierCare Supreme Cover offers complete comprehensive coverage with the option to add on roadside assistance for just $1 a fortnight for drivers who desire "all the bells and whistles." With the combination of offerings, BNZ features on this list as the number one among car insurance companies in New Zealand.
One of New Zealand's biggest businesses, ANZ, also one of the biggest car insurance companies in New Zealand, is famous for being the country's biggest rural bank. ANZ, which was once best recognized for its personal and commercial banking services, is quickly establishing a reputation as one of the top auto and vehicle insurance providers in the nation.
Choose from one of ANZ's affordable vehicle insurance packages when you need to insure your automobile, whether you want basic protection or all the bells and whistles.
They provide three insurance levels: third party, the third-party with fire and theft add-on, and fully comprehensive, to accommodate any type of driver and financial situation.
ANZ is committed to assisting New Zealanders in finding the appropriate insurance coverage, whether it be for personal or professional requirements. When you need to file a claim, you can count on ANZ's devoted claims advisors because they'll be there to help and direct you through the whole claims process.
AMP is happy to have assisted Kiwis for more than 150 years, making it without a doubt one of the top car insurance companies in New Zealand. With a reputation for having a strong sense of purpose, AMP is committed to making the insurance experience straightforward and stress-free for New Zealanders.
The three levels of coverage offered by AMP are basic third-party, third-party with fire and theft, and comprehensive. All AMP vehicle insurance clients have access to their 24-hour emergency call centre, where they can provide immediate assistance if they have any issues.
AMP has an insurance solution that will meet the demands of your vehicle, whether it is a high-mileage vehicle you've been driving for years or a brand-new automobile.
There are various alternatives available to you, so make sure to compare the vehicle insurance plans before contacting any companies. If you're unsure, their committed staff of insurance consultants can assist you in finding the best plan.
4 – AMI
AMI has served more than 500,000 clients and operated 60 locations around New Zealand for more than 90 years. AMI Insurance is known for looking out for its clients and has received votes as a highly regarded insurance company for the past five years running.
AMI is aware that every driver is unique when it comes to cars. AMI offers three insurance levels: third party, a third party with fire and theft, and fully comprehensive, to cater to all drivers and financial situations.
You have the option to add extra coverage to your auto insurance plan, such as breakdown assistance and rental car insurance.
Given that they have received honours for their dedication to placing clients at the centre of all they do as well as for providing exceptional customer service, it is simple to understand why AMI is one of the best general and car insurance companies in New Zealand. AMI works hard to meet NZ drivers' needs at all times and to be there for them through the good times and the bad.
AA Insurance is towards the top of the list of the most well-known and reputable general and car insurance companies in New Zealand. To provide the best auto insurance plans for every driver, AA Insurance has worked hard to fully comprehend what Kiwi drivers want.
Full comprehensive cover, third-party cover, and specialized vehicle protection are the three car insurance choices offered by AA when you need to insure your vehicle. Caravans, trailers, motorcycles, historic automobiles, and other vehicles are all covered under insurance for specialized vehicles.
New Zealanders have chosen AA Insurance as Reader's Digest's "Most Trusted General Insurer" for eight years straight, and it's simple to see why.
With AA, your requirements are always first, and their committed team will assist you in navigating the full insurance procedure with ease.
When you need to file a claim, AA's helpful customer service team is available to assist you and will look after you throughout the whole process. They'll keep you informed each step of the way to make sure everything is as easy and hassle-free for you as possible.
Since the late 2000s, Club Auto Insurance has offered Kiwis a variety of insurance options for automobiles, motor vehicles, and customized vehicles. Club Auto is agreed as one of the best car insurance companies in New Zealand.
As a New Zealand-owned and operated insurance provider, Club Auto is committed to assisting Kiwis, who frequently find themselves at a disadvantage due to traffic violations or their choice of car, in obtaining the protection they require.
The front-line team at Club Auto has received training to cope with customized, antique, and speciality automobiles. You could be surprised by what they'll cover given the diversity of wants and requirements for motor vehicles that their solutions are meant to address.
7 – Cove
Cove was created for and by New Zealanders when it was formed and has outperformed expectation and features among the best car insurance companies in New Zealand. They set out with the intention of simplifying and revolutionizing auto insurance from the start.
The complicated paperwork, lengthy surveys, and annoying call centres often associated with insurance applications have been eliminated by Cove. They have made choosing the correct insurance easier by fusing the appropriate technology.
To make things simple, Cove offers only one level of auto insurance since they feel that this coverage meets all requirements. Full comprehensive coverage is included by this auto insurance policy, along with coverage for damage, theft, fire, emergency lodging, key and lock replacement, new car cover, no fault – no excess, and a replacement vehicle.
8 – Protecta
Protecta Insurance has been assisting Kiwis in properly protecting their investments for more than 30 years. Protecta, a company that is both owned and run in New Zealand, has committed to offering the greatest value in vehicle insurance products, customer care, and benefits.
Protecta has provided insurance options for all sorts of vehicles since 1987, specializing in covering automobiles, historic cars, and motorbikes. Customers of Protecta can choose between three different types of insurance: third-party coverage, third-party plus fire and theft coverage, and complete comprehensive coverage.
Their all-inclusive insurance package covers transportation, medical charges, finishing fees, and much more. The inclusivity earns Protecta its spot among the best car insurance companies in New Zealand.
9 – The Warehouse
In 1982, the North Shore of Auckland welcomed the first Warehouse shop. Over the following 37 years, Warehouse stores—a familiar household brand among Kiwis—expanded across the nation, quickly earning recognition as the largest retail organization and among the most-efficient car insurance companies in New Zealand.
The Warehouse has started providing insurance in addition to retail goods, giving rise to The Warehouse Insurance. The Warehouse strives to help Kiwis get more from standard financial services and goods as a beloved and dependable Kiwi Brand.
The Warehouse can assist Kiwis with arranging their home, belongings, and landlord insurance in addition to auto insurance. Most car insurance companies in New Zealand provide either of all this or only car insurance.
Warehouse Insurance provides three tiers of automobile insurance policies: third-party with fire and theft, third-party property damage, and fully comprehensive insurance, to accommodate all demands and financial constraints.
After gold was recently discovered in the Otago region, the first Westpac branch was established in the late 1800s. Today, Westpac has over 200 locations nationwide, 1.2 million clients, and over 150 years of successful banking experience serving Kiwis.
After years of success in providing personal and commercial financial services, Westpac has since expanded to offer general and auto insurance options to New Zealanders. Their impact has been so much that they feature among the best car insurance companies in New Zealand.
They provide three kinds of automobile insurance to help their customers safeguard their motor vehicles: third-party, third-party with fire and theft, and fully comprehensive.
You may also get supplemental insurance, such as round-the-clock help for car breakdowns. There are a lot of possibilities, so set aside some time to evaluate the various auto insurance plans that Westpac provides.
Recommended: Best Crypto Wallet in New Zealand
CONCLUSION
With lots of options available to the Kiwis of New Zealand, there's a lot on offer to customers and the most influential make up the best car insurance companies in New Zealand.
If you liked this article, then please subscribe to our YouTube Channel for videos. You can also find us on Twitter and Facebook.
RECOMMENDATION
12 Best Car Insurance Companies In Australia
12 Best Car Insurance Companies
10 Best Car Insurance In Nigeria