Safeboda a Ugandan bike hailing Startup in Ibadan, Nigeria making success in Ibadan
On Tuesday, January 27, 2020, the Lagos state government announced a restriction and ban on okada, tricycles, and, by extension, bike hailing services forcing various bike or motorcycling hailing companies to move completely to other parts of the country like Oyo (Ibadan), Ondo (Akure), Ogun (Sango).
Unlike Lagos, the Oyo state government has opened their arms to bike hailing services and there is nothing to suggest that this will change soon.
With the ban, OPay at that time one of the most successful bike hailing company in Nigeria lost its main growth enabler in Nigeria's richest state Lagos. While its Ibadan operations continue to flourish at that time before the COVID-19 pandemic.
On the afternoon of July 2, 2020, bike hailing giant Opay announce that they will be putting a purse to their bike hailing system leaving more share to their competitors.
"We can confirm that some of our business units including the ride-hailing services ORide, OCar as well as our logistics service OExpress will be put on pause. This is largely due to the harsh business conditions which have affected many Nigerian companies, including ours, during this COVID-19 pandemic, the lockdown, and government ban.
Globally, ride-sharing businesses have been heavily impacted by the pandemic. But several months ago, foreseeing this issue, OPay had already taken pre-emptive steps to restructure our business focus away from rides. It is worthy to note that this final restructuring has minimal impact on OPay as a whole business."
Safeboda Success Story
Unlike Max.Ng that was launched on February 26, SafeBoda was launched on March 2020 in Ibadan, Nigeria biggest city by geographical area and ever since then, SafeBoda is doing pretty great.
In June just 3 months from its launch date, they have completed 100,000 rides and as of last month, they have completed their 250,000 rides.
It's no doubt the bike hailing startup has been doing amazingly well for itself less than a year of launch. Safeboda as well partnered with traditional bike riders and onboard them on safeboda platform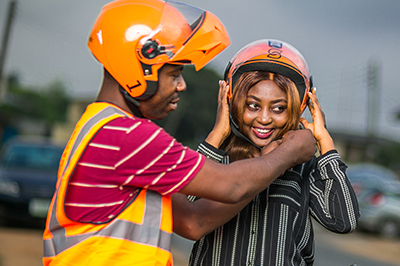 The Android App on google play store goes by the name SafeBoda Nigeria. It has over a million download and over 18,500 reviews resulting in a rating of 4.2

SafeBoda is doing great. They are surviving and taking a big bite in the bike hailing market in Ibadan and might expand to other south-western states considering their progress so far.
Navigating round a city can't be less stress without motorcycles/bikes
I'm hoping to see better report form them before the year runs out