Nigerian-based spices producing, processing and exporting startup, Agricorp International, has raised $17.5 million in a Series A funding round to increase its production capacity to 7,000 metric tonnes and also venture into becoming the largest spices export company in Africa. The agric-tech startup also joins our list of startups that have raised funding in 2021
Agricorp: The funding
Techibytes gathered that Vami Nigeria, One Capital LLC and AFEX were investors that took part in the Series A round. Vami invested $11.5 million in equity, while other investors empowered the startup with working capital financing. Ernst & Young (Nigeria) served as transaction advisers while Elisio Law Office and Pavestone Legal served as legal advisers.
How AgriCorp was founded
AgriCorp was Founded in 2018 by Kenneth Obiajulu and Wale Omotimirin, Agricorp has so far supported over 5,000 smallholder farmers with inputs and training on good agronomic practices, and built a 0.5MT/hour spice processing plant in Kaduna that produces value-added products for the export market
Data from the Ministry of Agriculture shows that Nigeria despite being the third highest exporter of ginger globally, Nigeria's ginger production is put at 31 million metric tons (MT), while demand is put at 65 million MT, leaving a worrisome gap of 34 million MT. While Nigeria accounts for more than 16% of the global production of ginger, it gets less than 4% of the export market share. This is one of the concerns of AgriCorp founders which gave birth to the existence of the startup.
What you should know
There are few things to note concerning AgriCorp, The Agric-tech startup leverages technology to produce, process, and export spices (ginger, turmeric, garlic, chilli pepper, and sesame). The Agric startup intends to become the largest exporter of agricultural spices across Africa, increasing its production capacity to 7,000 metric tonnes per year.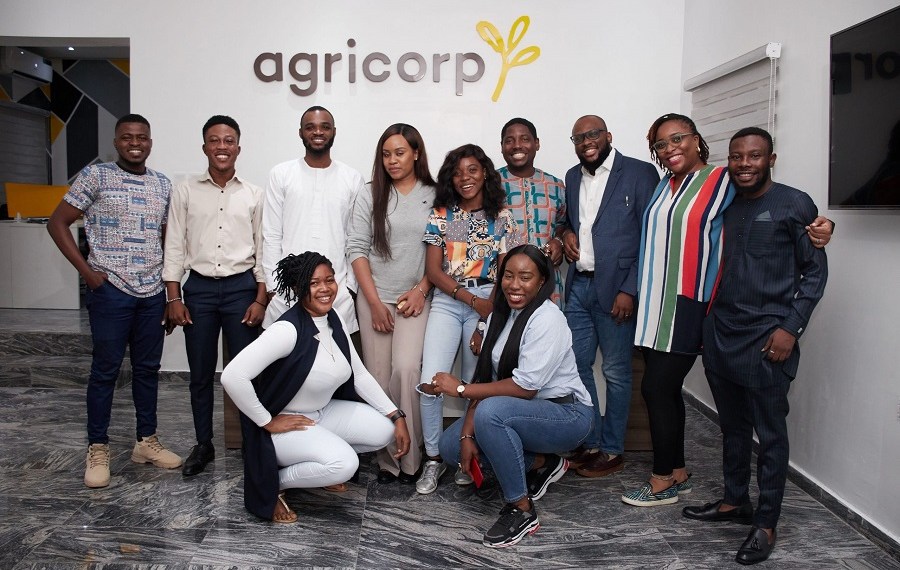 In view of this, the startup has developed proprietary technology, Farmbase, that registers, aggregates, and pays farmers for produce sold.
A recent report shows that between January and March of 2021, agriculture contributed to 22.35% of the total GDP and over 70% of Nigerians engage in the agriculture sector primarily at a subsistence level. But a majority of these farmers are largely undocumented and unbanked, especially farmers who reside in rural communities.
The Agric industry is largely undocumented and unbanked, Agricorp wants to change this by collating data that can help provide detailed analysis for stakeholders to make informed agricultural decisions and also helps with traceability of all farmer activities from the need for farm input to disbursement to sales of products and, eventually, payment. Financial institutions can also use this information to provide loans, credit facilities, and insurance to interested farmers. Farmbase, in short, is created to aid the complete value chain of the farming process
What the company is saying
Speaking on the investment, the lead investors, Vami Nigeria, said: "We led the round because we saw a clear growth path, strong social impact, excellent financial trajectory, and global collaborations with key partners. Most importantly, the unrivalled depth of knowledge, passion, and resilience of the AgriCorp team.
Also, the Managing Director at AFEX, Samirah Ade-Adebiyi, in his statement on the partnership, said: "Our other businesses have transacted with Agricorp on several occasions and have seen the business grow over time. Now, we are committed to providing the working capital they require to scale their operations at any level."
Obiajulu, who is also the co-founder of One Capital, said Agricorp was intentional about choosing the right funding partners for this round.
"We wanted strategic partners that would allow us to grow our business and impact, not just see us as a portfolio in their investment mix." He added.
Obiajulu still speaking, "We believe that by increasing our capacity to 7,000MT, we will maximise the potential to boost Nigeria's forex earnings through export, contribute our quota to improving the Nigerian GDP from agriculture, and serve as a worthy model to African youths who aspire to be agribusiness owners. We want to show them it is possible and very rewarding as well."
AgriCorp, with their new raise intends to set up regional sales operations in South Africa and East Africa, acquire certifications for food safety and hygiene, increase staff strength to meet growing demand, and improve marketing efforts
Conclusion
Less than 3 years of existing, the Agric-tech Startup has supported over 5,000 smallholder farmers mostly in Kaduna. The company also says it has grown its revenue by over 585% to service global clients in the food processing and pharmaceutical industry.
The CEO however, Lamented the unfortunate effect of insecurity ravaging the agriculture sector, especially in the North and the middlebelt area of Nigeria.
"We work with farmers to cultivate our products in our small farms. From the processing end, and working in a very volatile area (Kaduna), security is our major challenge. But we have been able to co-opt the community into our system, and we have managed to avoid any ugly incident because of such seamless integration"