The Enyata BuildUp is an initiative that aims to increase tech talent in Africa. Technically, there are more than 700,000 professional developers in Africa, with more than 50% concentrated in five countries: Egypt, Kenya, Morocco, Nigeria, and South Africa. This stats is according to the e-conomy Africa report.
The eConomy Africa report also estimated that the internet economy has the potential of adding up to $180 billion to Africa's GDP (gross domestic product) by the year 2025.
But how can this be possible if we don't build, equip and empower our tech talent? Presently the majority of Nigerian developers are self-taught, which shows a deficit in learning institutions in the country.
In this article, I'll tell you about the tech startup Enyata and how they're empowering African tech talent with free laptops and working tools
Enyata, an african tech academy is however training and empowering young tech talent for free to create products or manage projects for local and international tech companies.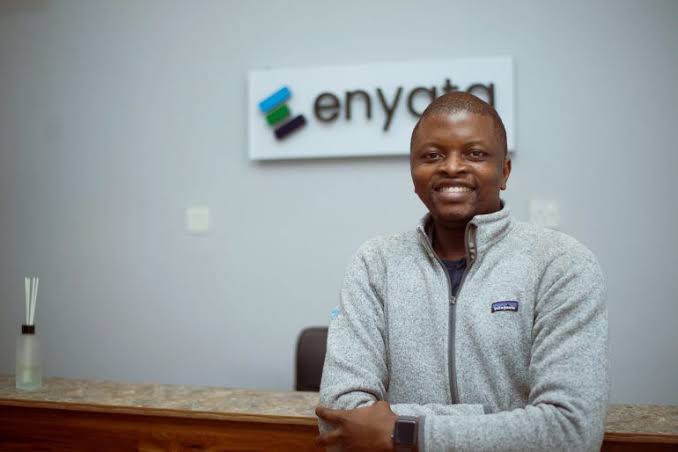 What is Enyata
Enyata, according to it's CEO calls the startup a "boutique software development, consultancy and training company" The tech startup was founded by Oladayo Oyelade in 2019. 
Ever since, Enyata has focused on "building world-class products, providing excellent services, and using technology to inspire and create solutions that enable businesses to grow".
The CEO of the startup, Oladayo said,
"We're more of an Engineering as a Service company (EaaS) than a software engineer training institute. We plan to train and recruit a team of world-class engineers".
In 2019, Oladayo decided to build a training platform for the ecosystem, he gathered his team and his own wealth of experience in software engineering, teaching, and mentorship to build Enyata.
According to Oladayo, he said he has a passion to build a community of developers but he wants to approach it from a different perspective.
But this isn't Oladayo's first hand in leading a community of young tech minds. He has the passion to impact knowledge to his community right from the onset, He has previously mentored 100s of young people in software engineering for free.
Oladayo used to work directly with the founders of Andela for a few years, at Andela he was in charge of two teams and worked actively on many important projects.
Oladayo has worked with Fintech company Atlas where he was in charge of hiring African developers and also managing developers from Nepal, India, Germany, France and the United State. 
He also worked with other local and international startups as a full-fledged senior developer for many years.
The Enyata Project BuildUp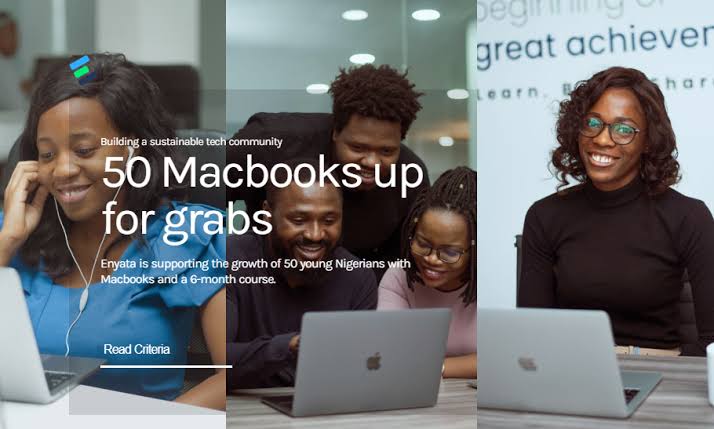 Build Up is a community-wide reach program that aims to facilitate the growth of individuals in the tech community in Nigeria.
Launched last year, the project started out on the maiden edition and it was a major success as the feedback and impact on its winners spread across the tech community.
Enyata Project BuildUp is aimed to empower at least 10,000 Africans over the next five years with the resources they need to grow in the tech industry.
Project BuildUp, however, has already kick-started with Nigerians. It aims to give 50 young, deserving tech talents in Nigeria Macbooks and a six-month subscription on Pluralsight — the edtech company that provides video training courses for creative and tech professionals.
According to a tweet which reads
If you want a MacBook, and want to become a better software engineer (frontend, mobile, or backend), data scientist, product manager, product designer, and data analyst, apply here.
Enyata says it believes Nigeria, and Africa at large, is the next technology hub of the world. With this understanding, we are willing to be a part of the story.
What you should know about Enyata
Oladayo envisages expansion into other African countries. But for now, Ghana seems to be the first stop, with Namibia and Senegal also on the list.
In an interview, Oyelade said that there are no intentions to source for external funding, although there's no ruling out such as it looks to scale in the future.
So far, the company has survived on bootstrapped capital and revenue. Which explains why it is so deliberate about the number of intakes it accepts for each Academy session. In order to control expenses and cut costs.
Enyata is currently serving up to 20 partners, and more partners are expected to join, however most of the current partners are through good relationship built during his time at Andela
Conclusion
Enyata has in recent time developed products for Ecobank, FSI (Financial Services Innovators Association of Nigeria) which is backed by the Central Bank of Nigeria, and a few American companies as well as local companies.
According to PwC CEO insight for 2020 which revealed an increased scarcity of talent in the world.  A condition which is considered high risk for companies between the last quarter of 2019 and now.
Oyelade believes that with Enyata's current model, it is prepared for what's to come, bridging this gap.
Now that you enjoyed reading this article, kindly share it on WhatsApp groups and telegram channels and also on your social media platforms.