Duplicate files can occupy valuable space on your hard drive and make it harder to organize your documents and files. A duplicate file finder can assist you in locating and removing these unnecessary copies, freeing up space and streamlining your file system. In this article, we will introduce you to the top 15 duplicate file finders available for both Windows and Mac. 
From free options to paid software, we've compiled a list of the top tools to help you find and eliminate duplicate files. Whether you're a professional user looking for advanced features or a casual user looking for a simple solution, there is a duplicate file finder on this list for you. Without further ado, let's get this party started.
What is a Duplicate File Finder?
A duplicate file finder is a software program that scans through your device and finds all files that have more than one copy in folders and sub-folders and eliminates them to free up disk space and keep files organized.
Maintaining a duplicate-free file system is difficult, as is locating duplicate files on the PC. Having said that, deleting these files is simple once you know where they are. However, the nature of duplicate files is to hide among the originals, making discovering and deleting them difficult. In such cases, a duplicate file finder comes in handy.
Why do you Need a Duplicate File Finder?
There are many obvious reasons why you need a duplicate file finder on your device and here are a few;
They take up much storage space, causing problems with storage space: Duplicated files can take up unimaginable space in your device and when it isn't given attention, installing applications or downloading other files might be an issue.
Having too many files can slow down your PC: Duplicated files can consume your storage device without you even noticing it and when your storage reaches its peak, your device becomes slower due to a lack of storage to perform properly.
Because duplicate files take up unnecessary space, creating a backup costs more storage and time. As a result, you should always prevent having duplicate files on your backup.
Duplicate files on your PC can create a variety of issues, which is why duplicate file-finding software is required.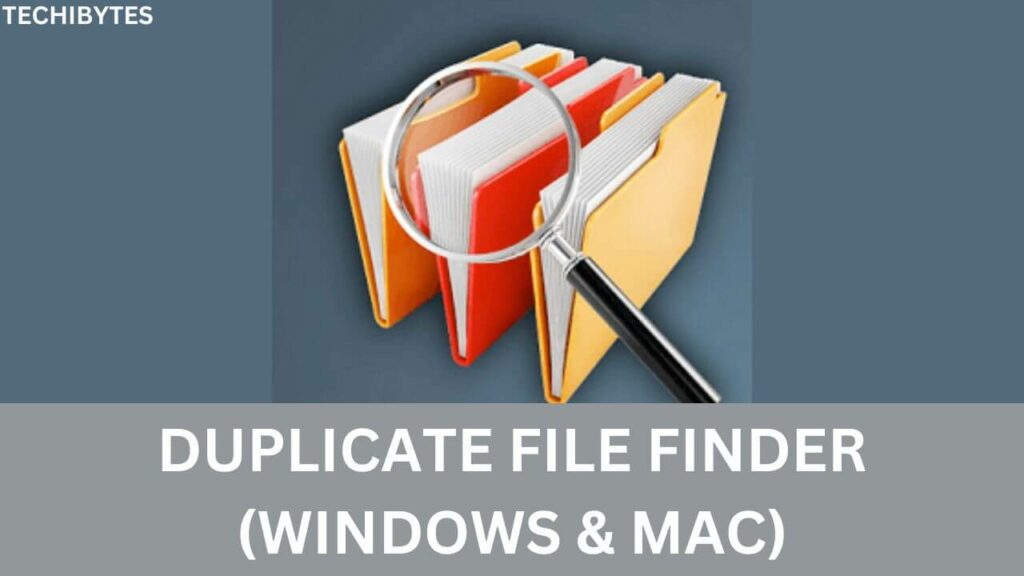 Top 15 Duplicate File Finders
Here are the top 15 best duplicate file finders on the web;
Easy Duplicate Finder
AllDup
Wise Duplicate Finder
dupeGuru
Duplicate Cleaner Pro
Duplicate File Detective
CCleaner Professional
Ashisoft Duplicate File Finder
Duplicate Files Fixer
SearchMyFiles
XYplorer
Duplicate Sweeper
CloneSpy
Fast Duplicate File Finder
Auslogics Duplicate File Finder
1. Easy Duplicate Finder
This is one of the best duplicate file-finding tools available, and it can help you speed up your PC by tracking and deleting files from your HDD, SSD, or cloud storage.
Easy Duplicate Finder will use the advanced SHA256 algorithm to search your computer for duplicate files. This search strategy ensures 100% accuracy while maintaining scan speed. 
This software has a lot of features that set it apart from other tools in its class. The program includes several comparisons and duplicate file checkers that allow users to look for duplicate files and then decide what action to take, which might range from deleting them to renaming them to grouping them.
Pricing
1 computer $39.95
3 computers $49.95
5 computers $59.95
10 computers $69.95
Pros
Accurate results
Remove all the duplicate files with a single click
Web format support
Interactive interface with graphs, charts, etc.
Cons
Scanning is sometimes slow
2. AllDup
AllDup is another excellent duplicate file-finding program for your Windows PC and Mac. It can instantly scan the system for duplicate files, images, and audio tracks and delete them in record time, reducing system load and recovering wasted storage space.
This software is fast and effective and it allows users to swiftly scan through the files and display the percentage of data that is duplicated in other text files, allowing you to combine them. Users can use this tool to search using many parameters under different file kinds, making work faster, more efficient, and simple.
Pricing
Home version $31.44
Professional version $62.88
Business version $94.32
Pros
Can move, copy, or delete duplicate files
Fast file search algorithms
Built-in file viewer
Helps save and restore scan results
Takes backup of deleted files for safety
Cons
Scans are sometimes slow
Outdated and complicated interface
3. Wise Duplicate Finder
Wise Duplicate Finder is another effective piece of file management software that can assist you in identifying and eliminating duplicate files on Windows PCs. Using this software, you can free up a lot of space and control the space on your computer. The software also has a backup and restore procedure, so you don't have to worry about accidentally deleting a file.
This tool has proven to be very effective. It contains several settings that allow for deep search and so improve the working experience of users. This tool's user interface is pretty smooth, making it easy for users to move through the system's extensive capabilities.
Pricing
$19.95 yearly subscription
Pros
Reliable and safe to use.
It has multilingual support.
Backup & restore functions.
Preview option.
Deep scanning & cleaning.
Simple navigation.
Cons
No scan logs
No file preview
4. dupeGuru
DupeGuru is the next item on our list of the top 15 duplicate file finders for Windows or Mac systems. It is completely compatible with Windows and also performs admirably on macOS and Linux. This Windows 10 duplicate file finder is driven by an advanced algorithm that allows users to effortlessly locate duplicate files based on the file name, metadata, creation date, content, tags, and other similar factors.
DupeGuru is one of the best free duplicate file finders available, as it can search file metadata. And no dupeGuru review would be complete without mentioning the special Music mode, which provides one of the most effective methods for removing duplicate music files.
Pricing
Pros
Efficient scan results
Shows preview of identified duplicates
Picture mode to find similar pictures
Multiple languages
Cons
Limited features
The user interface can be better
5. Duplicate Cleaner Pro
Duplicate Cleaner Pro is another remarkable and excellent free duplicate file finder for Windows 11 that you may use to get rid of unwanted duplicates. When compared to other applications, this duplicate file finder allows you to compare photographs that have been resized, cropped, edited, or rotated. 
You can also use this software to examine and compare files before deleting them. After reviewing numerous files and their duplicates, users can quickly determine their next steps. The software has a simple yet strong UI, and It is fully compatible with Windows Vista, 7, 8, and 10.
Pricing
Pros
User-friendly interface
Highly efficient results
File preview and selection assistant
Advanced filter options
Can locate duplicate files inside Zip archives as well
Free of ads
Cons
Scans large files/folders slowly
The user interface (UI) is crammed with too many features
6. Duplicate File Detective
Duplicate File Detective is another outstanding duplicate file finder for Windows-based computers. This is one of the best tools for managing and organizing your photo library as you see fit.
This application is simple to use because it has a UI comparable to that of Microsoft Office, and it also contains a slew of features that make working easier. Users can rapidly search for duplicate files and make their system quicker by using the powerful search algorithm and settings.
Pricing
Single-User Pro license: $60.00
Single-User Pro license – 5 Pack: $210.00
Single-User Pro license – 10 Pack: $360.00
Site-Wide Pro license: $700.00
Country-Wide Pro license: $2,200.00
Pros
Supports preview options
Monitor multiple networks
Technical support
Export to HTML, PDF, XSL, CSV, and more
Two-week trial
Cons
7. CCleaner Professional
CCleaner Professional Duplicate Finder is another app that is simple to use and packed with amazing features. This software has a number of configurable options that make it easier to use. And if you're concerned about it harming any of your files, don't be. All it does is detect duplicate files and monitor the Windows registry.
Amongst other things this app is useful for, Its built-in Selection Assistant tool enables you to customize your search. That way, you have complete control over which files and folders are included in your search criteria. It also controls your device's starting elements to guarantee quick loading.
Pricing
CCleaner Free: $0
CCleaner Pro: $29.95 (one-time payment)
Pros
Lots of custom search options
Quick software installation
Reliable app with years of industry experience
Powerful PC cleaning tools
Updates regularly
Cons
The free version contains ads
8. Ashisoft Duplicate File Finder
Ashisoft Duplicate File Finder is a superb PC optimization tool that is available in both free and premium versions. It has a variety of effective duplicate file management tools that are unmatched by any other best duplicate file removal software on the market.
This software has proven to be very useful as it compares different files and finds duplicate files on the system using byte-level comparison. This tool also works well with external disks and helps users find duplicate files in Google Drive.
One of the most useful features of this application is that it can scan your files and send reports to your email, which can only be accessed by the registered user.
Pricing
Free Version: $0
Per month: $2.95
One-time payment: $49.95
Pros
Easy-to-use interface design
Can find duplicates of all types
Multiple scanning modes
Side-by-side picture comparison
Cons
The free version includes limited features
9. Duplicate Files Fixer
Duplicate Files Fixer is the next piece of software on our list of the top free duplicate file finders for Windows. You can simply eliminate any duplicate files on your Windows devices with a single click using this tool. 
This software is one of the most reliable methods for reclaiming your storage space in a matter of minutes. The best aspect is that you can use the program to delete duplicate files from an external device as well.
Another fascinating feature that this tool offers is that, before deleting your files from your system, it creates a backup for the file just in case there's a mistake somewhere. This tool also allows the exclusion feature to set an exception for files.
Pricing
Trail Version: 15 days free trial
One-time Payment: $39.95
Pros
Easy to use
Scans Internal & External Storage for duplicate files
Selection Assistant
Scans Hidden Files and Folders
Find and remove duplicate files from Google Drive & Dropbox.
Cons
Limited features in the free version.
10. SearchMyFiles
SearchMyFiles is another free duplicate file finder on this list that provides a wide range of search options in simple packaging. SearchMyFiles, which requires no installation, allows you to perform a regular search as well as scan for duplicates. With a plethora of search options and no virtual footprint, this program is many techies' go-to response when asked what is the best free duplicate file finder.
Unlike other duplicate file finder and uninstallation tools, SearchMyFiles provides a variety of simple file searching choices. The user may simply restrict the search based on their preferences, such as wildcard, last modified, time file opened, file content, and file size.
Pricing
Pros
Tons of search options and advanced filters
Totally free of charge
No installation required
Accurate search results
Allows you to mark duplicates with darker colors
Works perfectly in high DPI mode as well
Cons
Outdated interface
Takes a long time to scan large drives or folders
11. XYplorer
XYplorer is a duplicate file finder that allows users to search for and manage duplicate files on the system. It includes an outstanding Duper Detection tool that will scan and find duplicates for you.
The quantity of settings available in this sophisticated file manager is astonishing for a little tool that does not require installation. XYplorer can detect duplicate files by utilizing MD5, which functions similarly to a file's version of a fingerprint.
Despite the fact that it is a paid program, it earns a position in our list of duplicate file finders for Windows and Mac. It can discover duplicates using byte-to-byte comparison and MD5 as well as other capabilities.
Pricing
Standard License Professional: $39.95
Lifetime License Professional: $79.95
Pros
Deep custom options
Customizable keyboard shortcuts
Fast scans
Community support
Supports multiple profiles
Cons
No plug-in support
Poor touchscreen support
12. Duplicate Sweeper
Duplicate Sweeper is a simple duplicate file fixer that detects and eliminates duplicate documents, images, videos, and audio files in one swoop. Duplicate sweeper can also scan online storage providers like Google Drive and Dropbox for any duplicate file cluttering your cloud storage.
Duplicate Sweeper makes it simple to identify, select, and delete duplicate files on your computer.
Using Duplicate Sweeper's advanced search algorithm, files with the same content can be quickly identified and eradicated – even if they are named differently.
Pricing
Pros
Affordable
You can preview files before deleting
Drag-and-drop search
Cons
Can't scan your whole drive at once
13. CloneSpy
CloneSpy is one of the oldest duplicate file finders on this list but make no mistake to underrate this software as it can detect slightly different duplicate files that other programs may overlook. CloneSpy is a free tool but the features it offers make it totally worth paying for.
For better results, ClonSpy gives a detailed report of all the duplicate files on your device after scanning. You can also use it to compare files based on their names and extensions But that's not all. This software also allows you to scan 0-byte files and it is completely free.
Pricing
Pros
Completely free of charge
Easy to use
Smart scanning
Export or transfer files without deleting them
Cons
Slightly outdated interface
No support for Windows 10
14. Fast Duplicate File Finder
Another amazing software on our list is the Fast Duplicate File Finder. Just as the name sounds, this tool is one of the fastest duplicate file finders on the web today. It is built with several intriguing features to automatically detect and delete duplicate files on your system.
This software compares and analyzes multiple file attributes including file name, size, creation date, etc to find similar files. After detecting duplicated files, you can choose either to delete duplicate files permanently or choose to move them to the recycle bin or a custom folder.
Pricing
Free version available
Premium version: $39.95
Pros
Finds all kinds of duplicate & similar files easily
Numerous filter and auto-check options
Supports removable media devices
Automatically marks older and smaller files for deletion
Compatible with all Windows versions
Cons
The free version is limited
The interface is crowded with too many options
15. Auslogics Duplicate File Finder
The last software on our list of duplicate file finders is the Auslogic Duplicate File finder. This program is well-known for its user-friendly interface and sophisticated duplicate file scanner.
Auslogic Duplicate File Finder assists you in eliminating limited disk space and cleaning up clutter on your PC. The most essential part of this program is that it is free to use while still providing the best features available in Windows 11.
This software uses the MD5 Engine for accuracy and performance. It also features a Rescue Center to restore mistakenly deleted files, regular software updates, and even a driver updater amongst the other amazing features.
Pricing
Pros
Quick and accurate scans
Free of charge
Can search in hidden folders
Regular software updates without any fees
Uses MD5 checksum to find hidden file details
Rescue Center feature to restore accidentally deleted files
Cons
Lacks drag and drop functionality
Not compatible with Windows Vista and XP versions
Conclusion
Duplicated files on your system can cause a lot of havoc on your device from slowing it down to regular lagging which can be very disturbing so finding the right duplicate file finder to eliminate such files would be the right move.
In this article, we've reviewed our best 15 duplicate file finders available on the web so scroll through, find the one that best works for you, and get rid of those disturbing duplicated files in your system.
If you liked this article, then please subscribe to our YouTube Channel for videos. You can also find us on Twitter and Facebook