Technology and mobile apps have become such a big part of us that it's difficult to imagine life without them. There are mobile apps for almost anything you can imagine.
The sky truly is the starting point, from gaming to social media and educational apps. It's 2023, and it's such a relief that technology has evolved to create apps for visually impaired people that they can use for various tasks, from entertainment to chores.
Table of Contents
16 OF THE MUST HAVE APPS FOR VISUALLY IMPAIRED PEOPLE
Below is the list of the must-have apps for the visually impaired in 2023.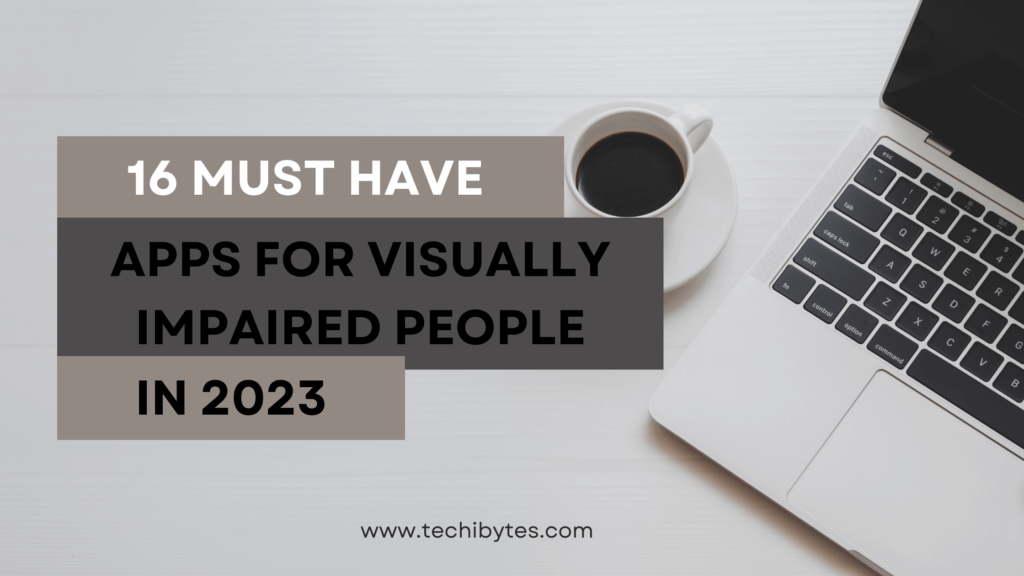 Audible

Audible is the app for you if you love to get lost in different worlds and kingdoms through stories. Audible is one of the best apps for the visually impaired because it has one of the largest collections of audiobooks in many different genres, from horror to romance.

Audible has over 150,000 titles available at the moment and is constantly adding more. The audiobook edition is available on the app when a book is published in print. The best part is you can access audiobooks even when you're not online because they are all downloaded.

Sometime that is a standout feature of audible is that it has many free books, and you can buy others at discounts. Because of this, the app frequently sends out free audiobooks and other freebies to its customers as gifts. Another fascinating thing you have to know about audible is that the narration and sound quality of the app's audiobooks are all top-notch.

Apart from audiobooks, audible also has podcasts and spoken-word publications like newspapers. Plus, you may adjust the playback speed to your liking and skip chapters when listening to the books.
Be My Eyes

This list of the best apps for visually impaired folks would not be complete without this app. The Be My Eyes app facilitates real-time video conferences between visually impaired and sighted users who offer remote support.

With this platform, you can get an extra set of eyes on a task by asking a volunteer to help, or you can reach out to a Specialized Help partner for expert assistance.

So if you have ever craved virtual assistance, Be My Eyes is the app for you. It doesn't matter what language you speak because about 180 languages are available on the platform.
Moovit

One of the most challenging activities for the visually impaired is moving around, primarily via public transport. However, with apps for visually impaired folks like Moovit, moving around gets much more accessible. This app details all available options for people who frequently utilize public transportation, including routes, schedules, and live traffic updates.

Whether riders are using the bus, tram, or subway, the app will let them know the names of their stop destinations. For the blind and visually disabled, this is crucial in situations where the audio announcements aren't working.
Ariadne GPS

Ariadne GPS is hands down one of the best apps for visually impaired people. However, while this app is great, it is only available for IOS users. The app has excellent features like a talking map that reads street names and house numbers aloud and provides contextual information about nearby landmarks.

All you have to do to get a feel for the location is touch the screen and slide your finger in any four cardinal directions (forward, backward, right, or left) to get a feel for the terrain.

In addition, you can learn more about the features and landmarks close to any location on the map. When on, the Monitor feature will immediately notify you of any shifts in your current location.
TapTapSee

TapTapSee is one of those apps for visually impaired people that does its job well. The software TapTapSee was created to aid the visually impaired in recognizing their surroundings.

In essence, this app transforms your phone's camera into a pointer. Here, you have to launch the cam and point it towards the thing you wish to identify.

The item is identified through the use of application programming interface (API) technology, and the app then verbally conveys the information.

Here, the app does more than simply identify the object's category; it also provides some descriptive details. In addition, you can launch the app without searching for it among your other options by simply making a smile dual tap on your screen. One great feature of TapTapSee is that you can also recognize things in photos already stored on your phone.
Blind-Droid Wallet

Blind-Droid Wallet is one of the best apps for visually impaired people. This app is quite helpful when visually impaired folks want to make a payment when they purchase something or want to know the amount of money they have.

With this app, you can simply hold the bill up to your smartphone's camera, and the app will announce the currency and denomination.
Seeing AI

Seeing AI is an app that stands out on the list of the best apps for visually impaired people because it possesses unique features. It is a versatile tool that can decipher and analyze any document scanned with a phone's camera, from receipts to barcodes.

One of Seeing AI's best features is that it can even deduce people's feelings from the expressions on their faces and in their photographs. Apps like Seeing AI are revolutionary for the blind and visually impaired because they allow them to perceive their surroundings in a new way.
Aipoly Vision

Apps like Aipoly Vision allow the visually impaired to learn to identify everyday household items and colours.

This program is helpful for the visually impaired, the blind, and the colorblind. The app aims to improve people's awareness of their immediate environments. Identifying an item is as easy as tapping a button on the device's bottom and focusing on it.

The software uses AI to determine what it looks at and provide verbal feedback. In addition, you can continue using the recognition tool even after you've identified a single thing. Until you turn off the camera, the app will continue to report its observations.

The app performs a fantastic job of recognizing things, and you can have complete faith that it won't make any mistakes. It may describe everything from monetary units to dinnerware to the elements and animal species. It even has text-reading capabilities.

You can also determine what things are without access to the internet. However, the free tier of recognition allows you to identify up to a thousand things before upgrading to a paid plan.
Voice Access by Google

Voice Access by Google is one of the apps for visually impaired people that makes navigating a phone a breeze. Although its original purpose was to help the disabled, one of its most fundamental uses is to help the visually impaired. The app streamlines the process of using voice commands on an Android phone.

As a result, visually impaired people, such as the elderly, will have an easier time navigating their mobile devices. And the best part is you can use this app for more than just calling or receiving calls. You can also use this app to access other apps on your smartphone.
Blind Bargains

Are you interested in staying on top of the latest deals? Then this app is for you! Blind Bargains helps the visually challenged population by compiling all the best sales in one convenient location. You can also buy special tools like Braille printers and other assistive technology on this app.
Supersense

At first glance, it might seem that all free apps for visually impaired people are nearly useless. However, apps like Supersense break this myth as they provide many unique features for free.

Despite some minor issues, Supersense is an excellent piece of software that can increase your self-assurance while out and about. It only needs an internet connection to help you explore your environment and detect many things in your environment, from furniture to animals.

The device also supports voice commands and text scanning. While most of the features here are free to use, paid upgrades are available for improved precision, more language support, and barcode scanning.
Aira

Using Aira, the visually impaired can find sighted guides to assist them with various chores. The unique feature of this program is that the sighted users, known as Agents, have been educated to aid the blind and visually impaired users, known as Explorers.

The software is available for free download. However, Aira's various plans and services will incur costs.
Text Scanner [OCR}

Use the Text Scanner app to convert written text to spoken language quickly.

This program can perform OCR on your mobile device in a few seconds. In addition, it supports over 150 languages so that you may relax. The appropriate way to use the app is to take a picture of the text and have the app read it out.

There are subscription packs available for use with the software, but they are not required, and the included tools are well worth the price. The app's reading abilities extend far beyond that of a simple book reader. You can also use it to read out loud any written text, including emails, websites, letters, invoices, and more.
Colour ID
The visually impaired can benefit from colour identification technology since it helps them identify the colours of everyday objects.

The app's Color ID feature is activated when it detects and names colours in the user's immediate vicinity. This program could help a visually impaired person choose an outfit or determine if a piece of fruit is ready to be eaten.
Digit Eyes

If you have been hunting for apps for visually impaired folks that can help make shopping easier, then this app is for you. Digit Eyes was created to make online shopping easier for individuals who had difficulty seeing. This program can scan a product's barcode and announce the item's name.
Facing Emotions

To help visually impaired people feel more connected with the people they are communicating with, the app Facing Emotions converts the seven most common emotions on the human face into appropriate sounds. These include anger, fear, disgust, happiness, sadness, surprise, and disdain.
Closing Remarks
If you have been on the hunt for the best apps for visually impaired people, in this article, you will find the best apps ranging from entertainment apps to apps that help with chores.
If you liked this article, then please subscribe to our YouTube Channel for videos. You can also find us on Twitter and Facebook.