Due to the internet's constant growth and development, the elements of web design are continuously evolving. In fact, more than 90% of web designers say that trends in visual culture are evolving faster in this day and age than ever.
As a result, it may be challenging for you as a web designer to create a top-notch design that prioritises the most crucial elements of web design.
Creating a high-quality design is vital for so many reasons. For one, a great web design significantly improves the user experience. It also attracts people to your website and helps you gain their trust. According to stats by WebFx, roughly 75% of website credibility is based on the overall design!
In this article, you will discover the top 11 elements of web design. With this knowledge, you will know the essential elements of web design to incorporate into your web design to create a fantastic website.
But before we get into the top elements of web page design, we will first go into what web design is and how it differs from web development.
What is web design?
A web design is how a website looks visually and its user experience. Web design involves planning and creating the visual elements of a website, such as images, colour theme, font, structure, etc.
Initially, the main focus of web design was just on desktop browsers. However, in recent times, it has come to involve browsers for mobile devices. This is because most people surf the internet using their phones. Recent data show that approximately 59.4% of web traffic comes from mobile phones.
A good web design is not just aesthetically stunning but also one that provides a great user experience.
There are two main methods of web design;
Adaptive design
Responsive design
Adaptive design
The best part about adaptive design is that each user can get a unique user experience, depending on their device. With adaptive design, each device has its unique website layout. A web design layout is created for typical screen sizes such as 320px and 480px.
As the website loads, the website will detect the type of device the user is using and change the layout to fit the user's screen.
Responsive design
With responsive design, the same layout is used for every device. However, the unique element of responsive design is that the resulting website will be pretty fluid. When a website is designed with a responsive design, it can change its look and layout depending on the user's device.
Difference between web design and web development
Although most people use web design and web development interchangeably, they both mean different things. Web design involves bringing an idea or vision to life. Web design primarily focuses on the website's front end, i.e. the look and feel of the website.
Web design often encompasses many sub-disciplines, such as graphic design, user interface design, logo design, etc.
Web development, on the other hand, focuses on the backend of a website. It involves the use of programming to bring a design to life. For instance, if a web designer creates a button for a website, a web developer will ensure that the button does what it's supposed to do.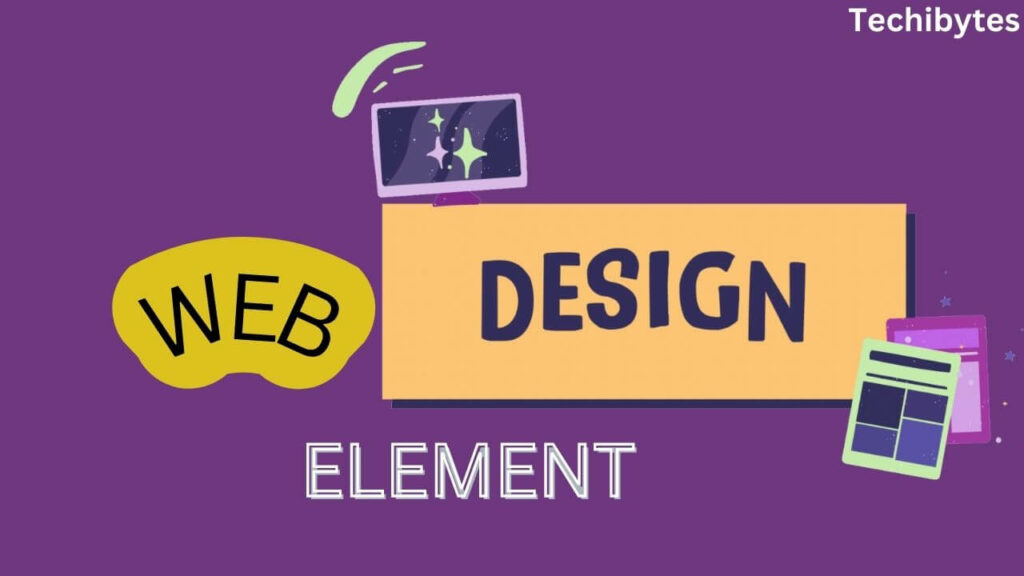 11 elements of web design
Now that you have a better understanding of web design and how it differs from web development, it's time to go into the top 11 elements of web design.
Easy navigation

Easy navigation is one of the most vital elements of web design. Clutch surveyed 612 people to ask what user experience feature they thought was most important. And guess what? About 94% of the people surveyed said easy navigation is the most crucial website feature.

People will leave your website if it is difficult to navigate or it's a chore to find what they are looking for. Difficult website navigation only results in an overall terrible user experience. If you want your website to have easy navigation, create menus and other navigational tools with your user in mind. Your goal should be to help your users easily move around your site and find what they want.
Website Layout

A website's layout determines if it will be easy for a user to navigate the website or if they will be overwhelmed by all the other elements. The layout is the arrangement of various elements, such as images, advertisements, and written content.

One of the aims of any website is to facilitate instantaneous information discovery for the viewer. Therefore, you must create a web layout that makes your website easy to use.
Colour palette

The colour palette is one of the first things people form an opinion about a website. As a web designer, you need to do adequate research to know what colour combinations are the most visually appealing.

Another thing you should pay attention to when selecting a colour palette is the industry/brand you are designing the website for. Does the company have distinct brand colours you can use in the design? What colours would represent the brand you are designing the website for? For instance, if it's for a photography website, you might be best off using colours like black and white that throws the spotlight on the photos on the website.
Content

Compelling content is one of the top elements of web design that you do not want to skip if you want a high-quality website design. Compelling content not only attracts your target audience to your website. It also helps people to engage with your website and influences them to take action on your site.

Great content also helps with SEO (Search engine optimisation) which helps to increase your website's traffic. Whatever content you create for your website should be informative and of great value to the reader. The content should show you are an expert in your field.

Your audience will trust your products and services better if you show them you are an expert in your field. Also, ensure the content is engaging and skimmable.
White space

White space is one of the elements of web design that makes your website look sleek and creates a hierarchy between the content on your web pages.

Using white space in your design helps ensure words and icons stand out better. This way, people who visit your website will not feel overwhelmed by all the other elements. White space helps you to create a visual order of all the elements on your page, such as icons, images and content. White space does not have to be white, as any colour can help create this effect.
Aesthetically pleasing images

One of the top elements of web design you should never skip is aesthetically pleasing images. Humans are drawn to stunning visuals. Images help to attract your users' attention and help you highlight your products and services. People will find it difficult to believe that you can provide excellent services if you have terrible images on your website. For this reason, you must have high-quality and aesthetically pleasing photos on your website.

The images on your website should also be relevant to your brand or services. For instance, if you are designing a food delivery website, it would not make sense to put pictures of cars on the website.

Read this article to find out how to sell images online and make money
Call to action

Websites with clear calls to action are more user-friendly and more likely to generate a positive ROI. Calls to action will help to clarify for the user exactly what you want them to do so that you may boost sales and attract a wider audience. CTAs like the "buy now" or "add to cart" button, a "read more" link, or a subscription sign-up form can all help entice visitors to take the next logical step on your site.
Unique typography

Unique typography is one of the most vital elements of web design You can help your website visitors feel welcome anytime they visit your site by using unique typography like bold fonts.

A common practice amongst web designers in recent times is using a single word or phrase that best describes their site as the entire top fold. This lets the text take centre stage and gives newcomers some background information. Unique typography does not just make your visors feel welcome, but it also helps you stand out from the crowd.
Your website should be mobile-friendly.

Mobile devices now account for half of all internet traffic, so a website designed exclusively for desktop computers is now outdated. Modern websites should focus on providing a smooth mobile experience for visitors. When creating a website, it's vital to ensure that visitors can access the content the same way, irrespective of the device they use.
Site speed

Do you know that one in four web visitors will abandon a page if it takes more than four seconds to load? The longer it takes for a website to load, the harder it is to grab the attention of your website visitors. If you want an excellent website, site speed is one of the most crucial elements of web design you must take seriously.

It should take approximately three seconds for your website to load. Any longer than that would significantly increase the bounce rate for your website.
Amazing graphics

Amazing graphics are part of the top elements of web design because you can make your website significantly more aesthetically pleasing by including stunning graphics. Logos, photographs, clipart, and icons are all examples of graphical elements you can use to improve a website's aesthetic. These should not make the website excessively cluttered or difficult to load and should be placed correctly to maximise user experience.
Five common mistakes you should avoid when designing a website
Below are a few of the mistakes you have to avoid when designing a website;
Aggressive pop-ups.
Irrelevant web content.
Failing to optimise your website for SEO.
Terrible website layout.
Using many different fonts and font sizes.
Wrapping up
Creating a great website design is crucial for many reasons. For one, it draws people to your website and can even potentially make them customers. With this list of the top 11 elements of design, you will be able to create an excellent website.
If you liked this article, then please subscribe to our YouTube Channel for videos. You can also find us on Twitter and Facebook.