Oluaka institute of technology has begun its admission process for students interested in computer hardware engineering, Computer software engineering as well as networking and system security.
Oluaka institute of technology is an institute based on equipping graduates with necessary skills which include technical knowledge and skills that are peculiar to the field of technology as well as business.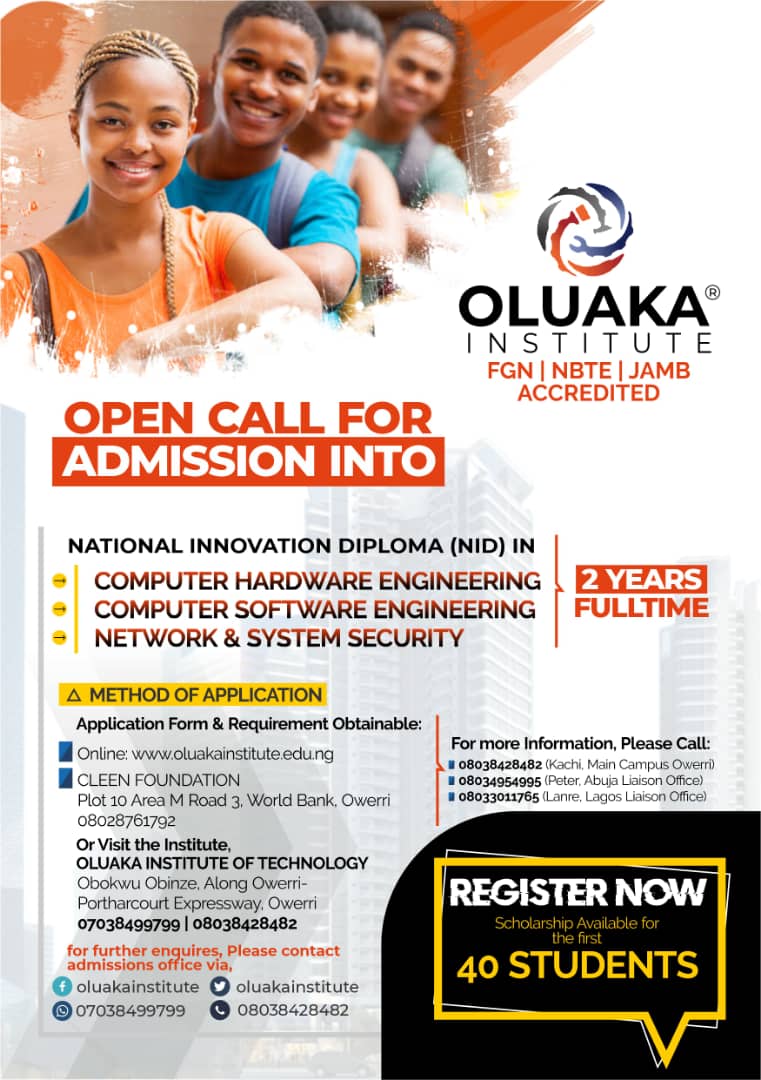 The institute came into existence in 2017 and is located in Owerri, Imo State, South-Eastern part of Nigeria. It was established so as to bridge the gap between the various sectors of the economy most especially the practical training, business incubation, and acceleration in the field of technology and its innovation.
They provide education as well as a sustainable support for startups small and fully grown businesses. They have a business Incubation Hub, (Heartland Incubation Hub). They have also been accredited by Enterprise Development Centre and BOI accredited Business Development Service Provider) BDSP)
Oluaka institute of technology is an institute whose driving force is technology and innovation. It offers a 6 months intensive software engineering training that is focused solely on producing competent hands in terms of coding and programming.
The institute has a project driven approach to education and it intends to train and prepare students who will not only be employable but also be able to create sustainable businesses to move the economy forward anywhere they might be.
The institutes operate in such a way that students are not tested by the number of score in the continuous assessment but also by the projects such student is able to build successfully with favorable feedback from the users.
Oluaka Institute Admission

Oluaka institute of technology also looks favorably on students who are not financially buoyant by providing them with scholarships provided they meet the conditions as well as the requirements.
Admission into the institute is now ongoing and interested members of the public can now visit their website for more information here as the academic session is set to commence on the 1st of February,2021.