"Oja" is a Yoruba word for traditional market or better still ethnic markets, imagine a world where you can get access to a variety of fresh traditional and local foods like plantain, yams, scotch bonnet, chili peppers, oxtail, seasonings, and more…at the tab of a button? Let me tell you about the Oja app, London's first ethnic grocery store.
In the words of Mariam Jimoh- founder of WCAN (social enterprise for black women) and CEO of the startup.
"Fresh produce is extremely important to most black communities around the world"
investors and VCs are beginning to see on-demand grocery delivery startups as the next big thing as they continue to pour billions of dollars into fast-track on-demand grocery delivery startups.
Oja is one of the leading ethnic e-commerce companies in the world that's ready to change the way we shop, with a $3.4 million pre-seed funding. The on-demand grocery startup is ready to take on the world.
The round was led by LocalGlobal, with participation from Acequia Capital; Tiny VC and HoaQ Fund. Private investors such as Darren Shapland (CFO of Sainsbury's); David Vismans (CPO of Booking.com); Dimple Patel (COO of Trouva); Anton Soulier (formerly Deliveroo, now CEO of Taster, Sharmadean Reid (CEO of The Stack World); Spoken Word poet, Suli Breaks; Azeem Azhar (with a family link to the Asian food manufacturer TRS); and Riccardo Zacconi (co-founder of King.com) and others also contributed to the round.
What is Oja App?
The cultural-based online grocery startup was founded in 2020 by Nigerian-born Mariam Jimoh, a serial entrepreneur. Oja is one of the African Femtech Startups representing the continent. The UK-Based startup is an online ethnic grocery store that provides and delivers cultural food produce to customers.
Oja's app allows its users to shop via the internet based on specific culture as it adds more and more ethnicities to the assortment.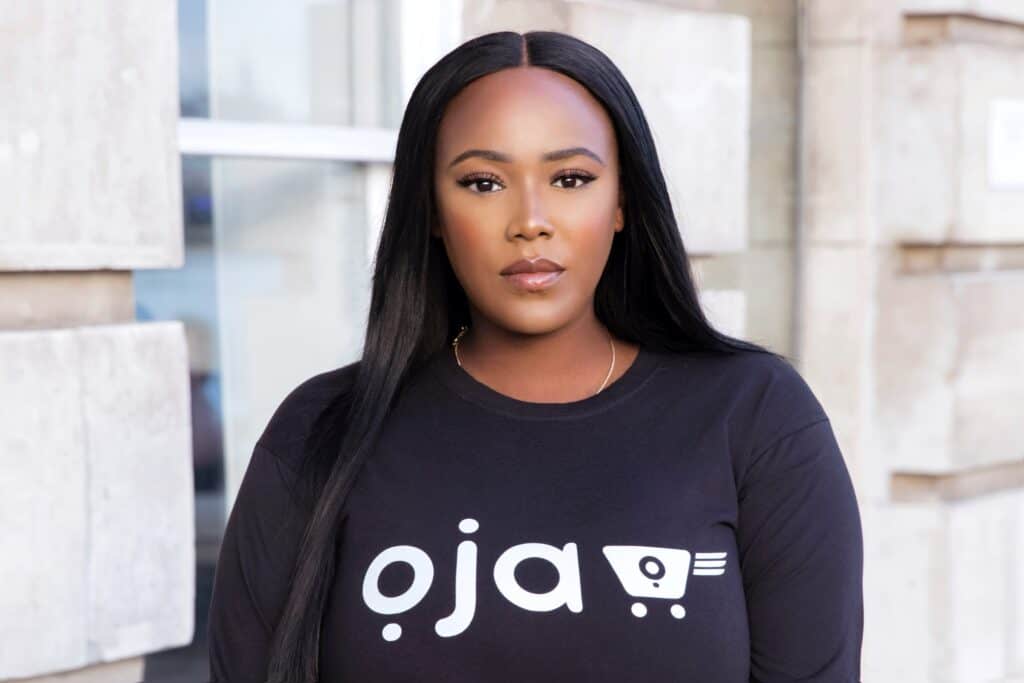 "Right now we sort things into cultures within one specific cultural group; African & Caribbean. As part of our expansion plans, we will look to expand the other ethnic produce we offer in the future". Says the CEO
The e-commerce startup's plan is to expand its catalog of products to serve a wider range of ethnicities and cultures by stocking the foods and other grocery products (e.g. beauty products) which are desired by those communities, and by streamlining its app to provide what it describes as "a unique culturally-specific shopping experience"
Currently, the startup's product offerings are based on the African and Caribbean cultural groups. Popular among the products are plantain, yams, scotch bonnet, chili peppers and oxtail.
What they are saying….
For now, Oja's major focus is to deliver, spread and serve the whole of London with "access and ease vs extreme convenience as it continues to build London's first cultural marketplace.
Speaking on the pre-seed round, George Henry, General Partner at LocalGlobe, said that the startup stood out for its new and refreshing approach.
"In a sea of grocery delivery services and apps, Oja stands out for taking a new and refreshing approach. One that centers on community, heritage, and access, as much as speed, convenience and variety. From the use of technology to her relationship and deep connections with suppliers, and her full-stack approach, Mariam and her team are building a game-changing company that is set to raise the bar for the underserved communities across London, the UK, and Europe."
The ethnic-based online supermarket's target audience tends towards people who are looking to enjoy the food of their heritage and who live in areas where it's hard to buy ethnic food produce.
The ethnic grocery startup is also useful to people who have migrated abroad and university students living far away from places where they can get ethnic foods and would still love to enjoy their cultural foods.
It also includes returning foreigners who want a convenient way to access the unique ingredients to cook the food they've been eating abroad.
What's next for Oja App?
Oja plans to deploy this latest funding into offering other ethnic produces in the future as well as to cover more regions in the UK.
ethnic grocery delivery startup in just one year of operating has added more than 500 users on its app available on both Android play store and Apple Appstore.
According to Oja CEO, the app's active user base grew 56% "from word of mouth alone" during the testing phase.
Speaking on the delivery aspect of the business, Oja is currently working with a third-party delivery service so it can focus on operations and customer experience.
On expansion outside the UK….
"Every day we have a tweet or message asking us when we are coming to Italy or France or even Ukraine — we think there is a market for this solution across all of Europe," she says.
Oja's mission is really to unlock access to foods from every culture, from anywhere in the world. So the next time you visit London or you're traveling abroad or you already stay around downtown, you should try the Oja app and come back to share your experience.