The Story of Shodipo Ayomide, a Nigerian Software Developer, Developer's Advocate is now all over Twitter in these last few days.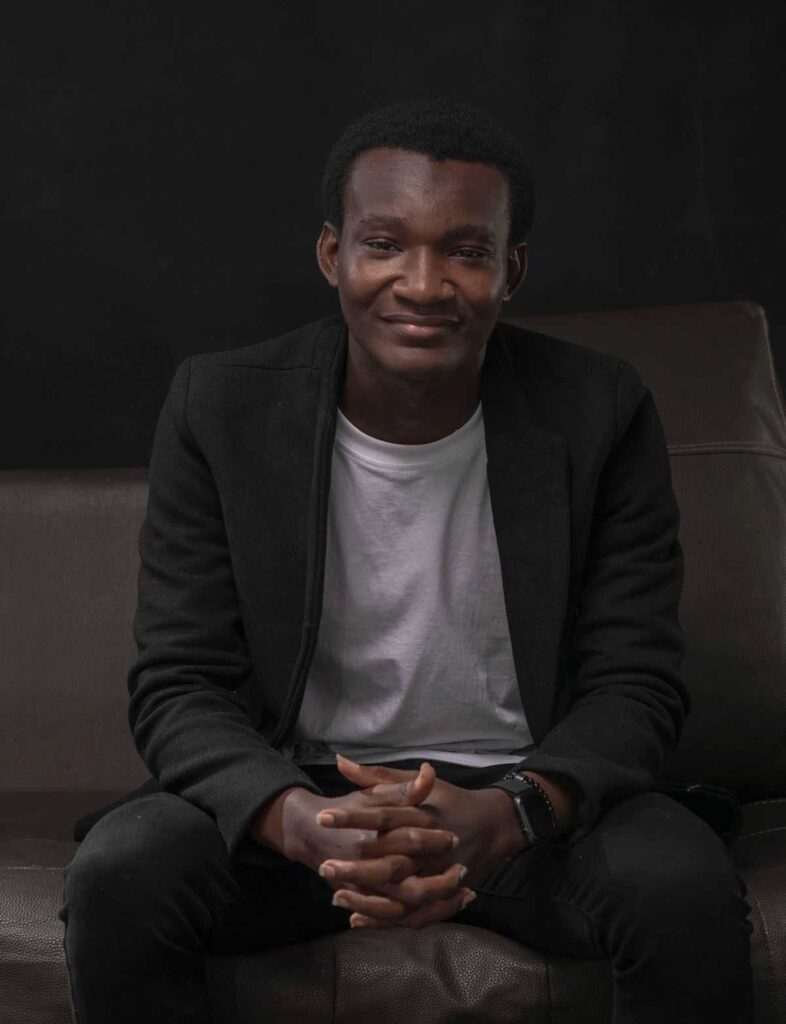 How Shodipo Ayomide's Tech Journey began
In the words of Usain Bolt, "believe in yourself and that anything is possible" This is the story of a young Software Engineer all the way from Agege in Lagos Nigeria who has risen to become one of the most prolific senior developer advocates in Nigeria.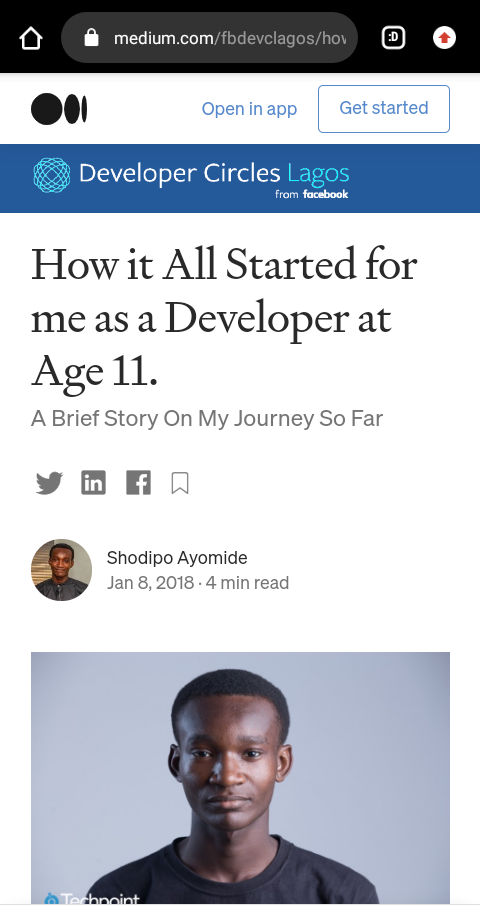 In an interview with medium, Shodipo Ayomide reveals how he developed interest in tech and how his charming career in tech started.
He explained that his career in tech all started while he was in primary school. Starting with learning the basics of how a Computer works (starting with the Microsoft platforms). After going through that, he decided to delve into Graphic Design, all this while as a primary school pupil.
Moving forward to Secondary School Level…
Fast forward to his secondary school days, Shodipo Ayomide reveals he bumped into the wonders of programming in JSS1. He started little research on it and was wowed at what he discovered he could do, he said he was able to build Web Apps, Mobile Apps, Softwares and even Android/IOS Games.
As his learning progress continued, he met Mr. Leke Ojikutu, a fantastic developer who with the help of his own dad, he got free training at his company Afrisoft Interactive, where he started from scratch and learned almost everything he knew about programming.
At Age 14.
Having a passion for learning, he delved deeper into Mobile App Development with his best friend at the time, using Google and YouTube as their resource centre.
He started with phonegap before moving to the android studio(Java).
At Age 15.
At 15, Shodipo rebuilt the Company he had earlier created and abandoned at age 13. He called it Avicsoft Interactive Inc. A software solutions company.
At Age 16
The year 2017 was a golden one for Shodipo as he got many connections with many tech companies in Nigeria: Facebook, Google, Andela, Univelcity, CCHUB, Voguepay, Flutterwave, Paystack, Hotels.ng, Techpoint.ng, Nairaland, and many others.
In 2018
Shodipo Ayomide formed a new company which he called Fremer Inc. A tech company that focused on building software products end-to-end for startups.
Luckily for him, the company had its first big project directly from Silicon Valley in the United States and that gig propelled him to many local and international opportunities.
He got an offer to join TechPoint Africa as a Software Engineer, he worked there for about seven months, before joining a Canada-based company, VanHack as a Developer Advocate in April 2018.
VanHack was a stepping stone for Shodipo's tech career as he made his grand entry into the world of Developer Advocacy.
This was at the time developer advocacy was relatively new to Nigerian tech until it began to gain traction recently.
In 2020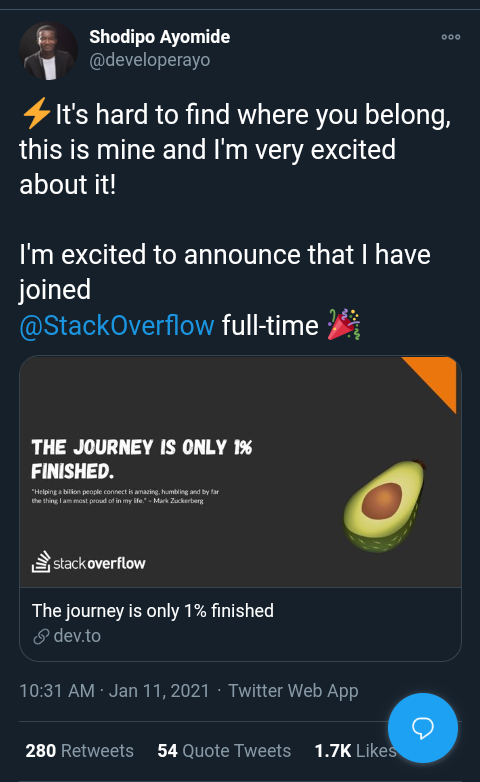 Shodipo Ayomide reveals his interview process with stackoverflow.
Stack overflow is a global tech firm of the largest, most trusted online community for developers worldwide with a global platform of about 50 Million+ monthly visits and 20 Million+ developers.
"My interview process at Stack Overflow started in October 2020 and by December I had an offer to start this month," says Shodipo.
"Interviewing at Stack Overflow was one of my best moments of 2020, It was one excitement after another, studied hard after every interview, it was good!"
"I had roughly around 10 interviews, every single person I spoke with from Sara Chips, Yaakov Ellis, Teresa Dietrich, Cesar Manara and the amazing coordinator Abby T. Mars, were all amazing".
"Ultimately I'm happy I was given this opportunity and I cannot wait to resume and help improve SO Party popper"
He will be joining the Stack Overflow team working in-between the Community and the Platform Engineering team.
"I am looking forward to working with all the moderators on Stack Overflow and helping to shape the future, importantly making it an open/safe place where users can easily collaborate, ask questions and get answers to issues they have".
He said he also express his gratitude to people who has one way or another supported his dream and helped him become who he is today.
"I want to say a huge thank you to some people for all their help & encouragement throughout the past years" few of which are
Innocent Amadi, Oluebube Egbuna, Oluwatobi Joseph Owolabi, Adewale Yusuf, Mark Essien, Ekene Christian, Sylva Elendu and others.
Before getting the job offer at Stack Overflow, Shodipo Ayomide has interviewed with Google, Facebook, Amazon, Orbit, and GitLab.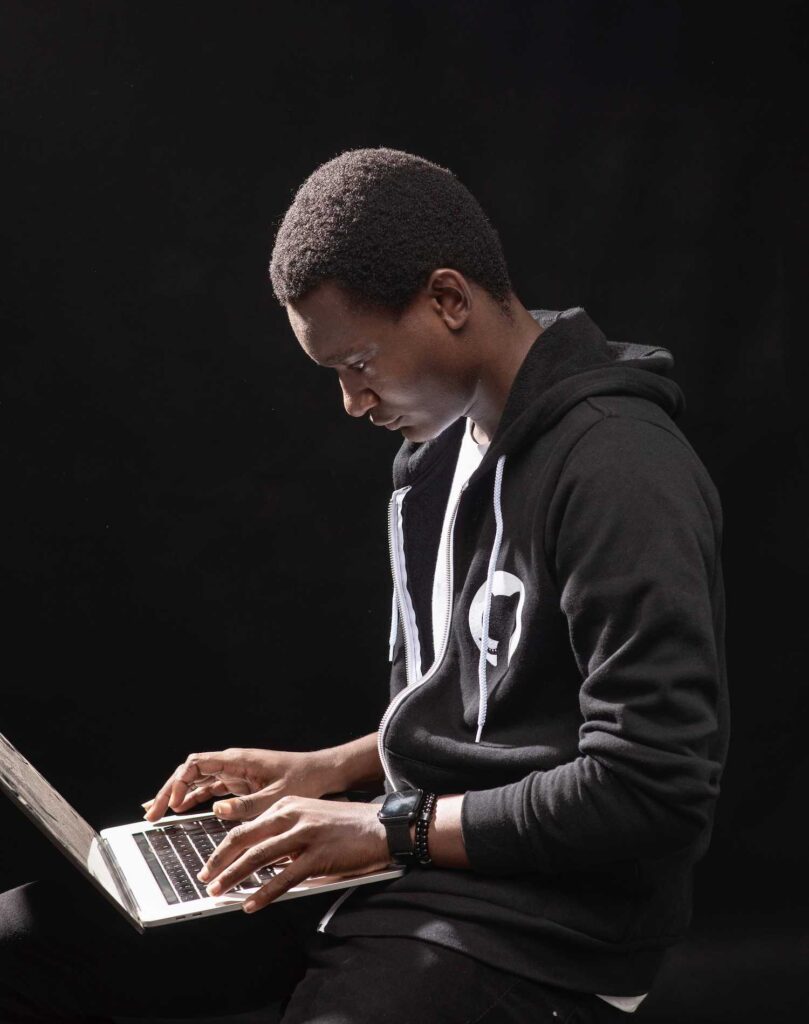 Shodipo Ayomide is a Technical Instructor at egghead.io, a Media Developer Expert at Cloudinary, GitHub Star, and a Host of DevRelChat.
Ayomide has contributed to the running of major tech communities in Africa like the unStack Africa, Facebook Developers Circles Lagos, and Open Source Community Africa. He speaks and moderates sessions at conferences especially in tech.