Recovering from the mental and emotional hurt of the ENDSARS protest, heralding the birth of a health therapy startup. MyTherapist.ng
Approximately 50 million Nigerians live with varying Mental Health disorders and according to the World Health Organization (WHO) 2017 report, about 29 million Africans live with depression which is usually the most common mental health disorder amongst others.
2020 was a tough year that came with a lot of trauma, especially for Nigerians. The Covid-19 pandemic on one side and the October 2020 #EndSARS protest that came with lots of extrajudicial killings of hundreds of Nigerian youth and the same event leading to a high rate of depression, anxiety, PTSD, suicide attempts, and a host of other second-degree trauma.
MyTherapist began their journey to bridge the bureaucratic supply-demand gap in Mental Health therapy that further increased during these times.
Mental Health is one of the rarest topics in many developing countries in Africa, In Nigeria
only four percent of government expenditures on health is earmarked for mental health.
Techibytes had a telephone discussion with the CTO of the health tech startup, who spoke and shared a few exclusive details about the birth of the Startup.
What is MyTherapist?
MyTherapist is a fast-rising tech-enabled, on-demand teletherapy platform for Nigerians/Africans home and abroad providing fluid, localized, and affordable access to Mental
Health therapy sessions with well-vetted licensed therapists.
According to Afolayan, the CTO of the startup.
"Our service basically is to give people access to mental health tools they can use to improve their mental health care. We also offer access to a licensed psychotherapist for a little token"
MyTherapist also provides an avenue to people who want to learn about their mental health status and self-care options to improve their daily lives. We Provide that for free on our platform.
In addition to this, we also have a premium service where we can connect users with health care professionals to give a kind of personalized experience. Said Afolayan.
What's the story behind Mytherapist?
The story was inspired after the END SARS massacre in which he personally experienced depression and the trauma heralding the protest. To Afolayan it was a period the whole country was in disarray and total confusion and there was nowhere to run to or no one to help get through the phase.
"I could not work, I could not sleep normally during the ENDSARS Protest. So I was advised to see a therapist. I tried to search but I couldn't find any that was convenient for me. The best I could get at the time was BetterHealth but unfortunately, it was primarily based in the US".
There were NGOs who offer Mental health services too but the process of getting connected to a therapist was too rigid so I decided to do something about that.
I enlisted the help of the therapist I later got at the time who's now my cofounder. We teamed up with other amazing guys and created MyTherapist for everyone.
About the Founders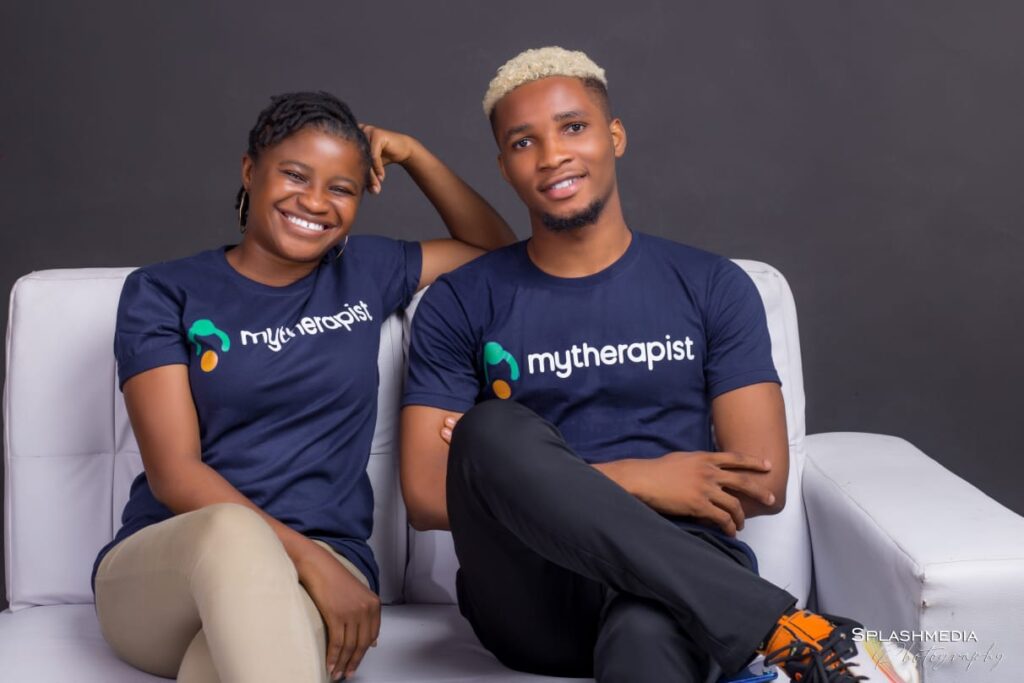 Oluwaseun Raphael Afolayan is a full-stack software developer, web developer, technical writer, and Entrepreneur with years of cognate experience as a developer in web apps and mobile apps. He has worked with reputable firms in Nigeria, the United Kingdom, and overseas building tech solutions for startups.
Afolayan grew up in Lagos State, Nigeria and He's currently the Co-founder and CTO of MyTherapist where he works with the help of his team members to provide therapist solution. The likes of Dedoyin Ajayi, a renowned Psychotherapist with a specialty in Emotional health and a diploma in professional counseling.
She is also a certified Neuro-linguistic practitioner from the academy of Modern and Applied Psychology with an MSc (In-view) from Liverpool John Moore University, UK. Dedoyin has a thriving counseling practice with an average of twenty-six hours per week (both physical and virtual) for 4 (four) years and counting.
Her specialties include (but not limited to) helping individuals with suicide ideation, depression, childhood trauma, existential crisis, and personality disorders. She is currently co-founder and CEO for mytherapist.ng.
How My Therapist Work
You can get easy access to the health tech startup via their app on Appstore or Play Store which can be downloaded from their website.
After downloading the app, you will have unlimited access to all the features they offer.
Why should Nigerians care about Therapy?
Afolayan said it is true that a lot of people stigmatize topics around Mental health in general, a lot of people are going through different phases and stages of Mental health and they just decide to cope with it. The brain controls every part and aspect of a human and if the mind is not settled, every other part of the body would suffer. If you have a dysfunctional mind, you find it difficult to function.
Therapy also called psychotherapy or counseling, is the process of meeting with a therapist to resolve problematic behaviors, beliefs, traumas, and broad varieties of mental illness and emotional difficulties without the use of drugs or operations.
"One of the things we're trying to change is the narrative about mental health and also educating people on issues surrounding mental health"
We want to create a safe platform for people to know about mental health in Nigeria, and if people want to be connected with a professional therapist without having to go through hoops and hassles, we provide that service as well"
What You Should know about Mytherapy
According to Afolayan, he said the startup has been operating the beta version of the company, to test the waters and so far the acceptance and the feedback from Nigerians is mind-blowing which shows there is a serious need for them to fully establish, so the startup can reach even more people. The startup will officially and fully be launched in Nigeria on December 1st, 2021.
He also made mention that the app has been bootstrapped up until this point. The company has been funded on personal funds from friends and families and people who believed in the mission to provide seamless mental health care services for Nigerians.
The official launch of MyTherapist.ng will be live virtually on Facebook, Twitter, Instagram, and their other social media platforms.
Future Projections
Based on the funds we've been able to raise from ourselves and the success during our test phase, we are looking to onboard 50,000 people on the app in the next six months.
We believe therapy is not limited to Nigerians alone, so we are looking to expand into more countries within and outside Africa as we continue to grow as a company.
Plans on Joining Accelerator Program
We're currently applying for the Google Future Startup Program Africa and we're still expecting feedback on that but once we fully launch and everybody knows who we are and what we're all about, we'll focus more on that.
In Conclusion
At MyTherapist.ng we want people to know as a health therapy startup is that help is coming for them, No one needs to resort to having suicidal thoughts or living with depression alone. We want people, especially Nigerians to know that mental health is a good thing. We as a mental health startup are here for them.