Founder Institute, a Silicon Valley-based startup accelerator using their cohort programs in supporting Startups in Nigeria and Africa.
Founder Institute Lagos since 2019 has helped over 4,300 portfolio companies raise over $950M in funding, solve big problems, build products people love, recruit amazing teams, and more. They gather all members of the local start-up ecosystem, including founders, experienced CEOs, investors, key influencers, and supporting organizations to help partner in supporting small smartups in launching their great innovations in Nigeria and across Africa.
Founder Institute Lagos is focused on increasing inclusion and parity within the tech ecosystem with the Female Founder Initiative which supports the participation of more women in the program.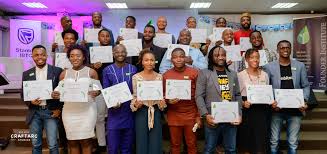 The Institute Program has a 14-week rigorous curriculum shaped as guides to founders as they build their solutions, match founders with accomplished mentors who provide practical and real-time guidance and helps founders grow their network and reach within the local and global tech ecosystems.
"When you make that decision to be an entrepreneur, you need only one thing -FI. FI boosts of an awesome program that ensures success on your entrepreneurial journey. I wish I had gone through it earlier."

– Titilope Adewusi, Co-founder 9ijakids
A lot of good testimonies come from participants praising the Founders Institute on the tough nature of the program which helps to bring out the best in them.
"Every Graduate company of the Founder Institute is a part of the global FI community of solutions which have been tested, tweaked and validated by the founders, with the help and support of mentors who are themselves startup CEOs with valid experiences and relevant networks."
Female founders participating in this cohort over the last few years have increase to about 30% , looking forward to make more than 50% in the near future.
All the female founders who are admitted into FI are also included in the global Female Founder Initiative with its exclusive opportunities and benefits.

Chukwuemeka Fred Agbata Jr, Founder Institute's Regional Director for Africa
What you should know about FI
The Founder Institute operates across 200+ cities and 6 continents, with 4,000+ Graduates building some of the world's fastest-growing startups.
You will be invited to take the Predictive Admissions Assessment for free ($0 USD value)
You will be eligible for the Early Course Fee (the early price of $499 USD increases to $699 USD after the Early Deadline)
You can apply here to be a part of Cohort III of the Lagos program. Application deadline is 2020-07-19