Snapchat has quickly become one of the most widespread and widely used social media tools available on the internet. Through the use of this app, billions of individuals have been documenting and discussing their day-to-day lives.
However, there are occasions when we are careless and accidentally erase some of our more significant memories from Snapchat. There is no need to fear since there are techniques to restore lost Snapchat memories, even if this can be a very stressful process.
The Snapchat app has a feature called "Snapchat Memories," which enables users to preserve both their snaps and their stories. However, a significant number of users are unaware that erased memories on Snapchat may be retrieved. In this post, we will instruct you on how to recover deleted Snapchat memories.
Oftentimes, these Snaps catch some remarkable moments that are remembered for the whole of one's life. This blog provides in-depth information on how to recover deleted Snapchat memories using a variety of different approaches.
Why have all of my Snapchat memories been deleted?
Your Snapchat memories are at risk of being lost or deleted entirely if you inadvertently erase them or if you reset your phone to its factory settings.
Is It Possible to Restore Deleted Memories on Snapchat?
The great news is that Snapchat does store lost memories for a limited period, which enables users to recover them if they inadvertently erase something they did not want to delete. The bad news is that the procedure of retrieving lost memories can be a little complex, as the memories are relocated to the trash folder of the application after they have been destroyed.
Simply navigate to the Gallery > trash menu option in Snapchat's app to retrieve lost memories. If the memory that you're looking for is displayed, all you need to do is touch on it, and then pick the Restore option.
How to Recover Deleted Memories on Snapchat?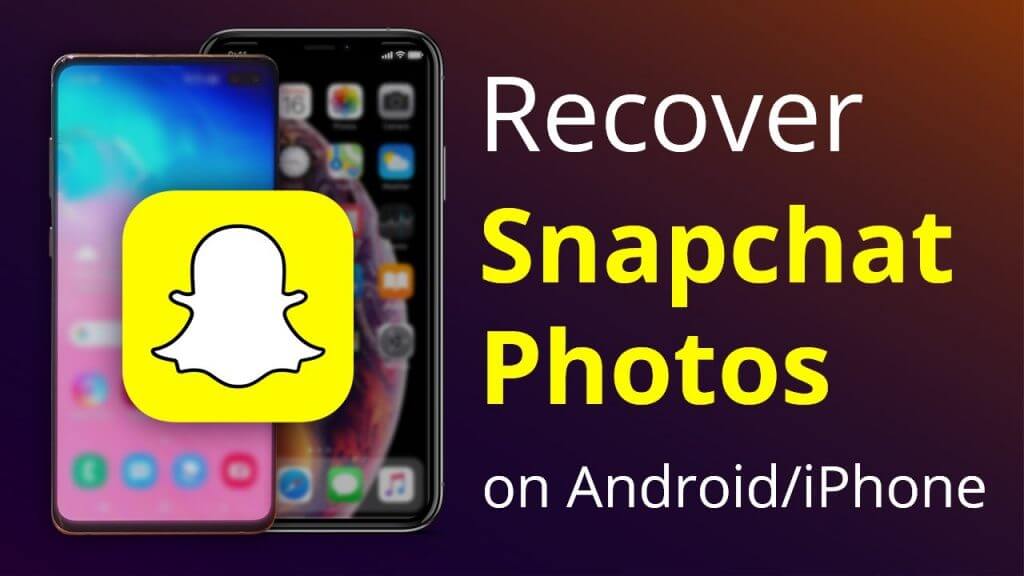 Solution 1: Retrieve Deleted Memories From Snapchat Using My Data Archives

There is a possibility that the memories you removed from Snapchat will still be accessible to you through My Data Archives. You may simply retrieve your Snapchat memories if you follow these procedures carefully and in the correct order.
Step 1: Open Snapchat App. Navigate to the icon labeled "Settings."
Step 2: In the privacy settings, look a bit farther down the page until you see an option labeled "My Data."
Step 3: If you want to access your data, select My Data, and then you'll have to log in using your Snapchat ID.
Step 4: The page titled "My Data" will open. To retrieve them, pick the Memories option from inside this menu.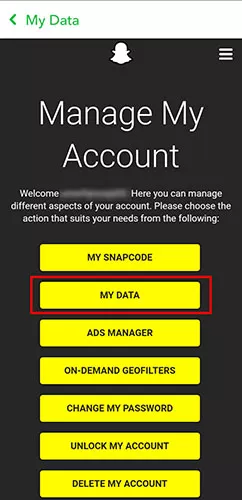 Step 5: At the bottom of the page, you will see a button labeled "Submit Request."
Step 6: After completing this step, your recovery request will be sent, and the support team will be instructed to offer you an archive of your memories.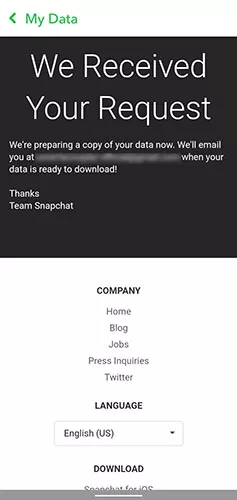 Step 7: You will be sent an email with a download link once the archived data is ready to be accessed. The time required to download everything is proportional to the total quantity of photos, videos, and text messages.
Step 8: Navigate to the website containing your data by clicking on the URL that was provided in the email.
Step 9: To begin downloading the data to your device, pick the "Mydata.zip" file from the available options.
Solution 2: Retrieve Deleted Snapchat Photos from the Phone Cache (Android)

If you have accidentally erased Snapchat memories, you may be able to retrieve them with the help of Android's cache. A cache is a temporary storage location used by the applications on our mobile devices. The software can function more quickly thanks to these cache files, which also contribute to an improved user experience.
Therefore, if the snap has been removed from Memories and you are concerned about whether or not it is possible to retrieve deleted Snapchat memories, the snap may still be stored in the cache of the smartphone. However, there is a small chance that the Snapchat memories can be retrieved from the cache.
Nevertheless, there is no risk in attempting it. Simply said, to learn, follow these steps, on how to recover deleted Snapchat memories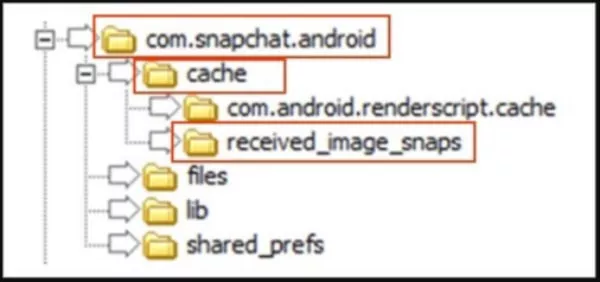 Step 1: The first thing you need to do is gain access to the file system on your Android device. You are going to need the aid of a specialized file explorer or management program on your Android device to accomplish this. You also have the option of connecting it to a Windows-based computer in its place.
Step 2: Navigate to the Snapchat folder on the device's internal storage once you have gained access to that portion of the device's functionality. The majority of the time, it will be saved under Android > Data > com. Snapchat. android.
Step 3: You're all done! You should now just look for the Cache folder at this location to access the stored photos. They can be moved to any other place, and you will need to modify their extensions to access them in the normal manner.
Solution 3: Browse Through Your Phone's Photo Albums

One further approach for recovering lost Snapchat memories is to search for the snap in the trash section of the gallery. Because deleted material is often kept in the trash folder for a specific length of time according to the settings of your device, it is possible to retrieve snap chat memories even after they have been erased.
Step 1: Navigate to your gallery and click on the trash icon.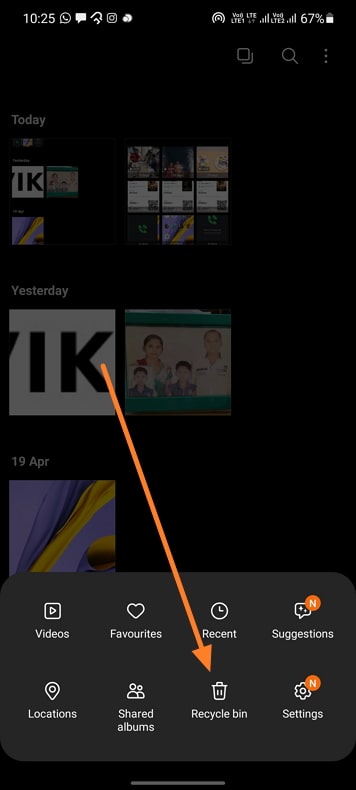 Step 2: Locate the movies or images.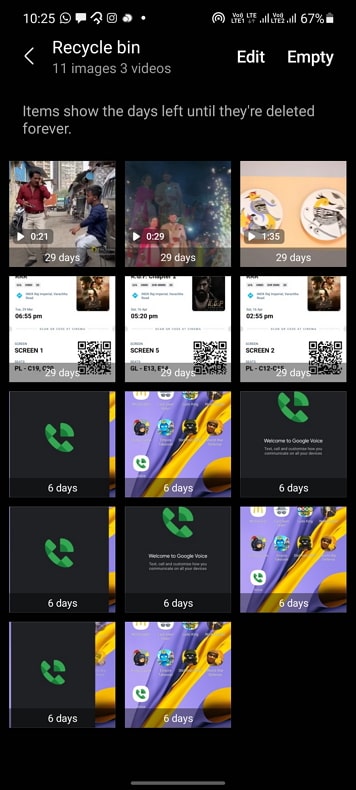 Step 3: Once it has been located, you may retrieve it by either choosing it, touching it twice, and then hitting the recover button.
Step 4: Once everything is finished, it will be recovered to its initial folder.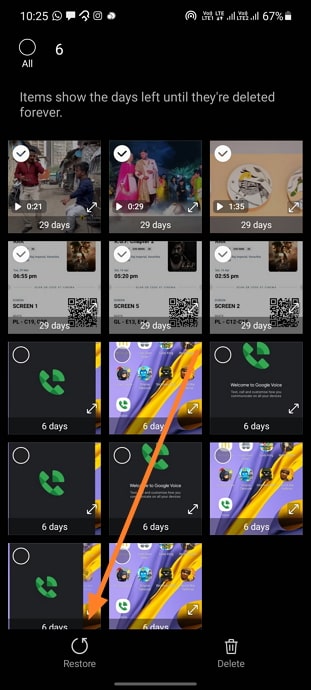 Solution 4: Backup and Restore Snapchat Content Using iTunes (iPhone)
Let's also take a look at some potential solutions for iOS devices. If you use an iPhone and are curious about whether or not it is possible to restore lost Snapchat memories, read on. You should be aware that if there is an existing backup on iTunes, then you may easily restore it to your device by following the on-screen instructions.
Before beginning, check to see whether the backup contains any of your missing photographs. Additionally, please be aware that carrying out this operation will restore your device and remove any data that was already stored on it. If you are willing to take this risk, then you should follow these instructions to discover how to restore lost photographs from Snapchat by using iTunes.
Step 1: Simply start iTunes on your computer after connecting your iPhone to the system. Choose the iPhone from the list of devices, then navigate to the Summary page for that device.
Step 2: Navigate to the Backups section of the settings menu to view the many options for backing up and restoring your device. Simply move on by clicking the button that says "Restore iPhone."
Step 3: A window will pop up, and you will be able to pick the proper backup file from inside this window.
Step 4: Click the "Restore" button once more, and then wait for the data to be removed from your iPhone while it is being processed.
Solution 5: Retrieve Files from Snapchat Using iCloud
In the same way that many iPhone users save their data with the aid of iTunes, a significant number of iPhone users also store their data with the support of iCloud. If this is the case, then accessing the Snapchat memories through the iCloud account that is associated with the device should not be difficult. Follow these procedures if you own an iPhone and are still curious about whether or not it is possible to retrieve lost Snapchat memories. This is a step-by-step guide that will walk you through the process of recovering deleted Snapchat chat history using iCloud.
Step 1: Visit iCloud.com and sign in to your account there.
Step 2: In the Photos app on iCloud.com, navigate to the sidebar and select the Recently Deleted album.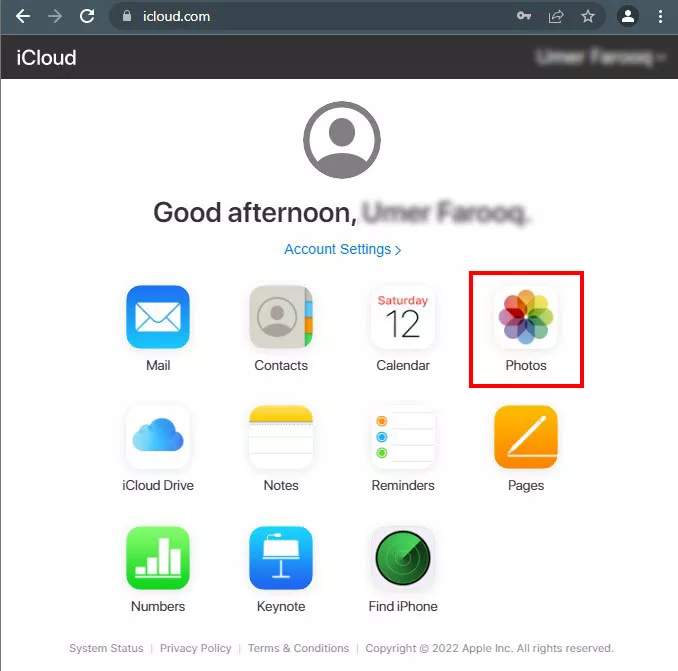 Step 3: After determining which still images or video clips you want to retrieve, click the Recover button.
Step 4: Select the photographs or videos that you wish to retrieve. Your photographs have been successfully recovered and will now be saved to your device as usual.
Solution 6: Activate synchronization with your Google Drive.
Are you still curious about whether or not it is possible to restore lost Snapchat memories? Your Google Account gives you the ability to back up the material, data, and settings on your mobile device. This also includes backing up the memories stored on your Snapchat app. By following these instructions, you will be able to retrieve your Snapchat memories from Google Drive:
Step 1: Navigate to the Settings menu on your Android device.
Step 2: Locate the "Accounts" option by scrolling down the page (search if required).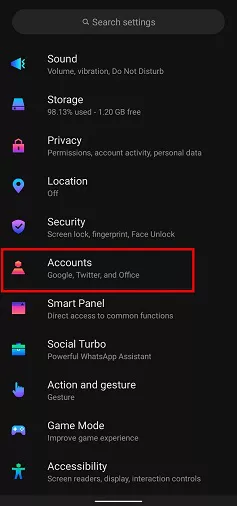 Step 3: Select your Google account from the drop-down menu located under the "Accounts" option.
Step 4: Select "Enable Sync" or "Account sync" from the drop-down menu depending on your android version.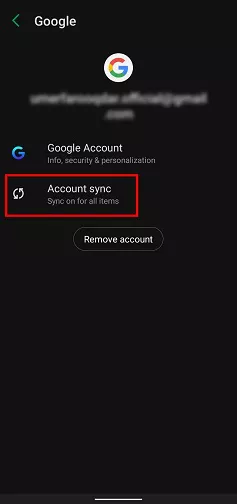 Solution 7: Retrieving Deleted Snapchat Memories from the SD Card
If none of the aforementioned options work, and you are still interested in learning how to restore lost Snapchat memories, You have the option of using recovery software that is tailored specifically to the recovery of Snapchat memories. Although there is a variety of applications accessible online that can serve this function, Tenorshare 4DDiG is the program that we recommend utilizing to recover deleted Snapchat memories.
This procedure will undoubtedly be able to assist in the recovery of the Snapchat memories on an external SD card if those memories were stored. 4DDiG is a comprehensive solution that can do data recovery and restoration in any situation. It can assist you in the process of recovering memories from Snapchat.
The data restoration capabilities of Tenorshare 4DDiG extend to removable storage media such as SD cards, USB flash drives, and external hard drives. Using these four procedures, it is possible to recover Snapchat memories that have been lost as a result of an unintentional format, deletion, or virus assault. The following is a list of some of its characteristics to give you an idea of what it is. If you want to retrieve your Snapchat memories stored on an SD card, follow these steps:
1st Step: To connect your SD card and choose it:

To get started, download and install the Tenorshare 4DDiG Windows Data Recovery program. Launch the application, make sure your SD Card is connected to your computer, and after that, choose the SD Card to start the scanning process.
2nd Step: 4DDiG Performs File Recovery:

After that, choose the file kinds that you want to scan (in the instance of Snapchat memories, choose photo and video), and then click the Scan Selected File Types button to begin the process of scanning the disk. You also have the option of scanning all sorts of files.
3rd Step: Read the contents of the SD Card:

4DDiG starts looking for lost data on the specified SD card as soon as it is inserted into the device. You can suspend or terminate the search at any point if you have found the files necessary for rescuing the snap chat memories. Under the Tree View, you will see subfolders labeled with headings such as Deleted Files, Existing Files, Lost Location, RAW Files, and Tag Files. You also have the option to go to the File View to examine other sorts of files, including photos, videos, documents, audio, and emails, amongst others.
4th Step: Preview the data on the SD card and recover it:

After discovering the Snapchat memories you were looking for, you will be able to preview them and then save them to a safe location. Please do not save to the same partition where you lost your files if the disk gets overwritten and you lose the data permanently.
FAQ
What is Snapchat's reasoning for deleting memories?
Following the restrictions of Snapchat, memories will only be accessible for 24 hours. This is done to protect the users from using up too much data. You may keep Snaps with you for an extended period by downloading them or sending them to your pals.
What happens when a photo is removed from the memory of a device?
At your command, Memories will store both your Snaps and your Stories. You will always have the ability to look back at your Snapchat memories that have been preserved by the app.
Where are the memories that have been erased from Snapchat?
If you find that you have deleted some of your Snapchat memories by mistake, you may use the trash option in the Gallery to view the things that you have removed. The trash folder makes it simple to retrieve some of your most treasured photographs.
Conclusion
After reading this article, You should not doubt that you will be able to successfully restore lost photographs from Snapchat like a pro. As you can see, we have provided a list of various methods that may be utilized to retrieve lost photographs from an iPhone or an Android device.
You may also use Recoverit to bring back lost stuff from your SD card if you want to. This option is completely up to you. What exactly are you looking forward to? You should certainly give these ideas a shot, and you should also show your friends this tutorial so that they can learn how to retrieve photographs that have been erased from Snapchat.
If you liked this article, then please subscribe to our YouTube Channel for WordPress video tutorials. You can also find us on Twitter and Facebook