The world pandemic has placed affected countries in a pause causing many companies to go fully on the remote.
Most of the tech conferences and meetups have been postponed to the later time of the year. This seems to have affected many tech communities in their plans and strategies while some other tech conferences have been moved to virtual instead of scrapping out the event totally.

While some companies are leveraging on technology to carry on their daily activities, some others are leveraging on it to help solve the world pandemic and as well help people not to be misled by fake information across the world.

Since the outbreak of the corona-virus, a lot of people have been misled with the information they get from blogs and other sites with false information. This lead Facebook to finding a solution to help people on Facebook and Whatsapp to get the right information about the Covid-19.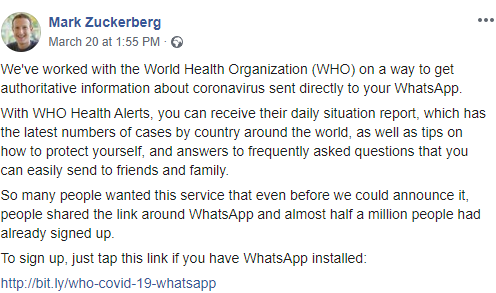 Mark Zuckerberg further noted that if you want to know the right information about Covid-19 on Facebook, you can check here
Recently the Facebook team has placed a hackathon for all developers, engineers, and coders who want to help in the fight against Covid-19. To be part of this hackathon, just register here
African research labs, innovation hubs, and venture capital firms are putting money on the table to support solutions targeted at better handling the COVID-19 pandemic.

TechCabal
Co-Creation hub a few days ago announced that they will be offering funding and support to teams working on projects to address the problem of the Corona-Virus outbreak. Prospective projects can be focused on "a particular African country, the African continent or the world at large," the company said.
Many Individuals and tech startups have built a lot of bots on Facebook and Whatsapp to as well help people against fake news.

While this World pandemic is going on, please stay safe, observe social distancing and wash your hands regularly as suggested by the WHO (World Health Organization)