Naqla Logistics startup major goal is to utilize technology to modernize and extend Africa's supply chain by automating orders among shippers and drivers via its platform.
In a pre-Series, A investment, Naqla, An Egyptian trucking technology platform and marketplace that connects truck owners with cargo firms in Africa, secured USD$10.5 million.
The round was led by Major investors such as El Sewedy Capital Holding (SCH), Hassan Allam Holding (HAH), and the Sallam Family led the series A round.
Since its establishment in 2017, Naqla has grown rapidly into 35+ operational zones, overseeing the transportation and delivery of over 4.6 million tonnes of goods, and now works with over 400 shippers and 10,500 drivers across Egypt.
Naqla's business model addresses the historically underserved road freight sector in Egypt, which has grown in importance since the start of Covid-related supply-side constraints.
The rapid growth of Egypt's construction and consumer goods industry has also caused an increased demand for trucking, which continues to rise, with employees in the sector now making up to 2% of the labor force, or 3-4% of GDP – $13bn in Egypt and $45bn across the MENA region.
What is Naqla Logistics startup Is About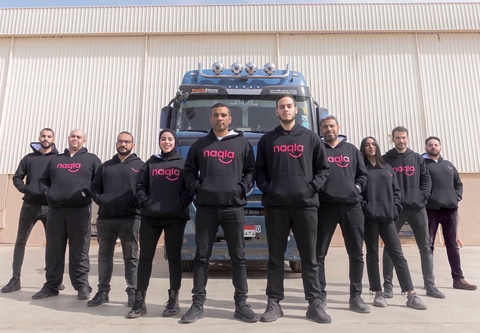 Naqla is a tech logistics startup founded by Sherif Taher and Samer Sallam who has both built a company that has developed into an online marketplace focused on connecting cargo companies in Egypt with individual truck drivers. 
Naqla was established in 2017 by an experienced management team in the supply chain space with the aim of digitally transforming and modernizing Egypt's E£30 billion road freight industry.
The co-founders have grown the company from two to a 165-person team spread across all of the country's major cities while incorporating numerous strands of technology and immediate pricing to provide an outstanding first-class customer experience for both shippers and truckers.
Naqla provides a more affordable, efficient, and transparent alternative for participants by using app-based technology to connect independent carriers with cargo companies to generate the best rate and most efficient paths for both parties.
Speaking on the Funding round…
Sherif Taher, Co-Founder and Chief Executive Officer of Naqla, speaking on the fundraise, said:
"We are now perfectly positioned to grow our digital logistics offering and market presence, bringing a much-needed technology infrastructure to the badly served Egyptian logistics and trucking industry, at a critical time in the country's economic growth.

We thank our investors for their part on the Naqla journey – this investment will enable rapid acceleration of our business and our planned vertical expansion into our new segments."
Also commenting Farouk Kadous, Board Member at El Sewedy Capital, added:
"We're thrilled to join Naqla on their journey towards a destination of completely changing the infrastructure of logistics in the region. We have tremendous expertise in the infrastructure space, and this investment will increase the synergies between our different portfolio companies.

We love the leadership team at Naqla and are not just betting on the market size, but on their grit and vision"
What you should know about Egyptian startup Naqla
Naqla is a part of the booming global logistics market, which is projected to reach a total value of over $12.9 trillion by 2027 at a compound annual growth rate (CAGR) of 6.5%. Naqla's technological-based services and independent drivers could see business growth as the market shifts toward faster, less tedious logistics options.
The company's 10,000+ drivers have moved over 4 million tons of items for its consumers across industries from automotive, textile, construction and mining to agriculture, paper products and fast moving consumer goods (FMCGs). At its core, Naqla's platform connects shippers and drivers to complete an optimized, transparent and efficient transaction.
Naqla's trucking fleet brings a range of 13 different truck types, matching the consumer's needs with their optimum carrier. They currently span across the container, heavy and light trucking, as well as bulk business transport. Representing the majority of Naqla's business is the transport of import, export, refrigerated and empty containers across ports to destinations.
Naqla expanded into the domestic heavy trucking business in 2019, with a fleet of medium sized trucks transporting heavy items now representing 16% of the company's business. Domestic light trucking became Naqla's latest offering in 2020, allowing consumers and small to medium enterprises (SME) to transport light materials to their desired destinations.
What's next for Naqla?
Egyptian logistics startup Naqla intends to spend the new investment capital on current business operations. By and large, the company plans to expand into new regions in 2022. The tech startup will also be investing in its technology and improving upon digitization efforts throughout the rest of 2022. Naqla is also hiring new employees across a number of different departments. 
Many of the 1.5 million trucks in Egypt that are owned by individual drivers, will be boarded into Naqla's Carrier ecosystem, consisting of road assistance, finance, insurance, health care and maintenance.