African mobility startup, Moove has announced a $23 million Series A to build a full-fledged mobility startup that democratises vehicle ownership across Africa.
The round was led by global VC, Speedinvest and New York-based Left Lane Capital.
There are a host of other investors who participated including DCM Ventures, Clocktower Technology Ventures, the latest ventures, London-based LocalGlobe, California-based Tekton Ventures, New York-based FJ Labs, and New York-based Palm Drive Capital.
The list continues with Singapore-based Roka Works, Dubai-based KAAF Investments, Abu Dhabi-based Spartech Ventures, California-based Class 5 Global, and Victoria van Lennep, co-founder of Lendable.
Africa focused VC Verod Capital Management, Kepple Africa Ventures, and London-based Emso Asset Management — one of Moove's existing lenders — joined the round.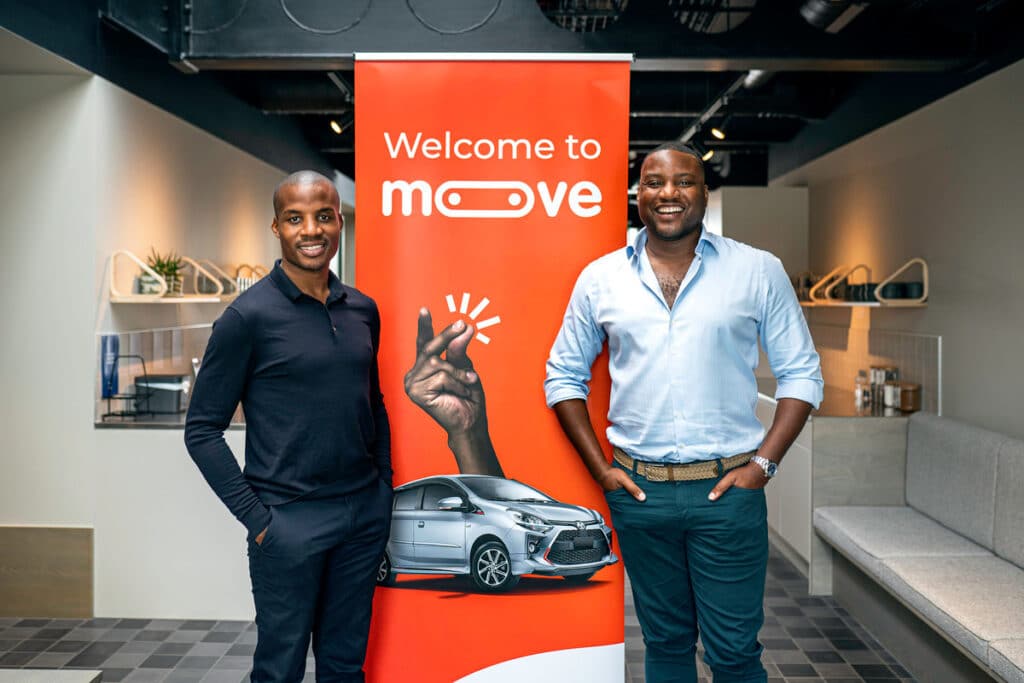 The inspiration behind Moove
There are over a billion people in Africa, the majority of which wants to own a car but do not have access to vehicle financing just like it is in most countries like USA. It may shock you to know that in 2019, Africa recorded less than a million new vehicle sales, whereas the United States recorded more than 19 million new vehicle sales the same year.
Owning a car in Nigeria is seen as a luxury not a necessity because only a few could afford it, and in most cases the rich or middle class. Buying a brand new vehicle is even a more impossible feat to accomplish as many car owners prefer to buy second hand used cars also known as (Tokunbo cars), as it is more affordable than new cars, especially in Nigeria where you get to see people driving a car of more than 15 years.
Moove, an African mobility startup, wants to change this narrative, and has raised $23 million in Series A to scale rapidly across the continent.
According to the Co-founder, "It became clear to us that people aren't buying cars in Africa because there's no access to finance. When you look anywhere else in the world, you have financing in most parts of the developed world when you try to buy a car. It's that way in the U.K., Europe and the U.S. And that's what's driving mobility drive and vehicle sales,"
About Moove
Moove was Founded in 2019 by Ladi Delano and Jide Odunsi on their quest to find a problem to fix in Nigeria. Delano and Odunsi are British-born Nigerians educated at the London School of Economics, Oxford University and MIT. Delano has always been interested in business. Odunsi, on the other hand, was an investment banker at Goldman Sachs and a management consultant at McKinsey.
The co-founders initially bootstrapped the company like the other non-tech businesses they founded in Africa. However, in 2020, Moove raised a $5.2 million seed round and launched fully in June 2020.
Moove's business model involves providing up to 95% in vehicle financing to its customers, which can be paid back either in 24, 36, or 48 months using a percentage of their weekly earnings.
Moove's loan repayment process is more suitable to drivers than what traditionally exists in the market. Nigerian banks are known to collect a 10-50% deposit from drivers; Moove says it charges 5%.
It also charges an annual interest rate between 8-13% unlike the traditional bank rate of 20-25% in Nigeria. The company also has a Flexi-Rental option which gives customers access to new cars for a weekly rental fee. Moove aims to ensure 60% of all loans are used to purchase electric or hybrid vehicles. A trend which seems to be gaining ground in Africa.
With headquarters in the Netherlands, the vehicle financing company currently operates in Lagos, Accra and Johannesburg. Moove has 12,900 pre-approved sign-ups and its financed cars have also completed more than 850,000 Uber trips. The company has grown 60% month-on-month over the few years of operating.
What you should know about Moove
The mobility startup is Uber's sole partner in sub-Saharan Africa for vehicle financing and recently announced a partnership with Global Accelerex to make payments seamless for riders in Moove financed cars.
Moove is currently focused on mobility entrepreneurs, people in the ride-hailing and e-logistics space. The Car financing company claims its financed cars have completed more than 850,000 Uber trips.
Also read: How Patricia was built from just an idea to a leading Crypto platform.
Stefann Klestil, General Partner at Speedinvest, explains. "With Ladi and Jide at the helm of a world-class team, and their unique approach to vehicle financing, Moove has quickly established itself as one of the most exciting tech companies in Africa.
"The company's expansion to three cities in under 12 months demonstrates the huge demand for vehicle financing in Africa, where just five per cent of new cars are purchased with financing, compared to 92 per cent in Europe."
What the mobility startup is saying
This is the first African investment by many of the US-based VCs in this round. This brings Moove's total funding to $68.2 million — $28.2 million in equity and $40 million in debt.
According to Chisom Anoke, Moove Africa's Country Manager, says this funding would enable the company to expand into more states in Nigeria, increase gender equality in the industry while creating job opportunities both within Moove and for its entrepreneurial customer base.
Access to vehicle financing in Africa is a struggle. In Nigeria, for example, as of 2016, Deloitte reveals that only 2% of Nigerians could afford to pay for new vehicles. Quite unimpressive numbers for a country that has a population of over 200 million.
Explaining further, Delano said, "In a continent full of opportunity, mobility is key to moving economies forward, and this funding contributes to our ability to provide revenue-based financing, as Moove empowers Africans to become mobility entrepreneurs safely.
"We help people buy new cars who otherwise couldn't afford them. And then, using the vehicle as a mobility entrepreneur, they're able to earn money, which allows them to pay off the vehicle over time," he concludes.