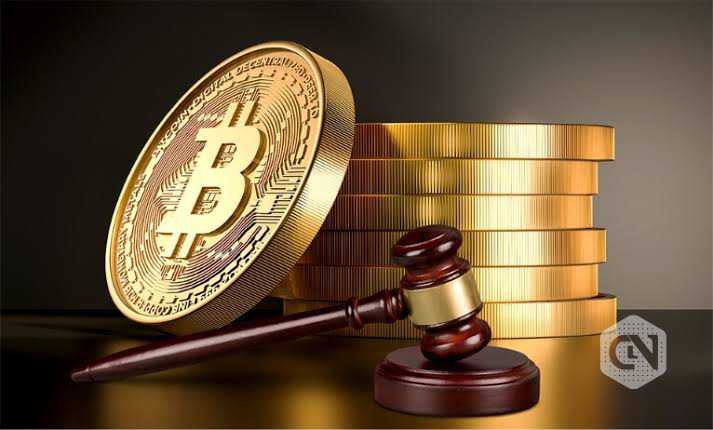 In what started as a speculation or fake news but turned out to be a shocking truth on Friday, that the Apex Bank in Nigeria, the Central Bank of Nigeria (CBN) has ordered banks and other financial institutions to shuts the accounts of crypto currency exchanges and end all crypto trading, buying and selling and other crypto related activities.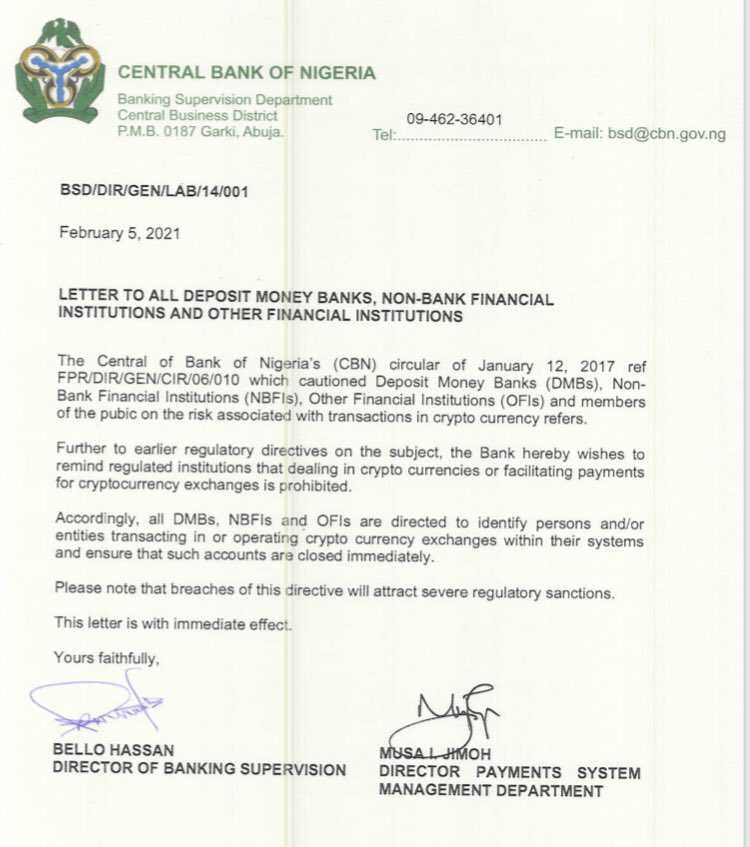 Details of this new stringent regulations are contained in a circular issued by the Apex Bank which has now circulated all over the internet.
What does the regulation mean?
The new regulations released on the official website of the Apex Bank by Mr Bello Hassan, Director of Banking Supervision, and Mr. Musa Jimoh, Director of Payments System Management, mean that you will not be able to use a card from a Nigerian bank or any other financial institution in the country to process any transactions on a crypto exchange. In other words, while virtual currencies remain legal, trading them through an exchange in Nigeria is now almost impossible.
The new rules also ordered all Deposit Money Banks (DMBs), Non-Banks Financial institutions (NBFIs), and Other Banks Financial institutions (OFIs) to identify "persons and or entities transacting in or operating cryptocurrency exchanges within their systems and ensure that such accounts are shut immediately.
The ruling is an extension of earlier warnings from the bank about the risks associated with digital currencies. The CBN also warned of severe penalties to any bank or financial institution that fails to comply with the directive.
What you should know
You should know that back in September 2020. The Nigerian Securities and Exchange Commission (SEC) recognized crypto as securities with plans to formulate a concrete legal framework for digital assets. The commission further stated,
"issuers or sponsors of virtual digital assets shall be guided by the commission's regulation. The general objective of regulation is not to hinder technology or stifle innovation, but to create standards that encourage ethical practices."
One could only wonder why the CBN embarked on such hasty regulations that only hinders innovation without considering the effect it might have on the citizens, foreign investment, and even the economy which is still in recession.
What exactly is Crypto Currency?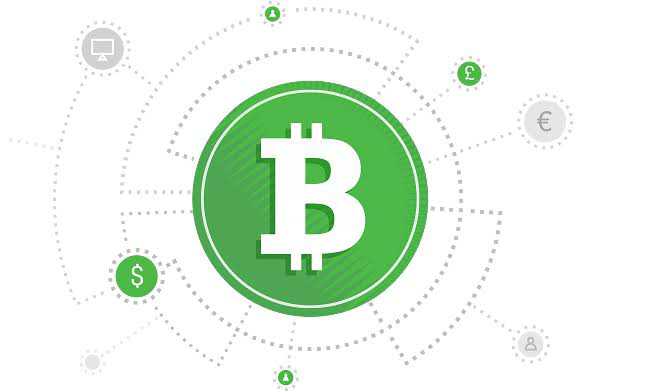 Cryptocurrency is a form of fiat currency which can be used in exchange of value and in every day transaction, unlike the traditional currency, Cryptocurrency is a digital coin and it's regarded as currency of the future.
Bitcoin, the largest Cryptocurrency in the world, is now worth close to $38,000.
Governments, Personalities as well as giant tech companies like Facebook, PayPal, and Mastercard have backed Crypto, Everyone knows how much Elon Musk cherished Bitcoin and Dogecoin. This is happening despite the volatility of cryptos and the fact that it is centrally unregulated.
Latest global adoption
The United States Parliament are already considering the option of adopting crypto and deliberations have already began, the United States has also allowed commercial banks to accept the use of stable coins. And most recently Miami is working on adopting Bitcoin as a means of paying salaries.
Visa is partnering with Anchorage to create a Crypto enabled Visa card, these and many more are innovations surrounding Crypto adoption.
In December 2020, Nigeria became the second bitcoin peer-to-peer market after the U.S followed by China with more than $566 million worth of bitcoin traded between 2015 and 2020.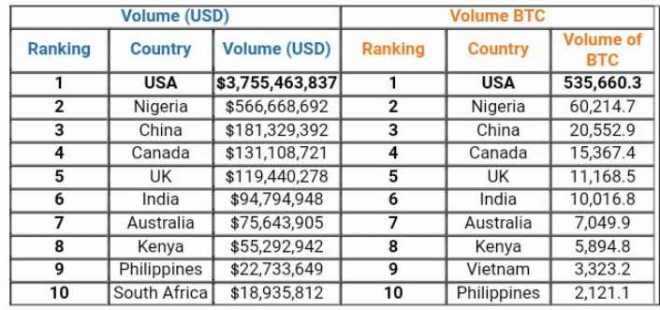 The latest CBN's whip has not placed a ban on digital currencies, it has effectively prohibited the ability of the exchanges which trade them to collect payments from bank customers.
Meaning if you have a digital currency, you won't lose it but will lose access to trade them in Nigeria. This draconian move will most likely affect the operation of most Crypto Startups like Bundle, Bitsika, BuyCoins, Patricia, Binance, Luno, Yellow Card among others.
Reactions from tech industry
One of the biggest exchange in Nigeria hinted that the typical reaction when regulators pass downs stringent rules is to obey first and negotiate next. Nevertheless, it is a big blow to crypto exchanges in Nigeria that have moved from traditional offerings, only trading to even launching stable coins. Now that different tech startups and exchanges are coming up with innovations, Piggyvest is working on depositing crypto as a means of savings and investment.
This CBN move is definitely one that will drag the tech industry backward. Many VCs and investors interested in Nigeria's tech ecosystem would probably have a rethink as the government can just wake up to make policies that are bottleneck to development.
Nigeria has some of the biggest crypto startups in Africa and without a doubt, this ridiculous and unfriendly regulation has thrown them into confusion. Many financial institutions and exchanges have already been reacting to the latest development.
Binance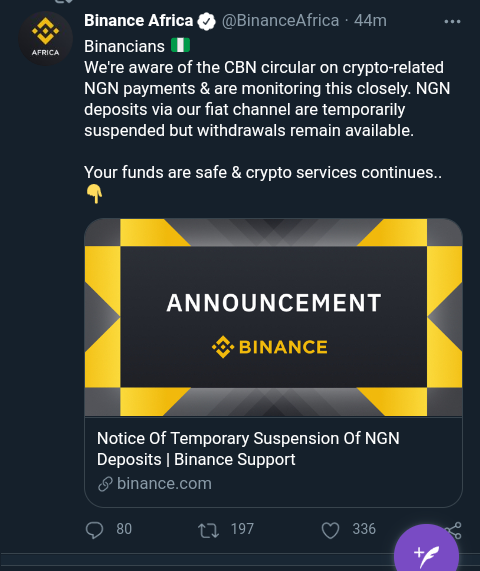 "Binance will temporarily suspend NGN deposits through our fiat partner channels. Withdrawal services remain normal and will continue to be processed but might take slightly longer time than usual. We apologise for any inconvenience this may cause.
Flutterwave
"In light of the recent directive by the Central Bank of Nigeria prohibiting financial institutions from engaging in cryptocurrency, we regret to inform you that we will not be able to further extend our services to support cryptocurrency use cases in Nigeria, in line with our Terms and Conditions."We apologize for any inconvenience that this might present, and reiterate our commitment to supporting your other payment needs."
Trove
"Our attention has been drawn to the CBN memo currently circulating across the internet restricting Cryptocurrency trading within the country."We are currently assessing the situation and are engaging relevant stakeholders. "However, we have temporarily disabled the trading of cryptocurrencies on the application in a bid to immediately comply with CBN's memo."
Bundle
"We're aware of the notice on cryptocurrency-related Naira payments shared by the CBN today."Trading has not stopped and your assets remain as safe as ever. We are monitoring the situation closely and we'll share updates as we have them. Thank you for your support."
Patricia
"In line with the recent CBN directives, we've temporarily paused all funds transfers. We will keep you informed on the latest update. Keep doing the most and thank you for choosing Patricia."
Luno
"Luno will continue to operate as normal while we seek further clarity from the authorities. Some Naira deposit methods are currently affected, please check the status page for updates. Withdrawals are unaffected and will continue to be processed, but may take longer than usual. All customer funds are completely safe."
BuyCoins
"Thanks to everyone who has reached out. We are fully aware of the newest CBN circular and are going to be working with regulators to ensure our services are compliant. All trading on our platforms continues as usual, and all user funds are safe."
#ENDSARS is Back again?
Many reactions of youths on social media has resuscitates the most popular hashtag in Nigeria #ENDSARS back to the top trend table on twitter. The hashtag which has now popularise the adoption of Cryptocurrency in Nigeria, At the time when the youth were having a nationwide lockdown to protest against police brutality.
The popular femist coalition group who was at the forefront of running the activities of the protest, and also raised funds for medical bills, legal aids, and other necessary supports for protesters.
This led the the CBN following government instruction to freeze accounts of the group and other influencers at the fore front of the protest. (More than 90 days after, accounts of some of these protesters are still reportedly frozen). This made the group resorted to accepting donations in bitcoin to fund its protest activities. And almost $400,000 was raised in couple of days. This unity of purpose and orderliness most likely didn't go well with the government. Hence the new regulation.
Reactions on social media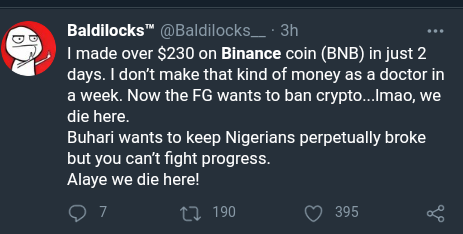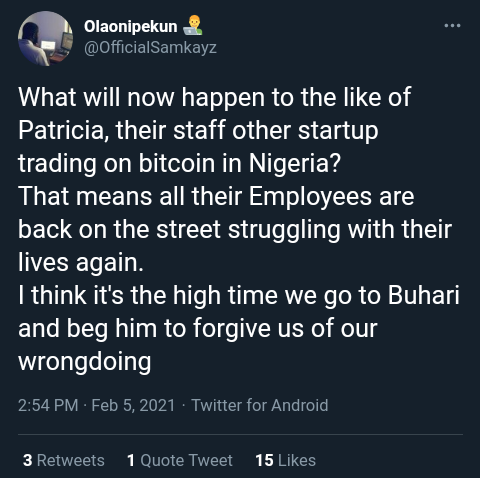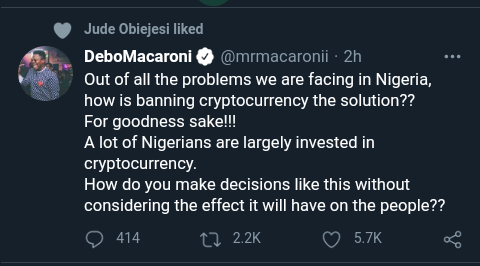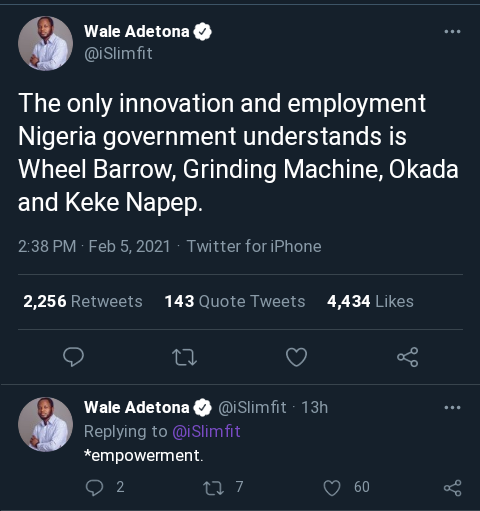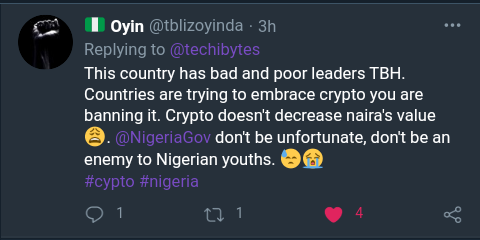 Fear of a re-enacted police harassment
Many Nigerian youth are beginning to fear a resurgence of Police harrasement for having Crypto apps on their smart phones and devices. Only time will tell if this would result to another nightmare for Nigerian youth.