BuyCoin a Nigerian fast growing Cryptocurrency broker recently launched a platform called SendCash which allows you to send or receive money to Nigeria from anywhere in the world using Bitcoin. SendCash allows you to send up to $1000 daily to any Nigerian bank account using Bitcoin.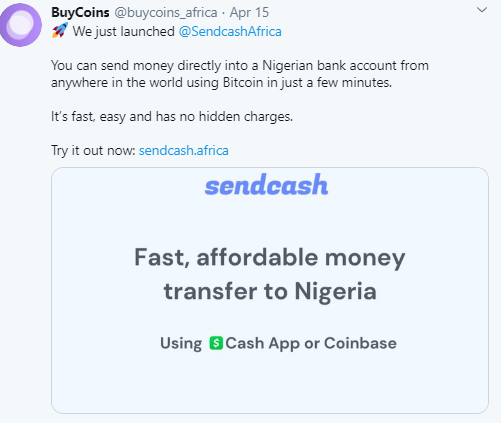 BuyCoin which most people in Nigeria see as a rival to Luno helps people trade (Buy and Sell) the world popular cryptocurrencies such as Bitcoin, Ethereum and Litecoin with a click of buttons.
The most amazing thing about Send Cash is that it allows you to transfer money to any Nigerian bank account even if you are not a user of the mother App BuyCoin, and this transaction happens in few minutes. Below is a testimony we got from Twitter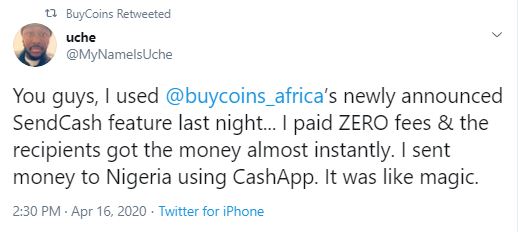 Why Using SendCash Will benefit you Regardless
Sending money to Nigeria bank account from Diaspora and vise versa have been a lot of pain and with much charges attached to it. Most times people find the available options of sending and receiving money in Nigeria using Western Union, Ria Money Transfer, Payoneer and Transferwise, Paypal which allows only receiving of money very tiring.
Now this is where i find BuyCoin and SendCash platforms very useful because with BuyCoin you can buy cryptocurrencies and use SendCash to send it as Money to any Nigeria Bank. That doesn't sound interesting to you? well i know most people see it as much as i do. The mother Application and it's child platform will help you trade and as well send money using bitcoin.
Tell us how you feel about this new technology