Recently, 54Gene a Genomics and Health based Company raised $500,000 fund aimed to support the Nigeria Centre for Disease Control (NCDC) in carrying out test for the Covid-19
we opened the Nigeria Covid-19 fund by donating $150,000 and secured an additional $350,000 from partners including Union Bank bringing the total fundraised to the sum of $500,000.

According to the company's blog page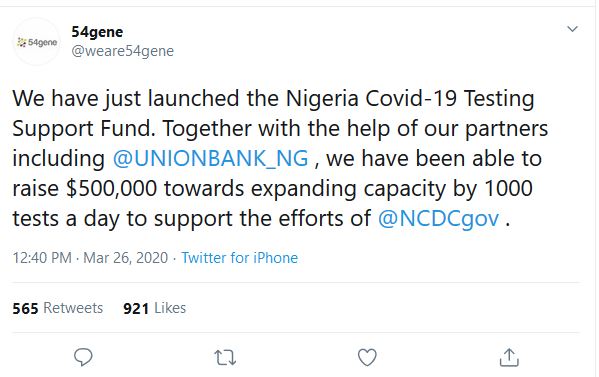 The Genomics startup which was founded in 2019 have secured a $4.5 million seed funding within 7 months of their launching, increasingly doing great works and setting in the map of Africa as well as the rest of the world.
According to them, the funding is still in progress with the aim to help the NCDC carry out at least 1,000 additional test, buy testing instruments, biosafety cabinets, personal protective equipment and other materials to fight the Covid-19 in Nigeria as the number of cases grow rapidly by day.
54Gene will work with the Nigeria Centre for Disease Control (NCDC) and other stakeholders to start purchasing the necessary equipment and materials within few days.
Dr Abasi Ene-Obong, CEO of the 54Gene said that this is to support the capacity of the Covid-19 testing and also show their extreme ambition in their mission to expand the testing capacity for Nigeria and expect to increase the present rate by at least 10times in the coming weeks
For those wishing to contribute to the Nigeria COVID-19 Testing Fund, please contact: [email protected]

54Gene Said